There are familiar projects and some new ministry partners in the EngageMI 2022-2023 books to be introduced at Annual Conference and mailed to churches soon.
ALICE TOWNLEY
Mission & Justice Coordinator, Michigan Conference
We are a connectional church. Through EngageMI projects, we can do more than one person or ministry setting could do alone. We make a difference by supporting not only Ministry Shares but also Christ Centered Mission and Ministry Projects in six areas: Michigan, National and International General Advance Projects, Mission Personnel, and the United Methodist Committee on Relief (UMCOR).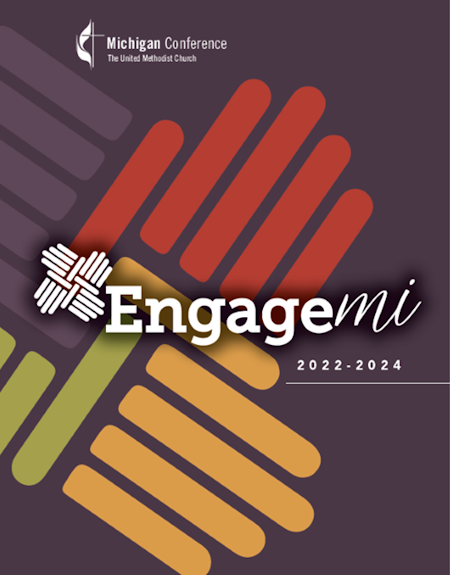 Books mailed soon     
The new EngageMI book will be released at Annual Conference and mailed to each church. It is available online, as well. In the 2022-2024 EngageMI book you will find mission and ministry projects we have supported for years, and new ones, all inviting us further into the gospel. In preparation for this new book, members of the Conference Board of Global Ministries and other leaders carefully gathered and reviewed applications. In reading and discerning, they found themselves inspired and renewed by the work of the church near and far. This new book can be used as a resource for further learning, serving, and giving.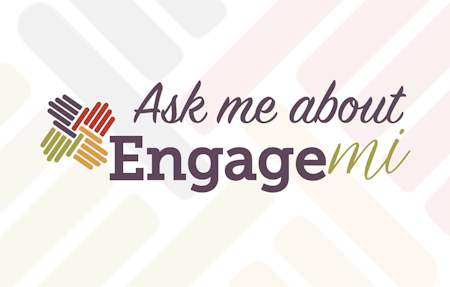 Buttons at AC 2022
If you are involved with a EngageMI program, please pick up a "Ask Me About EngageMI" lapel button from a member of the Board of Global Ministries including usher, Chuck Woolley, and be ready to talk about your ministry. If you want to hear more, just look for anyone wearing the "Ask Me About EngageMI" button and ask them to share.
In the words of the Rev. Julie Liske, "Your Conference Board of Global Ministries wants to shout from the rooftop about life-changing stories, and we hope you'll help us." Liske serves as vice-chair of CBGM.