SOS! In case of emergency.
You've had a disaster. Now what? Click button at left.
Training Events & Upcoming Opportunities
To qualify for VIM first-time scholarships, a team must have at minimum, one trained adult. It is highly recommended for VIM Mission Journeys. Michigan VIM trainer: Jody Pratt,
[email protected]

Michigan Conference Early Response Basic Training (ERT)
Training for volunteers looking to lead or work with disaster teams in the Michigan Conference or other conferences as needed. Certification is good for three years and individuals needing recertification can take the 10/22/22 session.

Saturday, October 22, 20222
*TRAINING CANCELLED. CHECK BACK SOON FOR A NEW DATE

9:00 am - 5:00 pm
Location: United Methodist Church of Ludington, 5810 Bryant Rd, Ludington, MI 49431
Trainer: Robert Freysinger
Cost: $35 includes lunch & shirts
Registration: Please contact Jody Pratt, VIM Volunteers in Michigan Coordinator, [email protected] to reserve a seat. Please include the following information: name, church name, birth date, address, email, phone number.
Deadline to Register: October 7, 2022
Volunteer in Mission Team Leader/Team Training

Volunteers looking to lead or work with a team for a domestic or international experience are encouraged to attend for certification. Michigan lnternational teams are eligible for first time participant scholarships and NCJ insurance reimbursement if the team leader is VIM certified.
Saturday, October 22, 2022
9:00 am - 4:00 pm
Trainer: Jody Pratt
Cost: $25 fee covers materials and meals
Registration:
Please contact Jody Pratt, VIM Volunteers in Michigan Coordinator,
[email protected]
to reserve a seat. Please include the following information: name, church name, birth date, address, email, phone number.

Deadline to Register: October 7, 2022
Gaylord Disaster Recovery
The Michigan Conference is actively involved in providing recovery for this community following the tornado on May 20. The deadly tornado took the lives of two and injured 44, and there has also been significant property damage.
Michigan is ready to respond
Tornadoes, floods, hurricanes, earthquakes, famine; anything that disrupts people's lives and places life at risk, calls us to be the compassionate hands and feet of Jesus Christ. The Michigan Disaster Response Team works year round to prepare, plan and equip teams so we can respond when disaster strikes.
Learn how you can help without hurting the response process and then see updates on response projects we are involved with.

Four ways you can help with disasters.
1. Pray
We are called to pray, organize prayer groups and chains and bathe those in need in prayers of peace, God's abundant Grace, wholeness and safety for those affected and those there to help.
2. Give
While our immediate compassionate instinct is to send food, clothing and household items in times of crisis, we recognize that often causes more harm than good. In the initial crisis phase, there is no more flexible, reliable and effective response than a financial gift to the United Methodist Committee on Relief, where 100% goes directly to aid, UMCOR Sunday.
3. Donate
Preparedness. We assemble thousands of flood clean-up buckets and personal hygiene kits during the year, so when disaster strikes, we are able to load them on trucks and get them to the right place in days. Working with other annual conferences, we keep centralized response kits ready to go.
4. Volunteer
Michigan coordinates with national, state and local agencies to bring wholeness to disaster zones. Disaster zones are dangerous so our volunteers arrive only after first responders have completed their rescue missions. At the invitation of the affected community our teams move in and often for years following the crisis. To accomplish this we must be trained and prepared. Connect with Dan OMalley, our Disaster Response Coordinator or push the button below to learn about mission opportunities through Volunteers in Mission.
Disaster Response Updates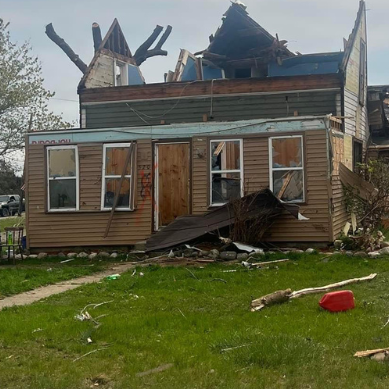 Grants strengthen relief in Gaylord, Detroit
The Otsego Community Foundation has granted $50,000 to Michigan Disaster Response and Recovery (MiDRR) to employ two disaster case managers to provide Gaylord residents long-term recovery support for six months following the May 20 tornado. Separately, UMCOR has approved an $800,000 grant to the Michigan Conference for direct assistance to individuals with unmet needs in Detroit after last summer's catastrophic flooding. This is the largest single grant the conference has ever received from UMCOR.
New level for Michigan disaster response
Rev. Paul Perez announces "the creation of an affiliated nonprofit that will scale up The Michigan Conference's disaster case management services." Perez continues, "I believe one of the primary tasks of the annual conference is to incubate ministries that no one local church could do on their own and that meet missional needs in local communities. We have now done that with disaster case management." The ministry is called MiDRR (Michigan Disaster Response and Recovery).