SOS! In case of emergency.
You've had a disaster. Now what? Click button at left.
Disaster Response Updates
Michigan is ready to respond
Tornadoes, floods, hurricanes, earthquakes, famine; anything that disrupts people's lives and places life at risk, calls us to be the compassionate hands and feet of Jesus Christ. The Michigan Disaster Response Team works year round to prepare, plan and equip teams so we can respond when disaster strikes.
Learn how you can help without hurting the response process and then see updates on response projects we are involved with.

Four ways you can help with Hurricane Florence and other projects
1. Pray
We are called to pray, organize prayer groups and chains and bathe those in need in prayers of peace, God's abundant Grace, wholeness and safety for those affected and those there to help.
2. Give
While our immediate compassionate instinct is to send food, clothing and household items in times of crisis, we recognize that often causes more harm than good. In the initial crisis phase, there is no more flexible, reliable and effective response than a financial gift to the United Methodist Committee on Relief, where 100% goes directly to aid. How is that possible? One reason, UMCOR Sunday.
3. Donate
Preparedness. We assemble thousands of flood clean-up buckets and personal hygiene kits during the year, so when disaster strikes, we are able to load them on trucks and get them to the right place in days. Working with other annual conferences, we keep centralized response kits ready to go.
4. Volunteer
Michigan coordinates with national, state and local agencies to bring wholeness to disaster zones. Disaster zones are dangerous so our volunteers arrive only after first responders have completed their rescue missions. At the invitation of the affected community our teams move in and often for years following the crisis. To accomplish this we must be trained and prepared. Click the button below to connect with Bob McCormick, our Early Response Team Coordinator.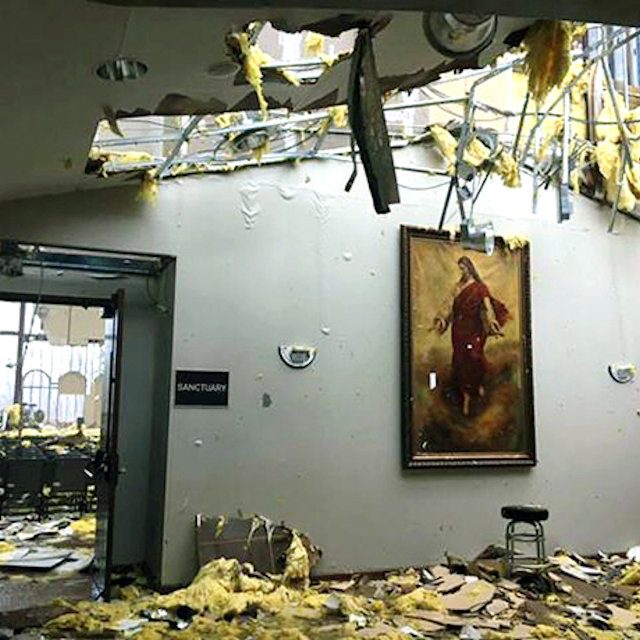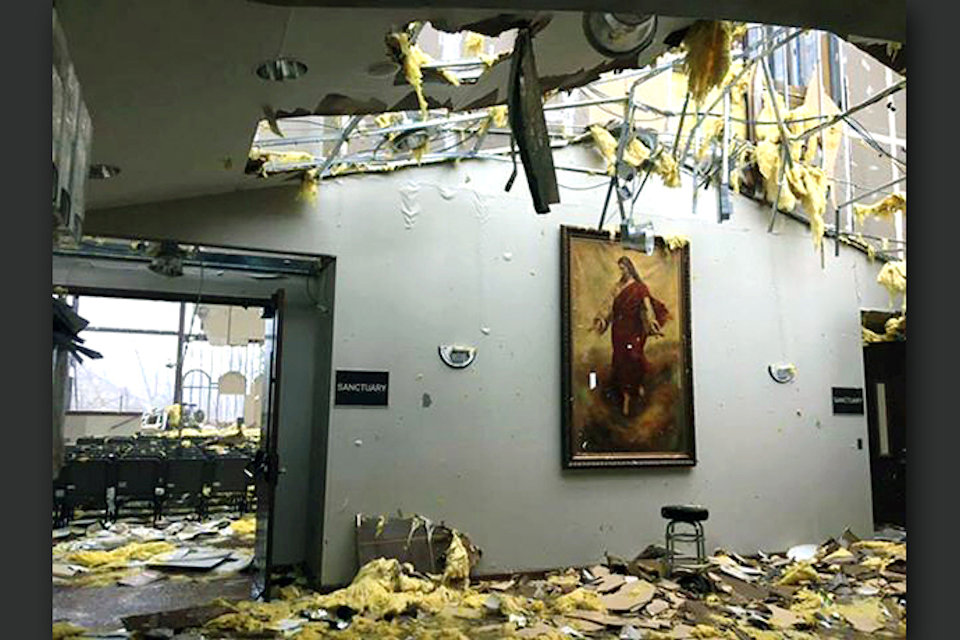 Hurricane Michael
As of Oct. 11, 2018 United Methodists across the southeast are preparing to offer long-term relief after the most powerful hurricane in nearly 50 years slammed into the continental U.S.Michael has left a path of destruction across multiple states and at least four United Methodist conferences. Search-and-rescue teams are operating across the panhandle, communication is limited and it's still not safe for church-trained early response teams to come on the scene. For now, the main things United Methodists can do to help is give money, prepare relief supply kits, and pray. Read full story.
Photo courtesy Lynn Haven UMC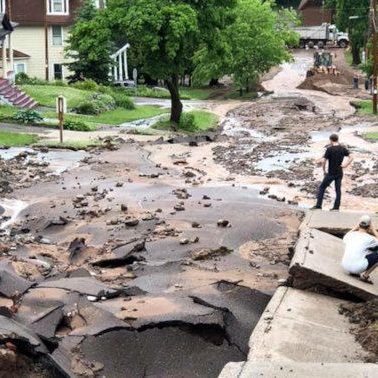 Copper Country recovery
October 9, 2018 — Two UMCOR Disaster Case Managers have been hired to serve the Flood Recovery Project–Copper Country.Marci Vivian and Dennis Leopold have received training and are now preparing to aid residents in the Keweenaw Peninsula affected by the torrential rains overnight June 17, 2018, causing the "Fathers' Day Flood."As the Portage Health foundation efforts draw to a close, the UMCOR Case Managers will pick up where PHF leaves off. "Marci and Dennis will follow up with about 150 residents who have self-identified as in need of recovery assistance," says Rev. Paul Perez.
Photo courtesy Pastor Scott Lindenberg
Hurricane Florence
UMCOR asks that those wishing to assist to please
not
self-deploy. Experienced Early Response Teams (ERTs) and Disaster Response Coordinators (DRCs) are in the area now. Michigan congregations can aid in that effort by contributing to disaster relief supply drive of hygiene and cleaning materials.
Click here
to learn what to collect, how to pack it and where to take it. Dollar donations for Hurricane Relief can be made using this code; Disaster Response, United States #901670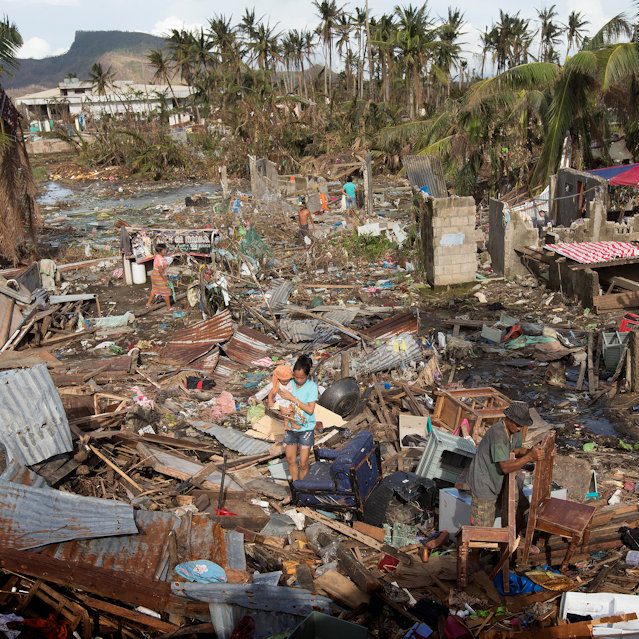 Typhoon Mangkhut - Philippines
Typhoon Mangkhut (Ompong) has marched across Asia. CNN reports that millions are being evacuated in China. The worst hit is the Philippines, where at least 54 people were killed when the then Category 5 storm -- known locally as Ompong -- tore through northern Luzon causing flooding and landslides. Please join us in prayer for the areas affected and consider a gift to UMCOR International Disaster Response #982450. UMCOR continues to assess the impact of this storm and will share additional ways in which assistance can be provided.
Photo/UMCOR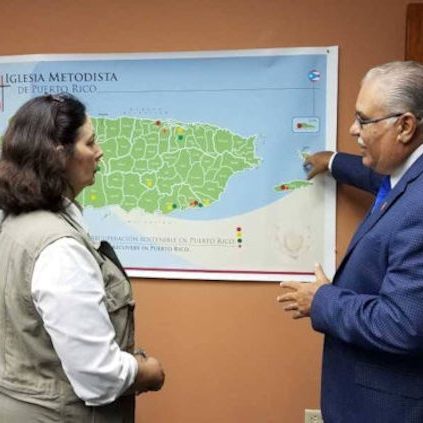 Puerto Rico Hurricane Aid
Mano a Mano with Puerto Rico is a mission project of the Michigan Conference in partnership with UMCOR. Mano a Mano (Hand to Hand) is a six-month project in Michigan to support Puerto Ricans who were forced to leave their homeland after Hurricane Maria struck on September 20, 2017. Two Disaster Case Managers, one based in Detroit and one based in Grand Rapids, are working to assist families and individuals who had to evacuate Puerto Rico. Please refer Puerto Ricans who resettled in Michigan after Hurricane Maria to either Guillermina Peguero or Ruth Tobar (contact information in Learn More) and they will follow up with the families or individuals.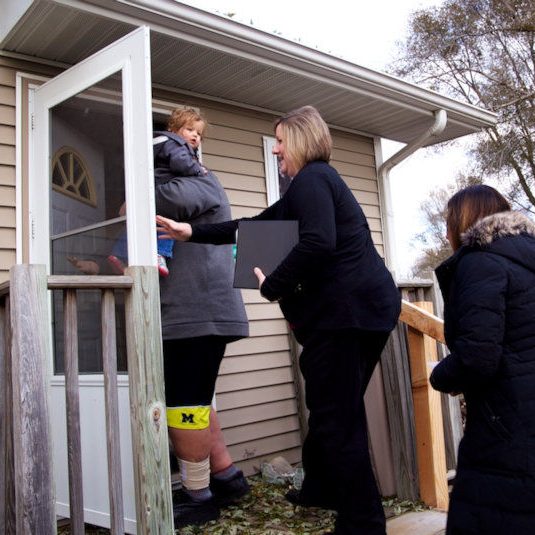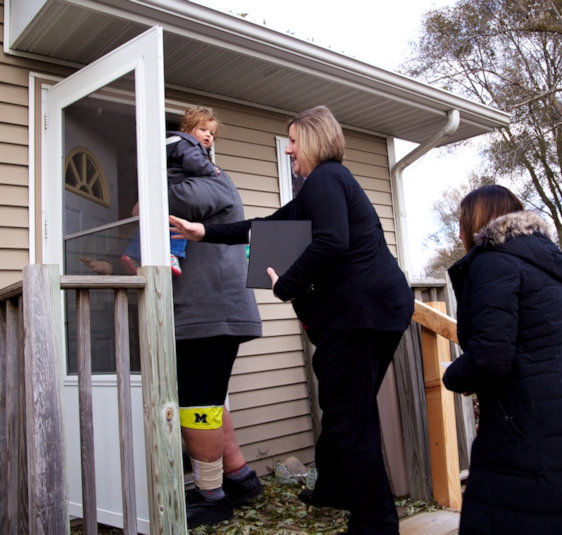 Midland Relief
Seven inches of rain fell in mid-Michigan the night of June 22-23, 2017. The Tittabawassee River crested just 2 feet short of the "Hundred-Year Flood of 1986." Cleaning buckets arrived in Midland just hours after waters started to recede. By October a $100,000 grant from UMCOR opened an office in downtown Midland. Two case workers, Anne Wortley and Katie Vokal were brought on board and they immediately began to collaborate with the Great Lakes Long-Term Disaster Recovery Group to assist families. Anne and Katie have been on the job for 10 months, closing 50 of 87 cases. Each case has been unique. "Some are as simple as needing a voucher for an appliance," Anne says. "Another case required $13,000 just to complete the mold remediation."
MIC Photo/Mark Doyal
Hurricanes Harvey, Maria & Irma
Successive storms—Harvey, Irma, Maria—hit the southern U.S. and Puerto Rico late in September 2017. Rain was still falling and winds were still howling as Conference leaders in Michigan, both staff and volunteers, gathered to plan the state's response. A call went out for dollars to bolster UMCOR's U.S. Disaster Relief Fund, Advance #901670. The Michigan Area Treasurer's Office reported receipts of $344,711 in just a few short weeks. Michigan Area United Methodist Camping offered their facilities as drop-off sites. Eight local churches opened their doors to receive supplies for hygiene kits and cleaning buckets. Donations poured in. The best "guesstimate" on total cleaning buckets is 1,750. Supplies were picked up at drop-off sites and delivered to Midwest Mission Distribution Center in Illinois with the help of Corrigan Moving. Read more about Michigan's response to these storms.
Photo courtesy Kalamazoo 1st UMC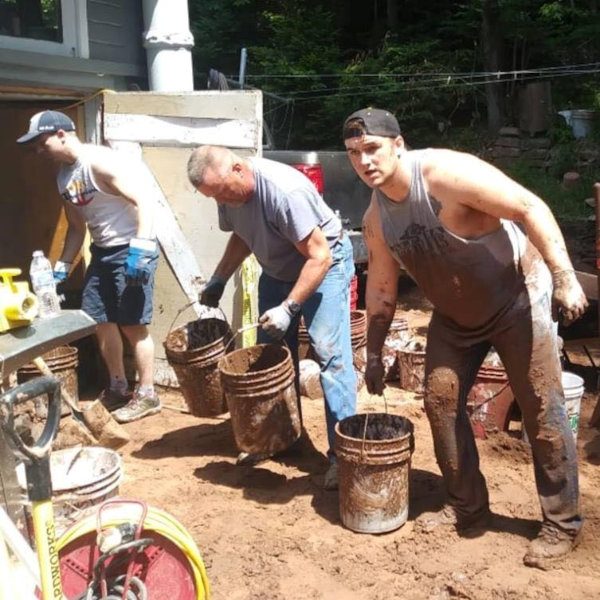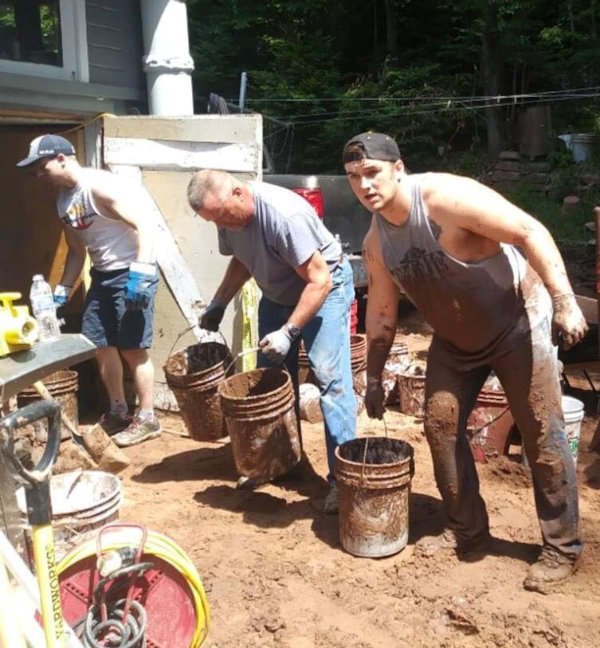 Copper Country Floods
Overnight June 17, 2018 the Houghton-Hancock area in the Keweenaw Peninsula received between 8 and 11 inches of rain in less than 12 hours. The hilly terrain exacerbated the drainage process and caused extreme flash flooding. The comment most often heard about the Copper Country was, "I've never seen anything like it." Around 600 homes were affected in some way. As of August 1 about half those homes still needed clean-up or structural repair. Efforts are currently underway to assess cases and mobilize volunteer help. United Methodists are encouraged to give through the Michigan Conference Disaster Response Fund. Make checks payable to the Detroit Conference Treasurer, memo Michigan Disaster Response Fund and mail to Michigan Conference Treasury, 1161 East Clark Road, Ste. 212, DeWitt, MI 48820.
Photo courtesy Pastor Scott Lindenberg