This UMW podcast helps voters prayerfully develop questions to ask candidates at all levels of elections this fall. Vote informed.
CYNTHIA B. ASTLE
United Methodist Insight
As America heads for possibly the most important national election in decades, United Methodist Women are making efforts to equip voters with both a spiritual foundation for casting their ballots and information to determine whether candidates'' positions align with those of people of faith.
United Methodist Women's' "Faith Talk" podcast on Sept. 24 focused on developing questions to ask candidates at all levels of elections this fall. Hosted by communications consultant Jennifer R. Farmer, the conversation featured three panelists expert in issues important to UMW:
Katie Pryor, a specialist in maternal health,
Elizabeth Lee, UMW's's executive for climate justice; and
Karen McElfish, a retired pediatrician and social justice coordinator for the Virginia Annual Conference.
Ms. Farmer set the tone for the podcast with her opening remarks.
"Voting is an act of worship," she said. "This is a time for us to be prayerfully considering what questions to ask of those who want our votes."
Maternal health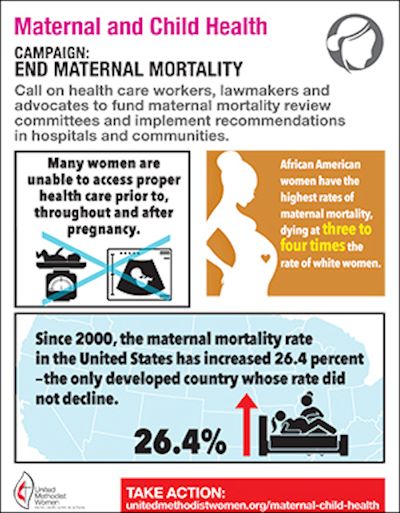 As far as maternal health – a United Methodist Women's mission focus – is concerned, "if [candidates] aren't talking about it, they probably don't care about it," Ms. Pryor said. "Few candidates have said anything about the maternal health disparities in Black and brown communities revealed by the COVID-19 crisis."
She cited one shocking statistic: Black women in the United States are 275 percent more likely to die during childbirth than any other segment of the population. She linked the increased risk of death during childbirth to the lack of even basic health care in many Black communities.
The biggest maternal health issue in communities of color, especially Black communities, is access to adequate health care. Pryor encouraged podcast listeners to ask candidates to support HR 4995, the Maternal Health Quality Improvement Act, which is intended to provide better health care for mothers-to-be and new mothers.
"To be in favor of maternal health is to care for the health of all humanity," Ms. Pryor said.
Ms. Lee came to her United Methodist Women's post from the General Board of Global Ministries, where she helped revise young adult mission programs. She said she hoped the podcast would equip listeners to ask pertinent questions of candidates in virtual settings such as Twitter town halls and ZOOM conversations.
'Just Energy for All'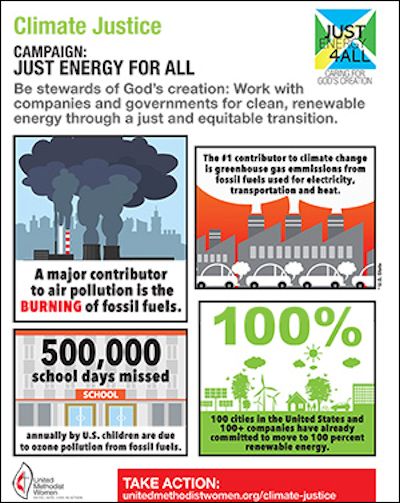 A good way to test a candidate's position on the global climate crisis is to invite him or her to support UMW's's "Just Energy for All" initiative, Ms. Lee said. The campaign addresses moving from fossil fuels to renewable energy to reduce pollution and emphasizes how clean energy can improve economies and provide jobs.
Ms. Lee cited a personal example of how the global climate emergency directly affects her family. Her father has chronic obstructive pulmonary disease (COPD), so her family checks the daily ground-level ozone to see whether it's safe enough for her father to venture outside. Ground-level ozone is created when harmful pollutants react in the presence of sunlight. Many of these toxic pollutants are emitted from fossil fuels used in motor vehicles and power plants.
"As Christians, we're called to care for God's creation, but as humans, we all use energy," she said. "It behooves us to say it's a priority to address the climate crisis."
Ms. Lee recommended avoiding "yes/no" questions such as "do you believe the climate crisis is real?" Instead, she suggested first declaring the climate emergency as a priority and then asking candidates how they intend to address its effects at local, state, and national levels.
Build relationships
Dr. McElfish outlined how she and other United Methodists in Virginia have approached officials on important social issues. She stressed that building relationships with legislators and staff make it possible to be heard more often.
"One of our legislators told me I got the prize for the most active citizen," she said. "I only see him once a year on Methodist Day at the legislature, but he remembered me!
Dr. McElfish emphasized that telling stories about how people are affected by issues proves more effective than citing statistics. "All of us know someone through our contacts who's had COVID-19," she said.
The retired pediatrician added that today most social issues are deeply intertwined, a concept that has become known as "intersectionality." For example, the coronavirus pandemic has uncovered radical economic, public health, and other social disparities between white communities and communities of color, she said.
"We need to have moratoriums on evictions and disconnecting utilities," she said. "We can't ask people to stay inside to avoid COVID-19 if they have no place to stay. We must provide for people's basic needs for them to survive."
Dr. McElfish recommended that listeners download copies of a nonpartisan voter guide, "Democracy Values and the 2020 Election: A Reflection Guide for Faith Communities," produced by Faith in Public Life and Interfaith Power and Light, an independent climate action organization. United Methodist Women have endorsed the guide. In response to a listener's question, Dr. McElfish encouraged listeners to seek out multiple sources – including the stances of opposing candidates – to ensure the accuracy of information about justice issues.
In closing, Ms. Farmer asked the panelists what scriptures or devotions are guiding their thinking as the election approaches.
Ms. Pryor and Dr. McElfish both cited Micah 6:8, "…what does the Lord require of you but to do justice, and to love kindness, and to walk humbly with your God?" (NRSV*). Dr. McElfish also mentioned Luke 4, in which Jesus claims the liberation ministry of Isaiah, and Matthew 25:31-46, in which Jesus commands his disciples to feed, clothe, and care for people.
Ms. Lee said she is inspired these days by Isaiah 58, in which God the creator is praised. "Holiness is when we address injustice," she said.
The full Sept. 24 podcast is available on the United Methodist Women's "Faith Talks" page.
*New Revised Standard Version of the Holy Bible, copyright 1996 by the Christian Education Committee of the National Council of Churches in Christ USA. All rights reserved. Used by permission.
Last Updated on November 1, 2022