Since 1995 Karol Kesterke, a United Methodist from Berrien Springs, has raised $126,339 for the Blossomland CROP Walk's fight against hunger. She feels blessed to have been able to help.

KATHLEEN PULLANO
The Journal Era

Karol Kesterke of Berrien Springs participated in her final Blossomland CROP Walk on May 19th, ending a 25-year tradition of raising funds for the hungry not only locally but worldwide through the nationwide Communities Responding to Overcome Poverty program. She has raised a total of $126,339 in the fight against hunger–"one step at a time."
"I was surprised when I added it up," Karol said. "What has been most rewarding is knowing that others are being helped with hunger issues. We know people are better off through our efforts. We don't realize how blessed we are in this country–a lot of people do without and this (CROP Walk) helps a little bit."
2019 was the 40th year for the Blossomland CROP Walk.
"My first year of walking was in 1995, and I raised $245," she said. In 2007, Karol raised $5,000 and received the traveling Blossomland CROP Walk Plaque for the person who raised the most money for that year. She continued to receive the plaque every year to the present time except in 2009.
"In 2009 the walk was on Pastor Esther Knott's 50th birthday and in lieu of birthday gifts she sought sponsors to help feed the hungry," Karol said. "She raised $7,365 and I raised $5,400."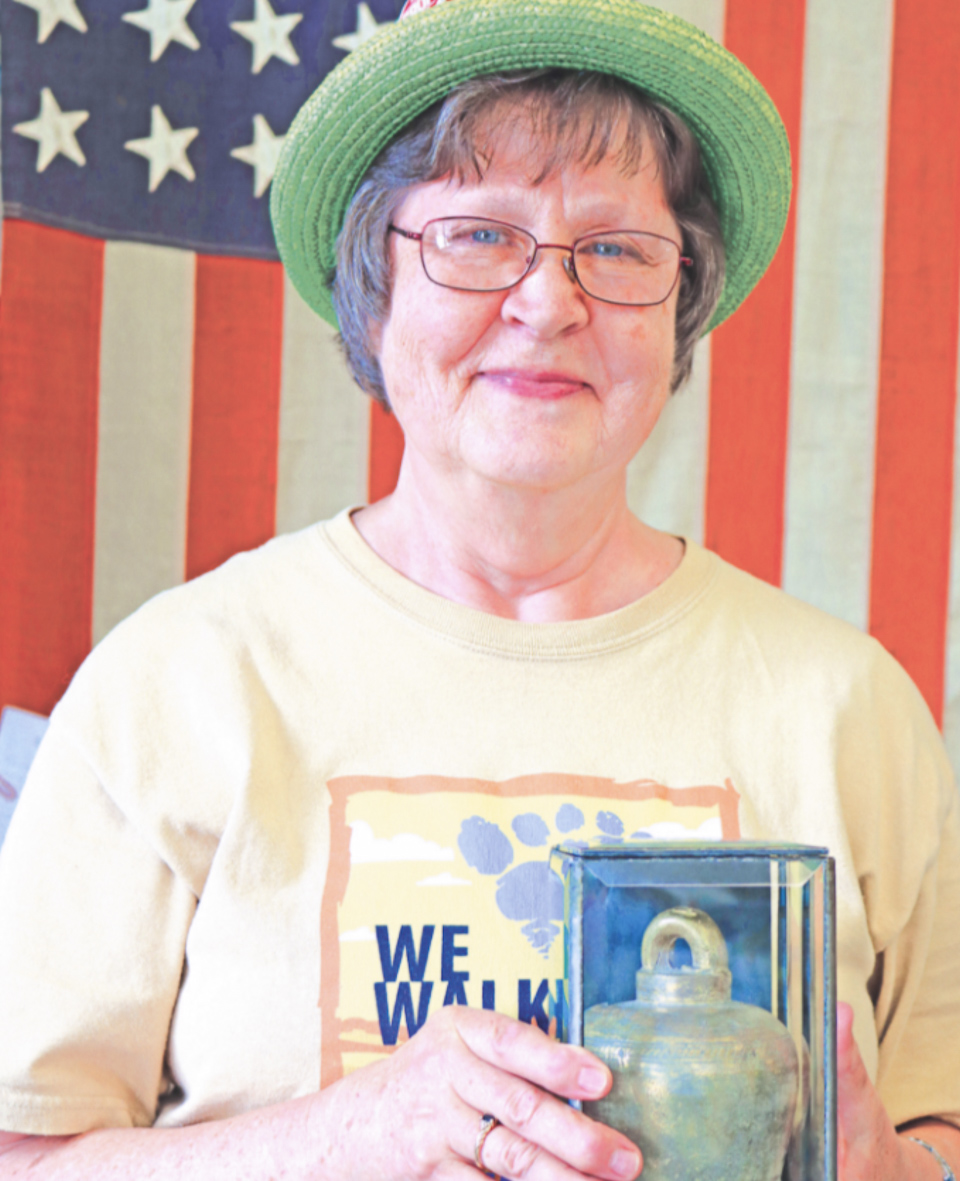 Karol's first year as top money raiser for the state of Michigan was in 2011 when she raised $9,020, and she continued as first in the state each year from then on with increased totals, always hoping to reach a goal of raising $10,000. She reached that goal in 2016, 2017, and 2018, raising $10,000 each of those years and giving her the honor of being the top CROP Walker in the State of Michigan for the eighth year in a row.
"I raised $11,000 this year as I wanted to go out with a bang," said Karol, who wore her special hat during the walk featuring a pin from each CROP Walk she has participated in over the past 25 years. She hopes to be the top CROP Walker in the State of Michigan for the ninth year in a row once the final totals are in to the organization.
She is grateful to all who have sponsored her in the CROP Walk.
"It is such a blessing to know that we have made a difference in the lives of many who struggle to feed their families, not only locally, but in over 80 countries throughout the world," Karol said.
The total amount raised at the Blossomland CROP Walk each year averages between $35,000 to $45,000 with 275 to 350 walkers. Twenty-five percent of the money raised at the Blossomland CROP Walk stays in this area, and helps to support the Bread of Heaven Food Pantry at the United Methodist Church in Berrien Springs, of which Karol is the director; the Benton Harbor Soup Kitchen, the Benton Harbor Street Ministry, and the Catholic Community Center, the Fairplain Presbyterian Food Pantry, and the Salvation Army.
"Last year, our food pantry received $1,560 from the CROP Walk," Karol said. "We assisted 1,860 families in 2018 and gave out 30,871 pounds of food. Our year-end expenditures totaled $9,860 so the funds we receive from the CROP Walk are a vital part in keeping this important ministry available to those in need right here in our area."
Others who help with the UMC Bread of Heaven Food Pantry are United Way, Trinity Lutheran Ladies Aid Society and the church in Berrien Springs, St. Gabriel's Catholic Church, Hinchman United Methodist Church, Chapel Hill United Methodist Church, and the Berrien Springs Post Office through their "Stamp Out Hunger" food drive.
Karol has walked through good times and bad, even when she was receiving her third round of chemotherapy for ovarian cancer in 1997. Her brother, Jim Kesterke, helped her complete the walk by pushing her in a wheelchair. She has survived both breast and ovarian cancer. "Jim has always been there, and our late mother, Ruth Kesterke, also walked with me many times," she said.
"The Lord must have a purpose for me as I could not have done the walks for the past 25 years without everyone's support and prayers," Karol said.
She has always made it a point to write a letter to her contributors directly and to mail them personal, hand-written thank you notes for their support.
"They know it is going to a good cause and are dedicated to the mission," Karol said. "I see the need on a weekly basis through my work at the food pantry."
She is retiring from the walk because her legs are not as strong as they used to be.
"It is time for someone else to step up and take over," Karol said.
The funds raised through the CROP Walk, a program that is over 50 years old, not only go to alleviate hunger, but to provide clean water sources like wells and filtering systems, seeds, agricultural tools, livestock and more to give families in places like Indonesia the chance to survive.
"I want to thank my many sponsors for their support over the years," Karol emphasized. "My sincere and heartfelt thanks to each and every sponsor for each and every donation made throughout these 25 years. Together we have made a difference in the fight against hunger."
Fall CROP Walks are scheduled around Michigan, from Marquette to Hillsdale and many places in between. Click here and find a CROP Walk near you. 
~This feature is reprinted with permission of The Journal Era, a weekly newspaper published in Berrien Springs serving Central Berrien County. With thanks to the Rev. Chris Momany, pastor Dowagiac UMC.