Rev. Benton Heisler explains that no matter how many miles we travel from home, in joy and in discouragement, God is there to take us in and show us love.
REV. BENTON HEISLER
Director of Connectional Ministry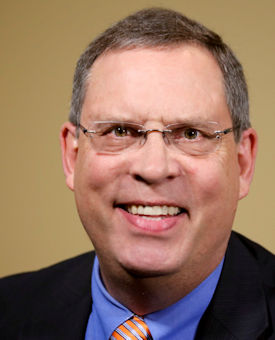 My wife and I once backpacked five days across 25 miles of Isle Royale leading eight middle school students on that trek.
We had traveled over 60,000 miles in about 20 years across 35 states in a motor home with our two daughters when they were younger children.
I have driven the 18 different vehicles I have owned since I was age 16, approximately 1.3 million miles.
I am convinced that admittedly, I must be "Further from Home and Closer to God."
Genesis 5:18-29 records, in brief notes, the reflections of some of the oldest biblical characters. "Enoch walked steadily with God. After he had Methuselah, he lived another 300 years, having more sons and daughters. Enoch lived a total of 365 years. Enoch walked steadily with God. And then one day he was simply gone: God took him."
"Walking steadily with God" was the noted characteristic of Enoch, which was repeated twice in these few verses.
Our many long hikes and miles traveling in a camper have generated notations that fill three different journals with stories and our hearts with countless memories.
One hike, early in our married years, was in the mountains of New Hampshire. The wide, wood chip padded trail had become a challenge of steep boulders and narrow spaces made only more difficult by the hot sun, and a much longer than expected hiking time. We arrived at the peak of this mountain, only to encounter a group of persons who looked fresh, clean and perky. They looked nothing like the dirty, sweaty, covered with bug bites, scrapes and bruises bodies we had.
"How did you all get up here?" we asked. "The cable car right down the trail over there!"
"Have not because we ask not…" (James 4:2-3) How many other trials and trails in life do we simply endure because we fail to inquire of God first?
"…Oh, what peace we often forfeit, oh, what needless pain we bear, all because we do not carry everything to God in Prayer." God knows our every need and can provide in abundance for it.
In that last step to eternity, we only cover the distance of that "trail" by faith. What we did, who we knew, how much money we made or didn't make, doesn't matter.
"Enoch walked steadily with God. And then one day he was simply gone: God took him." (Genesis 5:24)
I can picture God and Enoch talking on that steady walk. And one day, God said to him. "Enoch, you have walked a long way. It's closer to my home, why don't you just come with me."
That would be my prayer for each of us this day. I don't know what grief you have experienced or in what relationships you struggle. I don't know if you struggle with having the necessary provisions of one kind or another, that would make your life a little easier.
I don't know what call and passion you have burning in your heart or companionship and encouragement you need by your side. But I do know, "What a friend we have in Jesus!"
"Have we trials and temptations? Is there trouble anywhere? We should never be discouraged, take it to the Lord in prayer."
And every time we pray, we are indeed, a "little further from home and closer to God."