2020 marks the 70th anniversary of the beginning of the Korean War. A young immigrant expresses her earnest hope that there will no longer be a border between the north and the south.
MINJU CINDY OH
UM News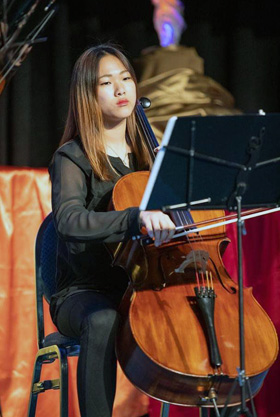 When I was young, I learned that my grandfather, Yongsik Kang, was a refugee from North Korea. In 1945, when Japan surrendered its hold on Korea at the end of World War II, the 38th parallel became the dividing line between the U.S. and Soviet occupation zones, cutting the Korean Peninsula roughly in half.
In 1948, the parallel became the boundary between the Democratic People's Republic of Korea, or North Korea, and the Republic of Korea, or South Korea.
After the Korean conflict broke out in 1950, my grandfather's mother brought him as a newborn to the South.
My great-grandmother thought her departure from home would be short-lived, but it turned out to be a long separation. All his life, my grandfather has longed for his family's reunification while focusing on how the world's leaders could support negotiations to end the Korean conflict. Though a ceasefire of the Korean War was issued in July 1953, the combat is technically still not over: the two Koreas remain under the armistice agreement signed that same year.
Longing for an end to that conflict, my grandfather has been overwhelmed by emotional agony, which Koreans call han. The concept of han is an all-encompassing feeling of sadness, regret, anger, bitterness, and a yearning for a family reunion. Grasping the complicated sense of han is crucial to understanding him and me as people of Korean heritage, reaching across several generations as well as the geographical distance between South Korea and the United States.
That longing for a reunion is especially poignant this year, the 70th anniversary of the beginning of the Korean War. Throughout the world, churches and Christians are taking action to pursue peace and reconciliation on the Korean Peninsula and to end the Korean War. One such effort has taken the form of a 70-day-prayer campaign called "We Pray, Peace Now, End the War!" which continues through Aug. 15.
Ten years ago this August, my parents and I came to the U.S as immigrants. Living in America has meant being enriched by the values and cultures of virtually every part of the world. Often described as a "melting pot" or a "salad bowl," American society combines various cultures while at the same time retaining its distinctively different aspects.
If I transfer the concept of multiplicity with uniqueness to a metaphor of food, I would think of japchae, which is a very popular Korean dish consisting of colorful vegetables, meats, and glass noodles. These ingredients, while mixed all together, each contribute their own specialty and uniqueness.
Just as japchae incorporates diverse and distinct ingredients, many different activist movements exist through which people can speak up and work together. The Black Lives Matter movement fights the violence and injustice inflicted on Black communities. The human rights movement promotes the idea that all human beings should be free from colonialism, imperialism, slavery, patriarchy, and tyranny. The environmental movement actively engages with critical ecological issues by promoting such events and activities as Earth Day, Silent Spring, and recycling. In addition to being involved with these constructive movements, I am also intensely passionate about the Korean peace movement called "Amazing Grace with Peace."
As I look back on my childhood with my grandfather, I recall him singing the hymn "Amazing Grace" whenever he felt grateful to God or desperately longed for his family in North Korea. One of the lyrics says that "Grace will lead me home." My grandfather has believed in God's gracious guidance to lead him home literally, where he can meet and embrace his family in tears of releasing han at a reunion.
Even though my grandfather is 75 years old and incapable of picturing and remembering his family, a feeling of sadness and longing always hovers over him. His story is not just a lone tale about who he is and what he has done for the family reunion. His story is also the story of all refugees who believe that they will be reunited with their families in their homes. His story inspires me to cultivate the strength within myself and to work toward a peace treaty for Korea, my country of origin, in which there would no longer be a border between the South and the North.
So, based on my grandfather's story, I have learned to play "Amazing Grace with Bach," a musical arrangement by Sun Ahn, which mixes the hymn with Johann Sebastian Bach's "Cello Suite No. 1 Prelude."
Whenever I have visited different churches and have played "Amazing Grace with Bach" on my cello, I have shared the story of my grandfather's desire for the family reunion and my story of the Korean peace movement with the congregation.
My movement invites people to advocate for everyone who deserves to be with family and to speak up for the peace movement both locally and globally. Rather than putting the precondition of the denuclearization of the peninsula at the top of the political agenda, I believe that to end this hostility and war, we must start with humanitarians' faith in reuniting with their families. 
Just like the various ingredients that enrich japchae, I hope many Korean and Korean-American teenagers can add their distinctive voices and join together in solidarity to transform the demilitarized zone into a peace zone. And, for my part, as I aim for the gradual demilitarization of my country of origin and my grandfather's reunion with his family, I will continue to play the cello and advocate the "Amazing Grace with Peace" movement.

~Minju Cindy Oh, a member of Wesley United Methodist Church in Urbana, Illinois, is a rising junior at Illinois Mathematics and Science Academy in Aurora.
Last Updated on September 20, 2022