Worship is always a highlight at any session of the annual conference. When the focus is on, "Singing the Lord's Song, to sing, preach, and pray are especially vital, even when online.

GLENN M. WAGNER
Michigan Conference Communications
June 3-6, 2021 | LANSING -- The theme of the 2021 Virtual Michigan Annual Conference was, "Singing the Lord's Song." Psalm 137 was a scripture passage repeated during all worship, asking the poignant and timely question, "How can we sing the Lord's song in a strange land?"
With the help of the Rev. Dr. Cynthia Wilson, guest preacher and teacher, members throughout the three days of the conference stayed focused on the answer to that question. As Wilson and singers harmonized during opening worship on Saturday:
Someone asked the question, Why do we sing? When we lift our hands to Jesus, what do we really mean? Someone may be wondering when we sing our song. At times we may be crying and nothing's even wrong.
I sing because I'm happy. I sing because I'm free. His eye is on the sparrow, that's the reason why I sing. Glory hallelujah! That's the reason why I sing!
Singing through challenging times | Opening Worship | June 3, 2021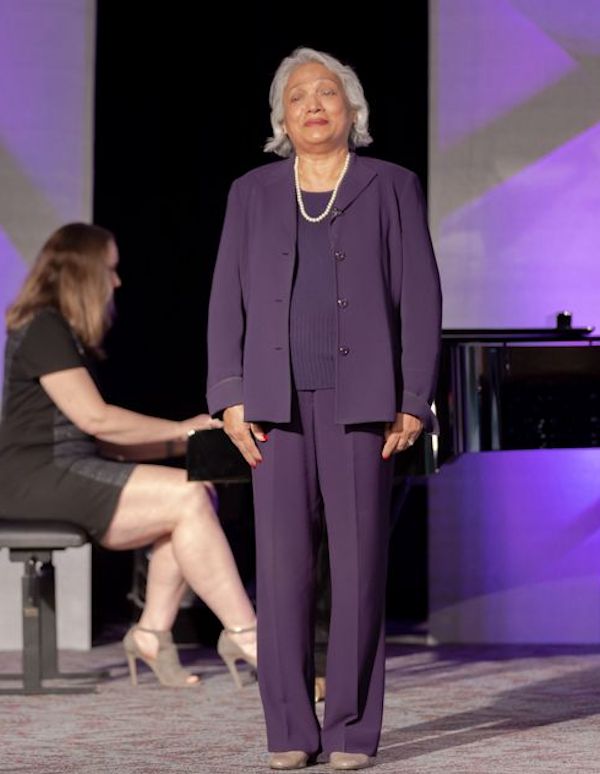 June 3, 2021 | LANSING -- Acknowledging the challenging truths of our current circumstance but affirming faith in a God who is greater than our fears, the 2021 meeting of the Michigan Annual Conference opened at 7:00 PM on Thursday, June 3, with virtual memorial worship and a message of abiding hope.
From the beginning of the service, worshipers were reminded that we are followers of Jesus in an unusual time.
Raj Wiener, former Michigan Director for the Department of Public Health, offered an inspirational welcome.
May the God who calls us here meet us here. May the connection that unites us virtually connect us spiritually. May the heartache of this past year be healed by the promise that we are not alone. May hate fail, and love prevail, and may we worship the God who created this diverse world … and each of us.
The opening litany led by the Rev. Christy Miller White, Conference Coordinator of Youth Ministry Initiatives, and Rev. Albert Rush, pastor of Immanuel United Methodist Church in Eastpointe, MI, gave a powerful introduction to the Charles Wesley hymn, "And Are We Yet Alive." This hymn has been used as the opening for Methodist Annual Conferences since the days of John Wesley.
As the familiar words of the opening verse were sung, each line was punctuated with a spoken assessment of current reality.
Singer: And are we yet alive…
Speaker: By the grace of God, we are.
Singer: And see each other's face?
Speaker: Though not together in person, we are united in spirit.
Singer: Glory and thanks to Jesus give for his almighty grace!
Speaker: A grace that is offered to each of us and all of us.
Singer: What troubles have we seen…
Speaker: Shall we list them? A global virus, racial unrest, political divide, overwhelming grief, escalating shootings, and violence…
Singer: What mighty conflicts past…
Speaker: Denominational divide continues…children suffering at our borders…economic disparity grows…
Singer: Fightings without and fears within, since we assembled last…
Speaker: Wear a mask, don't wear a mask… social distance or get together…vaccinate or don't… re-open or remain closed? Offer worship online?
The hymn continued, the connection to our current context clear. The final verse declares faith that is greater than our troubles: "Yet out of all the Lord hath brought us by his love; and still, he doth his help afford, and hides our life above."
The virtual format precluded the physical and emotional support received from the in-person gathering. However, viewers remembered the lives of annual conference members who have died in this past year. Clergy family and lay members were also honored.
Names were read. Ministries were recalled. Thanksgiving and tears at home were real. John Boley, Clergy Assistant to the Bishop; Annette Erbes, Conference Lay Leader; and Christy Miller White, provided leadership for the memorials.
Scriptures remembered people of faith have been tested by difficulties before. Psalm 137 recalled the challenge faced by Jewish exiles in Babylon in 586 B.C. A reading of Luke 8 remembered how he addressed his disciples' fears by calming the storm at sea.
The question of the Psalmist, "How do we sing the Lord's song in a foreign land?" prompted a chorus of voices asking, "How do we sing?" The answer came from John Wesley himself, portrayed by the Rev. Dillon Burns, Manchester UMC, exclaiming, "I'll tell you how we sing!" He then recited John Wesley's Directions for Singing.
"Wesley ended his litany by saying, "Sing spiritually – have an eye to God in every word you sing. ... attend strictly to the sense of what you sing, and see that your heart is not carried away with the sound, but offered to God continually; so shall your singing be such as the Lord will approve here, and reward when he cometh in the clouds of heaven." A virtual cloud of singers of all ages from around the Michigan Conference then joined in a rendition of the 1973 Carpenters' hit, "Sing! Sing a song! Sing out loud! Sing out strong! ..."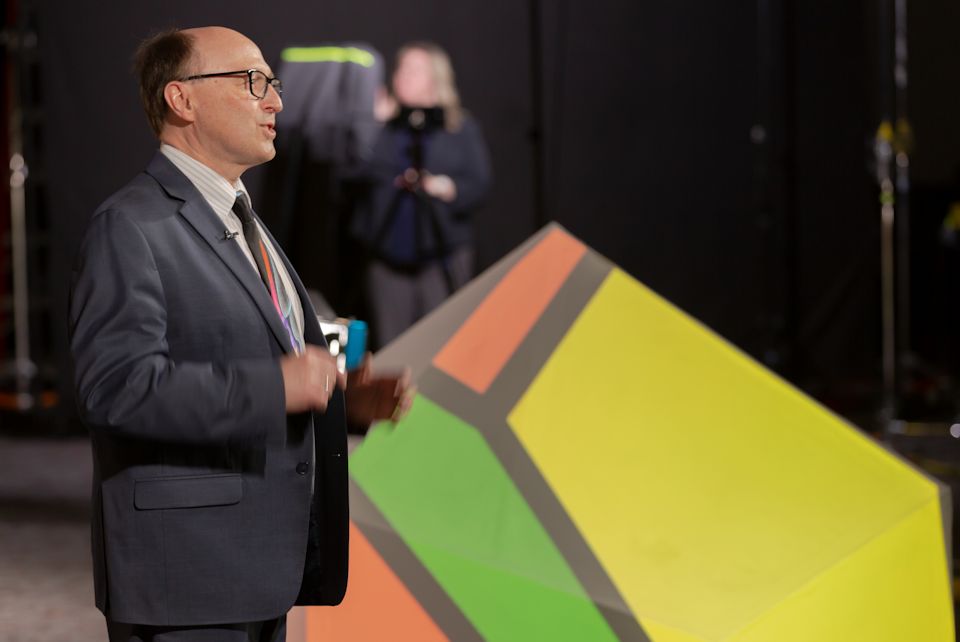 The memorial message by Bishop David Bard focused on "Singing the Lord's Song" amidst the strange things happening every day in our world.
Bishop Bard, who is also serving as bishop in Minnesota, offered a recap of the disturbing headlines and challenging realities of this past year: racial unrest, a contentious election, a deadly pandemic, economic hardship, church divisions. He reminded members of realities that no one could ever have imagined, such as the new Michigan Conference has now met as many times virtually as we have in person and that Bishop Bard is now in year five of a four-year term as bishop.
The bishop reminded members of the Apollo 13 astronauts who had to adapt their routines in stressful circumstances to return their vessel to earth safely. He also noted that the Talmud, a treasured book of Jewish teaching, took shape during the challenging generation when Jews lived in Babylonian exile. These exiles learned how to sing their songs of faith in a new land.
He offered these words of direction and hope,
We live in a time where many of our realities stand against what we know are God's desires for our human community.
God is at work, always at work, to transform human lives – to heal, mend, forgive, renew. God's Spirit is always at work within us, our hearts, minds, souls, but this inner work, in Barth's words, 'must break forth from quiet hearts into the world outside.' God is at work, always at work, to create a new world - a world centered in justice, peace, reconciliation, compassion, gentleness, kindness, and love. To the extent the world in which we live is not this new world, well, the world will feel a little strange to us, should feel a little strange to us.
We live in that tension between every place being a little strange and every place being home. And we live in extraordinarily strange times now. In this time, in this place, we are to follow Jesus in ways that amaze and astonish, that lead people to new shores and help calm the seas along the way. If I were to answer the question of how we sing God's song in this time, in this place, in these strange days, I would say that we should sing strangely beautiful songs, songs celebrating that with God there are strange things happening every day, strangely beautiful things, even in strange times.
We continue to sing and live in the direction of God's message and grace no matter what.
How shall we sing the Lord's song in this strange land, in this strange time? Sing strangely beautiful songs. Be strangely beautiful people.
The Rev. John Boley, the Clergy Assistant to the Bishop, announced the beneficiaries of this year's Annual Conference mission offering: Haitian Assets for Peace International, the Bishop Judith Craig Children's Village in Liberia, and Child Hunger Relief. Learn more about these ministries and how to support their work.
Worship closed with a hymn recap of Bishop Bard's hopeful message, "My Life Flows On," led by Christy Miller White and the Rev. Caleb Williams.
The peace of Christ makes fresh my heart,
a fountain ever springing!
All things are mine since I am his!
How can I keep from singing?
Refrain: No storm can shake my inmost calm
while to that Rock, I'm clinging.
Since Love is Lord of heav'n and earth,
how can I keep from singing?
A video of the Opening Worship Service is available here. Other worship videos will be on MIUMC Vimeo soon.
Greensky Hill and TroyHope praise God | Friday worship | June 4, 2021
June 4, 2021 | LANSING -- Friday worship celebrated the cultural diversity within the Michigan Conference family of God. A Native American and a Korean congregation brought spiritual uplift to members and friends of The Michigan Annual Conference.
Opening worship with Greensky Hill Indian UMC
A virtual annual conference offered a blessed opportunity on Friday morning to take a video road trip to the Greensky Hill Indian United Methodist Church just east of Charlevoix, MI to hear the music of our faith in a different language and to listen to the honest laments over injustice past and present that have not dimmed with time.
The ministry of the Greensky Hill Church traces back to the leadership of Peter Greensky, a Chippewa Indian who preached the gospel of Jesus Christ to his Indian brothers and sisters. In 1860 Greensky was put in charge of the Indian Pine River Mission near Charlevoix, serving there until his death in 1866. A simple log church was built at the mission in the 1840s surrounded by trees marking the site of a long sacred Native American meeting place. Today the church is used by an active, racially mixed congregation, some of whom are descendants of the original worshipers.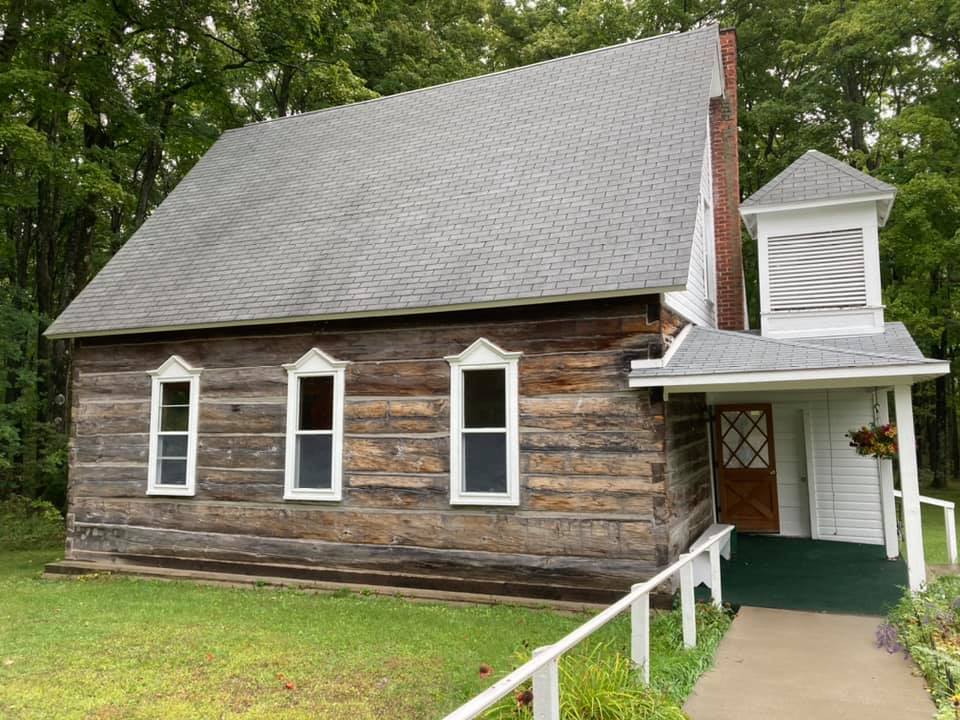 Greensky Hill's current Pastor, the Rev. Jonathan David Mays, relates additional history of the church. "Our stories tell us that a couple of hundred years ago, 25 years or so before Peter Greensky and the congregation arrived on the shores of Susan Lake in Charlevoix, 29 or 30 Ogimaas (leaders/heads of family groups) gathered in this place held sacred by first peoples. As a sign of peace with one another, they each planted a tree in a big circle (or concentric circles), bending each young tree so that it would grow into a crooked tree. Crooked trees were used to mark trails and sacred places. Bending the trees also protected them from the timber industry. As the trees in the original circle began to age and fall, Greensky Hill members planted a new circle of trees in our active cemetery near our hewn-log sanctuary and Susan Hall. Those trees, though not bent, are now mature and a reminder of new life and unity at Greensky Hill. Seven original crooked trees remain standing in the original Circle of Trees calling us to our ancestors' commitment to peace and connection with creation."
After a brief introduction by Bishop David Bard, the opening worship service took members into the historic church, with music accompanied at times by native drums and flute. The worship was capably led by Rev. Mays, members of his congregation including: Jonathan's wife of 43 years and partner in ministry, Kathy Mays; Sharon Osterhouse, accompanist and family farmer; Laurie Wilson-Moore a descendant of one of Greensky Hill's founding families; Edward Oliver, son of a noted Greensky Hill historian; Sarah Shaeffer, Youth and Family Pastor at Greensky Hill and her singer-song writer sister Jessica Dominic, both members of the Little Traverse Bay Bands of Odawa Indians and members of a family that played a key role achieving federal recognition of the sovereignty of Indian bands in Michigan; and Matt Koontz, a student of the Anishinaabemowin language, accomplished flute maker and player, and Spanish teacher at Petoskey High School.
In scripture, liturgy, song, and prayer worshippers were invited to remember the exile of Jews to Babylon after the fall of Jerusalem in 586 BC. Scriptures preserving the pain of that dislocated generation were shared. Psalm 137 and Lamentations 3 were read and the difficult context was remembered.
It is hard to sing the Lord's song in a new land. Real pain is not easily dismissed. Difficult as it is, truth-telling and difficult listening are both required for healing to take place. Our ancestors in the faith preserved laments because honest laments are an honest way to express real grief. There is no lasting peace without justice. Artfully, Jonathan David Mays in his sermon set the words of biblical laments in context before linking them with current events and the contemporary laments of artists like John Legend and Common, Kimberling Latrice Jones, and Native American Hip Hop Artist Supaman.
Pastor Mays did not shy away from hard truths when he shared:
"Like myriads of broken treaties between white power systems and indigenous people, Jones laments,
You broke the contract when you killed us in the streets... You broke the contract when for 400 years, we played your game and built your wealth. You broke the contract when we built our wealth again on our own by our bootstraps in Tulsa and you dropped bombs on us, when we built it in Rosewood and you came in and you slaughtered us. You broke the contract.
"Latrice Jones laments the consequences of those broken contracts and concludes, 'And they are lucky that what black people are looking for is equality and not revenge.'" Mays noted, 'That's a hard pill. I thought long and hard about taking on Psalm 137 in all of its expressions during Annual Conference worship."
Mays encouraged the conference with this conclusion to his message.
"It is a legitimate and important part of this process to get to Lamentations 3:22 & 23.
But this I call to mind, and therefore I have hope: The steadfast love of the LORD never ceases, [God's] mercies never come to an end; they are new every morning; great is your faithfulness.
"Have mercy, Loving God, and teach us to lament with our most vulnerable kin, in their language, so that we might truly, madly, deeply understand the steadfast love of your kingdom. ... How shall we sing the Lord's song? By first listening, really listening, to the Lord's song in everyone else. By hearing and recognizing the voice of Christ in every song. Every human. Every people. Every song. ... It could be good."
The worship concluded appropriately with a hymn of prophetic hope for a new day for all of God's people, "Let Justice Like Waters Roll Down." The final verse declared hope:
O may we flow freely like waters and streams
to heal and restore broken hearts and lost dreams.
Awaken us fully to all we can be,
reclaiming our souls as we set people free.
It was a privilege to be welcomed into this sacred space and to worship in the language spoken in Michigan before the French and English arrived. This worship experience was made even more powerful by the video segments filmed outside the church in scenic Northern Michigan lakeside settings.
Pastor Jonathan Mays' parting comment on his way out of the church at the end of the service is a hopeful call to action: "Let's go! We've got a world to love!"
Afternoon worship with TroyHope
Late on Friday afternoon, the Michigan Annual Conference concluded a day of virtual reporting and learning with another opportunity to celebrate the diversity of God's people and continuing reflection on what it means to "Sing the Lord's Song." In introducing worship leader Anna Moon, Bishop David Bard said of the TroyHope congregation: "The congregation started in November 1972 with eight people worshiping and, by the grace of God, the congregation is over 1000."
The TroyHope Ministry website offers additional introduction:
TroyHope Ministry is an English-speaking ministry affiliated with the Korean United Methodist Church of Metro Detroit in Troy, Michigan. Our congregation is a multicultural mix of God-loving people from our local communities, extended communities, and from all around the world. Some are from right next door, others were born overseas or live in or have come from elsewhere in the United States. All are welcome in our doors. "Breaking news, people" - You do not have to be of Korean descent to join with us. While we are affiliated with a Korean Church, more than one-third of our congregation are not of Korean descent at all. We believe this is how church should be. We'd like to see you and to meet with you, no matter your ethnicity, no matter your wishes and wants in life... we are all the church of Jesus Christ. Come... be a part of this with us. Let us rejoice in the Lord together.
The praise team from TroyHope United Methodist Church joined the Rev. Anna Moon in singing the Lord's song on Friday, June 4, 2021. ~ mic photo/Aaron Word
Virtual worship opened with Rev. Anna Moon welcoming worshipers into TroyHope's contemporary worship space. The congregation's seven-member praise team joined her in joy-filled song.
An opening prayer was offered by the Rev. Eugene Paik. Eugene is one of the First Kwansonims (Exhorted Deacons) at TroyHope and serves as treasurer of COAAM, the Committee on Asian American Ministry of the Michigan Conference. He was one of the signers of the call for prayer issued by the COAMM against the evils of anti-Asian racism on March 19, 2021 following the March 16 shootings of Asian Americans in Atlanta. Eugene prayed: "Please help us to keep your perspective at heart and lead us at this time to seek you for wisdom and discernment. There is still much to be done in following your great commission. There are many around us who haven't found you or heard of the hope that we have in you. This hope that you provide, aids us, heals us, and convicts us. The hope in you that makes us a light in this world. Lord please keep us focused on your calling."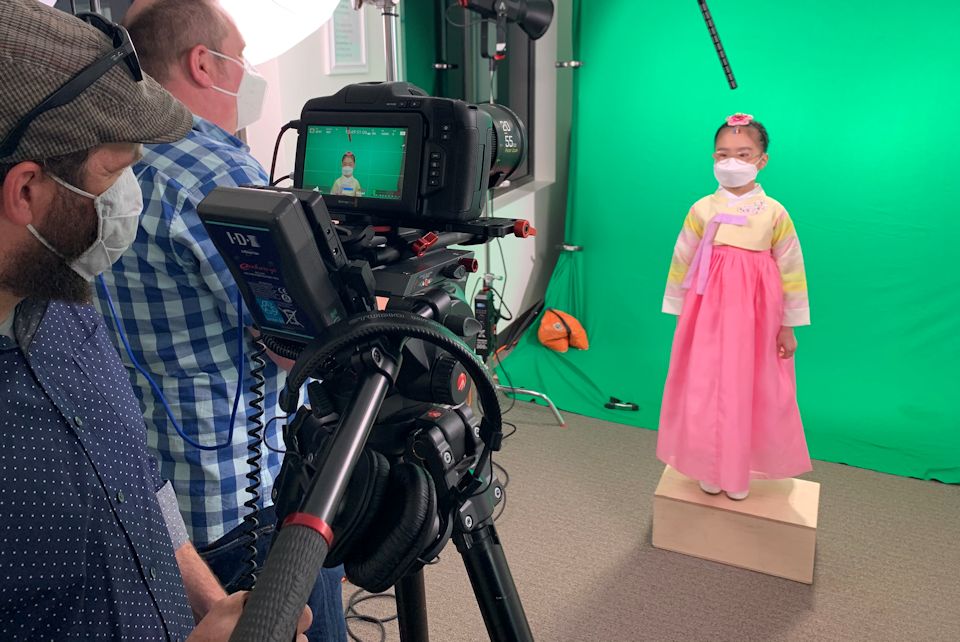 Prayer was followed by an offering of scripture read by children of the church from Psalm 137 and Revelation 7 in multiple languages. Leo Brocht set the context in English sharing from the Jews in Babylonian exile over 500 years before Christ who expressed their grief in Psalm 137. He then read the heavenly vision penned by the exiled Apostle John who described the throne room of God in his Revelation on the Island of Patmos around 96 CE.
How could we sing the Lord's song in a foreign land?
After this, I looked, and there was a great multitude that no one could count, from every nation, from all tribes and peoples and languages, standing before the throne and before the Lamb, robed in white, with palm branches in their hands.
They cried out in a loud voice, saying ...
In progression, the remembered words of the peoples gathered before God's throne from Revelation were declared in languages from the TroyHope Community.
Yeji Kim shared in Korean from Revelation 7:10b words that were translated,
Salvation belongs to our God who is seated on the throne, and to the Lamb!
The same words of praise were shared by Lucas Chue in Mandarin.
Isaac Chue repeated the praise in Cantonese.
Leo Brocht declared the same in English.
Salvation belongs to our God who is seated on the throne, and to the Lamb!
The multi-language reading reminded worshipers that God's glory translates into all the languages on earth.
Pastor Anna Moon shared her sermon on "Singing the Lord's Song in a Strange Land," offering insights from her personal spiritual wrestling with the text of Psalm 137.
She shared the feeling of many worshipers across The Michigan Conference when she reflected: "This has been a strange time of doing worship online. Before, we were trying to get people inside the sanctuary, but now we are trying to keep our distance to show our love. How we miss being with one another, and how we miss hugging and having food fellowship and singing with one another with one full voice."
"First, Singing the Lord's song in a strange land is about remembering where we are from, who we are, and whose we are. ... We remember the first home God created and it was very good. In God's plan, our home was to be where the Creator God has created for the creations to be living in peace in the Lord God and with one another."
Pastor Moon spoke powerfully to the recent hate crimes against Asian Americans in Georgia where her parents live, and in New York City where a hate crime was perpetrated on an Asian woman on a busy street in broad daylight and no one bothered to help. She contrasted hate with examples of love and acceptance that she has experienced. Moon talked about the pervasive nature of sin, the divisiveness of hate, and noted, "Jesus physically came down to this strange, foreign land teaching us to sing the Lord's song so we can remember whose we are, where we are from and where we are headed!! Jesus teaches us to sing the Lord's song and let our lives be songs to the Lord as we have marks of Jesus Christ so others will know that we are his disciples."
Anna continued with a strong second point about the singing of faith in a challenging time. "Singing the Lord's song in this strange or foreign land is about looking forward to our true home! The preacher shared the powerful inspiration she received from attending a global conference of praise for Christ with a full arena of people while she was attending the University of Illinois at Urbana. There she experienced the joy that comes from unity of praise in the global body of Christ. She proclaimed that celebrating God in our difference but also our unity is God's plan and it is up to us to live into this vision.
Pastor Moon's third point described the Christian's true home. "Singing the Lord's song in this strange or foreign land is about living out our home here on this strange or foreign land as citizens of the Kingdom of God."
Anna was honest about her personal challenges with her own physical health concerns. She has learned from her congregation, her colleagues in ministry, and her faith in Christ to stay focused on Christ's desires for us.
She concluded by remembering again God's vision from Revelation for all the peoples of the world.
So, let us continue to live as the kingdom people; loving God, loving one another as one body of Christ, as we act justly, love mercy and walk humbly with our God as we sing the Lord's song in this strange land.
For Salvation belongs to our God who is seated on the throne and to the Lamb!! Blessing and glory and wisdom and thanksgiving and honor and power and might be to our God forever and ever! Amen." (Revelation. 7:10, 12)"
The closing words of benediction were offered in Korean by Rev. Eung Yong Kim, Senior Pastor of Troy Korean United Methodist Church. Rev. Kim also serves as the President of the Michigan Conference Korean Caucus.
살아계신 하나님 오늘 귀한 말씀을 통해 우리가 주님의 나라를 다시 보게 하시니 감사합니다. 구원하심이 오직 주님께만 있음을 고백합니다. 함께 예배한 모든 형제와 자매들에게 하나님의 크신 은총을 더해 주셔서 놀라운 주님의 일하심과 역사하심 가운데 있게 하옵소서. 날마다 우리에게 힘주시고 귀한 길로 인도하시는 성부와 성자와 성령의 이름으로 축복하며 기도합니다.
The English translation reminds us that God's love helps us with our differences:
Living God, thank You for allowing us to see Your kingdom again through Your precious Word today. We confess that salvation belongs to only You, Lord. We pray for God's great grace being added to all who worshiped together to be in the midst of Your presence and all Your amazing work. In the name of the Father, the Son, and the Holy Spirit who blesses, strengthens, and leads us in precious ways daily. Amen!
Our God is still making music! | Saturday worship | June 5, 2021
June 5, 2021 | LANSING -- Saturday worship services at the 2021 Virtual Michigan Annual Conference made the transition from Babylon in the 7th century BCE to Michigan in the 21st century CE. The opening service featured the Rev. Dr. Cynthia Wilson with songs for a new day. Closing worship featured young adults from across the annual conference. They and preacher Paul Perez raised the question, "How might we sing a NEW song?"
Opening worship with the Rev. Dr. Cynthia Wilson
Saturday morning worship was a reminder of a shared history. We are a people who have an abiding faith in God that has been passed down to us from slaves, exiles, persecuted minority groups, and missionaries who risked their well-being to remind us that the God we worship is embodied in sacrificial love and amazing grace and encourages us to sing songs of faith even in difficult circumstances.
This service continued to express the themes of the Conference worship services of the previous two days. This is a challenging time, similar in some respects to the period of Jewish exile in Babylon referenced in Psalm 137. It can be difficult to sing the Lord's song. Saturday morning's worship also showcased the diversity of talented leaders in our conference.
The morning's preacher, The Rev. Dr. Cynthia A. Wilson, Executive Director of Worship Resources at our United Methodist Discipleship Ministries agency, opened the service by musically reminding us of Babylon.
Eric Mulanda Ndua, a native of Congo, graduate and former student body president of Africa University, and now pastor of Lansing's Mount Hope United Methodist Church, led the band and singing in response to God's call to sing a new song:
Listen up people! Open your mouths and sing the story,
Those of you who are far from home, immigrants, exiles, victims of oppression,
Those of you gathered here who need help, compassion,
Some of you have come through the water, some through the flood,
Yet I bid you come over a way that with tears has been watered.
Rev. Kennetha Bigham-Tsai, a Michigan Conference Elder who leads our denomination's Connectional Table, provided a female voice to God's call,
Listen up people! Open your mouths and sing the story,
sing the songs that your ancestors taught you!
Do not hide the love of my law.
Sing of my power and my might, tell them of my strength.
Sing to them the story of how I rescued you from slavery;
Tell them how I was your bridge over troubled water;
You must be storytellers and story listeners too!
Brittney Stephan, Associate Director for Multicultural Vibrancy for the Michigan Conference, prepared the congregation for prayer with a brief instruction on breathing.
The invocation was followed by a prayer that was responsive, musical, and led by multiple voices. Prayer reminded us of the power of God, the grace of God, and our mission to serve as God's people even when singing is difficult in challenging times.
Scripture was Psalm 137, written by the exiles in Babylon who struggled with how to faithfully sing the Lord's song in a new land while continuing to seethe over remembered injustice.
Rev. Dr. Cynthia Wilson shared her message of truth and hope. She reminded us of the truth that gospel music from African slaves was America's first indigenous musical genre and that soul-filled singing of God's song is a way to remember God's presence. She explored the song of Hebrew slaves in Babylon in Psalm 137 and remembered how oppressed people found the strength to face adversity by singing songs of faith anyway. She said:
There are times you just don't feel like blessing the Lord.
This is just the time to reach into our souls, reclaim our song,
Even in the valley of the shadow of death.
I came from Nashville. Folks know how to sing there.
I came to Michigan because you have a rich history of song.
I hope you begin to sing again. So the sick are healed.
I hope you sing until the power of the Holy Ghost comes down.
Michigan Conference. You cannot let trouble interrupt your praise.
In the closing benediction, Wilson led in song the traditional blessing from the Aaronic benediction on Numbers 6:22-2. "May the Lord bless you, and keep you, make his face to shine upon you and give you peace."

Click here for a transcript of the service, including the message by the Rev. Dr. Cynthia Wilson.
Closing worship with Paul Perez and young clergy
Closing Worship continued the theme of Singing the Lord's Song that guided the previous times of praise. The service was prefaced by the close of the conference business session. After difficult wrestling with resolutions and the passing of the budget in challenging financial times, our virtual business session ended on a hopeful note with an unexpected joyful announcement by Bishop David Bard. He and his wife Julie received the glorious news during conference business this morning of the birth of a new grandson.
The closing worship led and designed by a team of young Michigan conference clergy, moved the conference them of Singing the Lord's song in a Foreign land past Psalms of lament which are helpful in times of grief and stress and more broadly invited us to find inspiration in the guidance of all the Psalms which speak to the many aspects of our human condition.
The opening of the service was ably led by Ali Belski, Director of Student Ministries, Young Adults, and Communication at Livonia Newburg UMC. She sang, offered words of welcome and prayer.
The Rev. Ruth Vandersande, associate pastor at Midland First UMC; the Rev. Paul Hahm, pastor of Grace UMC in Lansing; the Rev. Paul Reissmann, pastor of Wayland UMC; and the Rev. Corey Simon, pastor of Martin and Shelbyville UMCs followed with a collect prayer that invoked God's presence with a younger vibe and asked God to "Sing in us."
After the reading by Simon of the uplifting Psalm 98, "O sing to the Lord a new song, for he has done marvelous things," the Rev. Paul Perez, Director of Connectional Ministries for the Michigan Conference challenged the conference in his message to be a people shaped by all of the Psalms. He urged members to find room in our congregations and our Christian service for both lament and praise, honesty, and sharing of hope.
Paul's questioning invitation to sing a new song was eloquent. He shared a powerful story of his last visit with his grandmother before her death. He read the underlined Psalms from his grandmother's well-read Bible during his visit with her which boldly declares life as it really is. Perez affirmed the power of the Psalms to help us in life's challenges as people of faith. He concluded his passionate message on the Psalms while reflecting on the end of conference and the beginning of another year of ministry for Christ. He encouraged Michigan United Methodists to see the truth of injustice and inequality and to be honest with each other.
What would it really mean for the church to be a place of honest, raw emotion ... a place where extreme joy, rage, and despair could be expressed and acknowledged? . . .
What would it mean for us to be a Psalm 98 church … A church that makes room and sits with the unanswered and unresolved?
What would it mean for the church to be a place where we address God directly and expect to hear and answer . . . even if the answer is not what we expected or an answer we did not want or completely overturns our way of life?
What would it mean to be a church who embodies a God who sees our tears, hears our cries, witnesses our anger, delights in our joy?
What would it mean for the church to embody a God who sets an overflowing table in the midst of our enemies?
Can we yet, be a church like this? A church that not only sings the Lord's song in a strange land but a church that sings to God a brand-new song?
The answer is simple. But it is not easy.
What new song would you sing?
Carl Gladstone, a Deacon serving Motor City Wesley and Dearborn First UMC, provided leadership for singing, "Love Has Made Us," and "Father of Earth and Heaven."
The Rev. Cora Glass, Director of Lifelong Faith Formation at Central UMC in Waterford, led the online gathering in sharing a virtual love feast with bread and water. She reminded worshipers of the history of the meal noting,
The Love Feast, or Agape Meal, is a Christian fellowship meal recalling the meals Jesus shared with disciples during his ministry and expressing the community and fellowship enjoyed by the family of Christ.
Although its origins in the early church are closely interconnected with the origins of the Lord's Supper, the two services became quite distinct. John Wesley first experienced it among the Moravians in Savannah, Georgia.
It quickly became a feature of the Evangelical Revival and a regular part of Methodist society meetings in Great Britain and throughout the English–speaking world. As Methodists immigrated to North America they made Love Feasts an important part of early American Methodism.
The Love Feast was followed by the sharing of five testimonies from pastors who have completed their first challenging years of service in new appointments. They each reminded worshipers that God continues to work across our conference even during this past year of pandemic. Our young pastors embody the hope that we are not alone, our great mission is before us, and God is still with us. Each of the following pastors shared their witness while holding a loaf of the bread of life reminding us of the love feast in Christ that binds us around the Lord's welcoming table.
Kelsey Burns French, pastor of Hopkins and South Monterey UMCs, spoke about the challenges of ministry during her very year of her first pastoral appointment and how the pandemic inspired her church to offer a meaningful live nativity outside on the town square on Christmas Eve in the bitter cold when the traditional in-house Christmas Eve service was not an option. She also spoke about the new opportunities for outdoor worship in good weather that has been a good change for her church. Pandemic forced creative changes have helped her church to sing new songs of faith.
Audra Hudson, Director at Central Michigan University Wesley Foundation spoke about her first year in her new role being like a plant that has been uprooted and re-planted - challenging but also fruit-bearing. She praised the creative vision of the students she is working with who dare new things for the sake of the kingdom.
James Cogman, Pastor at Bethel UMC in Flint, offered praise for new skills learned during his first year not only as a virtual pastor with an online ministry but also for the 600 persons encountered each week in Flint as the church continues in ministry by giving away clean bottles of water and serving as a COVID testing location. He lifted up what God has been doing that is worthy of praise in Flint.
Elizabeth Hurd, Pastor of Caledonia UMC shared how in the midst of the upheaval this past year she has continued to hear God's voice through scripture, conversations with friends, or powerful moments online. She has learned that God still offers the music and affirms, "We have to keep singing."
Zack Dunlap, Pastor at Berkley First UMC offered fitting punctuation to the close of our Conference worship: "If our mission is to make disciples of Jesus Christ for the transformation of the world, let's let go of the stuff that no longer helps us accomplish our mission. And let us boldly, creatively, and compassionately meet people where they are, offering the chance for them and for us to be part of something greater than ourselves – to be part of God's continually unfolding work in the world."
In his dismissal, the Rev. Paul Perez said, "We keep our hands open ... to receive all that is to be dreamed, to be called forth, and called out ... all that is to be found, healed, forgive, liberated ... all that is to be celebrated and lamented ... all the striving and the struggle ... all that is to come in the year ahead."
Click here for a transcript of the service, including the message by the Rev. Paul Perez.
Last Updated on November 9, 2023