On Monday, CFA Chair Brad Bartelmay reported on financial challenges, downward trends in payment of Ministry Shares, and the formation of a new task force with a focus on generosity.
KAY DEMOSS
Senior Content Editor
July 27, 2020 | LANSING – On Monday morning, the Rev. Brad Bartelmay, President of the Conference Council on Finance and Administration (CFA) provided an overview of "the state of the conference's financial well-being." It added to the list of reports indicating COVID-19 has had a dramatic impact on the churches.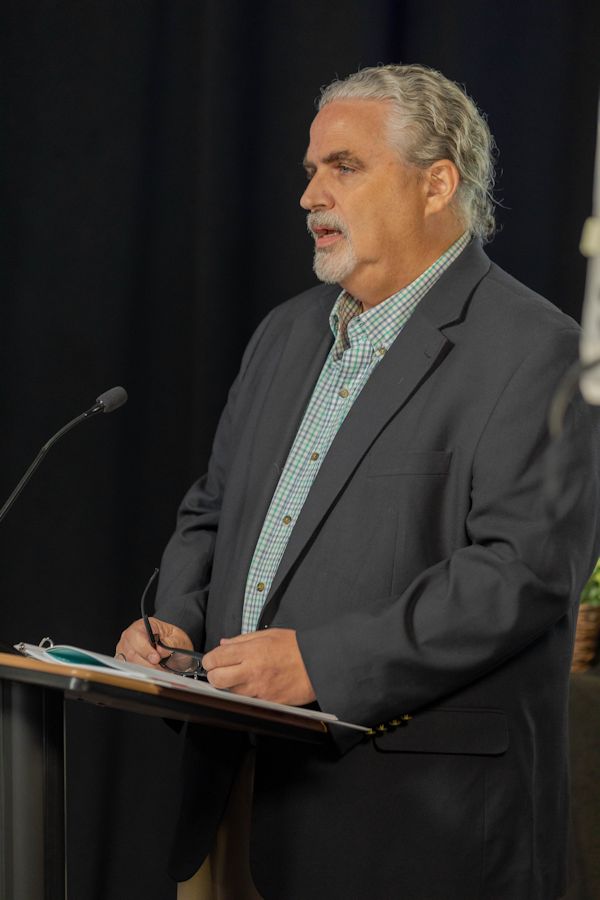 "There is no way to soft-peddle the financial challenges we are facing," Bartelmay began. "The central challenge we face centers around remittance of Ministry Shares." He shared statistics that reflected the trend that "payment of Ministry Shares is weakening each year." Approximately $11.4 million was remitted in 2018 by churches for ministries of the conference and the general church. "In 2019, the amount shrank by over $800,000," Bartelmay reported. "In response, reductions of 15% were put in place for all conference ministries."
Ministry Share pay-in has "declined dramatically" during the COVID-19 outbreak. "At the end of May, payment of Ministry Shares is 23.1% behind where it was on the same date last year," Bartelmay noted. The conference has received a Paycheck Protection Loan. But Bartelamy added, "Even if all of it is forgiven [by the Small Business Administration], the amount will not be sufficient to address the deficiency in Ministry Share remittances." Consequently, a 2020 budget already reduced by 15% "has grown to 30% in many areas."
In addition to the decline in Ministry Shares payment, CFA has seen the number climb of churches who do not pay their shares in full. "Only 58% of churches remitted their Ministry Shares in full in 2018, and 59% paid in full in 2019," Bartelmay cited. "In other words, over 40% of our churches do not remit their full share."
Bartelmay then spoke of how CFA, Conference Leadership Council, and Cabinet will work together to address the down-turn in Ministry Shares. CFA and CLC will work together on the process by which the conference creates its budget. "To begin by setting realistic expectations for income, and then budget within those expectations—much the same way you would when creating a household budget," Bartelmay explained.
As Michigan begins to open up from earlier states of pandemic lock-down, the CFA president asked churches to take remittance of Ministry Shares to heart during their relaunch. "As you begin to gather again, I implore you," he said, "to remember your commitment to the ministries of The Michigan Conference and The United Methodist Church."
Bartelmay called upon district superintendents to highlight Ministry Shares on Charge Conference agendas in the fall. Further, he asked each D.S. to "work with all congregations struggling with remittances to create plans wherein efforts are redoubled in addressing Ministry Shares."
CFA is establishing a task force that will examine the formula for calculating Ministry Shares. The task force will examine challenges in the local church to payment of Ministry Shares. Practices of annual conferences with high pay-in rates will be explored. A report of the task force is expected at the 2021 Michigan Annual Conference "with specific recommendations on realigning the Ministry Share formula to create greater buy-in from all our churches and to improve the overall pay-in rate." Bartelmay added that chronic deficiency in payment "is simply not just."
The leader addressed the critical importance of such an effort. "Absent a renewed commitment to Ministry Shares, the conference will need to take dramatic steps which will fundamentally alter and contract the way we do ministry," Bartelmay cautioned. His report concluded on a note of hope. "Let us remember that we are Wesleyans who believe in free will … We can choose to act faithfully in our mission and ministry and our generosity as we support the furtherance of God's reign through The Michigan Conference and The United Methodist Church."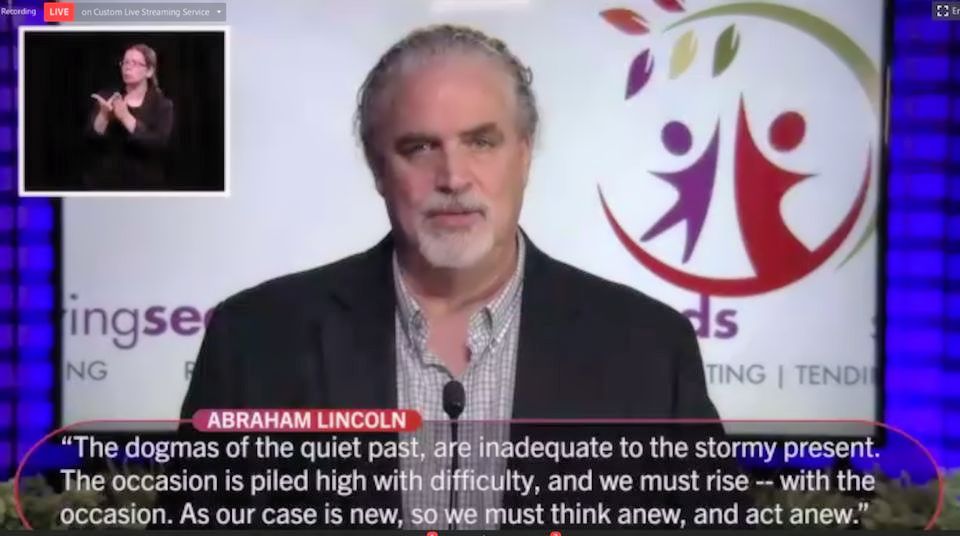 Thanking Bartelmay for his leadership and report, Bishop Bard added, "Leaders must describe reality even when it's difficult." 
Bartelmay gave a brief update on the search for a Chief Financial Officer for the Michigan Conference. The General Council on Finance and Administration is assisting the process. Candidates are being interviewed, and the announcement of a new CFO is expected soon. Conference Treasurer and Director of Administrative Services David Dobbs, now living and working in Arizona, was thanked for his service.
Monday afternoon Bartelmay returned to the microphone to present the 2021 conference budget. He shared highlights:
$12,617,521 total budget is a 14.7% decrease from 2020;
all cost of living increases eliminated;
Benefits Ministry Shares not decreased in 2021 (as reduced in 2020 by $1.86 million through the BMS payment holiday);
25% increase in the Equitable Compensation Committee (reflects the escalating number of appointments that need to be adjusted as the conference continues to contract);
full-time receptionist position and half-time Board of Ordained Ministry Person both eliminated;
Youth Coordinator position now half-time;
added were expenses of Disaster Response Coordinator (previously paid by UMCOR) and Coordinator of Hispanic/Latino Ministries (previously paid in part by General Board of Global Ministries).
With no questions asked, members approved the 2021 Budget of The Michigan Conference as presented. Find details on pages 20-21 of the Legislative Program Guide.
Bishop Bard spoke words of encouragement. "We do believe that by the grace of God and the power of God's Spirit, we can respond to the challenges we face as a church. Decline is not inevitable."   
Watch the CFA Report in the video of Day 2 Monday Session, beginning at 1:49:52.