The 2020 Virtual Michigan Annual Conference opened with worship on Sunday evening, July 26. Worshipers scattered across the entire state were united online, sowing seeds of prayer, proclamation, and praise.
KAY DEMOSS
Senior Content Editor
July 26, 2020 | LANSING — "Apart, yet together …" Those were the first words spoken during the worship service that opened the 2020 Annual Conference. That simple phrase, from the lips of liturgist Margie Crawford, spoke volumes. Originally scheduled to be held on May 28-31, 2020, at Grand Traverse Resort, the COVID-19 pandemic forced a change of date, venue, and method.
But in true Methodist fashion, the Virtual 2020 Michigan Annual Conference re-organized. Staged in a studio in Lansing and experienced in the homes, back yards, and offices of members and viewers around the state, AC 2020 was both strange and familiar.
Gone was the pageantry of the triumphant processional. In its place were the quiet lyrics of praise played and sung by the Cornerstone Band. Open up my eyes in wonder … I will build my life upon your love, it is a firm foundation … We live for you. Appropriate petitions and mood in a time marked by crises.
The traditional opening hymn – And Are We Yet Alive – was especially poignant at a time when over 6,200 Michigan residents had died of coronavirus. And yet, the Christian hope rang through loudly in the voices of the Virtual Conference Choir.
Bishop David Bard shared worship leadership with the Rev. Dr. Margie Crawford, superintendent of the Midwest District. Bard acknowledged the United Methodists gathering by ZOOM, Facebook, phone, and webpage:
We come together in this virtual way, still cultivating this new Michigan Conference, still wondering who you call us to be in the uncertainty of our denomination … in the anxiety of a pandemic …  in the turmoil of injustice and fear. With hesitation and hope, we are here … coming together at a time when much seems to be falling apart. We come from a myriad of places – geographically, emotionally, spiritually – to invoke your spirit of love among us. Connect us through your Holy Spirit. Make our ordinary spaces, sacred … as we gather to do the work of this conference. Make of us all, sowers … eager to plant seeds of hope and promise across the communities in which we live.
The Service of Remembrance, the hymns, and the sermon that followed reflected the conference theme, Sowing Seeds: Rooting, Tending, Reaping. Crawford introduced the roll call of saints by saying, "They planted seeds within us … they nurtured our faith and helped us to grow closer to you. Through them, you cultivate our sense of call and purpose, so that we would sow your love and serve your people." As the bishop read names, the faces of the departed filled the screen. (Click here for the names of those remembered. A Memorial Booklet will be available soon.)
The Parable of the Sower, Mark 4:1-9, provided the scripture foundation for preacher David Bard's sermon, Dancing in a Mine Field. The bishop began with regrets. "How I long to be together for our mutual encouragement, but it is not safe to gather as we have in the past, 2000 people seated in such a way that we might desire a little social distance. Now social distance is a requirement of caring for each other." Recalling the intended conference focus of congregational vibrancy, he added, "Annual Conference is much less vibrant when we are not face-to-face."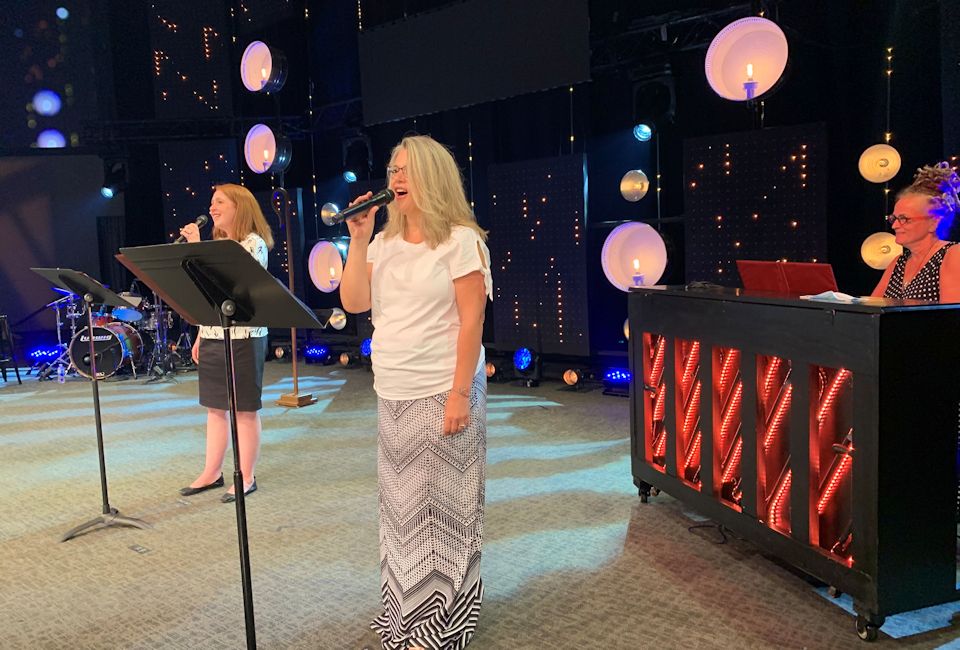 Bishop Bard explained his reference to mine fields. "When I first began thinking of this annual conference sermon last fall, I thought about [the old computer game] Minesweeper. I thought I would be preaching about a specific set of mines, as this sermon would have been preached just a couple of weeks following General Conference. I would have been preaching about mine fields of potential division within the denomination."
He noted that other new mines have been laid since he pondered the sermon in the fall of 2019. "Images of the coronavirus look a little like the landmines in Minesweeper, and wow has the coronavirus laid mines and changed the landscape." He continued, "The brutal killing of George Floyd at the hands of the Minneapolis police has seared our consciences. It has brought t deep racial divides to the fore and exposed painful wounds." Bard went on, "Addressing race, racism, white privilege has long been a mine field. Politicization and polarization often mark such conversations … Yet, there is no question that we need to grapple with racism in our conference, in our churches, and our lives." He outlined steps being taken with conference and church leadership to form "an anti-bias, anti-racism working group that will help the conference look at itself" to encourage and resource anti-bias and anti-racism work in local churches.
The preacher then reflected on "what this nice agricultural story from first-century Palestine … has to say to us in the midst of the mine fields of our contemporary world." He emphasized God's grace. "Grace freely bestowed, grace flung widely, lavishly and with abandon, grace for all." The bishop warned that the parable should not be read either comparatively or competitively. "Vibrant churches help people grow," he said, "and help them avoid making their growth in faith, hope, love, grace a comparative game. If ever you find yourself focusing on how much progress you've made relative to others, watch out." Further, "If ever you find yourself seeing others as beyond change, perpetually shallow soil, watch out. You may be the one getting scorched."
Bard then examined congregational vibrancy from the perspective of both soil work and the seed work of the sower.
"Congregational vibrancy is about preparing better soil for the deeper planting of God's love and grace within the human heart, mind, and soul," the bishop asserted. It's about:
Creating the conditions for learning and growth;
Rooting out weeds, such as racism, hate, and anger;
Living out the baptismal pledge to create "a community of love and forgiveness."
Tending the soil in this fashion requires real change. "Change of any kind is difficult," Bard noted. "Change in habits, change in the way we do things, change in our self-understanding, change in our understandings of the world, and how we relate to each other in the world." Speaking of the "learning anxiety" that comes about in those recognizing the need to change, he quoted, "The Corporate Culture Survival Guide," by Edgar Schein. "Prepare good soil," Bishop Bard urged, even in the context of "an ongoing pandemic, ongoing divisions about human sexuality and likely division within The United Methodist Church, and tough work of anti-bias and anti-racism."
Turning attention to the sower, Bard invited listeners, "Picture the sower in the joy of the work, feet moving rhythmically, dancing about the field to sow those seeds." He called that picture an "image of vibrancy, for our lives and our churches." He added, "Vibrant churches are churches where seeds are rooted and tended and then sown with wild abandon." He again listed challenges to such effort. "We do this in the mine field of our world today, our world with the coronavirus running rampant, with the ugliness of racism seared in our minds, with church schism knocking at our door, with politicization and polarization threatening meaningful conversations and caring relationships."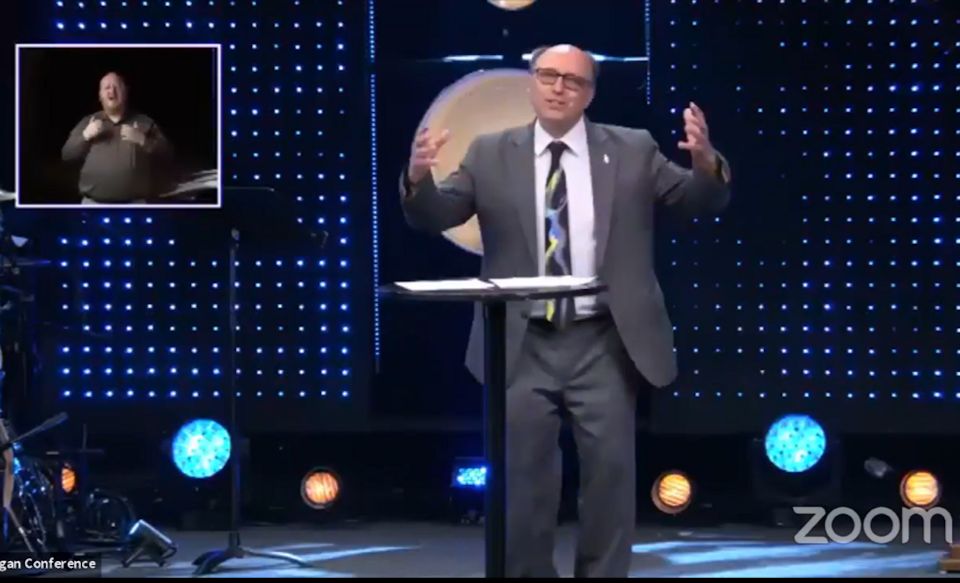 Lines from two poems brought the sermon to conclusion. "But, my dear, what kind of seeds do you think we're talking about." (Stephen Mitchell) "Keep your hand on the plow! Hold on!" (Langston Hughes) To listeners social-distanced across the many miles of The West Michigan Conference, Bishop David Bard proclaimed, "That's what congregational vibrancy in God's Spirit is about. Soil work and seed work, rooting, tending, sowing while dancing with joy. This world is filled with land mines, forces that break and maim and deepen hurt and destruction. Our task from Jesus is clear. Keep sowing seeds. Keep dancing the dance. Keep your hand on the plow! Hold on!"
Two traditional features of opening worship at the annual conference are a Service of Holy Communion and an Ingathering of Gifts. The sacrament was not able to be served in a virtual setting. However, in the weeks before conference, members and churches were invited to contribute to three missional projects. The recipients of the 2020 Ingathering are The Start Right program of Haitian Assets for Peace International, the Bishops Judith Craig Children's Village in Liberia, and the Michigan Conference Disaster Response and Recovery Fund. Details and the instructions for giving may be found here. Promotional videos shown during the Conference session may be viewed here.
"Apart, yet together." Though just a few people were present in the studio where opening worship was recorded, 1,000 viewed on ZOOM, and there were another 1,920 views on Facebook.
The mine fields of 2020 are challenging, but they may be navigated by those united in the power of the Holy Spirit and the grace of God.
The Legislative Guide of the 2020 Virtual Michigan Annual Conference contains the Order of Worship followed on July 26. A video of Opening Worship may be viewed here.