Rev. Jerry DeVine encourages us, despite the cobwebs and sorrows of denominational divisions, to embrace the new things God is doing in the church and get to work.
JERRY DEVINE
Superintendent, Mid-Michigan District
"And while they were gazing into heaven as [Jesus] went, behold, two men stood by them in white robes, and said, 'Men of Galilee, why do you stand looking into heaven? This Jesus, who was taken up from you into heaven, will come in the same way as you saw him go into heaven'" (Acts 1:10-11, ESV).
"Why do you stand looking into heaven?"
Yes, I know we have already passed Ascension Day on the liturgical calendar. Even though I am not currently serving as pastor of a local church, I do know the rhythms of our faith stories. Yet, the early portion of the Acts of the Apostles is a vital glimpse into the birth of the Christian church universal.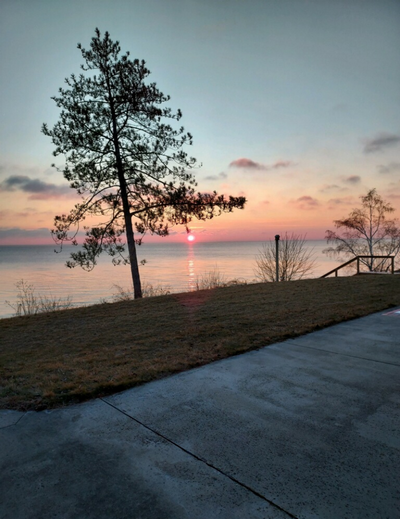 It was a time of significant upheaval of long-standing patterns of religious culture and practices. It was a time of expanding vision, moving into the rich complexity and diversity of the world. Just as Jesus stretched and transformed social and religious norms during his ministry, the fledgling body of followers was soon to be stretched and sent forth. The promised outpouring of the Holy Spirit would require and bring about an expansion of their minds and hearts. The book of Acts invites us to reflect on what it means to be the church in the world, and thus it deserves more than a modest observance in the liturgical calendar.
Think of the visual of that first chapter of Acts. The closest followers of Jesus watch as the resurrected Christ departs from them. They are watching the sky intently, somewhat mystically gawking, caught in the thoughts and emotions of each of their own experiences. It is the deer in the headlights kind of moment. They are startled back into the reality of the world when two messengers from God say, "Men of Galilee [there were likely women present also], why do you stand looking into heaven?" In more casual jargon, they could be saying, "Quit gawking. Remember, God is with you. Now, get moving on what Jesus told you to do!"
Sometimes it feels like we United Methodists have been gawking at the sky and are just now waking up again. Some of our local churches have been sky-gazing, wishing their days of full pews would return as if mysteriously from some heavenly realm. Denominationally, we have been criticized and belittled by splintering groups for the past four years, seemingly frozen in place until more recent movements of the Holy Spirit have awakened us to the gift we are and the calling we have to be in the world as part of God's transforming grace.
Please don't misunderstand me. I love looking meditatively at the sky in anticipation of a beautiful sunrise. It is a continual reminder that there is a new day dawning. There is a promise of new hope and possibility, if I eventually stop gawking and move into the day. Admittedly, some days are more filled with clouds than sunrises, yet I know the light exists beyond those clouds. As the song from the musical Annie, written by Martin Charnin and Charles Strouse, says:
The sun'll come out tomorrow
Bet your bottom dollar that tomorrow
There'll be sun
Just thinkin' about tomorrow
Clears away the cobwebs and the sorrow
'Til there's none . . .
Even though we are still working through the cobwebs and sorrows of splinterings and disaffiliations, there are signs of new life breaking through in our United Methodist Church in Michigan and around the world, much like the sun at the cusp of dawn.
New online campuses continue to be launched to connect people to Christ and the community. Adoption mergers and vital mergers continue to take place as hope-filled communities of faith risk entering a new day in a new way. More laity and clergy are exploring starting Fresh Expressions in their communities, letting the light of Christ shine outside church walls and properties. More churches are getting fully involved as community partners with other civic and business groups, all seeking to improve their residents' quality of life. Churches are shifting away from old transactional patterns of outreach, moving more deeply into relational mission and justice partnerships with other people. People of all ages and stages are still responding to a call of God upon their lives to consider going into ministry.
In all these situations, these courageous and faithful United Methodist Christians embraced the dawn of a new day but then stopped gawking and got moving. God invites us all to do the same.