For the second time in 11 years, a major earthquake struck Haiti. Reports reaching The Michigan Conference indicate devastation is the greatest in the region of Jeremie and Les Cayes. Pray for our Covenant Partners.
KAY DEMOSS
Senior Content Editor
On Saturday, August 14, a major earthquake hit southwestern Haiti, about 100 miles west of the capital of Port-au-Prince. Among the hardest-hit area is the Jeremie Circuit, where many Michigan United Methodists have been involved for years in building infrastructure and relationships.
As of Tuesday, August 17, over 2,000 are reported killed, with another 7,000 injured. It is estimated that 37,000 have been left without shelter. Further, a tropical storm system, ironically named "Grace," pelted the area causing flash flooding and mudslides on the island shared by Haiti and the Dominican Republic.
For the last 25 years, United Methodists in Michigan have been in partnership with the Methodist Church of Haiti. Michigan Covenant Partner Chair, the Rev. Karl Zeigler, says, "The current situation in Haiti is extremely tenuous! This is another tragedy in the midst of a series of tragedies over the last 11 years." He notes, "Since the 2010 earthquake there was Hurricane Matthew in 2016. Then political instability leading up to an assassination of the president earlier this year." Since that first earthquake, Haiti's economy has been rocked by inflation. "In 2010 it was 40 gourdes to the dollar. Now it's 118 to the dollar," Zeigler notes. "The cost of a gallon of gas last week was $12, which will probably more than double if it can even get to distribution sites in the southern peninsula."
Zeigler continues, "A team supported by the United Methodist Church of the Resurrection in Kansas has moved from their clinic site in Petit Goâve to Les Cayes. An Emergency Room Doctor from Cap Haitien supported by the South Carolina Annual Conference has been flown to Jeremie to provide immediate trauma care." He has been informed that the Methodist Church of Haiti has just issued an appeal "for medical supplies, tarps, and tents since much of the population are now sleeping in the streets and yards."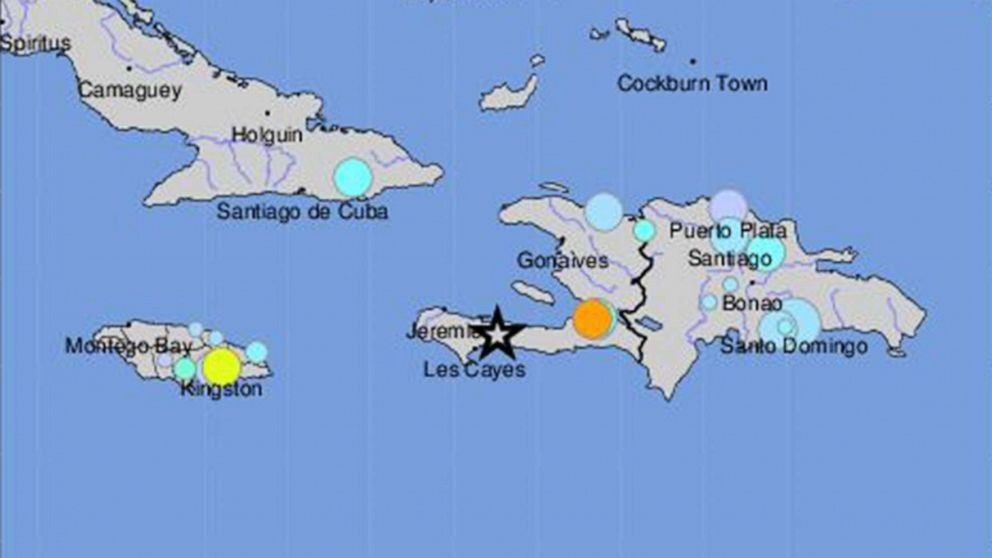 Reports have been coming in over the 48 hours since the quake. As of this writing, no deaths have been reported among those with ties to the Michigan Conference.
Valerie Mossman-Celestin, U.S. Executive Director of Haitian Assets for Peace International says that the quake did not strike Mizak, the mountainside home of HAPI. However, the psychological impact was apparent among the staff on an August 16 phone call. They and locals were asking, "Why do we suffer so many deaths?" Poverty and infrastructure are part of the "man-made" side of this natural disaster. HAPITech Coordinator Mario Damis reflected, "I believe some lives were saved this time because of what people learned in the first earthquake. In 2010 people assumed it was safer inside, so they ran into buildings. They have learned to run OUT."  
Damage in Jeremie
Reports from Jeremie, southwest of Mizak, tell of significant damage. Jeremie Rising, a Michigan non-profit working there since the 2010 quake, provides this preliminary assessment. Multiple businesses in downtown Jeremie are damaged or destroyed. Many homes are also devastated or unlivable. Jeremie Methodist Church shows significant cracks and the adjoining auditorium is now unsafe for worship. The security wall of the guesthouse came down.
Nancy Smith of Jeremie Rising commented Sunday morning, "Families in Jeremie have suffered big losses to homes and possessions. All slept outside Saturday night as aftershocks continued and a tropical storm bears down on Hispaniola, so conditions will get worse."
Most importantly, the road between Les Cayes and Jeremie is impassable. This cuts out the normal supply route as deliveries by land are impossible. Smith explains, "The road to Jeremie is blocked by a landslide and a bridge was damaged and is closed to vehicular traffic. The flow of food, fuel, and medicine to Les Cayes and Jeremie is a big question mark … restoring supply lines is a top priority."
Celestin adds, "Locals were already concerned about the gangs that terrorize those traveling that road between Les Cayes, Jeremie, and Port au Prince. HAPI staff report that the gangs have agreed to a temporary truce because of the earthquake, with the demand that the government clean up the road."
Pastor Claudel Zephyr, Circuit Superintendent of the Jeremie and Leon Circuits, comprised of 54 Methodist congregations, states, "With Hurricane Grace fast approaching, we were there thinking, 'Hmm, what are we going to do, since we cannot stay in for fear of aftershocks? Now we will not be able to sleep outside either because of the hurricane.' Lord, have mercy. I am smiling because God is good all the time, we do not lose hope."
News from the capital
David Draeger, Mission Volunteer Coordinator for the Methodist Church in Haiti, is stationed in the country's capital of Port-au-Prince. He serves as a consultant to the Michigan and Haiti Covenant Partners. Twenty-four hours after the earthquake shook the ground, Draeger emailed, "The sun is going down on another day since the earthquake struck the southern peninsula of Haiti. Many will go to sleep hungry because they don't have access to food or the ability to cook. Many will go to sleep not knowing the fate of loved ones still buried under rubble. Countless numbers have injuries that have not been treated because there is no medicine available. Vast areas are inaccessible due to landslides or failed bridges."
Draeger supplies these additional details from his source with the Methodist Church of Haiti (EMH). Church buildings in Annette, Despagne, Chiraque, Leon, and Les Cayes all have sustained damage. John Wesley College in Jeremie has minor plaster damage. The conditions of other schools in the Jeremie and Leon Circuits are unknown. The exterior is intact at Gebeau Clinic. However, Hospital Lumiere in Les Cayes is severely damaged. On preliminary inspection, other structures that appear okay include David Church, Gommier Church, Good Samaritan Home, Roseaux and Foyer des Petis orphanages. 
Draeger reports some good news. Missionary Flights International will do bridge flights from Port au Prince to Les Cayes. EMH also plans to charter Missionary Aviation Fellowship to fly in critical supplies. Emergency room physician, Dr. Moncriket Jose, has agreed to go to the Gebeau Clinic for at least three months and resupply of medications to support the Gebeau Clinic has been pledged. Draeger also has buckets and faucets available to set up WASH Stations for sanitation where needed in Jeremie and Les Cayes.
The United Methodist Committee on Relief calls for prayers of comfort for the families of those dead or missing and for peace in all communities in Haiti experiencing upheaval and uncertainty.  "UMCOR stands in solidarity and is in communication with partners in Haiti as the full scale of the disaster unfolds."
More information about The Michigan Conference response will be shared as specifics become available. Karl Zeigler concludes, "Significant resources are needed to address the health issues of thousands of injured men, women, and children throughout a widely dispersed area of rural western Haiti. Thank you for considering an emergency response donation for the people of Haiti." 
~ For more see, "Standing by Haiti amidst quake and storm," by Heather Hahn, United Methodist News.