United Methodist churches in the greater Lansing area grapple with the Feb. 13 mass shooting on the campus of Michigan State University.
JAMES DEATON
Content Editor
LANSING, Mich. — "Ash Wednesday has come early," said Bishop David Bard as he stood from the pulpit of Okemos Community Church, a federated United Methodist and Presbyterian Church (USA) congregation less than three miles from Monday night's horrific mass shooting at Michigan State University. He joined clergy and community members Tuesday evening at a prayer vigil less than twenty-four hours after the tragedy shook the state.
The East Lansing university and surrounding neighborhoods were put on lockdown Monday, Feb. 13, around 8:20 pm, when a lone shooter entered buildings on the north side of campus and opened fire, killing three students and critically injuring five more. Police found the gunman three hours later; he had died from a self-inflicted gunshot wound.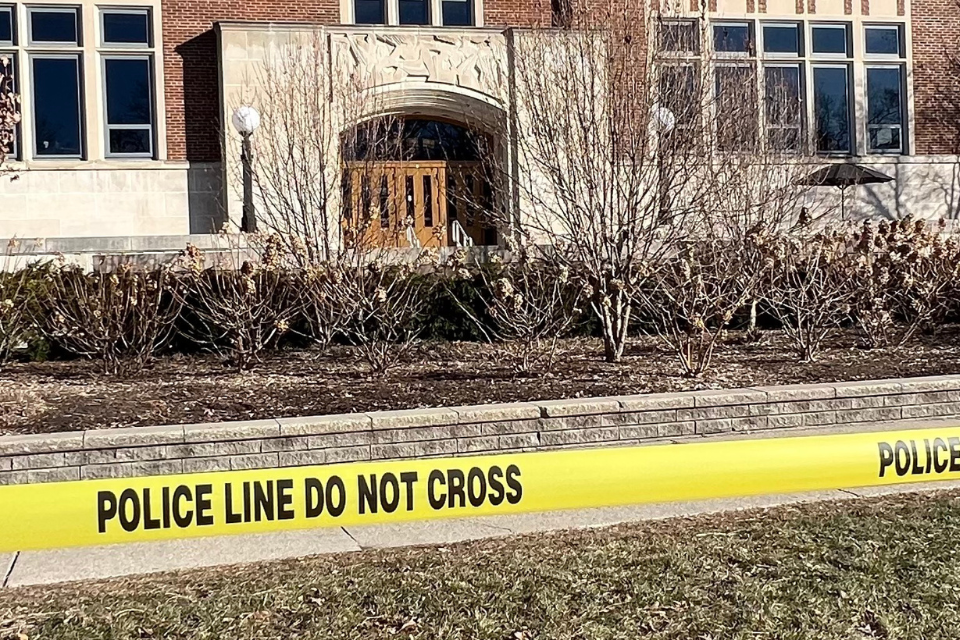 Donning a Michigan State University Spartan tie, Bishop Bard stood in solidarity with those gathered and pointed to the ritual of marking foreheads with ashes in the shape of the cross that many Christians, including United Methodists, will participate in next Wednesday as the Lenten season begins.
"[Ash Wednesday is] that reminder that we are finite. That life can come to an end so quickly. And it's come early in a way we would never want, never hope to see," said Bard. Ashes symbolize our human impermanence, that life is fragile, and the sudden death of three young adults in the prime of life has traumatized this university and everyone connected to it.

Okemos Community Church, where Bishop Bard spoke Tuesday night, is one of several nearby United Methodist congregations that responded immediately to the tragedy and moved to action by ensuring their church family and friends were safe.
Rev. Rick Blunt, senior pastor of Okemos Community Church, said that they had contacted the students they know who go to MSU, and they are safe. But now he has other church members contacting the church to let them know that their grandson is there or that they have a nephew who is there. "So, there are more connections," he said, "than even we were aware of."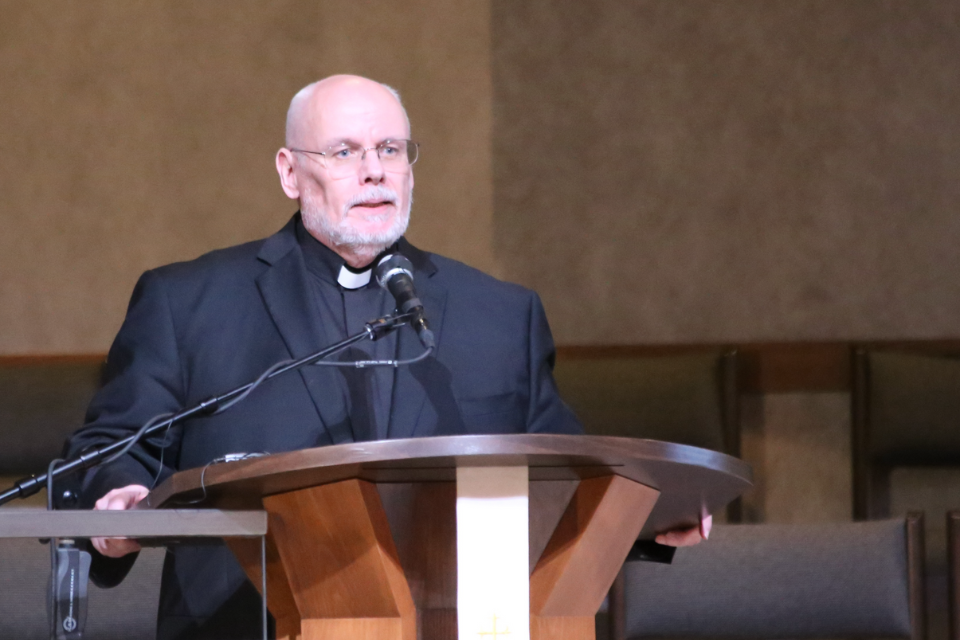 The Rev. Dr. Jerry DeVine, district superintendent of the Mid-Michigan District, spoke about the rippling effect of this tragedy throughout his district. He noted that a choir member at Central UMC in downtown Lansing, across from the State Capitol, was one of the MSU students who was shot and is in critical condition at Sparrow Hospital.
"So, even though we aren't all on campus, there's no way to avoid the impact of the relationship of the university with the whole fabric of the region," DeVine said. There are students, faculty, staff, and many alumni from MSU worshiping, working, and volunteering in United Methodist congregations throughout the greater Lansing area.
But the connections go even further. With a student body of over 50,000 and staff and faculty of more than 12,000, Michigan State University is an integral part of the economic and cultural life of East Lansing, the adjacent state capital, the surrounding communities, and the entire state of Michigan. Lansing is the legislative seat of the state, and every community, in fact, every individual, has some connection to that region of the state.
The ripple effect has been felt all across the United Methodist connection. Bishop Kennetha Bigham-Tsai, newly elected bishop of the Iowa Conference, was once associate pastor at University United Methodist Church in East Lansing, from 2006-2011. She has strong ties to the university and the community there.
Upon hearing of this week's news, she sent word to the Michigan Conference: "I have called the Iowa Annual Conference to pray for the MSU and East Lansing communities as they deal with the loss of life and the trauma caused by the mass shooting Monday night. We stand in solidarity with all United Methodists who are trying to offer care for those impacted by this tragedy. We are praying without ceasing for peace and healing."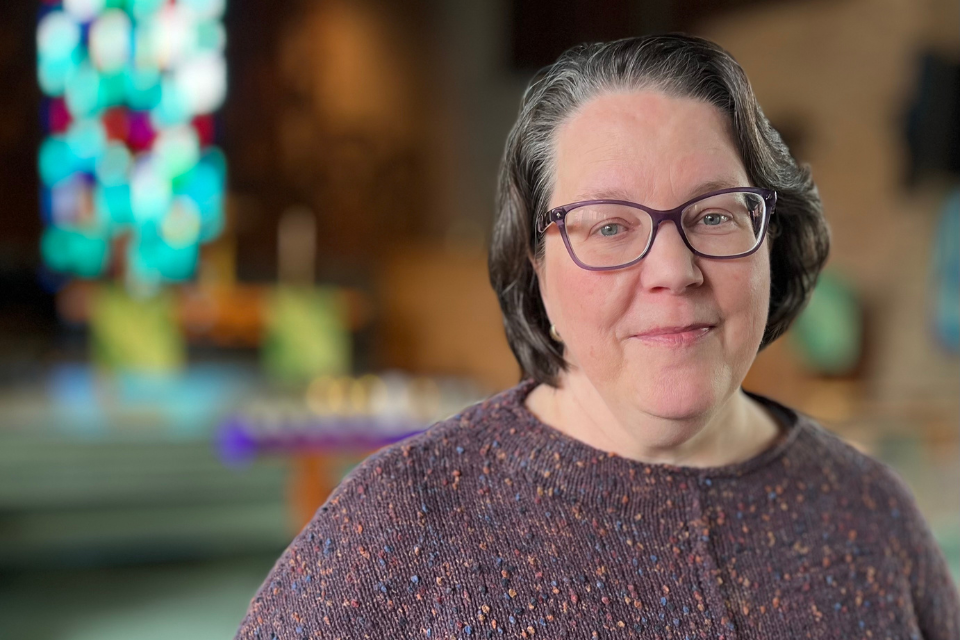 University UMC is just steps away from the Michigan State University campus and has a deep relationship with the university, given its close proximity. Rev. Melanie Carey, current pastor of the church, said that she has MSU students on staff, along with other students and people connected to the university who attend worship and actively participate in church life.
"Most of the congregation relates to MSU in some way," she noted. And she and their staff have checked in with their congregation to make sure they are being cared for during this time.
University UMC held a vigil on Tuesday, from 10:30 am until 6 pm, for anyone to drop in as needed. There were candles available for people to light. Carey said that providing sacred space for people to pray and process their emotions was an important first step for her church.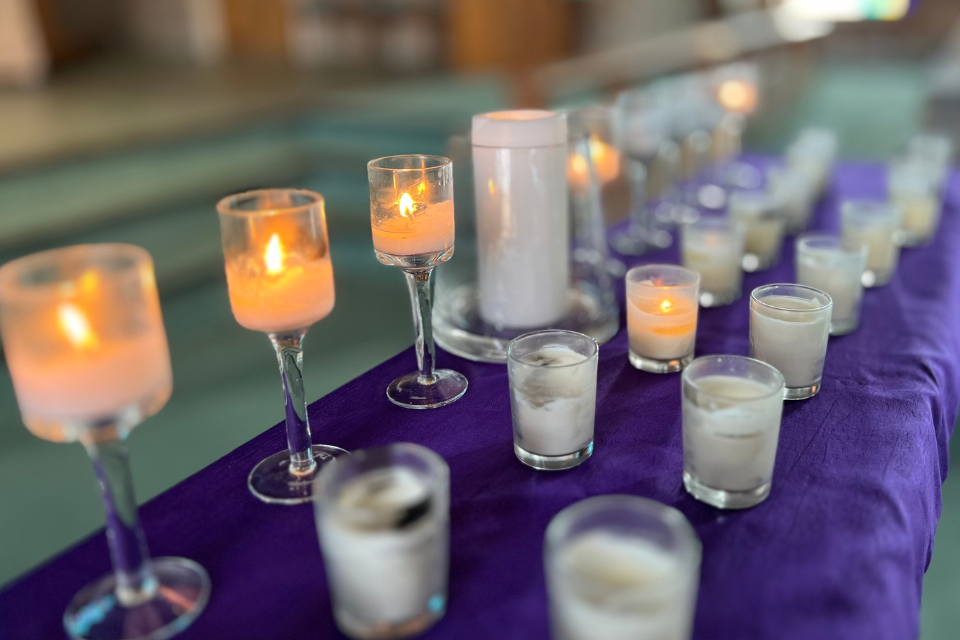 "Our hearts are just broken. We lift up all the families that are dealing with unspeakable grief, those who are in the hospital, our community—both in the church and outside the church includes everybody that relates to MSU in all different kinds of ways—and our neighborhood."
University UMC also shares the same building as the Wesley Foundation at MSU, which ministers to college-aged young adults. Rev. Jim Magee is the director of Wesley at MSU and works closely with Carey and other staff in ministry.
Magee relayed the details of the events during the night of the mass shooting. Once the campus went into lockdown, he kept in touch with Wesley students via chat room to make sure everyone was safe. Once the lockdown was lifted, Magee helped the students find short-term living arrangements since the news came that the campus would close the rest of the week and dining options would be limited.
Tuesday morning, Magee and the Wesley students got together in person for breakfast and began processing how things were going for them. Magee said, "Some students were shaken, some students were feeling numb, some are just in disbelief. . . . [but] the general feeling is that they don't feel safe on campus. That's been reiterated from student to student."
These are all textbook signs of trauma, according to Magee, and he has been trained to navigate discussions and help students process their emotions and thoughts. In fact, he is joining other faculty and community and religious leaders to help facilitate listening sessions for students all over campus this week.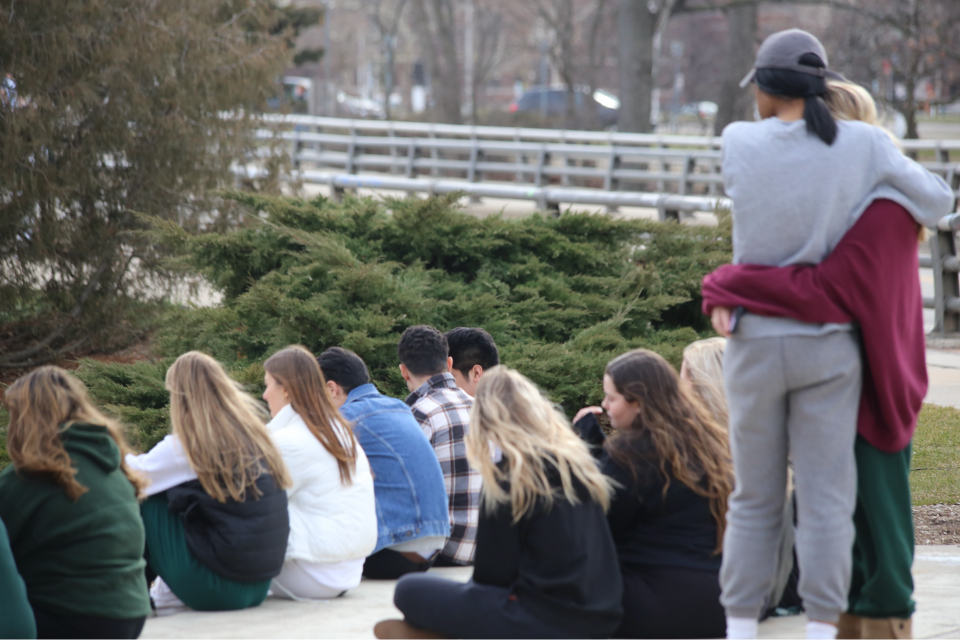 For Blunt, the pain of this mass shooting on Okemos Community Church is compounded, given the string of violent incidents that have occurred in his community recently. Last Monday, students at Cornell Elementary School in Okemos discovered the body of an apparent suicide victim, and last Tuesday, Okemos High School was one of more than a dozen schools throughout the state that was a target of an active shooter hoax. And even though it was a hoax, the event played out as if it were real. The school was on lockdown for a period of time, and students were brought out one classroom at a time with their hands raised.
"It was really traumatic for a lot of us, especially high school youth and faculty and staff," Blunt said, "and so this shooting is like trauma upon trauma upon trauma. We haven't processed one before the next one happens."
These waves of trauma as the result of violence is something other Michiganders are experiencing since it has only been less than 15 months since the high school shooting in Oxford, MI, on Nov. 30, 2021, when a student opened fire with a handgun killing four students and injuring six others and one teacher. Several Michigan United Methodists were directly affected by the Oxford High School tragedy.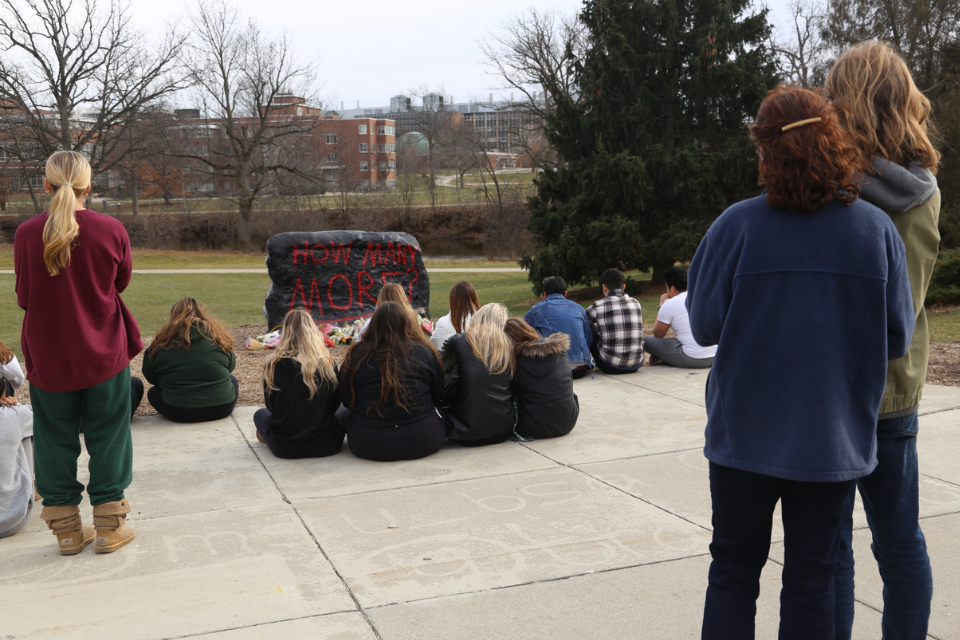 The Feb. 13 mass shooting at MSU is a sober reminder of the dramatic rise of gun violence in the United States. According to the Gun Violence Archive, which tracks real-time data about the results of gun violence, there have been 71 mass shootings nationwide since January 1.
Rev. Carey said that these acts of violence were done to her entire community, and it's a longstanding trauma that impacts everyone in so many different ways. Right now, she is in crisis intervention mode, but soon she will be shepherding her faith community through the trauma and trying to figure out how to make lasting changes so that gun violence will end.
When people ask Carey what they can do, she tells them to keep praying, to send all the prayers they can, but do not stop there. She said, "Don't go on with your life as if nothing's happened. We need to have sensible gun safety laws. We need to help people with mental health. We need to increase our mental health services. And we can't let the difficulty of getting that done stop us. We just have to keep pushing for it."
Rev. Blunt reiterated these feelings that, as people of faith, we have to go beyond thoughts and prayers. He asked, "How do we put our faith into action in light of violence after violence after violence?" He then noted how some of our children are now just resigned to the fact that gun violence will inevitably happen in school. But, he said, "I just think that's a very sad statement on life in the United States."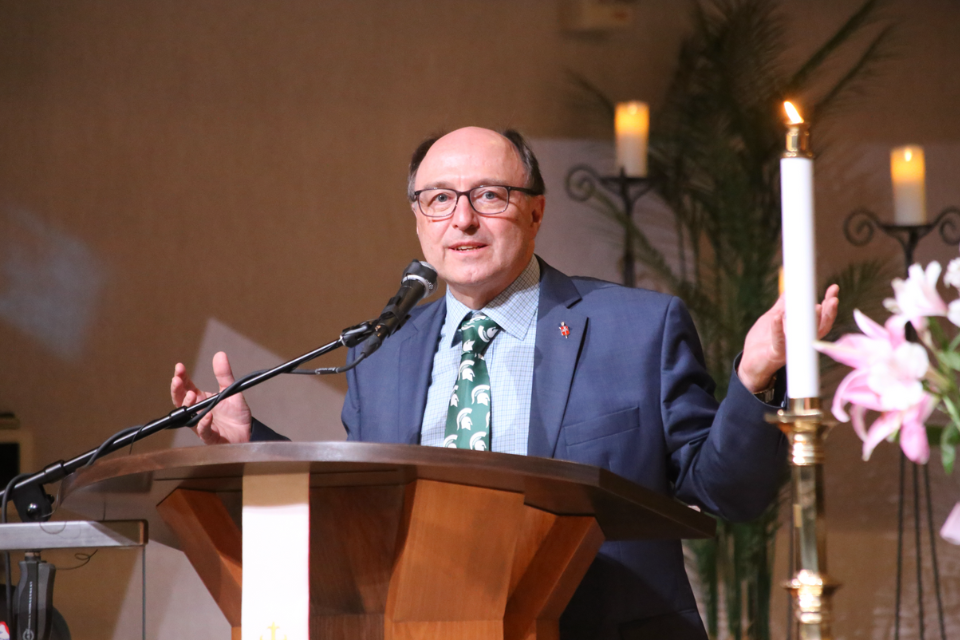 Less than twenty-four hours after the shooting, leaders from the Michigan Conference held a Lunch and Learn webinar on Tuesday to pray for those affected by gun violence but also to put their faith into action and encourage elected officials in Michigan to enact common-sense gun legislation. It is all leading to the Michigan Conference's first Advocacy Day on March 22, a day of prayer, public witness, and meetings with elected officials.
This webinar had been planned for some time, but the tone was different in light of the tragic events of the previous day.
In his comments at last night's vigil, Bishop Bard asked those listening to pray for courage to stay with our heartache a little longer so that we may know that there is more to offer our communities.
Bishop Bard admitted that he had a scripture from Matthew 7 on his mind, the text where Jesus asks, "Which of you, if your child asks for a loaf of bread, will give him a stone?"
"After incidents like this, we pledge our thoughts and our prayers. And that matters. . . . But it strikes me that in some ways it is just half a loaf. So another one of my prayers is that we will respond to our children by offering a whole loaf, that we will take our prayers and our thoughts and turn them into constructive action, to build a kinder world, a less violent world."
Last Updated on February 28, 2023