The Rev. Kennetha Bigham-Tsai, Michigan's only episcopal candidate, was elected bishop on the first ballot during the opening business session of the 2022 North Central Jurisdictional Conference.
JAMES DEATON
Content Editor
Nov. 2, 2022 | FORT WAYNE, Ind. – The Michigan Conference's own Rev. Kennetha Bigham-Tsai was elected as bishop during Wednesday afternoon's business session of The United Methodist Church's North Central Jurisdictional Conference.
Bigham-Tsai's election on Wednesday afternoon was a historic milestone, as she was the first to be elected on the first round of voting within the North Central Jurisdiction's history. (Watch this video of the announcement of Kennetha's election and her acceptance speech.)
Delegates elected Bigham-Tsai on November 2 at the jurisdiction's meeting in Grand Wayne Convention Center in Fort Wayne, Indiana, on the first day of meetings. She received 106 votes out of 166 valid ballots cast. She needed 99 to be elected (60% of valid ballots).
Bigham-Tsai was also the first bishop elected among all five jurisdictional conferences simultaneously meeting in the United States.

Standing from the podium, Bigham-Tsai exuded joy and elation at the news: "I am overwhelmed. I am humbled. I am so very grateful." She called on those listening to take hold of their identity as United Methodists, a worldwide connection grounded in a theology of grace, and to be bold in our storytelling.
"It's possible to reclaim the narrative and the story about how we make disciples, how we're relevant in our community, how we're vital in our ministry," Bigham-Tsai proclaimed. "Thank you so much, North Central, for seeing what is possible in me, but most of all, for seeing what is possible in our church."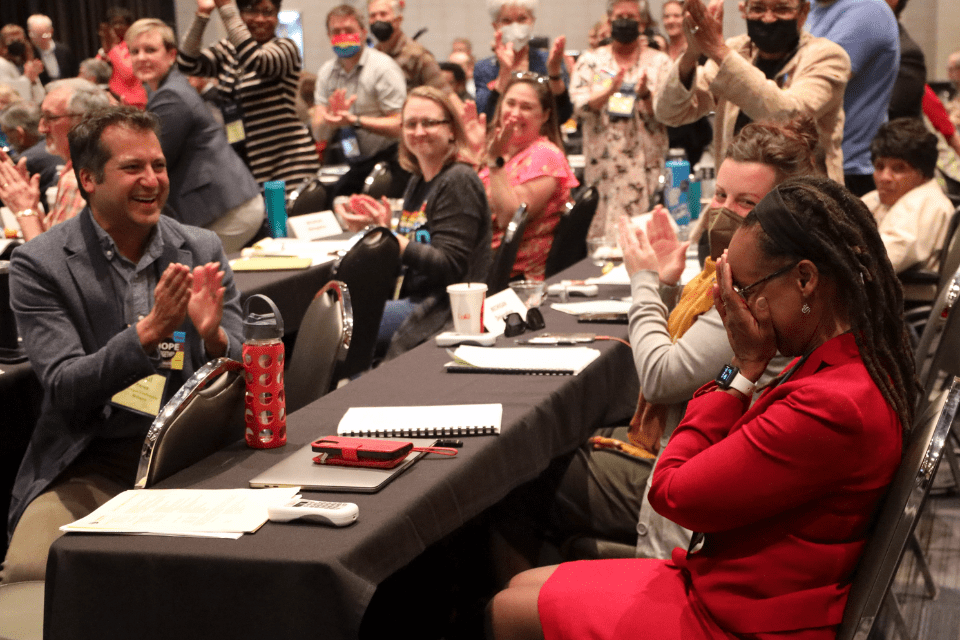 Bigham-Tsai went on to speak to the vision that will guide her work as bishop within the North Central Jurisdiction when she begins her episcopal assignment. "I will prayerfully walk beside you to seek to live out our "Covenant to Build BeLoved Community," to dismantle racism, to open our doors, and to be inclusive of all people, including our LGBTQIA+ siblings. It is possible." Delegates to the November 2021 virtual special session of the NCJ overwhelming approved the "Covenant to Build BeLoved Community," naming the NCJ's commitment to the dismantling of racism and to the inclusion of LGBTQIA+ persons.
Bigham-Tsai was elected by the North Central Jurisdiction's 167 voting delegates, an equal number of United Methodist clergy and laity, from the ten annual conferences forming the North Central Jurisdiction: the Dakotas, East Ohio, Illinois Great Rivers, Indiana, Iowa, Michigan, Minnesota, Northern Illinois, West Ohio, and Wisconsin.
The assignments of bishops in the North Central Jurisdiction for the next two years will be announced on Saturday. Her two-year term of service begins January 1, 2023. In the United States, bishops are elected to serve for life.
Delegates from the Michigan Conference spoke out in support of their fellow delegate and colleague in ministry immediately following her election. Rev. Meghan Walther, clergy delegate from Clarkston UMC, said, "Many of us have seen [Kennetha's] gifts and graces for ministry for many years, and it feels very affirming to see the Spirit move, leading her in that capacity. I'm excited for her, and I'm excited for the jurisdiction."
Rev. Charles Boayue, clergy delegate from Birmingham-Berkley: First UMCs, remarked, "Kennetha's election to the episcopacy begins a new day for The United Methodist Church. She comes well-prepared for the challenges we face in a denomination that is facing schism. We need leadership that is transformational, that will unite people and reach the whole world."
Bigham-Tsai was the Michigan Conference's only endorsed episcopal candidate for election. Since 2018, she has served as the Chief Connectional Ministries Officer for the Connectional Table, which discerns and articulates the vision of The United Methodist Church and helps determine how finances are used for our worldwide connectional mission. She has been a member of the Connectional Table since 2012 and has sharpened her skills in bridge building and communicating across a diverse, worldwide communion.
She has been actively involved as a delegate from the Michigan Conference at General Conference and North Central Jurisdictional Conference since 2012. She was co-chair of the 2022 delegation as a clergy delegate. She also serves as secretary of the North Central Jurisdiction Committee on the Episcopacy.
As District Superintendent of the Lansing District of the Michigan Conference for five years, from 2013 to 2018, Bigham-Tsai provided leadership and supervision for over 70 churches and their pastors. During that time, she developed a process for assessing the viability of local churches, with more than 40 district churches participating.
Ordained as a United Methodist Elder in 2009, Bigham-Tsai served East Lansing: University UMC and Kalamazoo: Milwood UMC.
In The United Methodist Church, bishops are ordained elders who are called to "lead and oversee the spiritual and temporal affairs of The United Methodist Church." Bishops, in consultation with district superintendents, are responsible for appointing clergy. They also preside at annual conferences, jurisdictional conferences, and General Conference, the denomination's top lawmaking assembly.
She and other new bishops are coming aboard as the denomination deals with the continuing fallout of the COVID-19 pandemic and rising congregational disaffiliations amid a denominational splintering.
In her final post-election remarks, Bigham-Tsai concluded, "As we walk through all of the disruption that is happening, healing is possible. Reconciliation is possible. It is possible to tear down the dividing walls."
Last Updated on November 4, 2022