A look back at highlights of the past twelve months in The Michigan Conference reveals resiliency, hope, and generosity in the face of a pandemic and tensions in the denomination.
KAY DEMOSS
Senior Content Editor
The Michigan Conference and the world entered 2021 with the hope that the end of the COVID-19 pandemic was in sight. However, eight months later, Bishop Bard said in one of several appeals to his Michigan flock, "We are not yet done with COVID."
Still, Michigan United Methodists refused to surrender to the coronavirus. They remained faithful to the call to make disciples for Jesus Christ for the transformation of the world. Pastors and laypersons learned new skills, adjusted to a "new normal," and learned how to serve their neighbors in non-traditional but effective ways. 
They even helped make history by hosting the first-ever "out of rotation" session of the North Central Jurisdictional Conference. The Conference also continued its strong partnership with the United Methodist Committee on Relief to address disasters in middle and southeast Michigan. A monumental 5K effort to combat child hunger in Michigan raised over $54,000 that was distributed to ten organizations that feed families in every county of the state.
At year-end, Bishop Bard continued to offer words of encouragement. "Friends, I believe that by God's grace, we can muster the resilience, the kindness, and the determination to do what needs to be done to get past this pandemic. … When we act out of love for neighbor and care for our community, we offer a powerful witness to the grace of God in Jesus Christ."
Here are some highlights of that resilience, kindness, and determination witnessed in 2021.
January
Ten months after the governor's initial "Stay at Home" order, Bishop Bard's first message of the new year encouraged intentional planning before local churches resumed in-person activities.
On January 12, 400 clergy joined Bishop Bard for an online experience, "Come to the Well." A time of renewal and revitalization.
The Rev. Dirk Elliott, Michigan's Director of Congregational Vibrancy, was one of several conference staff members to resource the pivot to online ministry. See, "Growing your church without walls." Creative and safe resources for Lent were also made available.
Michigan United Methodists remembered the life of Brad Kiesey, who died January, 27.
February
As vaccines were made available, United Methodist churches and organizations in Michigan, like NOAH Project in Detroit, became vaccination sites for residents and neighbors.
In a series of articles, Michigan's district superintendents celebrated the resiliency of churches serving congregation and community during the pandemic.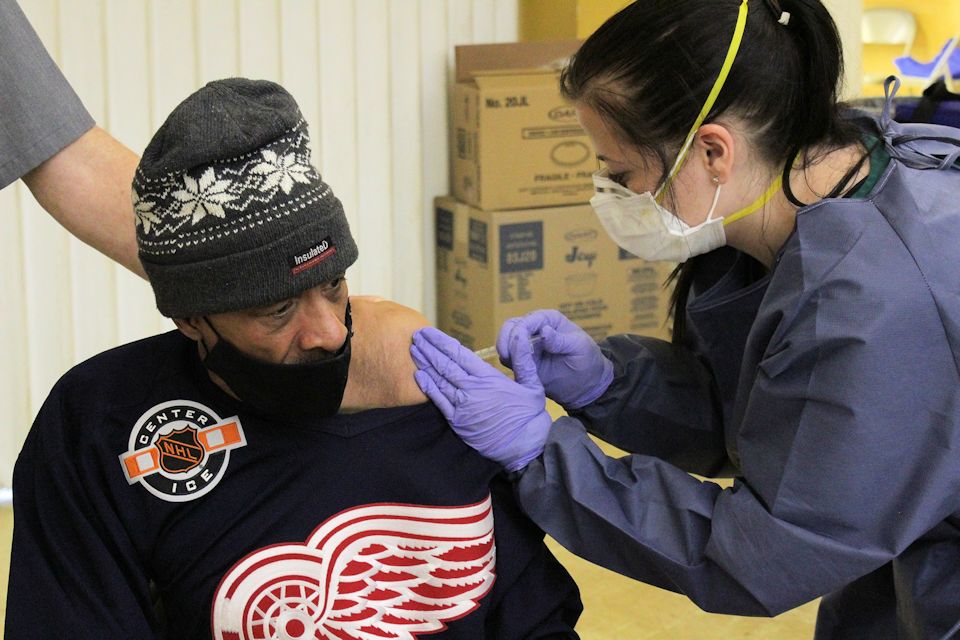 March
When General Conference was postponed for a second time, Bishop David Bard spoke about what the delay meant for The Michigan Conference.
Michigan Area United Methodist Camping announced that there would be a summer season for Wesley Woods, Lake Michigan, and Lake Huron sites.
A nine-part series celebrated the ongoing faithfulness of Michigan congregations and how payment of ministry shares makes a difference.
Lake Michigan Camp & Retreat introduced Erik Bengston as the new site director.
Four laypersons in Michigan talked about how COVID has tested their faith.
The Bishop's Anti-Bias Anti-Racism Working Group affirmed its commitment to the beloved community and announced its goals for the next five years. 
Delegates in the U.S., including the Michigan Conference, questioned plans by the Council of Bishops around the postponement of episcopal elections until 2024.
April
The Conference announced that $27,000 in mini-grants had been awarded to 100 churches in 2020 and the first quarter of 2021 for creative and re-imagined faith formation efforts.
With the COVID pandemic out of control in Michigan, Bishop David Bard summarized safety guidelines and urged individuals and churches to exercise patience and care.
The Rev. Paul Perez celebrated clergy ordained to Word, Service, Compassion, and Justice on the 25th anniversary of the creation of the Order of Deacon.
Neil Haney was named the new executive director of Lake Louise Christian Community.
May
After three years living in sanctuary at Central United Methodist Church in Detroit, Albanian refugee Ded Rranxburgai was able to leave the building without fear of his deportation following a decision by ICE on May 18, 2021. 
A four-part series celebrated the ministry of Deaconesses in the Michigan Conference – Anne Hillman, Amanda Mountain, Valerie Mossman-Celestin, and Michelle White.
June
From June 3-6, the 2021 Virtual Michigan Annual Conference learned to sing a new song to the Lord with guidance from Rev. Dr. Cynthia Wilson.  
The 2020 and 2021 classes of Deacons and Elders were ordained at Troy Historic Village on June 8: one Deacon and 12 Elders. Nineteen persons were commissioned as Provisional Elders and Deacons, and five persons were recognized for transferring their orders into the Michigan Conference.
During Annual Conference, Bishop David Bard invited every Michigan United Methodist congregation to take steps to engage in a study of Anti-Bias/Anti-Racism during the coming year. Resources were provided to facilitate this effort.
Four congregations — Casco UMC, Coldwater UMC, Eastpointe Immanuel UMC, and Saline UMC —  received the Wayne C. Barrett Award for exemplary stewardship ministry.
Record rainfall the weekend of June 26-27 flooded 2,500 homes in the wider Detroit region. Seven United Methodist churches also sustained water damage. Bishop Bard appealed for gifts to the Michigan Conference Disaster Response Fund.
July
On July 2, the Conference announced that the generous giving of Michigan United Methodists raised $54,000 to combat child hunger in the state and another $50,000 for covenant partners in Liberia and Haiti.
Michigan Conference Covenant Partners in Haiti were rocked by a fire at HAPI on July 6 followed by the assassination of President Jovenel Moïse the next day. By the end of August, $21,000 had been raised for equipment replacement and facility repair.
Five congregations in Michigan received Mustard Seed Grants from UMCOR to help in their efforts to Welcome the Stranger: Dearborn First, French UMC in Detroit, Lansing Mount Hope, Troy Big Beaver, and Warren First.
Michigan continued to train and assign coaches with the goal of creating a sustainable coaching culture.
August
The summer intern program, in its 22nd year, engaged young adults in ministries that changed lives across Michigan.
An earthquake shook Haiti on August 14, and Michigan United Methodists joined UMCOR in supporting relief and recovery efforts.
"We are not yet done with COVID," said Bishop David Bard in issuing another appeal for resilience and acting in the common good.
Three Global Mission Fellows arrive for two years of ministry in Michigan: Ceneya Ward-Johns (Kalamazoo Wesley), Bailey Townsend (Motown Mission, Redford-Brightmoor Initiative, and Motor City Wesley), and Marie Rittenberry (United Methodist Community House in Grand Rapids). We said goodbye to Emily Palm, Yeo Jin Yun, Lauren Norton, Kathryn Sappington, and Michael Bennett.
Bishop David Bard was named Distinguished Alum by the United Theological Seminary of the Twin Cities.  
September
On September 12, Crystal Springs Camp near Dowagiac was decommissioned. The camp was sold to the Pokagon Band of Potawatomi.
Fifty Michigan congregations were recognized as Engage MI Churches in 2020.
Michigan United Methodists prepare for the arrival of 1,600 Afghan refugees.
Michigan launches the MI-1 program, a one-year mission opportunity within the state for young adults. The second cohort of Ministry Incubators was also started.
October
Lay Leaders in The Michigan Conference report how God is leading us through Round 2 of the COVID virus. Also see Gospel on the ground during COVID.
John Harnish reports on how the pandemic has affected campus ministry in Michigan: U of M and MSU; Wayne State, Ferris, and NMU; and GVSU, WMU, and CMU.
Once again, Bishop Bard calls upon Michigan United Methodists to mask, vaccinate, and slow the spread of COVID.
Bethel UMC and Asbury UMC in Flint received the Key to the City for their leadership in caring for their neighbors during the pandemic.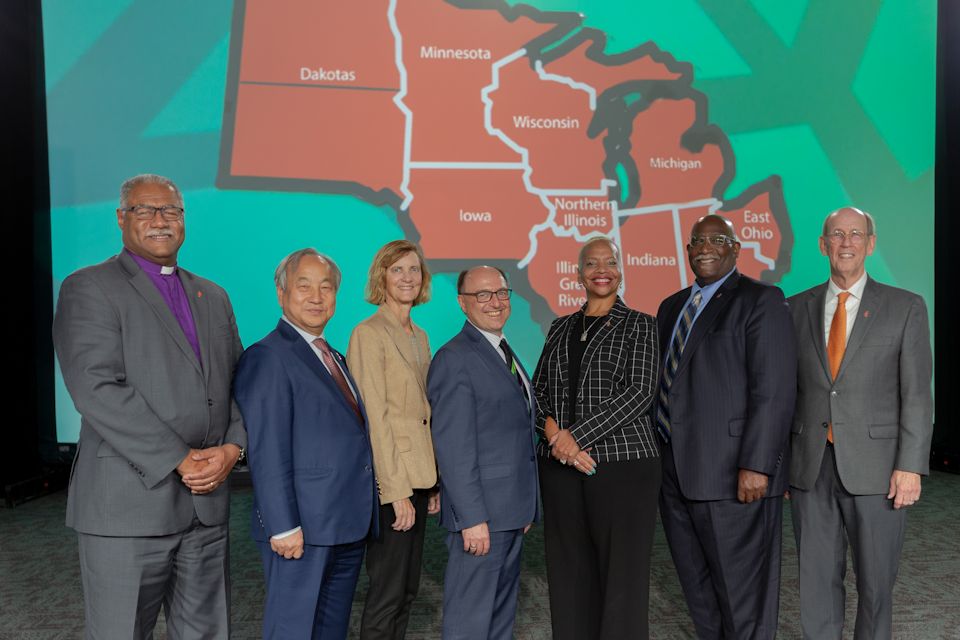 November
Flood survivors living in Iosco and Arenac counties were helped by a $600,000 grant from the United Methodist Committee on Relief. Long-term recovery from the 2020 Great Lakes Bay Region flood continues.
The Council of Bishops announced that Bishop David Bard's interim assignment to the Minnesota Conference will extend beyond the previously stated December 31, 2021 timeline.
The Michigan Conference hosted the virtual North Central Jurisdictional Conference, Nov. 10-11. Delegates addressed anti-racism, the future of The UMC, voted to reduce NCJ bishops by one, and also approved "The Covenant to Build BeLoved Community.
The churches of the Michigan Conference surround the village of Oxford with love after a school shooting on November 30, 2021 that claimed four lives.
December
Cheryl Tipton and Linda Staley were named to serve as Case Managers for flood relief in Greater Detroit for the third time in six years.
Bayshore Camp announced it will open a second campus in 2022 thanks to a gift of property in Gagetown, MI.
The year ends as it began, with an appeal by Bishop David Bard to remain vigilant against COVID