5loaves2fishnmi operates out of Leland Community United Methodist Church under the direction of Michelle and Bill White. This deaconess and home missioner nourish the bodies and souls in their community.
KAY DEMOSS
Senior Content Editor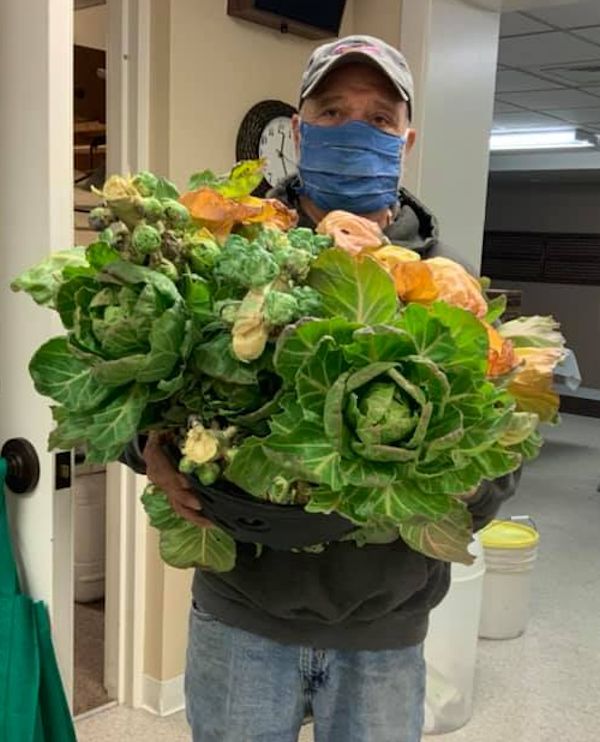 Some people have a coming to Jesus story that is dramatic. But not everyone has a lightning-bolt kind of conversion experience. Others are sort of "marinated" in the faith. These life-long churchgoers are nurtured over many years in worship, in Sunday School, and at potluck dinners. 
Then there are folks like Michelle White, a resident of Leland, MI. She says, "I was not brought up with religion and had very little faith. Everything seemed hard, and I constantly felt like a failure, no matter how hard I tried." Some especially hard knocks came in 2016 when Michell lost a business she had built for 16 years. "My twin boys graduated, and we lost our beloved dog," she reports. "I felt like I had no identity and was lost."During that tough time, Michelle was invited to paint with a group of women who were talking about a book they had read. "'So, do you all belong to a book club?' I asked. They said, 'No, it's from our Bible Study. You should come.'" Her answer to that invitation was, "Oh no, thank you. I told them I was not a Bible thumper."
That's when that more soft and tender kind of invitation to faith happened for Michelle. "The strangest thing happened," she recalls. "The next thing I knew, I was walking up to the church I have lived three blocks away from for most of my life. It was as if Jesus took me by the hand and walked me up!"
Michelle kept going to Bible Study at Leland Community United Methodist Church. "Then I finally went to a worship service and was hooked. I began to talk to my pastor and asked questions about everything." 

 Soon Michelle started talking about feeling "called." She confesses, "I had no idea what that even meant, but was saying it and feeling it." She asked her pastor, the Rev. Daniel Hofmann, about what she was experiencing, and he gave her a book on all the roles within the United Methodist Church.
The book continued to change her life. "I saw the section on Deaconess and Home Missioner and underlined the whole chapter. I knew right then I wanted to be a Deaconess and serve God for the rest of my life." Michelle went to a discernment event in Tucson sponsored by United Methodist Women and felt confirmed in her choice."
And the best part is, my husband Bill was in Tucson with me doing the same thing." When Michelle applied to become a Deaconess, Bill applied to become a Home Missioner. "This is the most rewarding thing I have ever experienced," Michelle adds. 
Schooling and training followed. Michelle and Bill formally joined a Methodist movement that began in 1888 and continues today as a community of commissioned laypersons with the goal of serving with love and seeking justice.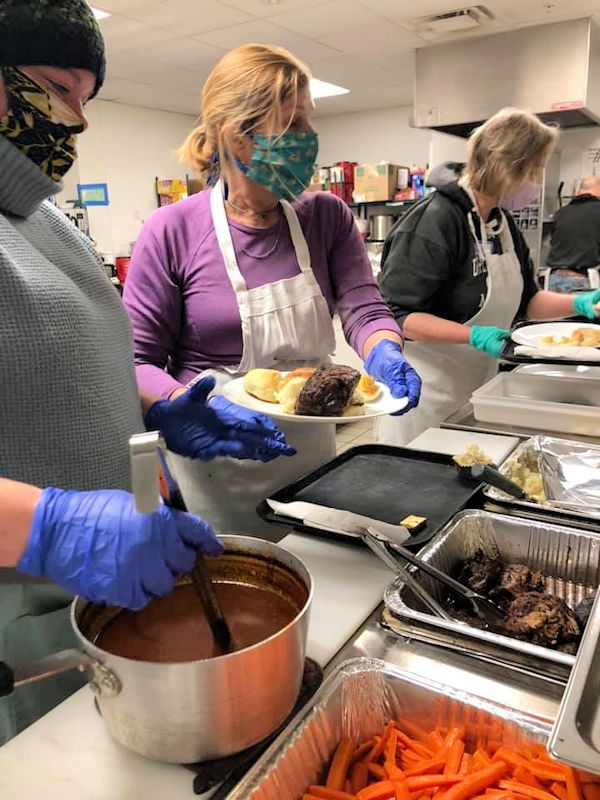 The beauty is, they returned to Leland, MI to live out their common calling. Their logo says it all, "We feed people." Michelle explains. "Bill and I started 5loaves2fish Northern Michigan with a vision to feed people who are experiencing food insecurity and homelessness. We feed them homemade food made with love." 5loaves2fishnmi is housed at Leland Community UMC. The Whites and their volunteer crew serve approximately 100-130 meals per week in three venues: Veterans Park in Traverse City on Monday evenings, Safe Harbor homeless shelter in Traverse City on Tuesday evenings, and meal and grocery pick-up at Leland Community UMC on Friday evenings.
Michelle says, "We are blessed with many volunteers who share their time, talent, and treasures." Although healthy meals are at the heart of this ministry, a safe and fun environment is also created. Michelle says, "All volunteers are asked to do what they love to do most. We believe that comes through in our meals. The meals are infused with love, and we know our guests feel it too from the comments they make." Deaconesses and Home Missioners enable and empower others to grow in servant ministry. The happy servants who work in "not your average church kitchen" may be followed on the 5loaves2fishmi Facebook page.
Deaconess Michelle White concludes, "Our meals are intended to nourish not only bodies but hopefully a few souls as well. We believe giving good food is the ultimate gift of love, and we love spreading love." 
Last Updated on October 30, 2023