Record rainfall the weekend of June 26-27 has left many in Michigan recovering from flooding of homes and churches. Bishop Bard appeals for gifts to the Michigan Conference Disaster Response Fund.
Dear Friend in Christ in the Michigan Conference,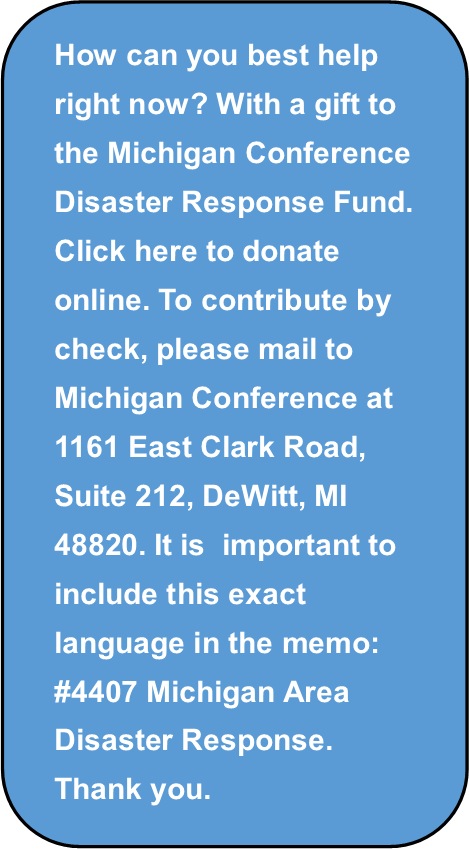 Last week I presided over the Minnesota Conference. When we left to travel to Minnesota, the state of Michigan was in the midst of a drought, significant in some places. Over this past weekend, the state moved from drought to deluge.
Flooding has been particularly severe in the wider Detroit metropolitan area with flooded basements and closed interstates. Wayne and Washtenaw counties seem to be the epicenter of the damage. In addition, tornadoes struck other parts of the state, though the majority thankfully touched down in low-populated areas.
In his letter to the Corinthian Jesus community, Paul writes about our interconnectedness in Jesus Christ that when one part of a body suffers, all suffer with it (I Corinthians 12:26). There is a truth there about our shared humanity. When there is suffering, we are invited to feel it, know it and respond to it in the name and spirit of Jesus.
Our tendency in such situations is often to respond by showing up. While there are some limited opportunities for direct assistance right now, I would encourage you to consider a gift to the Michigan Conference Disaster Response Fund as an initial response to this storm damage and flooding. To donate by check, please mail to Michigan Conference at 1161 East Clark Road, Suite 212, DeWitt, MI 48820. It is important to include this exact language in the memo: #4407 Michigan Area Disaster Response. Those wishing to donate online may do so here.
Thank you for your prayerful consideration and for your ongoing prayers for those whose lives have been affected by this recent weather, weather which may continue to adversely affect even more people the rest of the week.
Our Michigan Conference staff and our Disaster Response Coordinator, Dan O'Malley, will keep us updated on ways we can continue to help. We will cooperate with other organizations as will be most helpful. Already the United Methodist Church is supplying a significant number of flood cleanup buckets. A semi filled with 2,080 Cleaning Kits arrived from Sager Brown Depot in Baldwin, LA this morning. The Conference is also working with the Midwest Mission Distribution Center in Pawnee, IL. We will be looking for more buckets (cleaning kits) soon. I invite you to watch for further information. I also invite you to review the Michigan Conference website for general information on disaster response.
When The United Methodist Church responds to disasters, our expertise through UMCOR is long-term disaster recovery. After the initial response phase, which often gets the most media attention, comes the long-term work of disaster recovery, helping people put their lives back together through direct aid and help with accessing additional resources. Know that while we invite an immediate response, we are in this for the long haul.
Thank you for all the ways you reach out to hurting people and a hurting world in the name of Jesus Christ.
Grace and Peace,