The Rev. Eric Mulanda has co-pastored Mt. Hope UMC in Lansing since 2015. He and a team from the church just returned from a goodwill mission to his alma mater, Africa University in Zimbabwe.
JOHN E. HARNISH
Michigan Conference Communications
"We traveled in faith, not in fear." Those were the words of the Rev. Eric Mulanda as he reflected on a recent mission team to Zimbabwe. Despite the threat of the coronavirus, the team from Mt. Hope United Methodist Church in Lansing made their way to Africa on March 16, 2020. Their plan included a visit to Africa University and other church ministries in Zimbabwe. But the story goes back much farther. 
Eric Mulanda is a native of Congo. In 2005 he went to Africa University as a student in the College of Agriculture, then continued his studies in the College of Theology from 2009-2012. Looking back, Eric says, "Africa University made me who I am. They made me a leader." His leadership was evidenced by the fact that he was elected as the Student Council President. It was the first time an international student, rather than a Zimbabwean, had been elected to that position.
Mulanda's first visit to Michigan was in 2011 when he came to help raise money for the Ubuntu Center and student scholarships for the University.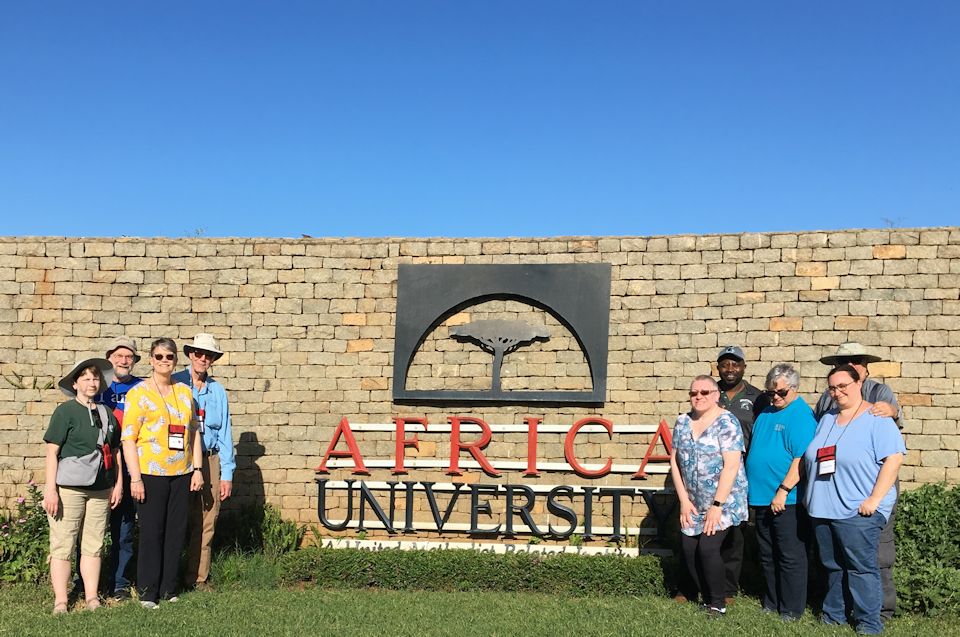 In 2012 he came to Garrett-Evangelical Theological Seminary to complete his MDiv degree. When he was ready to graduate, Mulanda had offers from other conferences, but he sensed God was leading him to Michigan. "I felt God directed me here," he said. "This is where God wanted me to serve."
Since 2015 he has been one of the pastors at Mt. Hope UMC, helping to create a lively, multi-racial congregation (begin viewing the video at 34:26). His story inspired the Mt. Hope congregation, and the church decided to send a team to Africa. Joe Groff agreed to head up the team. Joe said, "As the spouse of a pastor, our churches always supported missions and Africa University, so I was anxious to see it for myself. It was fantastic."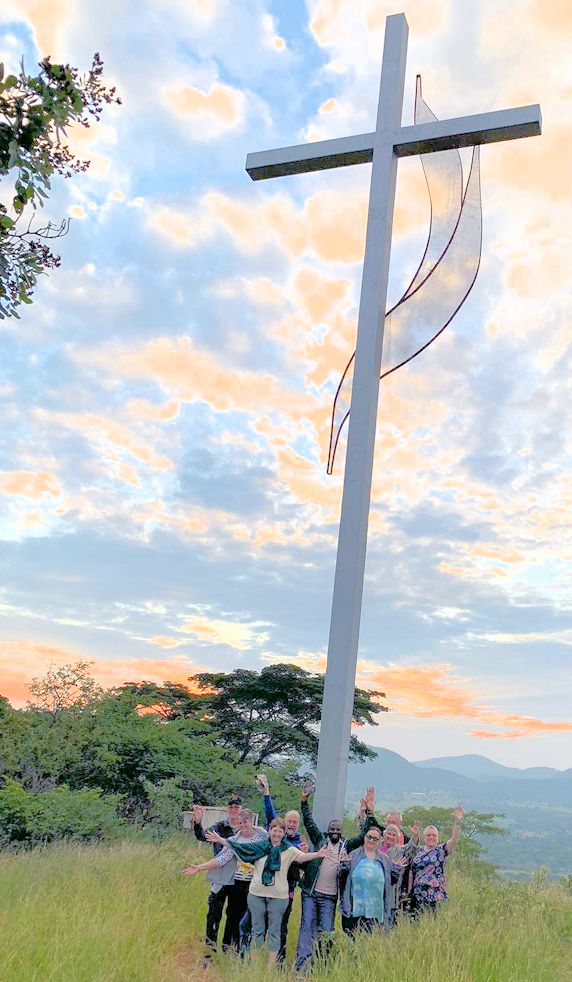 The team was supposed to leave on March 16 with 14 members, but five dropped out because of the coronavirus. Nine members decided to go with the promise of Acts 1:8, "You shall be my witnesses in Jerusalem, Judea and to the ends of the earth….and I will be with you."
Arriving at Africa University, they were welcomed with open arms by the Vice-Chancellor, faculty, and students alike. Eric said, "They treated us like kings and queens," and for him, it was like going home. "This was my holy land, the place where my calling started."
When they visited the Ubuntu Center, which had been funded by West Michigan Conference, they said, "This is our building." While they were there, they met the student supported by a scholarship from members at Mt. Hope. "She wouldn't be there," Groff reported, "if it wasn't for the scholarship." They also visited with agricultural missionary Larry Kies, who runs the farm, which raises food to help the university be self-sustaining. Kies is also supported by Mt. Hope Church.
In addition to the University, they spent time at the United Methodist orphanage. "It was truly heartbreaking," Groff said, "to see the limited conditions and the 80+ children who are being cared for there. We wanted to adopt them all!"  The team delivered five bags of donations for the orphanage and two bags of clergy robes and stoles donated by Michigan pastors for their clergy colleagues in Zimbabwe. They also carried love gifts of $1,800 for the orphanage, $2,000 for scholarships at the University, $300 for the hospital, $200 for the University Chaplain to help students in need, and $300 for a church in Mutare.
One of the highpoints of the trip was a time of worship and communion beneath the great cross on the top of Mt. Chiremba. "Looking down across the University campus," Groff remembered, "the scenery and the people were just so beautiful. It was like a touch of heaven." 
"Up there on the mountain," the Rev. Mulanda concluded, "we were praying, and we knew Mt. Hope was praying, and the University campus was praying for us. God must have said, "Where are all these prayers coming from?" and God answered our prayers. We returned home with good temperatures and no signs of illness. We prayed, and we traveled in faith, not in fear, and God blessed us."
~ Editor's Note: Africa University closed its campus on March 24, 2020 in line with the Directive from the Government of Zimbabwe to curb the spread of the COVID-19 Virus. For the latest news on developments at Africa University, please follow them on Facebook.
Last Updated on April 5, 2020