A couple asks for a unity candle ceremony at their wedding. That sets the Rev. Sarah Alexander thinking about the meaning of light in the Bible and in our lives during a pandemic.
SARAH ALEXANDER
Extraordinary Connection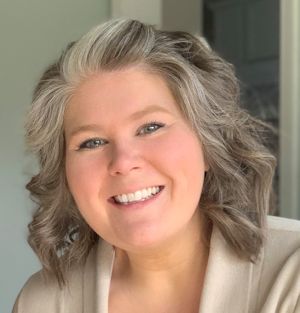 Preparing for a wedding this weekend, I realized this would be my first wedding, where the couple has chosen a unity candle. I've done rice, sand, a tree planting, a wine pouring, but never a unity candle. Maybe this tradition is phasing out?
Regardless, I was working on the wording around what candles represent to us, especially for a wedding being held during quarantine and social distancing.  
 
I plan to say something like:  
 
"As a symbol of this new family unit, Amanda and Cameron have elected to mark the start of their marriage by lighting a candle. We recognize how the symbol of a candle represents many things – hope, goodness, renewal, direction, the casting out of evil and injustice. We read in Matthew 5: "You are the light of the world. A city built on a hill cannot be hid. No one after lighting a lamp puts it under the bushel basket, but on the lampstand, and it gives light to all in the house. In the same way, let your light shine before others, so that they may see your good works and give glory to your Father in heaven."  
  
May this candle be for you a symbol of your relationship – a light in the world shining hope and bringing glory to God. May you, like this candle, continue to shed light in places of darkness, may your marriage be a light in the world, and never be hid under a bushel basket. Work together to create something worth putting on a lampstand – things like patience, kindness, like rejoicing in the truth, bearing all things, believing all things, hoping in all things, enduring all things. Continue to let your light shine before others."
The couple chose 1 Corinthians 13 as their scripture reading, another first for me. I also tried to weave that into their candle lighting because it so embodies how Christ calls our light to shine. It states: 
If I speak in the tongues of mortals and of angels but do not have love, I am a noisy gong or a clanging cymbal. And if I have prophetic powers, and understand all mysteries and all knowledge, and if I have all faith, so as to remove mountains, but do not have love, I am nothing. If I give away all my possessions, and if I hand over my body so that I may boast, but do not have love, I gain nothing. 
 
Love is patient; love is kind; love is not envious or boastful or arrogant or rude. It does not insist on its own way; it is not irritable or resentful; it does not rejoice in wrongdoing, but rejoices in the truth. It bears all things, believes all things, hopes all things, endures all things. 
 
Love never ends. But as for prophecies, they will come to an end; as for tongues, they will cease; as for knowledge, it will come to an end. For we know only in part, and we prophesy only in part; but when the complete comes, the partial will come to an end. When I was a child, I spoke like a child, I thought like a child, I reasoned like a child; when I became an adult, I put an end to childish ways. For now, we see in a mirror, dimly, but then we will see face to face. Now I know only in part; then I will know fully, even as I have been fully known. And now faith, hope, and love abide, these three; and the greatest of these is love. 
 
What do candles represent for you? Whenever I use candles, especially when it's in darkness, I'm always surprised by how much light a candle lets off. When we gather on Christmas Eve, and the light fills the sanctuary, it often takes my breath away, and I feel close to God. Or when the power goes out on a hot summer evening, and we light a candle, grab a deck of cards, and make the best out of an uncertain moment – this reminds me of our humanity and what matters is spending time with loved ones.  
 
When Jesus tells us that we are the light of the world, it may seem like a big responsibility. Luckily, like the gathering of a Christmas Eve service, we are surrounded by others who also shine the light of Christ. It doesn't fall entirely on us because we are part of the body of Christ.  
 
May you live today like your light is shining bright on a lampstand because the world can feel awfully dark at times – especially these times.  
~ The Rev. Sarah Alexander is Deacon of Young Adult and High School Ministry at Birmingham First United Methodist Church.