See the history of a problem and solutions organized by partners, including The United Methodist Church, in a new documentary, "Flint: The Poisoning of an American City." Greg Timmons shares.

KAY DEMOSS
Senior Content Editor
September 11, 2019 | FLINT, Michigan -- For the past four years residents of the city of Flint have been experiencing what it's like to live without a dependable source of clean water. To put it another way, that's 1,460 days of not being able to use what flows from the faucet with any degree of trust, something most persons in Michigan and these United States take for granted.
Since the beginning, in the fall of 2015, the East Winds District (then Crossroads District) of The United Methodist Church has been at the forefront of meeting the needs of their neighbors struggling to cope with how to bathe, how to do laundry, how to cook, how to drink, and how to flush using filters on the tap and bottles on the counter.
The initial emergency phase of the response was led by Peter Plum. Then Greg Timmons came on to coordinate the recovery stage. Watch Greg's report to the 2018 Michigan Annual Conference (Vimeo video, minutes 5:40 - 30:12).
In the meantime, newspaper headlines announced replacement of lead pipes and a generous donation by Tesla entrepreneur Elon Musk. Progress? Some. But when asked if the water is now safe to drink, Timmons' response is, "No." He explains, "In just the past six weeks there have been two more water alerts. They say pipe replacement will be finished in November but, realistically, next summer." The water remains unsafe because tearing up of pipes and disrupting the system has introduced bacterial contamination. As for the Musk dollars, they were a blessing. "By this time next year," Timmons says, "all Flint schools will have ultraviolet water systems in all drinking fountains."
In the meantime, the reliance on bottle water continues, distributed at three Help Centers located at Flint: Bethel United Methodist Church, Flint: Asbury UMC, and Greater Holy Temple Church of God in Christ. Each center is open one day a week, and around 700 persons are served at each site. Nestle provides a truck load of water weekly at each center. While the Help Centers are open from 10 am to 2 pm, Timmons reports that the water is typically gone in the first two hours. Food funded through Michigan Health and Human Services, and psychological services provided by Genesee County Health Systems are also available at the Help Centers.
Lead levels in the water are now at acceptable concentration. But lead is stored in the bones, and the body never eliminates it. Greg notes that Flint's teachers have observed an uptick in violence in the classroom. They also noticed more children who are challenged in their ability to learn. "My own daughter and son still have stomach problems," Greg says. Further, effects of lead-poisoning can be multi-generational, passed on by a mother through the placenta, a terrible legacy.
In light of these long-term consequences, programs continue to be created in Flint to meet the developmental needs of children growing up in the city. The Flint Children's Museum is organizing projects to engage and stimulate learning for children two-nine years of age.
Asbury Farms, one of the largest urban farms in the U.S., is a farm-to-table enterprise organized by Flint: Asbury United Methodist Church. A commercial farming operation, they have 14 hoophouses that extend the growing season year-round. Ten full-time employees work with "an army of volunteers and youth" cultivating fruits and vegetables for market on five acres of property. Asbury Farms not only feeds the body but also nourishes the spirit of community.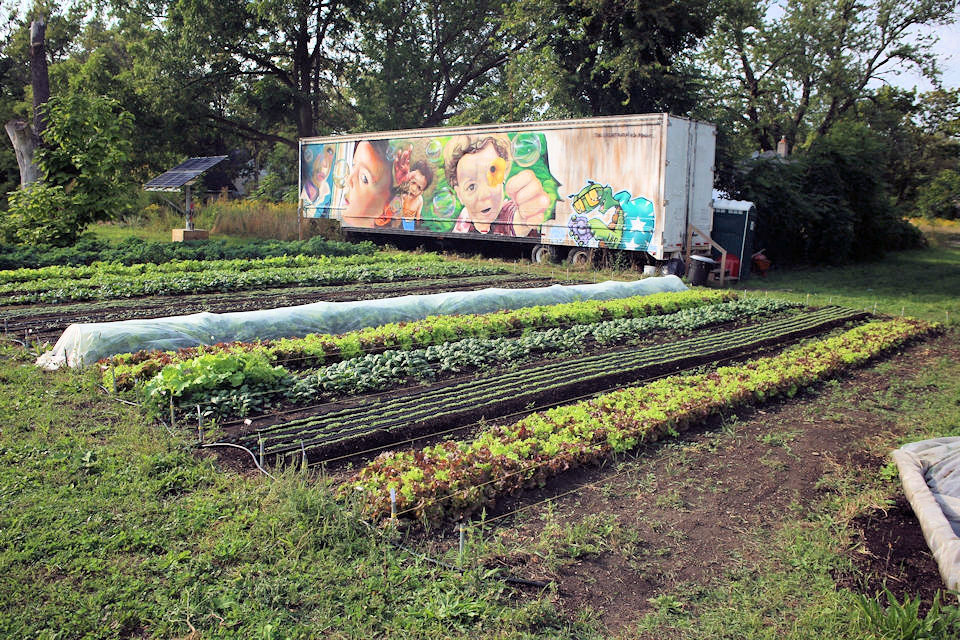 Since June 2016 Flint ReCast has been addressing trauma and promoting resiliency for citizens. Greg, a consultant with Flint ReCast, remarks, "We are shifting the culture of Flint from being victimized to self-care." Tapology, a dance group, is supported by ReCast. "They are traveling this year with performances in New York and Detroit." Involved Dads and Crim Fitness Foundation (yoga and mindfulness) are two of many opportunities in the ReCast Network.
A year ago, Timmons became "Pastor Greg" with an appointment to Flint: Calvary United Methodist Church. He is using that venue to add to the array of healthy options available to Flint residents. He hopes to open the second Freedom School in the city at Calvary next summer. Flint: Bethel has hosted a Freedom School, for the past three years. A creation of the Children's Defense Fund, Freedom Schools operate for six weeks in the summer. Interns of The Michigan Conference have staffed the Freedom School operation at Bethel. Other activities on the drawing board at Calvary are Symphony (interns teaching children to play classical instruments) and weekly VBS-like experiences for kids of various ages (Awana, Wild Life, and Young Life).
Perhaps, four years into the Flint Water Crisis and Response, progress should not be measured by the water quality only. Maybe progress should also be measured by the ability of Flint's people to persist and to overcome and to teach others how to do that, too. Because Flint, unfortunate to say, is likely the first in many water crises to come. Newark, New Jersey, for instance, is currently in the news.
Tomorrow marks the world premiere of a feature film, Flint: The Poisoning of an American City. From the synopsis: "A recent report found that 5,300 American cities were found to be in violation of federal lead rules, and research published in USA Today detected excessive lead in nearly 2,000 public water systems across all 50 states. This documentary educates and inspires action, seeking to radically change how we view and value water."
For some time Timmons has worked closely with the film's Director/Producer David Barnhart who states, "We are facing an urgent drinking water crisis in the U.S. that is systemic and widespread, but it does not get the headlines or attention from the wider public." Barnhart wants that to change. "Stories of disaster serve as both an educational vehicle and a warning to the rest of us to open our eyes and live proactively for a better tomorrow," he says. Barnhart Films is funded by Presbyterian Disaster Assistance.
The documentary has been in the making throughout the Flint emergency and recovery, talking to leaders on the ground who were living through the crisis. Barnhart saw in Greg Timmons "one who is not a victim but a person working for solutions." Timmons has been both behind the scenes with advice on issues and in front of the camera with stories of horror and hope.
The synopsis describes the film: "it intersperses first-person accounts of area residents (including parents, social workers, educators, pastors, and experts on water and health) with testimony at congressional and other oversight committee hearings to demonstrate how 100,000 people have been poisoned by lead, an irreversible affliction."
Why should people see the film? Timmons offers several reasons. "First, you get a chance to see a history of Flint that you can take and relate to your own town, big or small," he begins. "And the film is important because it displays the responsibility of citizens to manage their own government. The government infrastructure caused them to ask question that you don't, as a citizen, usually think about asking. You can't assume the government is looking out for you," Timmons observes. Then there are the powerful personal journeys, both of residents and those trying to help. "People describe what has happened to them, what they are going through and the efforts made in addressing issues on a community-wide basis."
Timmons reminds viewers to be watchful for United Methodist presence. "You will see The United Methodist Church throughout the film, there in the midst of the challenges people are experiencing," Greg explains. "You won't hear the words 'United Methodist Church' but the Help Centers are there on the screen, and I provide some commentary." He emphasizes that from October 2015 until today, "Our footprint is there. United Methodists have been in the forefront of these efforts, making a difference. We will remain at the table."
Flint: The Poisoning of an American City was not created for mere entertainment. Greg joins the producers in hoping the film will encourage conversation and thought in other communities around the country. "It will be great if collaborations are born around public safety and wellbeing in in every viewers' community," Greg says. Talk-backs are scheduled to take place, beginning with a panel discussion at the Capitol Theater following the premiere tomorrow night, September 12th at 7:30 pm.
While the film is not intended as a fund appeal, it is possible that some viewers may wish to support ongoing efforts for water recovery, specifically helping residents receive access to water. Contributions may be made to the Flint Recovery Fund of The Michigan Conference of The United Methodist Church.
Thanks to his role in this film-making, Timmons' expertise and passion for the Lord's justice in water recovery is now going beyond the city limits of Flint. He will accompany Director David Barnhart to showings now scheduled in Chicago, Atlanta, and Baltimore to share lessons learned in Flint. "The Presbyterian Church is carrying the flag on this," Greg explains. "I need United Methodists behind me, too."
What hope does the Rev. Greg Timmons have for Flint? It's no surprise that he's hoping BIG. "I hope we can get state and city and federal funding lined up," he says, "so that Flint, Michigan can become the water technology capital for the United States, like Silicone Valley is for technology." As part of that huge goal, Greg longs for the kind of economic development for his city that "can cure some of the sociological challenges we have which really revolve around poverty and lack." He adds, "A whole lot has changed in Flint, but a whole lot must change."
When asked, "What does Jesus have to do with this?" Greg concluded, "Jesus has everything to do with it! Remember, he said, 'When I was hungry, poor, you took care of me.' And that's what we are doing."
How can others become partners? Greg Timmons issues this invitation: "Stay focused on Christ. Stay focused on the community. Love people without getting pulled or distracted. Keep your heart and soul holy and continue to pray for Flint."