The dates for the Virtual 2021 Michigan Annual Conference have been set for June 1-6, with Recognition, Commissioning, and Ordination to be celebrated on June 13. Mark your calendars now.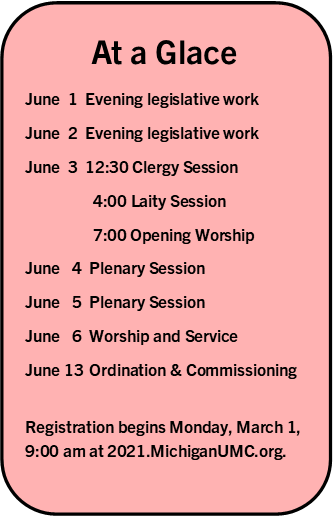 February 16, 2021 |LANSING, MI — The Commission on the Annual Conference has finalized dates of the 2021 Michigan Virtual Annual Conference, slating the first week of June for a virtual week of fellowship, worship, and legislation.
The commission announced that the evenings of Tuesday, June 1 and Wednesday, June 2 are scheduled for online Legislative Committees.  Legislative Committees will meet to consider what legislation is to be discerned during annual conference using the ZOOM online meeting platform.  
On Thursday, June 3 at 12:30PM EDT, Clergy Session will be held, followed at 4:00PM EDT by a new Laity Event. Opening Worship will include a Service of Remembrance will be held on Thursday evening at 7:00PM EDT. The two plenary sessions will be held online Friday, June 4 and Saturday, June 5, focusing on preaching, teaching, and legislation. On Sunday, June 6, a state-wide worship service available to all Michigan United Methodist churches will be offered as the kick-off to a day of local community mission and service. 
Due to anticipated continuing COVID health recommendations, the Service of Recognition, Commissioning, and Ordination is expected to be recorded at another time and shared on Sunday, June 13.
Registration for Annual Conference begins on Monday, March 1 at 9:00AM on the annual conference website, 2021.MichiganUMC.org.  Registration ends on April 15, 2021. The website will be updated daily with announcements of preachers, teachers, and other learning opportunities.