As we move toward Easter and the promise of new life, the Rev. Benton Heisler encourages all to keep focused on the essentials that unite us in God through Jesus Christ.

BENTON HEISLER
Director of Connectional Ministries, Michigan Conference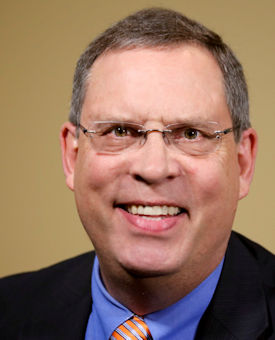 I had an opportunity to finally get out in the yard this spring. There are those essentials that need to be done after the long winter. Each home has its distinct needs for cleaning up yard debris, adding fertilizer to the grass, mulch around bushes and shrubs, and setting out the spring and summer lawn furniture.
Early spring television has the rhythm of the NCAA Men's and Women's Basketball Tourneys and Opening Day of Baseball. Equally, there is nothing more encouraging that warm temperatures will soon reach us than seeing the magnolia blossoms and hearing cardinals whistle and chirp in the background as a quiet voice narrates the Masters PGA Golf Championship from Augusta, Georgia. Reflecting on these seasonal rhythms, triggered a pattern of other essential rhythms in my mind.
"A great defense is the best offense." (Just ask the Spartans.)
"Keep the ball in the strike zone."
"Buy low, sell high."
"Prepare the equipment in the winter, so it's ready to plant the fields in the spring."
"Maintain Balance in your life: spiritual life, family, exercise, diet, work, play, rest, education …"
Robert Fulghum once summarized a list in his popular book, Everything I Needed to Know I Learned in Kindergarten. The challenge is that far too many children have not learned all they needed to know. A parent may be missing from the equation at home or is far too distracted by their own dysfunctions and inadequacies to properly nurture the child. The groan of hunger in the child's stomach distracts their mind and steals their energy. Teachers are inadequately paid to cover the significant college student loan burden and thus some of our finest teaching candidates and employees may choose to exit the education system, leading to a further decline in the quality of our education system. Math, Science, Reading, English, Social Studies and Creative Arts, are no longer able to be the essentials to the rhythm of the curriculum. Instead teachers are challenged to maintain order in the face of defiance, abandon creativity for the institutional machine of core testing components, and hold parent/teacher conferences while they stare across their desk at an empty seat intended for the parent.
Before our two daughters were even pre-school age, I remember asking a school superintendent what he suggested as some of the best steps toward school readiness. His answer was simple. "Be sure they are in Sunday School and Worship. They will learn the many basic Judeo-Christian values that guide our society and they will have the necessary social interactions that will help prepare them for sharing a classroom, and eventually the world, with others."
Deuteronomy 5 lists "The 10 Commandments", Matthew 22 records "The Great Commandment" and Matthew 28, declares "The Great Commission." These have become some of the essentials of our Christian faith.
No other gods.
No idols.
No misuse of God's name.
Observe the Sabbath.
Honor your parents.
No murder.
No adultery.
No stealing.
No lying.
No wishing you had somebody else's family or stuff.
Jesus proclaimed in Matthew 5:17, "I did not come to abolish the law and the prophets, but to fulfill them." Later in Matthew 22 he taught, "I give you a new commandment. Love the Lord your God with all your heart, soul, and mind; AND, love your neighbor as yourself." As he communicated the last time with his disciples, after his resurrection, he gave them the Great Commission, "Go and make disciples of all nations, baptizing them in the name of the Father, Son and Holy Spirit." (Matthew 28:20).
These essentials guide the rhythm of our faith along with countless other promises and biblical examples of Gods' providential and grace-filled actions in our lives. We are about to enter Holy Week. Across those seven days we experience again the depth of God's love and the extent to which God was willing to go to demonstrate that love toward us. "Though all have sinned and fall short of the Glory of God, we are justified by grace." (Romans 3:23)
These are the other essentials in our faith rhythm: Brokenness, Prevenient Grace, Repentance, Justification, Sanctification:
Consequences – "The wages of sin is death." (Romans 6:23)
Preparation – God's grace reaches out to us even before we realize we need it.
Redirection – "We are born again." (John 3:7)
Correction – "God shows his love for us that while we were yet sinners, Christ died for us." (Romans 5:8)
Improvement – The continual process of discipleship as we spend time in prayer, study, worship, fasting and service.
There seems to be a fair amount of conversation about what divides us in the United Methodist Church and the steps we need to take to accomplish that division. My prayer is that we never fail to remember and focus upon the essentials that unite us to God, through Jesus Christ, and to which we are called to witness to the world. These essentials are far more important than the fertilizer on our lawn, our "busted NCAA bracket" or Sunday golf at the Masters.
The next generation is counting on us not losing track of the essentials of our faith and to teach them!
~"If you make my Word your home, you will indeed be my disciples. You will know the truth and the truth will set you free (John 8:13 New Jerusalem Bible.)" Each article I write for this column is based in the guidance of a Scripture passage. I pray that these reflections, stories and information will assist you in your own witness and service as a Disciple of Jesus Christ.
Last Updated on September 20, 2022