February 23rd, the day before the official opening of the 2019 General Conference was dedicated to praying a way forward, a spiritual initiative that began months ago.

JOHN E. HARNISH
Michigan Conference Communications
Do United Methodists believe in "praying in tongues"? They do if you mean the tongues of the world and the languages of the countries where United Methodism is represented.
The first day of the Special General Conference was called as a "Day of Prayer and Preparation," and included representatives of the global church—the Philippines, Europe and Eurasia, and parts of Africa– leading in prayer and praise. 
The Northern European and Nordic conferences invited us to prayer using the well-known Swedish hymn "How Great Thou Art" and the Eurasian United Methodists sang their prayers in Ukrainian and Russian.
In the seven countries of Africa where United Methodism is thriving, United Methodists worship in a multitude of native languages, and the bishops stirred the audience with their passionate prayers in their own native tongues.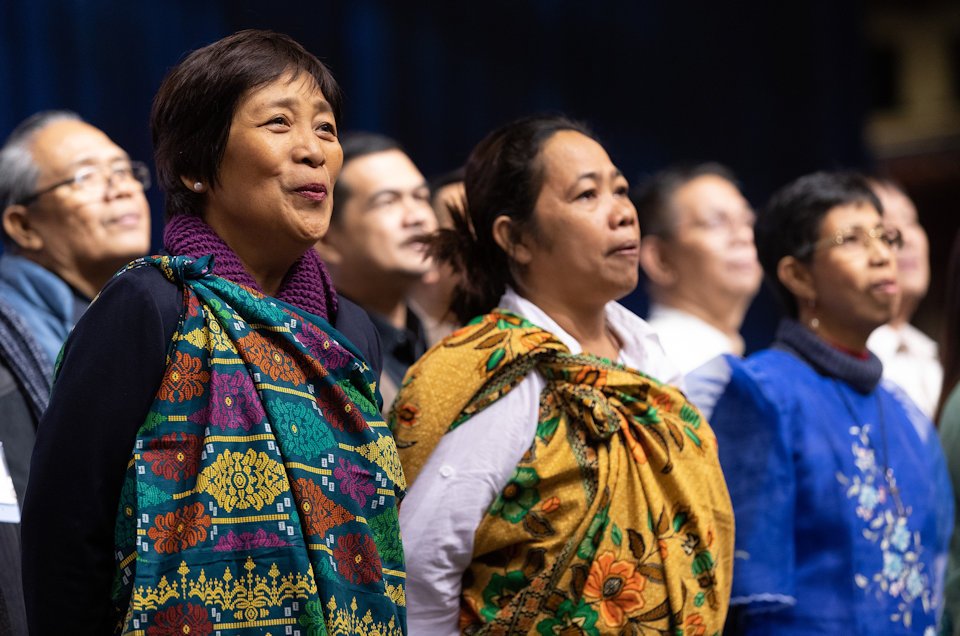 Filipino United Methodists shared the work of the church and invited prayers for the people called Methodist in their region, and American United Methodists represented the concerns and prayers of the people in all 50 states. Such is the diversity of the United Methodist Church. 
When asked how she felt during the service of scripture, prayer and music, the Rev. Sherry Parker, from Brighton, MI, said, "I'm feeling pretty good right now. It's cool that we are all praying together, even though we know there are places where we see the world differently."  She represented the feeling of many in expressing appreciation to the bishops for setting aside time for reflection and prayer at the start of what promises to be a challenging conference. Because there will be challenges. 
While the spirit of prayer and unity pervaded the conference floor, outside the conference center, several protestors carried signs and bullhorns decrying homosexuality. Although they did not represent United Methodists, their presence gives evidence to the tension surrounding the decisions the conference will make and the very public witness it will bear.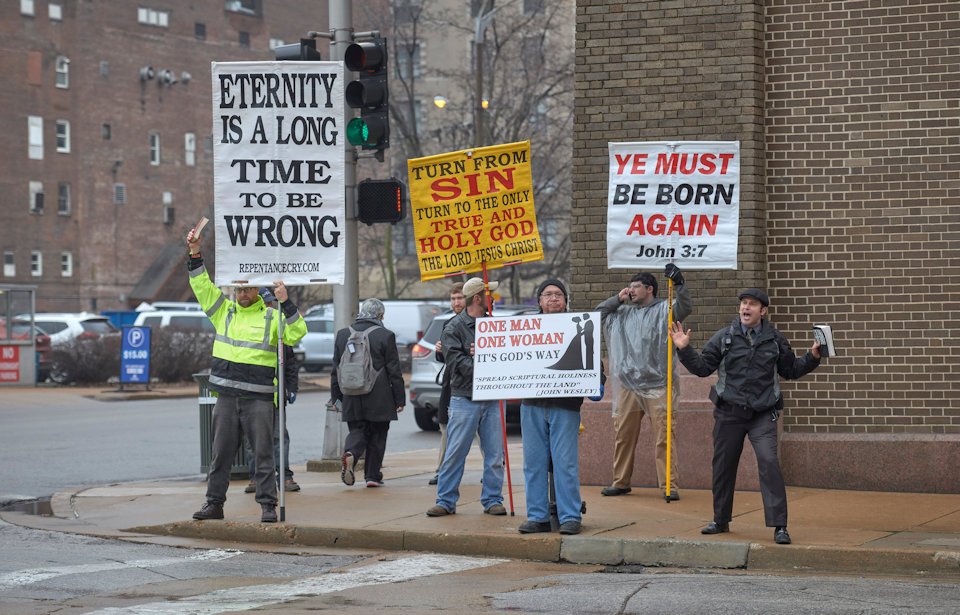 Numerous groups of United Methodists were also present distributing handouts and giving away chocolates to the attendees as they entered the convention center.  Alongside the prayers of the day, there is no mistaking the purpose of this special General Conference and the passions which surround it. The Rev. Parker said she had tried to keep her congregation in Brighton informed, but her word of advice was "Stay calm."
Certainly, on this day of prayer and preparation, that's a good word of advice for everyone in St. Louis and for United Methodists across Michigan and around the world. Amid all the voices and all the tongues and all the issues, discovering a quiet center and "staying calm" will anchor our debates and ground our life together in the Spirit of Jesus Christ.