In response to "emerging priorities and pandemic realities," The Michigan Conference announces staff changes involving four leaders. In July 2021, the Rev. Dr. Jennifer Browne becomes Clergy Assistant to the bishop.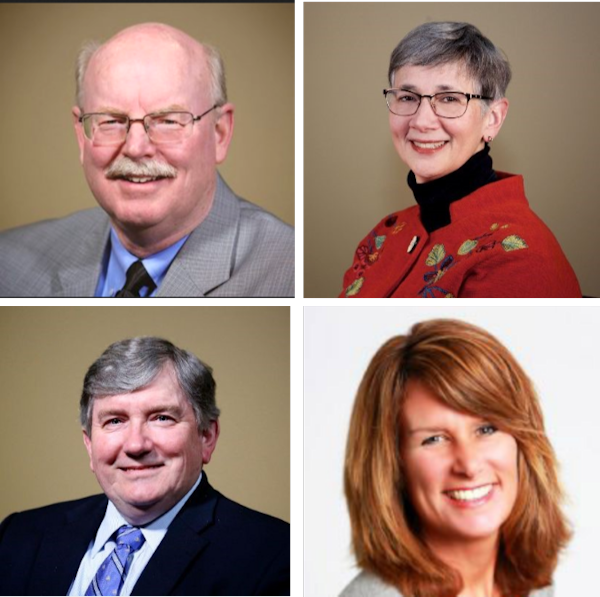 November 11, 2020 | LANSING, MI – Bishop David Bard today announced important leadership changes for the Michigan Conference.
Effective July 1, 2021, the Rev. Dr. Jennifer Browne will be appointed Clergy Assistant to the Bishop/Board of Ministry Staff Person. The second half of the position title may change as work continues on the details of this position. Starting in January, Browne will begin meeting with the Appointive Cabinet and then focus her other work on BOM staff concerns.
Bishop David Bard explains, "As the Michigan Conference continues to assess its staffing in response to emerging priorities and pandemic realities, it seemed helpful to look at some consolidation of positions. Given models used in other conferences, combining the clergy assistant position to the bishop with executive staffing for the Board of Ordained Ministry made the most sense."
The bishop praised Browne's exceptional work with the Board of Ordained Ministry since becoming the Director of Clergy Excellence in 2018. "That work has allowed her to work closely with the district superintendents, work that will continue in this newly combined position," Bard said. "She is a trusted colleague with whom I look forward to working as my clergy assistant." 
The Rev. John Boley will remain on staff, appointed in retirement as a Special Assistant to the Bishop (official title to be determined). Bishop Bard said, "There are a number of projects on which John's work and advice will be helpful, as I assume responsibilities with the Minnesota Conference on January 1, 2021, and as we consider the possibility of working with churches during a denominational division."
Bard added, "John's steady hand and wise counsel will continue to be an asset to my office and the Michigan Conference. Though appointed only half-time in retirement as clergy assistant to the bishop since July 1, 2020, John has been extraordinarily generous with his time, and I continue to be deeply grateful for his ministry."
 
There is also news about two other leaders. Beginning July 1, the Rev. Dirk Elliott's job title will be changed to "Director of Congregational Vibrancy and Leadership." This better describes the work Elliott is doing, which incorporates supervising staff dealing with coaching and lay leadership and organizing continuing education opportunities such as the REACH network.
Finally, Nancy Money has announced she is resigning as the Michigan Conference Coordinator for Disaster Recovery Ministries to join the Midland United Way. "We express our gratitude for the faithful work Nancy has done to help people recover from devastating floods in that region and help prepare all of Michigan to deal with the next natural disaster," Bard said. "We are still determining how to best manage her work in the region."  
The Michigan Conference joins those wishing these leaders blessings in their future ministry.