Thousands of people around the world have lost the use of their legs through disease or war. Mobility Worldwide and the United Methodist Prosthesis Center bring them joy and freedom.

CHRISTIE R. HOUSE
General Board of Global Ministries
Mobility is key to independence. Going to market, getting to the doctor, taking the kids to school or traveling to work can be daunting for people with physical challenges. While technical advances have helped those in Western countries gain independence, people in countless remote and rural areas across the world would find a wheelchair of little use on the rocky, unpaved terrain they might travel.
Global Ministries meets the challenge of immobility in a variety of ways through Global Health initiatives.
A prosthetic solution in Sierra Leone
Global Health has partnered with the United Methodist Health Board in Sierra Leone and the United Methodist Prosthesis Center in Bo District to support a prosthesis initiative for amputees. Lappia Amara, director of the center since its founding, helps amputees regain mobility and reintegrate into their communities.
The center served 79 patients in the first quarter of 2019. They fit lower and upper limbs, repair old prosthetic devices and wheelchairs and treat stroke patients as well. "While losing a limb is a challenging experience, it doesn't have to define your life in a negative manner," Amara said.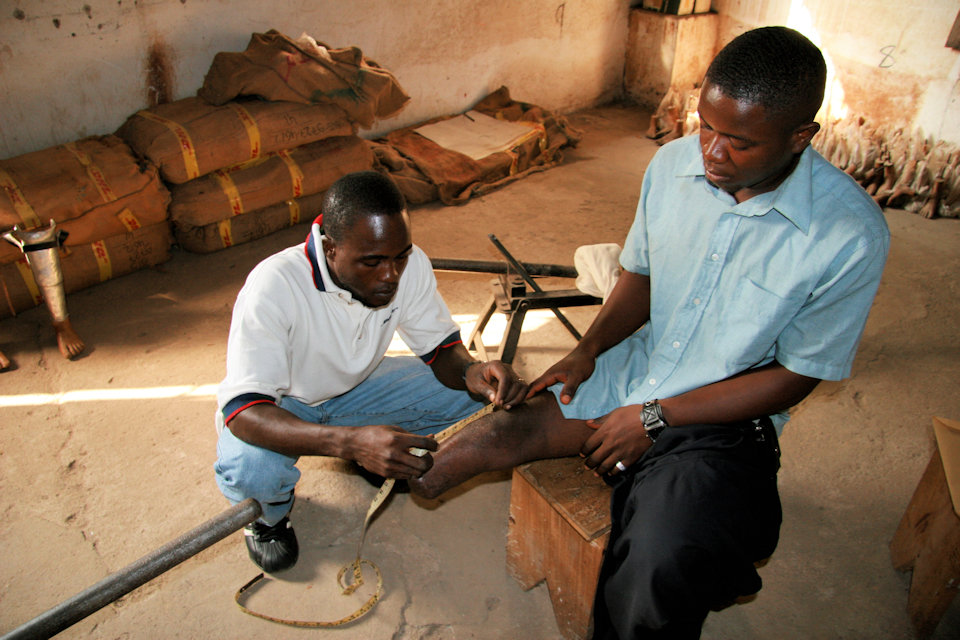 Aminata Kargbo, from Shenge, lost her leg because of an accident traveling to Bo. Kargbo's first thought was, "How can I live without my foot? I am a pupil and an athlete."
While Kargbo still bears emotional and physical trauma symptoms, the center in Bo has given her hope. "I have really been encouraged by this support and I am so grateful to donors because I can use this limb to go to school and do other things for myself," she said.
Personal transportation in Zambia
A second ministry receiving a Global Health grant this year is PET Zambia, part of the New Life Center ministries of the UMC Zambia in Kitwe. Zambia is one of the more stable countries in Africa, but because of that, it has received refugees from neighboring countries.
Josephine Mbilishi, a United Methodist deaconess, is the director of the New Life Center, which provides training for spiritual development, community leadership and community health, including the PET (Personal Energy Transportation) ministry. Delbert and Sandy Groves serve as missionaries with the center. They are EngageMI ministry partners of The Michigan Conference. The Groves have worked in Zambia since 2000. One of Delbert Groves' responsibilities is the PET workshop.
A PET is a three-wheeled chair with wide, durable wheels, a cart and hand pedals to propel the device. The PET project was started after the Rev. Larry Hills, a UMC missionary in the Congo, accidentally stepped on someone crawling through the fields. Hills pulled back the weeds to find a young woman with a baby on her back going about her daily chores. Hills worked with Mel West in Iowa and other friends in the U.S. to develop a PET prototype. The U.S. ministry, which is now called Mobility Worldwide, has expanded to 22 workshops in the U.S., making carts and then shipping them internationally to areas where they are needed.
Reaching isolated people
PET Zambia is currently the only African workshop making the carts. The workshop builds and distributes at least 500 PETs each year free of charge. In Zambia alone, they estimate 150,000 people still need them.
"Because the need is so great, we have bought land in south Zambia in a town called Livingstone, near the border to four other African countries," Groves said. "We're hoping to break ground early in 2020 to build a new PET Zambia facility. It will also be used to help build the UMC in the southern provinces of Zambia."
While finding people tucked away in their villages and even in larger cities may be difficult, Methodists connect in amazing ways to reach them.
Mobility Worldwide — East Michigan, located in Goodrich, MI is an EngageMI partner, sending Personal Energy Transports to Haiti, Swaziland, and Vietnam. There are also affiliates in Holland and Saline. 
Methodists across the connection can join them in donating to this life-restoring ministry. Give Joy and help reestablish independence and self-esteem.

~ This article reprinted with permission from umcmission.org. Christie House is the senior writer/editor for the General Board of Global Ministries.