This is the first in a series, "Volunteer with a Michigan Mission," shared by the Michigan Conference Volunteer in Mission Coordinator, Jody Pratt.
 JODY PRATT
VIM Coordinator, Michigan Conference
A Volunteer in Mission team from Sturgis United Methodist Church (Greater Southwest District) recently travelled to Wisconsin to serve at an UMCOR Recovery Partnership in Juneau County. This is a recognized VIM site of the North Central Jurisdiction of The United Methodist Church.
These mission volunteers continued an annual tradition of sending teams throughout the Midwest to assist in disaster recovery efforts. Their outlook … Blessed to be a blessing.
July 7-12 the team worked in the New Lisbon area affected by flooding in fall 2018 and spring 2019. The United Methodist Committee on Relief provided grant money to fund teams' housing and food needs, making this an affordable project for any group.
Helping hands were put to work on basement projects, waterfront clean up, and general repairs. Some homes are still impacted by standing water.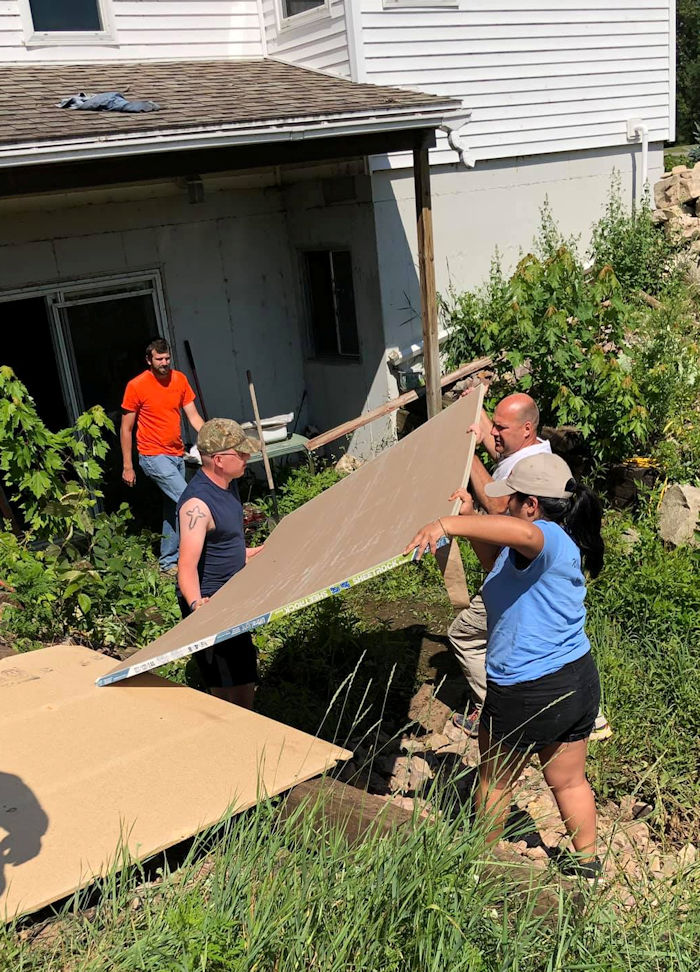 The congregation sent, "letters from home," to be read each day. Support from their local church community was a wonderful way to begin and end each day of service with laughter, smiles and a few tears.
The aim of Volunteer in Mission is, "To engage in dialogue with persons of faith wherever they may live and join together in making the world a better place for ALL God's children." 
You may wish to be part of the North Central VIM's Ministry of Presence at the Juneau County Recovery in the coming months. If so, contact Director Deb Burkhalter, [email protected], or Assistant for Disaster Recovery Lynnette Jordan, [email protected].
For more information about Volunteer in Mission contact Jody Pratt, [email protected].
~ See more photos of the work of the Sturgis VIMs on the Facebook page of First United Methodist Church of Sturgis, Michigan.