The third in a four-part series. The special session of the General Conference convenes in St. Louis, Missouri February 23-26, 2019. Here's how one Michigan delegate is preparing her spirit. 

This is the third article of a four-part series that focuses on members of the Michigan Conference delegation to the February 2019 Special Session of the UMC General Conference. We are featuring preparations being made by the first four Michigan United Methodists, two clergy and two laity, elected for the 2016 General Conference who also will be attending the meeting in St. Louis to address human sexuality. This article features Rev. Kennetha Bigham-Tsai, chief connectional ministries officer of the United Methodist Church Connectional Table.
DIANE BROWN
Michigan Conference Communications

Preparations for the February 2019 Special Session of the United Methodist General Conference for one Michigan delegate include thinking about what time it is in many areas of the world.
The Rev. Kennetha Bigham-Tsai is the chief connectional ministries officer of the United Methodist Church Connectional Table.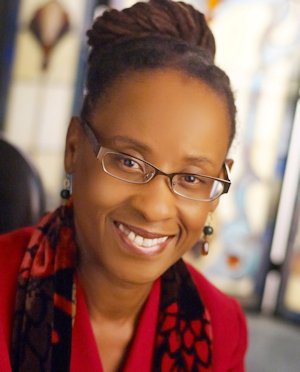 "Through my unique experience with the CT, first as a board member and now a staff position, I think about what time is 2:23 in Manila, or Estonia, or Berlin," Kennetha said. United Methodists around the world have been encouraged to pray daily for General Conference, especially at 2:23 each day in connection with the February 23 beginning of the Special Session.
"I do that consciously to remind myself that the United Methodist Church isn't just in the U.S., we are a world-wide church," she said. "I know the Council of Bishops has that world-wide perspective. You can't just stay with your own opinions and beliefs. It has to broaden to consider how this plan will impact mission and ministries in western Europe, Russia, Mozambique and right here in Lansing, Michigan."
The CT discerns and articulates the vision for the world-wide UMC and stewards the mission, ministries and resources of the denomination in line with the actions of General Conference and in consultation with the Council of Bishops. Kennetha originally was elected to the former West Michigan delegation as the second clergy person, but now is seated first following the 2016 election of the Rev. Laurie Haller as bishop.
Kennetha's preparations also include extensive reading and listening, including conversations with people outside the church about their views of the church and views on this particular issue.
"I'm hearing about issues that are impacting people's lives for which the church could have an impact," she said. "I'm very aware that while we're having this discussion to be more inclusive of LGBTQ persons, there's still a global crisis with immigration and poverty, there are women who just now are feeling empowered to talk about experiences with harassment, people deeply concerned about the rise of racism and nationalism and exclusion. People are lonely and disconnected.
"What I come back to, as we have these discussions, let's not lose sight of connection," she said. "We need to be outwardly focused including being in ministry with those who feel they have been excluded by the church.
"The book 'Anatomy of Peace' spoke to me. We think we are right in our positions but we can be very wrong with how we are with others. I want to be attentive to how are we to be church with one another and disciples with one another."
Kennetha, who previously was the superintendent for the then-Lansing and part of the Heartland districts, also is preparing for the days after the Special Session.
"What will happen the day after?" she wonders. "What is going to be crucial the day after and the days and weeks after will be leadership, from the pew and the pulpit. Will that leadership raise anxiety and reactiveness or will that leadership (both clergy and laity) help people to be prayerful, considered and responsive instead of reactive?
"Thinking is hard, waiting is hard, prayer is hard – harder than fear, blame and reactivity," she said. "How will all of us lead the day after? That's really what will make a difference!"
When Kennetha is home from her CT leadership around the world, she worships with her family at University UMC in East Lansing. In a variety of roles during her career, she has watched the evolution of the United Methodist Church in Michigan and she has a message for United Methodists in the state.
"You are a witness to the great possibility of the unity of the church," she said. "The timing is incredible. In the past (in Michigan), there has been great disappointment that we never came together. But we don't understand the mysteries of God. What is happening in Michigan – in the midst of all of the discussion about breaking apart — we are coming together and we've refocused on the mission. We can be a witness for the whole church in the world."