Conference leaders join in celebrating the faithful service of Anne Soles and John Wharton, who served together as Lay Leaders of The Michigan Conference since 2016.
KAY DEMOSS
Senior Content Editor
The Conference Lay Leader plays a vital role in the life of the Annual Conference. And the Michigan Conference has been doubly blessed.
In 2016 the two conferences of the Michigan Area – Detroit and West Michigan — began a shared life together that eventually came to full union. That moment was celebrated in June of 2018 at the close of the Annual Conference, as John Wharton and Anne Soles stood at the table in Acme, MI representing all United Methodist laity in the state.
"Their leadership was critically important as West Michigan and Detroit Conferences came together to form the Michigan Conference for which they served as the first lay leaders," said Bishop David Bard. "No one who witnessed it will ever forget the moment when Anne and John together took the flames from two separate candles and lighted a single candle representing that moment when the Michigan Conference was born. It was truly a Holy Spirit moment."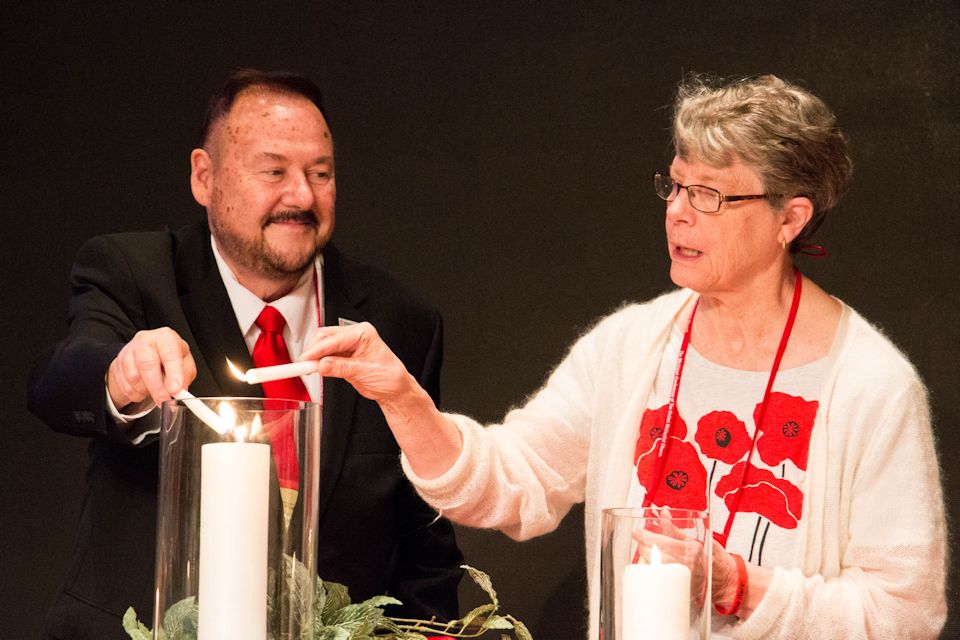 Soles entered her service as West Michigan Lay Leader in 2012. Wharton became the Detroit Conference Lay Leader in 2016. They would serve the Michigan Area in close collaboration through the end of the quadrennium. But there will be no candle-power moment in real time with them this year, as the 2020 Michigan Annual Conference will be a virtual session. That does not mean thanks are not in order.
"The conference lay leader is the elected leader of conference laity," Bard cited. "So begins the paragraph describing the work to which Anne Soles and John Wharton have dedicated themselves over these past years. Since being assigned as the bishop of the Michigan Area, it has been my joy and privilege to serve with Anne and John." The bishop celebrated the unique gifts and shared passion the two faithful disciples brought to the work. "Anne and John shared a desire to see the United Methodist Church in Michigan be vital and vibrant, a shared energy and creativity in their work, and a shared faith in God's saving grace and love in Jesus Christ. I deeply appreciate their hard work and dedication during this time of change in the Michigan Area," Bard said. 
Michigan Conference Director of Connectional Ministry, the Rev. Benton Heisler, also worked closely with these lay servants. "It has been a source of great blessing to have served with Anne Soles and John Wharton these past years," Heisler remarked. "Their steady 'can do' insights and passion for Christ's Church have been evident in every step of our journey as two conferences created a new conference." He praised their ability to model and to inspire. "We are stronger because of their strength. Kinder because of their kindness demonstrated to all. And most importantly we have grown in our love God and one another because of their deep and abiding faith and the testimony of their witness."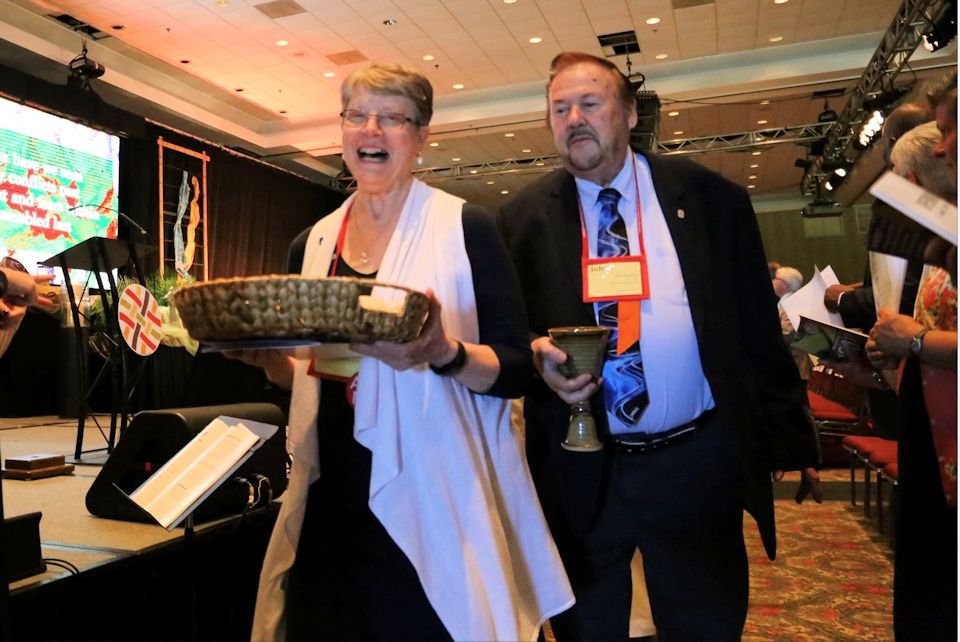 The Conference Lay Leaders play a key role in the work of the Conference Leadership Council (CLC). Chair of the CLC, the Rev. Amy Mayo-Moyle, expressed her thanks. "I am grateful to Anne and John for their leadership. With servant hearts they gave time, energy, and talent to the Michigan Conference asking questions that challenged us, supporting new and emerging ministries and always engaging us in considering the impact on and of the laity." Mayo-Moyle also remembers the iconic moment at the 2018 Annual Conference. She reported, "As I shared with them at our last CLC meeting, the image of John and Anne lighting the unity candle. Symbolically they united us, but their intentionally shared leadership demonstrated to the conference how we really are better together."
The entire Michigan Conference joins Mayo-Moyle in these words of thanks and blessing. "We are a better conference because of their leadership."