You have seen the devastation the water left in Sanford, Midland, and elsewhere. The Michigan Conference Disaster Response team offers ways you can help with clean-up and care for neighbors.

KAY DEMOSS
Senior Content Editor
Five hundred years ago, Martin Luther wrote a hymn for the ages. The second line -- Our helper He, amid the flood of mortal ills prevailing – has rung true for millions of mortals since. And what becomes evident in places like mid-Michigan in May of 2020, is that God helps during times of disaster by uplifting and equipping his people to help their neighbors in need.
Torrential rains caused two dams to burst on May19, wreaking havoc in the Great Lakes Bay Region. The Michigan Conference Disaster Response Ministry took immediate action to muster prayer, monetary, and material support.
Nancy Money, the Michigan Conference Coordinator of Disaster Recovery Ministries, reported on May 27 that "Thousands of volunteers poured into the Great Lakes Bay Region over Memorial Day weekend to assist relief efforts. Several non-profits whose expertise is first-response and relief were on the ground leading those efforts." Those agencies included Red Cross, Samaritan's Purse, Church of Latter-Day Saints, Team Rubicon, and DRAW.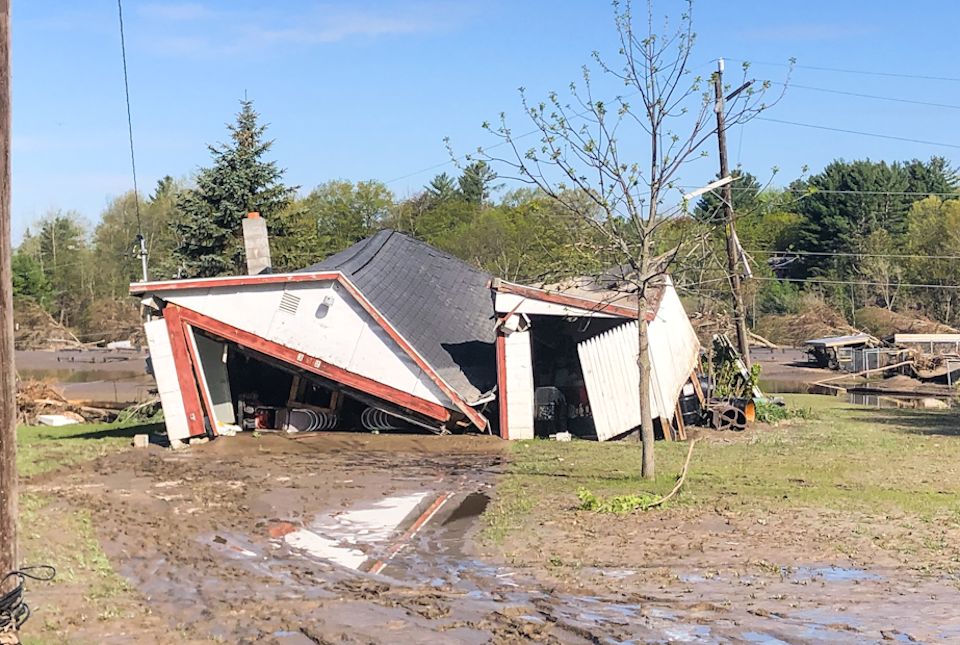 The Conference Disaster Response Team is coordinating with those groups. On May 30, Conference Emergency Response Teams (ERTs) of volunteers will join the relief efforts. These ERTs are Michigan United Methodists who are trained, certified, and insured to conduct flood clean up. Faith United Methodist Church will serve as the home base for these ERTs.
Sanford UMC was the only United Methodist church and parsonage with water damage. A team of volunteers from Coleman: Faith is assisting with that clean-up. In a message from the church's Facebook page on the Sunday after the flood, Pastor Lisa Cook said, "Sanford UMC has been in the midst of devastation. We think of all those who have lost their homes, who have damage in their homes, or who have mud and water in their homes like we have at the parsonage." She expressed appreciation to those who went into action to organize relief. "It has been great to work with the United Methodist churches in our area and for us to be able to say, 'We are in this together and we are here to help anyone who is in need with flood buckets or just lifting and dragging."
Lend a hand now
Conference disaster response leaders suggest four ways to contribute to the relief efforts that are underway.
Assemble Cleaning Buckets and Hygiene Kits. Please follow these instructions, which include new COVID-19 sanitation protocols. Take kits to these collection sites:
Central Collection Site – Aldersgate UMC, 2206 Airfield Lane, Midland (M-F 8 am-3 pm);
Freeland UMC, 205 E. Washington St., Freeland (M-T-W 9:00 am-1:30 pm);
Saginaw First UMC, 4790 Gratiot Road, Saginaw (T 11 am-2 pm and W 5-7 pm);
St. Louis UMC, 116 S. Franklin St., St. Louis (Th 12-1:30 and 5-6:30 pm);
Swan Valley UMC, 9265 Geddes Road, Saginaw (M-F 8:30 am-1:30 pm);
Kalkaska UMC, 2525 Beebe Rd, Kalkaska 49646; contact Dave Stockford Cell: 231.384.0504 Home: 231-587.8694 for drop off coordination;
Gaylord UMC, 215 Center Avenue, Gaylord (M-T-W-Th 9 am -3 pm, F 9 am-noon) Admin. Michelle 989-732-5380 or

[email protected]

;
Cornerstone UMC, 1675 84th street, Caledonia, (M-T-W-Th 9 am – 3 pm, F 9 am-noon) contact Tracy Bowers or Mara Marsman 616-698-3170;
God's Country Cooperative Parish- 110 W, Harrie St Newberry, MI 49869; Randy Hildebrant

[email protected]

;
Central UMC, 215 N Capital Avenue, Lansing; Mark Thompson

[email protected]

;
First UMC, 45201 N. Territorial Road, Plymouth; Bob Ankrapp

[email protected]

m (M-F 9 am to 4 pm).
Buckets and kits will be taken from collections sites to the distribution centers operated by the affected counties. Any buckets not used will be sent to the Midwest Mission Distribution Center in Chatham, IL.
Donate to the Michigan Conference Disaster Fund.
For those wishing to donate to Great Lakes Bay Region flood survivors, send checks to the Michigan Conference at 1161 East Clark Road, Suite 212, DeWitt MI 48820. It is important to include this exact language in the memo: #4407 Michigan Area Disaster Response. Give online here.
3. Volunteer
The United Way of Midland County is currently coordinating all volunteer efforts throughout the county. Community leaders request that all volunteers register with the United Way. If you or a group from your church would like to volunteer, please register here.
Other Donated Materials
Local government, non-profit, and businesses are working together to maintain a donation collection and distribution system across the region. Community leaders request that all donations be dropped off at designated sites.
Gladwin County
Gladwin downtown – parking lot behind Forge Fitness, 237 W. Cedar, Gladwin; corner of Arcade & Grout
Midland County
Midland County is currently accepting personal protective equipment, cleaning supplies, food, water, personal care items and household goods. Clothing is NOT being accepted at this time.
Items can be dropped off at the following locations 9 am-4 pm:
West Midland Family Center, 4011 W. Isabella Road
Bullock Creek High School, 1420 S Badour Rd
Coleman High School, 4951 N. Lewis Road
Sanford Senior Center, 3243 N. West River Road
Meridian Elementary School, 3343 N. Meridian Road
North Family Center, 2601 E. Shearer Road
Midland High School, 1301 Eastlawn Drive
Saginaw County
Freeland Sports Zone (5690 Midland Road Freeland, Michigan 48623)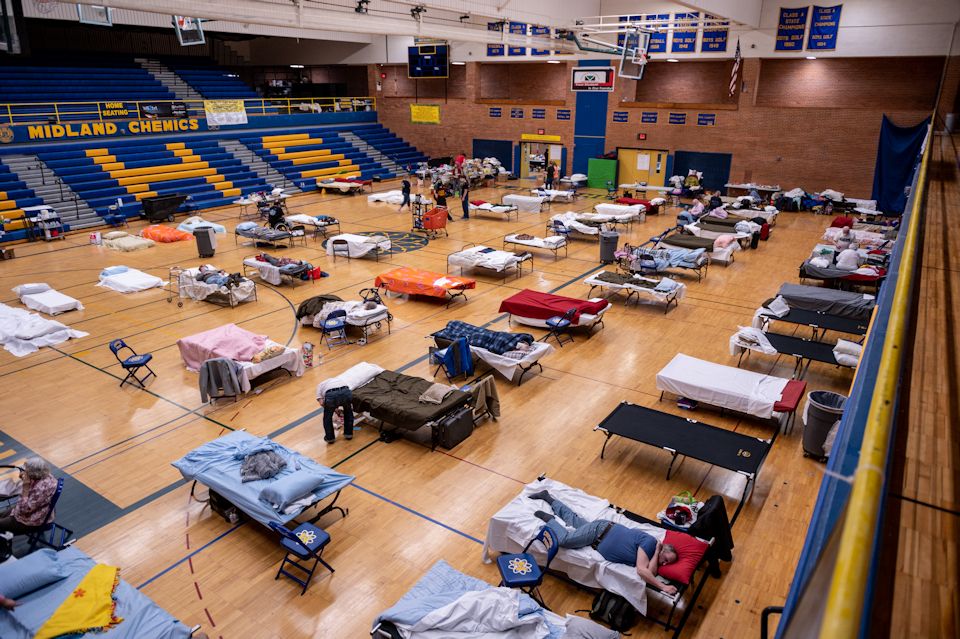 Lend a hand later
Relief efforts are underway now but government, non-profit, church, and community leaders are already preparing for the long-term recovery phase.
Nancy Money explains, "Leaders are working with FEMA to assess damage across the region. All affected residents are asked to report damage. The data gathered will be used by the federal government in decisions about a presidential major disaster declaration and what FEMA assistance will be made available."
The Michigan Conference Disaster Response Team will provide a leading role in long term recovery in the coming months. This will include establishing Disaster Case Management. Case Managers work directly with survivors to coordinate home repair and rebuilds. Case Managers worked in Detroit in 2015, Midland in 2017, and Hancock in 2018 after hundreds of homes in those areas suffered water damage. Money asserts, "The scope and scale of the recovery work ahead will much greater than these past floods."
Here is how Michigan United Methodists can prepare for the long-term recovery work ahead:
Complete the Long-Term Recovery Survey. In the months ahead there will be many opportunities to donate building material, volunteer for repair/rebuild teams, and host volunteer teams. Watch for a survey tool that will coordinate response to these needs.


Donate to the Michigan Conference Disaster Fund. Checks may be sent to the Michigan Conference at 1161 East Clark Road, Suite 212, DeWitt MI 48820. It is important to include this exact language in the memo: #4407 Michigan Area Disaster Response. Give online here.
What guides our hands?
The United Methodist Committee on Relief (UMCOR) and the Michigan Conference Disaster Team are guided by two principles. First, a focus on long-term recovery (being the "last out"). Second, the safety and wellbeing of disaster survivors and volunteers.
The Michigan Conference follows the UMCOR Phases of Disaster framework. The response in the Great Lakes Bay Region is in the Relief Phase. Nancy Money adds, "UMCOR and the Michigan Conference's Disaster Response Team are not 'first-response' organizations with expertise focused on the relief phase. Our area of expertise is long-term recovery."
She continues, "Michigan Conference Disaster Team leaders are coordinating with local, state, and federal leaders to follow the lead of first-response organizations. This will lay the foundation to lead what is estimated to be at least 18-24 months of long-term recovery case management and re-build in our communities."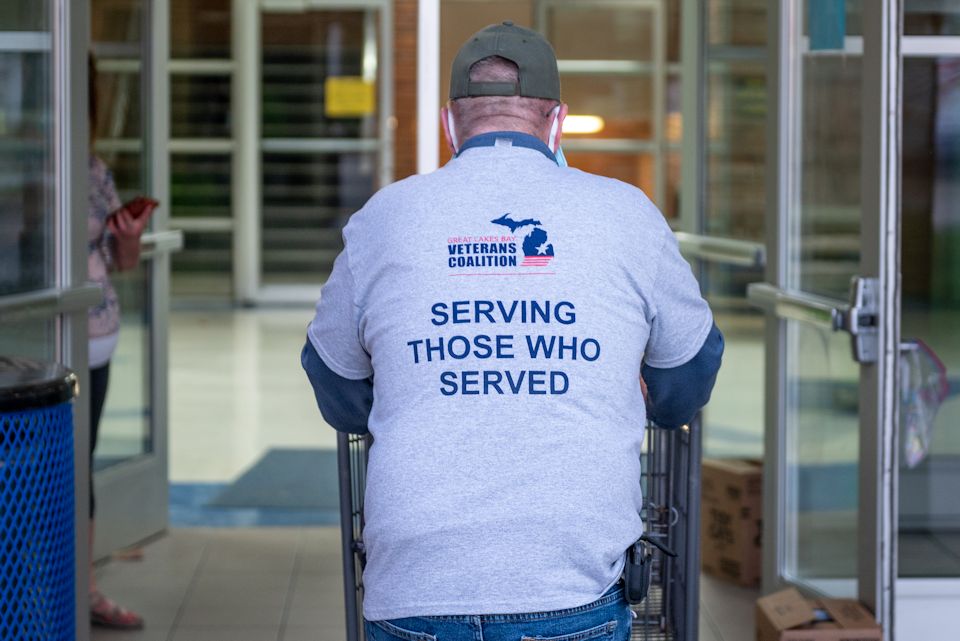 The Michigan Conference operates on UMCOR's "Early in and last out" approach. "Just like two years ago, in the Keweenaw, our conference team will be among the last organizations on the ground until everyone is recovered or all of the available resources are exhausted," Money said.
Both UMCOR and the Michigan Conference Disaster Team are members of VOAD (Voluntary Organizations Active in Disaster). To ensure both short-term and long-term safety and wellbeing of volunteers and disaster survivors, the National VOAD Points of Consensus are followed.
"After the first-response organizations move on to lead relief efforts in other parts of the nation, after headlines about the flood leave the news cycle, after the surge of donations and volunteers subsides, and after many of the affected residents recover, the Michigan Conference Disaster Team will still be working with community leaders to ensure the most vulnerable residents can find their new normal," Nancy Money concludes.
That promise gives hope to many in the Great Lakes Bay Region. Pastor Lisa Cook reflects on what lies ahead in Sanford. "God has a plan for us to care for one another. We are blessed to do that. We know that God is with us and that God does not leave us. We are together."
Your hands are needed. Please respond generously.
Last Updated on October 24, 2022