Response to the May 19 flooding in the Great Lakes Bay Region is underway. United Methodists across Michigan are packing Cleaning Buckets, feeding volunteers, mucking-out basements, and more.
KAY DEMOSS
Senior Content Editor
On May 19, 2020, two dams broke in the Great Lakes Bay Region, unleashing a torrent that affected the lives of Michigan residents in 5,000-6,000 households in its path. Just hours later, the Michigan Conference Disaster Response Team, led by Nancy Money, began collaborating with other local, state, and federal agencies to provide clear messaging and coordinate the relief effort.
Regular meetings that have included Bishop David Bard have continued since the disaster happened two weeks ago. Leaders developed an action plan and informed local churches of immediate steps to take with money, supplies, and time. The Disaster Response Team is already partnering with community leaders to develop a long-term strategy to make lives whole once more.
The United Methodist Committee on Relief's (UMCOR) presence in a disaster often goes unseen until after the headlines have faded. Applications for UMCOR grants are made after a thorough assessment of need has been done. Such determination is now in progress. UMCOR will, no doubt, be a significant part of a recovery strategy that will stretch out over the next 18-24 months.
UM efforts underway
Nevertheless, faithful United Methodist volunteers have been present in the region since Day One, making a difference already.
Rev. Anita Hahn, the Senior Pastor of Midland First United Methodist Church, acknowledges that "It has been quite a couple of weeks. When the dams were compromised, immediately neighbor began helping neighbor, family surrounded loved ones, while 'strangers' was no longer a term we understood." She reports that Midland members "have packed up things that could be saved, mucked out the wet stuff, did laundry, and fed volunteer workers and those devastated by the flood." Hahn expressed thanks for all the prayer support, saying, "We have seen God's hand at work here every day!" She reports that Midland First is ready to house and host mission teams and, when the time comes, "work with UMCOR and the Conference Disaster Relief team in rebuilding around the area." The pastor says, "Last week my daughter, Lisa, and I shared orange Gatorade at a few worksites. We were pleased with how this simple gift was received. Someone said, 'It's just nice to have something other than water!'" Hahn offers an encouraging word about being the Body of Christ in the community. "There is no outreach that is too small or insignificant."
Faith United Methodist Church has been another hub of activity. Pastor Scott Marsh reports volunteers have assembled and distributed 110 Cleaning Buckets from donations and dollars received from the community and the UMC connection. "We have sent five workgroups of over 20 different volunteers into areas affected outside Midland. They passed out buckets, removed soggy carpet and drywall, and cleaned basements." Coleman Faith UMC is also preparing to house volunteer teams in the future.
The Rev. Kayla Roosa, the pastor of Freeland UMC, picked up supplies collected at nearby St. Louis UMC and added them to those housed at Freeland to fill 23 Cleaning Buckets. Freeland UMC is also collecting food for the East Side Soup Kitchen. "This morning, I delivered 635 items along with a check that was donated from the community," the pastor says. Sometimes comfort and connection are the most important things to offer. Roosa says, "Much of the past two weeks have been spent walking with parishioners and community members who were impacted by the flooding. Some of those were also hit in 2017 as well." She notes that she has been connecting her neighbors with 211 and the township office to report their need for assistance. She also maintains contact with Saginaw County United Way to provide information about people to help.
Retired pastor Rev. Duane Miller, is volunteering at Billings Township Hall, a check-in place for persons suffering flood loss. Cleaning buckets, food, and necessities are available there. In an email to Kayla Roosa, he reports, "We send out supplies and lunches to be delivered up and down the roads where the floods destroyed property." Miller lives near Gladwin and is active at Wagarville Community UMC.
St. Charles and Saginaw First contributed an additional 20 Cleaning Buckets. Pastor Thom Davenport, Parchment United Methodist Church, was seen on Facebook in a video demonstrating the packing of a Cleaning Bucket. The instructions that he refers to are available here. (Please note: for clarity of speaking during this demonstration, Thom Davenport did not cover his face. For COVID-19 safety, packing instructions recommend wearing a mask during bucket assembly.)
Flood Buckets! for Mid- Michigan!

Posted by Thom Davenport on Friday, May 29, 2020
"Aldersgate in Action" describes what's going on with mid-Michigan flood assistance at Midland Aldersgate UMC. Aldersgate will serve as a mobile food distribution site on Friday, June 5, from 9 am to 1 pm. The event is sponsored by the congregation and the Emergency Food Pantry Network. COVID-19 protocols will be observed, and distribution will be done "drive-by" at 2206 Airfield Lane. These food give-aways, requiring 35-40 volunteers, are scheduled to continue monthly through the summer. The church is also organizing "hands and feet to assist church families and neighbors with cleanup." Spiritual support is also being made available through their Director of Congregational Care & Guest Experience.
Other United Methodists from around the state have traveled to the area to lend assistance. Amen Korean United Methodist Church of Novi worked last weekend alongside Samaritan Purse, a partner organization, to muck out basements. Dan O'Malley, Conference Disaster Response Coordinator, reports that Michigan Conference Emergency Response Teams (ERTs) will join muck-out efforts underway in Gladwin this week. Gladwin First UMC will host them. He adds, "Volunteers from Plymouth First UMC are bringing the Michigan Conference Disaster Response trailers to Gladwin to work in the area this weekend, as well."
The bigger picture
The American Red Cross reports that while numbers have decreased, over 241 people remain in their emergency shelters. The Red Cross is working to find permanent housing for 200 people currently residing at area hotels.
Clean up of large pieces of debris continue across the affected area. Community leaders and non-profits are organizing and mobilizing outreach to hard-hit areas that have a lack of communication ability. Leaders are also responding to the many residents in Gladwin and Midland reporting their wells are dry.
Due to concerns about the spread of the coronavirus, a drive-in testing center was set up to provide free testing to community members. Two thousand people were tested over the weekend.
Community leaders in Midland County request that those wishing to volunteer must register through the United Way of Midland County.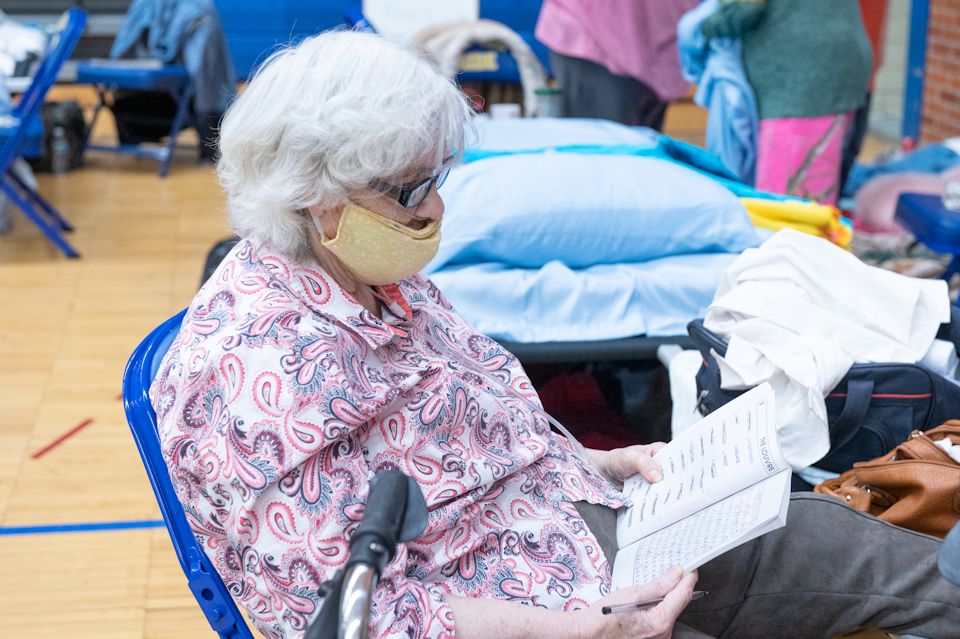 What you can do
Cleaning Buckets: Michigan United Methodists are still encouraged to assemble Cleaning Buckets. Please follow these instructions, which include new COVID-19 sanitation protocols. Take kits to these collection sites:
Central Collection Site – Aldersgate UMC, 2206 Airfield Lane, Midland (M-F 8 am-3 pm);
Freeland UMC, 205 E. Washington St., Freeland (M-T-W 9:00 am-1:30 pm);
Saginaw First UMC, 4790 Gratiot Road, Saginaw (T 11 am-2 pm and W 5-7 pm);
Louis UMC, 116 S. Franklin St., St. Louis (Th 12-1:30 and 5-6:30 pm);
Swan Valley UMC, 9265 Geddes Road, Saginaw (M-F 8:30 am-1:30 pm);
Kalkaska UMC, 2525 Beebe Rd, Kalkaska 49646; contact Dave Stockford Cell: 231.384.0504 Home: 231-587.8694 for drop off coordination;
Gaylord UMC, 215 Center Avenue, Gaylord (M-T-W-Th 9 am -3 pm, F 9 am-noon) Admin. Michelle 989-732-5380 or [email protected];
Cornerstone UMC, 1675 84th street, Caledonia, (M-T-W-Th 9 am – 3 pm, F 9 am-noon) contact Tracy Bowers or Mara Marsman 616-698-3170;
God's Country Cooperative Parish, 110 W, Harrie St Newberry, MI 49869; Randy Hildebrant [email protected];
Central UMC, 215 N Capital Avenue, Lansing; Mark Thompson [email protected];
First UMC, 45201 N. Territorial Road, Plymouth; Bob Ankrapp [email protected] (M-F 9 am to 4 pm).
Buckets and kits will be taken from collections sites to the distribution centers operated by the affected counties. Any buckets not used will be sent to the Midwest Mission Distribution Center in Chatham, IL.
Material Goods:
Midland County is accepting donations for personal protective equipment (PPE), cleaning supplies, food, water, personal care items, and household goods. Clothing donations are NOT being accepted at this time. For information on donation drop off locations and times, visit the United Way of Midland County.


Saginaw County is accepting donations for NEW bedding, blankets, pillows, pet food, cleaning supplies, fans, and dehumidifiers. They can be dropped off at the Freeland Sports Zone Tuesday 9 am-3 pm and Thursday 12 pm-6 pm.
Financial Assistance: Donate to the Michigan Conference Disaster Fund
Checks may be sent to the Michigan Conference at 1161 East Clark Road, Suite 212, DeWitt MI 48820. It is important to include this exact language in the memo: #4407 Michigan Area Disaster Response. Give online here.
Giving to the Michigan Conference Disaser Fund, from May 20 (date of flooding) through May 29, totals $29,587. These gifts are appreciated and generous giving is encouraged.
Outlook for long-term recovery
Nancy Money, Michigan Conference Coordinator for Disaster Recovery Ministries, says, "FEMA staff are beginning their Preliminary Damage Assessment (PDA) report to determine the scope and scale of impact to the community." She reports that due to physical distancing requirements, the assessments, which usually occur in-person and door-to-door, will be conducted using drones and staff performing drive-by, "windshield" assessments. "The data collected will be used in the determination of presidential major disaster declaration and the amount of federal resources available for long term recovery," Money explains.
Money continues, "Current estimates by local officials indicate 5,000-6,000 households were directly affected and damaged by flooding. While many households will have the resources to repair and rebuild on their own, the Michigan Conference Disaster Response Team believes 500-600 households (10%) will require direct assistance to meet their long-term recovery goals." This 10% will include some of the most vulnerable members of the community, as described by Money. "People with low incomes, chronic illness, mental and physical disabilities, and the elderly."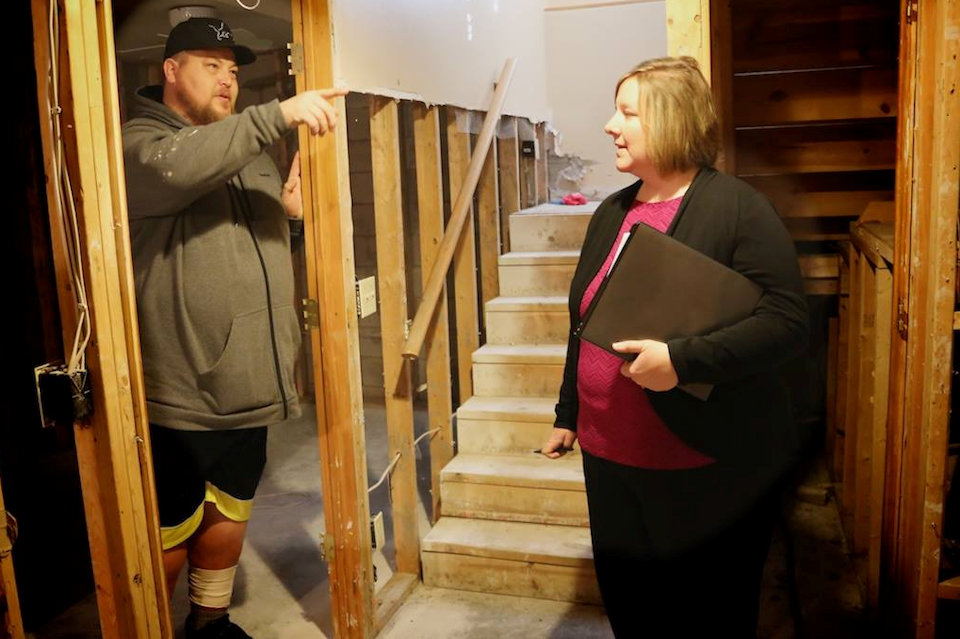 The Michigan Conference Disaster Response Team is working with community leaders and UMCOR, whose expertise is long-term recovery. UMCOR will provide support and potential grant funding to develop a plan to hire a team of disaster case managers. In the months ahead, this team will systematically contact residents to identify those who have recovered and those who remain in need of assistance. Case managers will also connect those needing assistance with community resources and volunteer teams.
In the coming months, there will be many opportunities to donate building materials, host volunteer teams, and serve as volunteers for repairs and rebuilds. Michigan United Methodists can begin to partner with the work ahead by completing the Long-Term Recovery Survey. Updates will be communicated based on responses to the survey. Click here to participate in the survey.
Last Updated on October 17, 2022