"It's breaking my heart," says Bishop Laurie Haller. She explains that coronavirus makes choral singing "a super-spreader event."
BISHOP LAURIE HALLER
Iowa Conference
I love to hear a choir. I love the humanity to see the faces of real people devoting themselves to a piece of music. I like the teamwork. It makes me feel optimistic about the human race when I see them cooperating like that.
~ Paul McCartney
I just can't wrap my head around it. Singing is at the heart of human existence. My mother and father sang to me when I was a baby. I sang in church choirs since I was a young child and decided to make church music my career. While studying music in West Berlin during college, our Spandauer Kantorei sang Bach's B minor Mass in the Basilica of Sainte-Marie-Madeleine in Vezelay, France. (Can you find me? Hint: I'm on the left side of the picture.)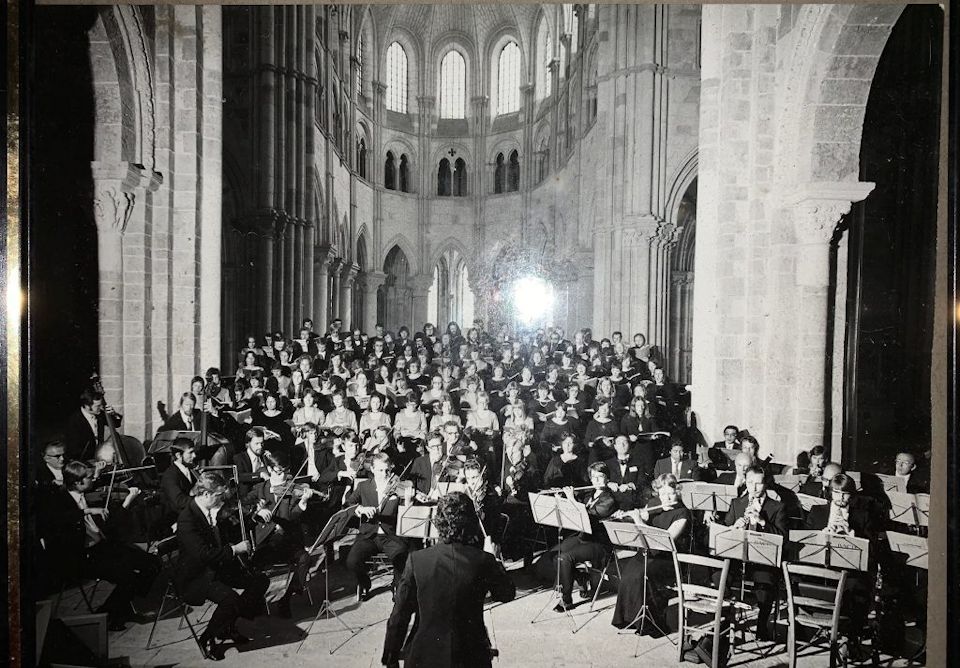 I served as the organist and choir director of a large United Methodist Church in Connecticut for four years when I was in graduate school and seminary. In every church I served, I sang in special events. I have sung prayers before and after my sermons for 38 years. And now we can't sing at all when we are physically close to other people? Inconceivable!
Singing plays a major role in the Bible. The first reference to singing is in Exodus 15:1-2 when the Egyptians drown in the Red Sea after the Israelites crossed over on dry ground into the wilderness of Sinai. Then Moses and the Israelites sang this song to the Lord: I will sing to the Lord, for an overflowing victory! Horse and rider he threw into the sea! The Lord is my strength and my power; he has become my salvation. This is my God, whom I will praise, the God of my ancestors, whom I will acclaim.
It's breaking my heart. I've adjusted to a lot of changes because of COVID-19, but the one thing I've yearned for the most is singing. Since mid-March, almost none of our congregations have held in-house worship, which means that singing hymns and the church choir or praise team sharing an anthem on Sunday morning are virtually non-existent. But even in churches are worshipping in their sanctuaries, choirs are not advisable at this time.
If I should ever die, God forbid, let this be my epitaph: "The only proof he needed for the existence of God was music." ~Kurt Vonnegut, in an essay, Knowing What's Nice, several years before he died
My life flows on in endless song; Above earth's lamentations,
I hear the real, though far-off hymn; That hails a new creation.
No storm can shake my inmost calm; While to that rock I'm clinging.
Since love is Lord of heaven and earth; How can I keep from singing?
(The Faith We Sing #2212 "My Life Flows On")
It all came to light on March 10, 2020, when 52 of the 61 people present were infected with COVID-19 at a practice of the Skagit Valley Chorale in Mount Vernon, Washington. This was before Governor Jay Inslee issued a "stay home, stay healthy" executive order. We were just beginning to become aware of social distancing in the US, and choir members did take minimal precautions, such as not hugging or shaking hands.
Who knew at the time that singing in a choir would become a super-spreader event? One of the singers that night in Mount Vernon had COVID-19. This person had cold-like symptoms starting on March 7 but was not aware of being infected until a later test confirmed the diagnosis. The chairs were placed 6-10 inches apart, and the group practiced for two and a half hours, including several breaks. Consequently, three of the 52 infected people were hospitalized, and two died. The median age of those infected was 69 years old.
According to Phillip C. Song, director of the Division of Laryngology at Massachusetts Eye and Ear, "Singers are at high risk for transmission for COVID-19, because of the amount of aerosols they have the potential to generate. That poses an extremely difficult problem regarding group rehearsals. Since there are real-world examples of people transmitting the disease in choir practices, it's really hard to think of a way that groups could safely perform and sing together currently." Our reality is that group singing is a highly risky behavior right now. It is unfathomable to me that the beautiful act of singing, especially in church, could result in a deadly infection.
Next to the word of God, the noble art of music is the greatest treasure in the world. It controls our hearts, minds, and spirits. ~ Martin Luther
Through all the tumult and the strife; I hear its music ringing,
It sounds an echo in my soul. How can I keep from singing?
No storm can shake my inmost calm; While to that rock I'm clinging.
Since love is Lord of heaven and earth; How can I keep from singing?
(The Faith We Sing #2212 "My Life Flows On")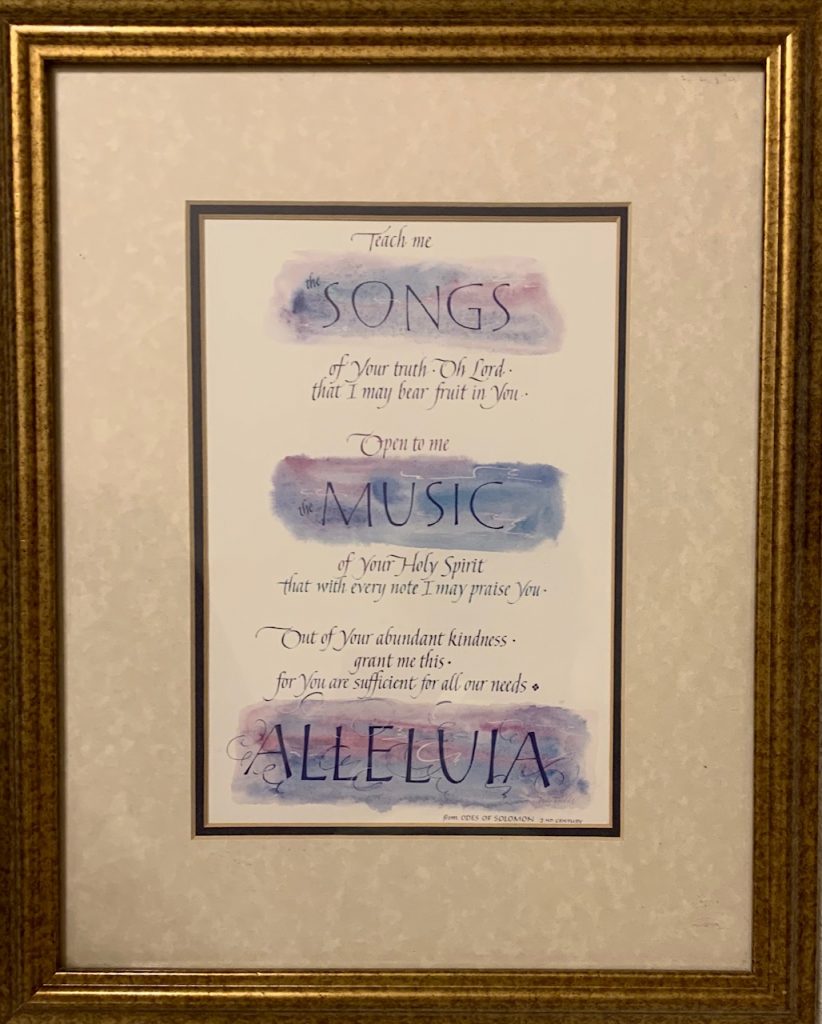 Why do we sing, anyway? For community, for comfort, and to praise God. Choral singing improves lives and strengthens communities the world over. Last year, Chorus America reported that 54 million Americans – that is, more than 15% of the entire country's population – participated in some kind of organized group singing. And the study revealed that nearly three-quarters of those polled felt less lonely. Eighty percent said it made them "more optimistic, mindful, and resilient."
"I play the notes as they are written, but it is God who makes the music." ~ J.S. Bach
I just can't keep from singing, however! So, I've decided to sing through the entire United Methodist Hymnal as a daily spiritual practice and a sign of hope and joy. As a musician, I've played and sung most of the hymns in our hymnal, which was published in 1989. As of today, I have sung 150 of the 734 hymns, about ten a day. Here's what I have discovered.
I am chagrined that there are more than a few hymns I have never sung before. Many of those hymns have tunes that are difficult to sing or change keys.
I deeply grieve not being able to sing hymns every week in church.
Even if you aren't a singer, simply reading the lyrics of hymns that span hundreds of years is inspiring.
My father sang hymns until he could no longer read the words. Then he hummed the tunes, alternating tenor and bass.
The last of John Wesley's Directions for Singing found in the front of the United Methodist Hymnal is this: "Above all, sing spiritually. Have an eye to God in every word you sing."
What though my joys and comforts die? I know my Savior liveth.
What though the darkness gather round? Songs in the night he giveth.
No storm can shake my inmost calm; While to that rock I'm clinging.
Since love is Lord of heaven and earth; How can I keep from singing?
(The Faith We Sing #2212 "My Life Flows On")

After the hymnal, I'm starting on The Faith We Sing. Why? Because, despite COVID-19, I can't keep from singing!
~ Reprinted with permission from Leading from the Heart, the weekly essay and blog of Bishop Laurie Haller.
Last Updated on September 20, 2022