Ministry partner HAPI launches "Heart2Heart," a new initiative created to address women's heart disease in rural parts of Haiti through basic training, education, awareness, and treatment.
KAY DEMOSS
Michigan Conference Communications
Conditions in Haiti have spiraled downward since the assassination of Jovenel Moïse in July of 2021. While we in the U.S. chafe at the price of a gallon of gas, life in that island nation becomes increasingly desperate as gangs shut off the supply from the main fuel terminal late last month.
David Draeger, Mission Volunteer Coordinator for the Methodist Church of Haiti, reported from Port au Prince on October 7: "Without fuel, severe food shortages have developed … Factories have shut down operation. School openings scheduled for October 1 have been postponed indefinitely. Culligan, a major source of potable water, shut down their processing plant due to lack of fuel … deliveries have ceased, and the local population is running out of water for drinking, cooking, bathing, and general sanitation." Outbreaks of cholera have occurred. (See Draeger's full account and prayer appeal.)
Haitian Assets for Peace International, a ministry partner with congregations in The Michigan Conference, is feeling the effects of this latest crisis. Mario Damis, head of HAPITech, expresses disappointment that the school's graduation had to be cancelled. There was no gas for the celebration for the 55 students, set for October 16. A water filtration unit sits in Miami waiting for shipment to HAPI's home base in Mizak, but nothing is moving right now.
Nevertheless, HAPI continues to provide services that are lifesaving for those living across the southeastern region of Haiti. HAPI began by empowering woman through a craft cooperative. Since 2007, their operation has grown to include maternal care (Felisane Health Center and Start Right) and vocational education (HAPITech). On November 29, HAPI will announce the launch of their latest initiative called "Heart2Heart." The campaign aims to B.E.A.T. women's heart disease in Haiti.
"As we sit paralyzed here in the U.S., unable to get to our friends in Haiti, unable to provide financial support through team trips, God has another plan for us to help, another road to travel [through Heart2Heart]," reflects Dr. Tina Fischer-Carne, HAPI Board Director.
Valerie Mossman-Celestin, Executive Director of HAPI, adds, "B.E.A.T. stands for basic training, education, awareness, and treatment." She continues, "We are going to train health care professionals, educate women on symptoms and prevention, bring awareness and testing into the community, and provide clinical treatment. Our staff will be equipped to assess, diagnose, and treat or refer more advanced cases onto appropriate resources through our growing network of cardio partners."
Need Is Great and Growing
While Haitians are plagued with numerous health risks, including cholera, COVID-19, malaria, and malnutrition, the "silent killers" claim the most lives. Statistics show that 70% of all deaths of Haitian women are attributed to cardiovascular disease; 59% of men. Coronary heart disease and stroke are the number one and two killers in Haiti, and eclampsia is the number one killer of pregnant women.
The death rate in Haiti for stroke is the highest in the Caribbean, double that of the Dominican Republic, with whom they share the island. Haiti is seventh in the world ranking cardiovascular conditions as the leading cause of death and it is in ninth place for growth in the number of cardio-related deaths over the past 30 years. "Haiti is winning a race they don't want to run," says Mossman-Celestin.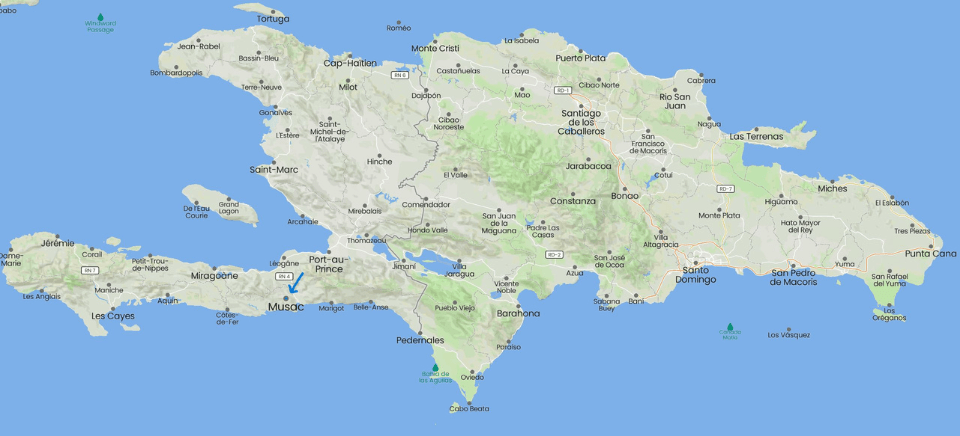 Jean Claude Gard, Jr., serves as HAPI's Director of Finance. He puts a personal face on these cold statistics. His mother, Lauvernie Nicolas, suffered from hypertension for many years. She was treated by a doctor and took the prescribed medication. However, the doctor failed to educate her about the drug, Gard says, so "my mom stopped spending money to buy medication as she did not think it was having any effect." Lauvernie then suffered a stroke in her sleep. Her son explains, "There was no transportation late at night to take her to the hospital. By the time she received care, she was paralyzed and there was no physical therapy available. Soon, gangrene set into her right foot, and it was amputated." She died within a year, in January 2020.
Learning of the Heart2Heart initiative, Gard states, "Training the nurses and doctors how to communicate to the patients, and also education of the population, are necessary to combat heart disease in Haiti."
Mossman-Celestin reflects, "Gender equity and women's empowerment is realized in many forms with Heart2Heart. We will put the tools of heart health in the hands of women like Lauvernie: screening, detection, treatment, and prevention measures under the care of trained and equipped health professionals." She continues, "Women are the 'tip of the spear' at HAPI to combat poverty and bring meaningful change in Haiti." Entire families will benefit from the education of women in hypertension reduction. As knowledgeable women in Haiti make purchasing decisions in the marketplace and prepare low sodium meals household health will improve overall.
Others on HAPI's staff rejoice in the new developments and believe Heart2Heart will make a significant difference in the community. Dr. Lauture heads the clinic at the Felisane Health Center. He deals with the effects of hypertension on a daily basis in his practice. Lauture notes, "Most of HAPI's maternity referrals for c-sections are due to pre-eclampsia. Greater than 50% of the households visited in HAPI's mobile clinic to disabled persons are individuals afflicted by stroke and who are paralyzed." HAPI's Director of Community Health, Yolande Gabriel, speaks to the underlying issue saying, "Stress is a big cause of hypertension and stroke now because of the situation of the country. We need women to be educated on prevention and symptoms to intervene early."
Making a Difference Together
Haitian Assets for Peace International is not alone in this effort. "It's a big task but HAPI is not working in isolation," Mossman-Celestin observes. HAPI received EKG and ultrasound equipment as part of a 2022 Global Health grant from United Methodist General Board of Global Ministries (GBGM).
GBGM also provided funds for HAPI doctors and nurses to be trained in Basic EKG and ultrasound procedures. The instruction is being given by Dr. Gedeon Gelen, a cardiologist residing in the capital of Port-au-Prince. Gelen is a graduate of Sorbonne University in Paris. Because of the turmoil in the capital, he has temporarily moved to Emmanuel Hospital in Peredo, where he volunteers his services. Gelen will continue mentoring the HAPI staff to a technical and scientific level that, as he writes, "will permit them to become trainers in basic EKG and arrhythmias management so that they can, in turn, train other nurses and doctors throughout the country."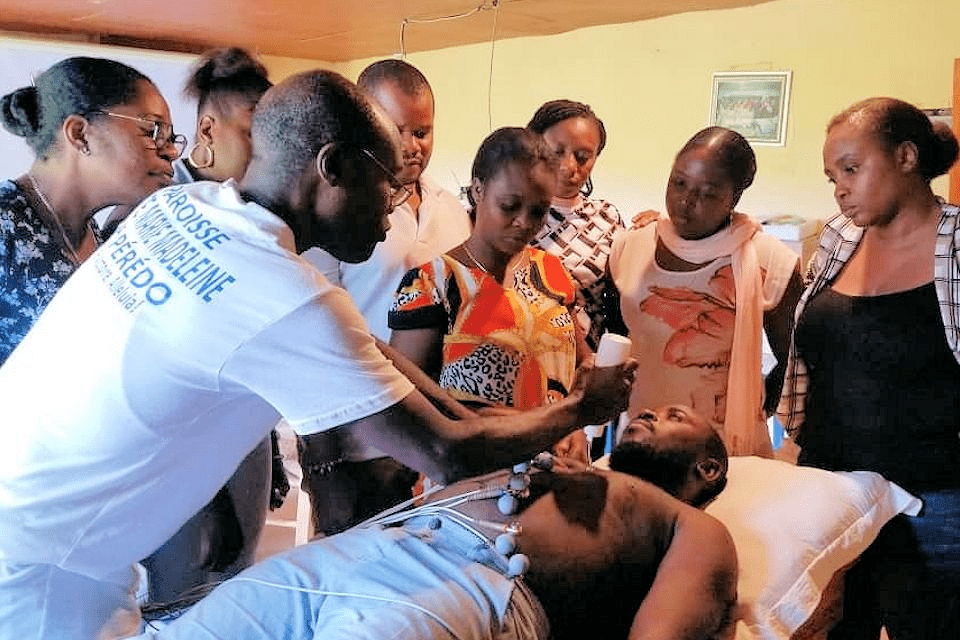 Dr. Gelen is more than a trainer. He is a man with a vision called the "Healthy Heart Haiti Consortium." His hope is to bring preventative heart disease care to 3 million Haitians living in the southern region of Haiti. Gelen's plan includes treatment for those suffering daily stress plus training future cardiologists to provide that care. He says with enthusiasm, "Together, we share a mission to bring hope to rural communities."
HAPI's Heart2Heart program is a partner in this broader consortium. The health center in Mizak is one of the clinics in this "southern corridor of care" along with Emmanuel Hospital of Haitian Christian Outreach in Peredo. CardioStart International is another key player in the budding Healthy Heart Haiti Consortium. On the horizon is the establishment of a new cardiac hospital in the southeast that will receive patients for advanced tests and surgical procedures.
To ensure that this blessing in Mizak will extend to communities beyond, HAPI's staff is assisting Dr. Gelen in translating the curriculum into Haitian Creole. While Creole is the official language of Haiti, professional instruction is available only in French or English. Mossman-Celestin describes the barrier-breaking nature of this effort. "Haiti is a former French colony where French was imposed as the language of commerce. We are shattering the old paradigm by making this basic, life-saving instruction accessible to and inclusive of nurses who may not have ability in French at an academic level. This is nothing short of revolutionary in certain circles of Haitian society."
Partnering for Shalom
"Working collaboratively has been woven into HAPI's DNA," Mossman-Celestin observes, looking back over the organization's 15-year history. After the 2010 earthquake devastated Haiti, HAPI became a Shalom-zone. Communities of Shalom (COS) is an initiative within The United Methodist Church focused on asset-based community development, bringing hope to communities caught in despair. COS was launched following the Los Angeles riots in 1992.
Mossman-Celestin explains, "Communities of Shalom are multicultural and interfaith with an emphasis on collaboration across agencies for sustainable development." She adds, "I feel Heart2Heart is a genesis of spreading 'shalom'–God's healing and wholeness–to more rural communities throughout southeast Haiti."
While the nation is now in chaos, HAPI's executive director believes, "God is up to something" with the Healthy Heart Haiti Consortium. She says, "The collective synergy is just starting, and I am excited and hopeful! So many people love Haiti and the Haitian people and are looking for something positive to grab hold of."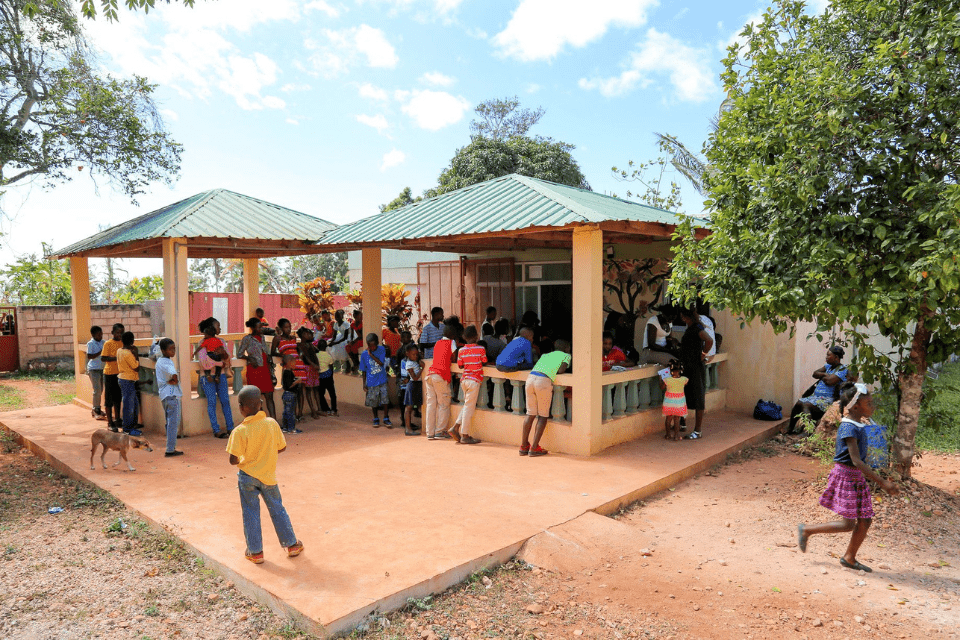 Grabbing hold in Haiti is a time-honored thing for the people of The Michigan Conference. It's been 26 years since the Michigan Area of The United Methodist Church and the Methodist Church of Haiti began a covenant relationship. That original 1996 covenant was renewed in 2014 and now has a new name, "Haiti Covenant Partners."
Times are difficult in Haiti. But, as the Bible shows us time and again, covenants between God and neighbors hold in good times and in bad times. God's people in Haiti need the care of their Michigan brothers and sisters in faith now more than ever. Mossman-Celestin offers these words of encouragement. "Hope for the future is maybe the best thing partners can provide right now."
There are six steps of giving to become an EngageMI Church. Step 4: International Giving includes support of at least one Haiti General Advance Project. HAPI—Haitian Assets for Peace International #3020490—is one of four projects listed in EngageMI 2022-2024. HAPI's Heart2Heart Initiative will officially launch on Giving Tuesday. This flyer provides additional information on how to support this promising ministry.
Serving from the Heart
Valerie Mossman-Celestin is one of millions of persons here in the U.S. who has had personal encounter with the suffering caused by cardiovascular disease. She shares, "I get goosebumps when I think of how this new initiative has come together with all the right people in the right place at the right time, amid a country in turmoil. Heart disease is deeply personal to me."
Valerie's grandmother's maiden name is Mossman, so she shares that name in honor of her grandmother's spiritual influence on her life. Valerie recalls, "I have many memories of Sunday mornings sitting beside her on the wooden pew of a small Methodist church. She had a joyful spirit, loved God, and had great faith even while she suffered from heart valve disease from rheumatic fever at age 13."
That misfortune ultimately became an inspiration for Valerie, who relates, "Grandmother was one of the first ten people in the world to have an experimental surgery to replace a human heart valve with a pig valve. The surgery was considered a 'success' because she lived—but it did nothing to mitigate her heart condition." However, many benefited from the research that led to successful heart valve replacement. Valerie concludes, "I can't help but feel a sense of destiny. I feel Granny's presence in this ministry, as if she is guiding me with a little 'heart-to-heart.'"
Last Updated on October 27, 2023