Four Michigan United Methodist congregations were recipients of a steward leader award, given by the United Methodist Foundation of Michigan.
The United Methodist Foundation of Michigan (UMF) announced this year's recipients of the Wayne C. Barrett Steward Leader Award, which annually honors up to four United Methodist congregations in Michigan for their exemplary stewardship and culture of generosity.
Troy: Big Beaver UMC, Marshall UMC, Lansing: Mt. Hope UMC, and West Branch UMC were given the award, with each congregation receiving a $2,500 grant.
The award was established by the UMF board following the retirement of Rev. Wayne Barrett as president and executive director. Stewardship education was Barrett's passion, as he served more than 1,000 congregations with programs and consultations in planned giving, capital funding, and stewardship development.
In his virtual presentation to each congregation, David Bell, UMF president and executive director, noted, "This award is one way that we are committed to making a difference in your ministry."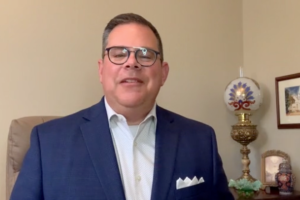 Bell continued his remarks by reinforcing a key principle that continues Barrett's legacy and guides UMF in its work today: "We help faithful people live generous lives. We come alongside your local church to help you expand your mission and vision."
In applying for the award and grant, each of the four recipients was asked to highlight ways they were embodying a culture of generosity in their congregation. They were also asked how they would use the grant money if chosen.
These faithful United Methodist congregations are living out their calling. "The spiritual discipline of generosity is a key component of being a follower of Jesus Christ," Bell concluded.
Application for the 2023 Wayne C. Barrett Steward Leader Award will open next year with a deadline of March 15. Eligibility requirements include:
having funds invested in the UMF Collectve Investment Funds of Michigan LLC or the MI Area Loan Fund;
having contributed 100% of its conference ministry shares for the previous year and be current in contributions for the present fiscal year;
demonstrating a collaborative relationship between the pastor and laity in providing leadership in the area of financial stewardship;
articulating a clearly defined mission and vision for the church;
adhering to the financial procedures and protocol as defined in the Book of Discipline of The United Methodist Church, including but not limited to socially responsible investing, annual financial review, cash management, and IRS-compliant donor contribution statements; and
providing an advance indication of their intent for the awarded funds' usage.