As the newly elected Secretary for the North Central Jurisdictional Conference, the Michigan Conference's Diane Brown discovers joy in her administrative role serving the church.
JAMES DEATON
Content Editor
Officials in a sporting event are guardians of play, watching closely to ensure the game runs smoothly and teams follow the rules. If they're doing a good job, officials are mostly invisible, moving alongside athletes and interrupting only when something goes awry. Then they pause play, address the issues, and start things back up. And the fans rejoice!
Church life has similar venues where persons of faith are put into roles in which they use their gifts behind the scenes. Whether assisting with worship or building a meeting agenda and shepherding a group through it efficiently and effortlessly, there is much room for administrative gifts to make sure the details are set and everything moves forward.
Diane Brown lives and breathes this kind of ministry. Many in Michigan know her as the Legislative Coordinator for Annual Conference, standing in front of conference members and assisting with legislation, but it's ministry to which she has been called time and again. Recently, she accepted broader responsibility within The United Methodist Church as the newly elected Secretary for the North Central Jurisdictional (NCJ) Conference, which recently met Nov. 2-5, 2022, in Fort Wayne, IN.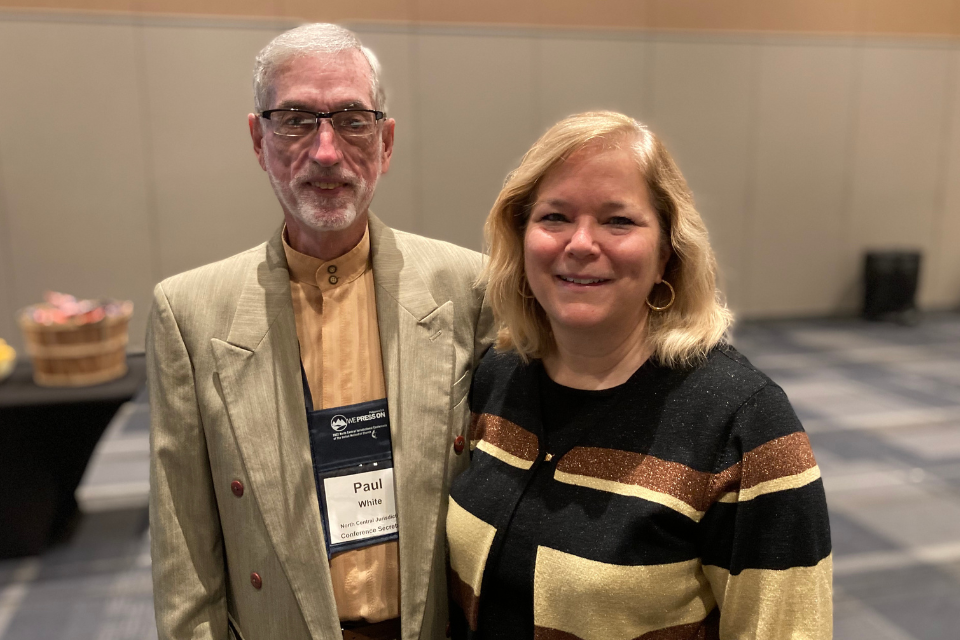 Brown was elected following the retirement of the Rev. Paul White, who is from the East Ohio Conference and had served in this volunteer position since 2012. Brown was able to shadow White as the Assistant Secretary during last year's NCJ Conference, and then hit the ground running since the denomination is in the midst of a shortened quadrennium because of the pandemic. That means there's less than two years, instead of the typical four-year cycle, until the next NCJ Conference, set for July 10-13, 2024, in Sioux Falls, SD.
Being a jurisdictional conference secretary, just like her work as Legislative Coordinator, is similar to the life of a sports official, making sure everyone follows Robert's Rules of Order and The Book of Discipline, business sessions run smoothly, and that you're available to bishops when called upon to answer questions. But what Brown appreciates most in these roles is making sure everyone involved has a positive, uplifting experience.
This desire is a common thread she traces throughout her life in the various volunteer and employment experiences she's had. Brown explains, "It all ties together with a couple of things. Making sure that the people who don't traditionally have a voice can have a voice at the table, whatever kind of table that might be. And then, trying to take care of those little details in such a way that people don't notice because it's done well."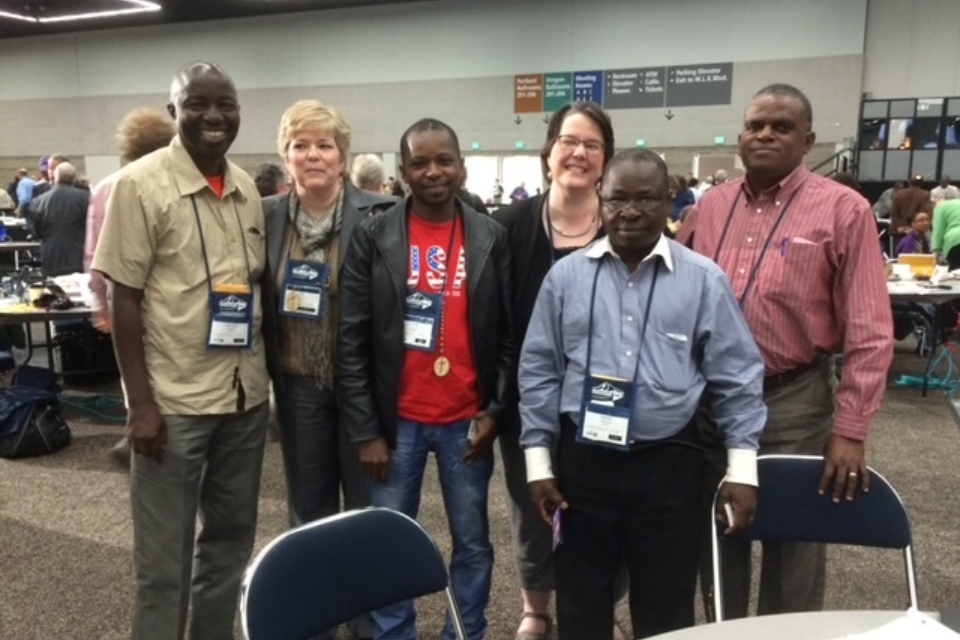 Brown deeply loves The United Methodist Church and has given her life to serving Christ and the church's mission. She remembers organizing acolytes at a young age while attending Nashville (MI) UMC, right down the street from her home. And even though it seemed like a small task, there was something holy about caring for those important details and being present. Later, she stepped in assisting with the junior choir, playing the piano, and even managing the church's Methodist Youth Fellowship (MYF) program.
As a young adult, Brown continued serving in her local United Methodist church where she was needed. She spent a couple of decades at Ypsilanti: First UMC, where she coordinated communion for many years and led in several administrative roles. In 2016, she transferred her membership to Chelsea: First, and now helps coordinate communion, assists as the online chat host for their two streaming worship services, and is the head usher.
Beyond the local church, Brown has valued the district and conference positions she has held over the years. She was a lay member to the Detroit Annual Conference and began serving, in 2007, as the Chairperson for the Reference and Daily Procedure Committee. This committee helped organize the work of the legislation that was to be presented to the conference members and assisted the presiding bishop with the scheduling of the business sessions, anticipating how much time would be needed to deal with legislation and then adjusting as business moved along.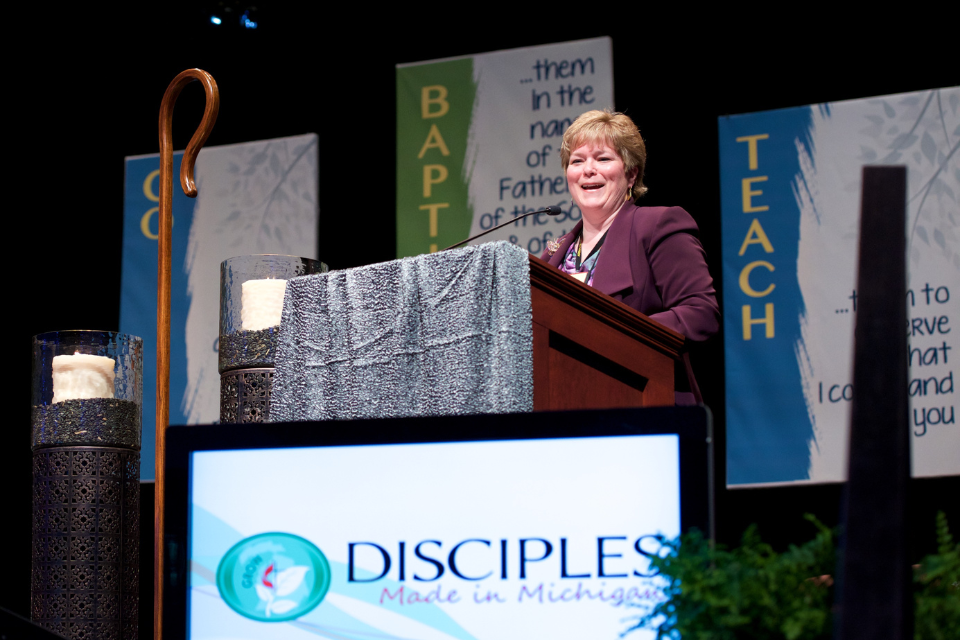 "I found that to be very rewarding," Brown says. "It's one of the things I like about the UMC, that it's rooted in a 'method,' that John Wesley, and everyone who came after him, were tied to a standard order of things." For Brown, the rule-keeping and orderliness of church business is not restrictive but freeing. "Once you learn the rules," she says, "you can do a lot of things that you want to do just by following the rules. But you must know some of the nuances."
Bishop Deborah Kiesey, who served the Michigan Area from 2012 to 2016 and is now retired, fondly remembers Brown's leadership at the conference level. "When you're presiding, you've got a lot to keep track of, and when things got late or we got done early, I could always count on her to say, 'This is what's coming next.' I didn't even have to think about it. She's just so well-organized and unflappable. I always could trust what she was putting in front of me."
Bishop David Bard appreciates similar qualities in Brown's current role as Legislative Coordinator for the Michigan Annual Conference. "Diane is extraordinarily well-organized and cares for details assiduously," Bishop Bard remarks. "Her work in organizing legislative committees for annual conference speaks to this, as does her work in helping me make decisions about ordering legislation for plenary work. In addition to this, she also has solid relational skills, which make working with her a pleasure."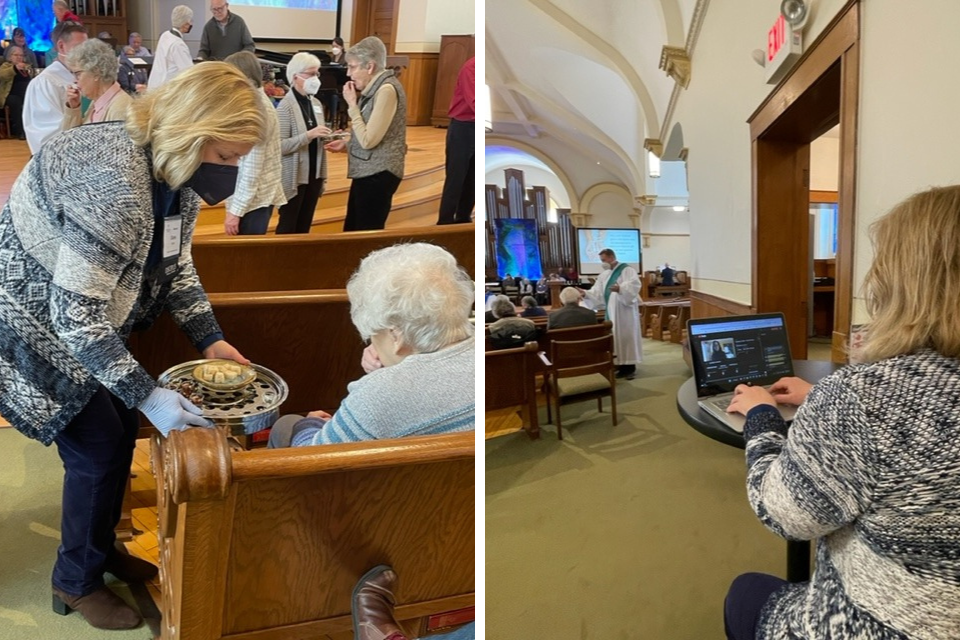 These strengths will benefit Brown as she lives into this new role as NCJ Secretary. She will be assisting the bishops from the various conferences within the North Central Jurisdiction and building trusted relationships with each of them, both during conference proceedings in Sioux Falls in 2024 and in the months leading up to it, as she regularly meets with the College of Bishops. She'll also be using her relationship-building and organizational skills as she works closely with the Host Committee from the Dakotas Annual Conference.
If the work of the NCJ Secretary could be summarized in one word, "communication" would be it, according to the Rev. Paul White, past NCJ Secretary. From the delegates to the College of Bishops to the host committee to the episcopal nominees, there are many details to juggle and to communicate clearly and efficiently in a timely manner. And White believes Diane is equipped for it.
When White made it clear that he intended to leave the position, the College of Bishops discussed possible persons to serve as secretary, and Brown's name came up. There were other bishops with prior connections to Michigan and others who knew of Diane. White knew Brown since she had served as an NCJ delegate from the Michigan Conference, and then he worked with her as she had served on the Rules and Order Committee for the 2016 NCJ Conference.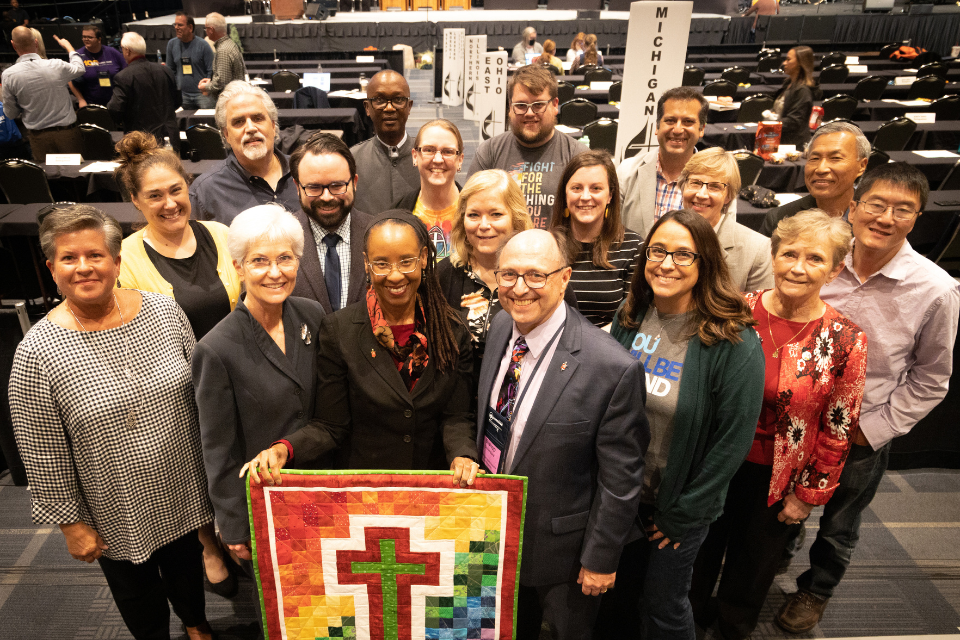 Bishop Donald Ott, who served the Michigan Area from 1992 to 2000 and is now retired, was the bishop who first offered Diane's name to the other active bishops for consideration during their meetings. He recalls, "Diane was consistently involved in the planning for Detroit Annual Conference events. I had the sense, even though she and I did not have a great deal of contact, that people valued her highly. Her willingness, her position in doing the organizational things, led people to say, 'If Diane's doing it, it's going to be fine.'"
Bishop Kiesey was delighted to hear of Brown's nomination. "I think she's the perfect person for it. I would wish a Diane Brown for every bishop who has to preside and for every conference that needs that kind of organization."
Once the College of Bishops discussed the recommendation and decided to move forward with Brown as their first choice, Bishop Bard got to make the phone call. "It was my joy," he says, "to be the person to contact Diane and ask if she would be interested in serving. I encouraged her to then speak with Paul White before agreeing to accept the position."
White and Brown had several conversations before last fall's NCJ Conference. Diane took time to pray and discern the call, to see if she could fit this in with her normal workload as the Director of Administration for the Peterson Rudgers Group, a consulting company working with colleges and universities on strategic planning, communications, and leadership development.
Brown understood there'd be a learning curve but was compelled to say yes. "One of my passions," she notes, "is being able to provide all the different kinds of supportive details and empathy and nurturing that I can to help whomever I'm working with. Whether it's a supervisor, a team, or a bishop, I want to help them do the best possible job that they need to do. I'm there to help support them and make it good for other people."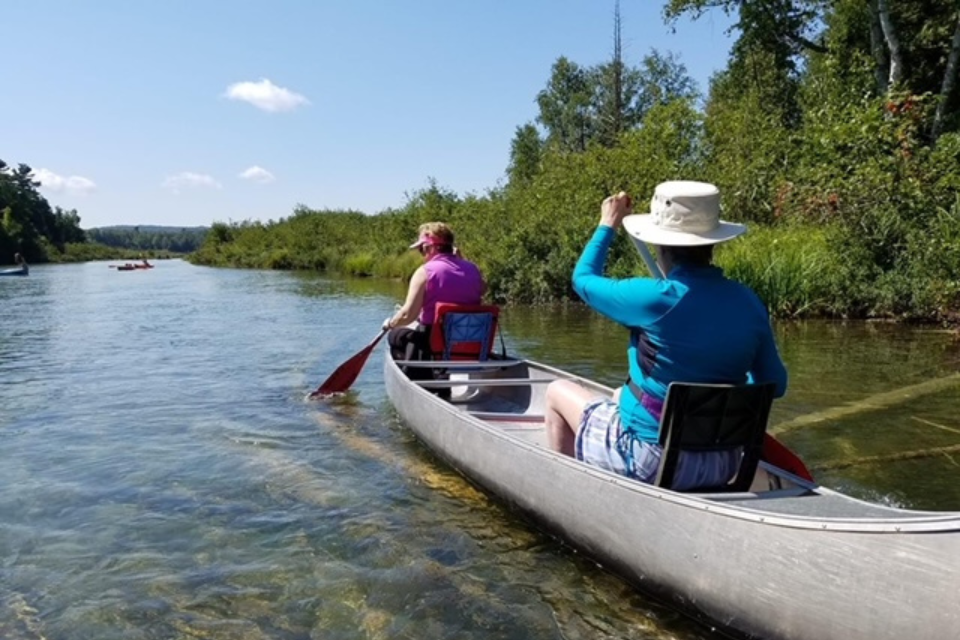 White then invited her to be the Assistant Secretary to shadow him and get a feel for what the work would be like. White says, "I knew she would be able to help me, and it would be a good experience, a way for her to ask lots of questions and learn."
Once White fulfilled his responsibilities last fall, Brown came on board and has gotten up to speed quickly on the work set before her in the short time leading up to next summer's NCJ Conference, where it's anticipated that bishops may need to be elected. This is one of the primary functions of the NCJ Conference, as we saw with last year's historic elections.
Brown is also working closely with the NCJ Mission Council, which supports the vision and mission of the church within the jurisdiction by reviewing NCJ programs and establishing criteria for funding those programs. She will also be helping to organize the conference schedule to set aside space for delegates to gather and talk, especially as it relates to topics of great importance, such as last year's conversations on race, the presentation on the effects of gun violence, and the impact of homophobia, transphobia, and heterosexism on the church.
Laura Witkowski, vice chair of the Mission Council and co-chair of the Michigan NCJ delegation, says that the NCJ Secretary "helps a great deal in those gatherings because they generally have the pulse on what sort of legislation is coming." And Witkowski believes Brown is especially suited for this work since she has worked alongside her as an NCJ delegate. "One of Diane's greatest gifts," she notes, "is being the one who makes sure that everyone's voice is heard. If others have not had their chance to share, she will be sure they have the opportunity."
The church's work may seem tedious and business-like at times, but grace, kindness, and hospitality can be found in the details, in the nuts and bolts, if we look closely enough. Scripture tells us that there is a variety of spiritual gifts given to us as members of the body of Christ. There is room for lots of gifts. So, we thank God for the note-takers, the rule-followers, the administrators, and all those who work hard to make space at the table for all.
Last Updated on April 18, 2023