Enneagram is a tool that has been around a long time. Laura Witkowski encourages its use for both spiritual growth, nurturing relationships, and team building.

LAURA WITKOWSKI
Associate Director for Lay Leadership Development
Compassion, empathy, and relationships seem to be at the top of everyone's lists right now. Either in expressing less of them or how to get more of them. Jesus tells us and shows us how valuable and important all three are in our lives.
Now when Jesus saw the crowds, he had compassion for them because they were troubled and helpless, like sheep without a shepherd. Matthew 9:36 CEB
Carry each other's burdens and so you will fulfill the law of Christ. If anyone thinks they are important when they aren't, they're fooling themselves. Galatians 6:2-3 CEB
I give you a new commandment: Love each other. Just as I have loved you, so you also must love each other. John 13:34 CEB
A tool that's been around for a long time and has recently been trending up is the Enneagram (pronounced 'any-a-gram'). I can understand why because it shows the goodness in all of us and the blessing of nine ways of seeing, being, and responding to the world. We really, truly are not all coming from the same place with the same motivation, AND we can still have compassion for each other and ourselves.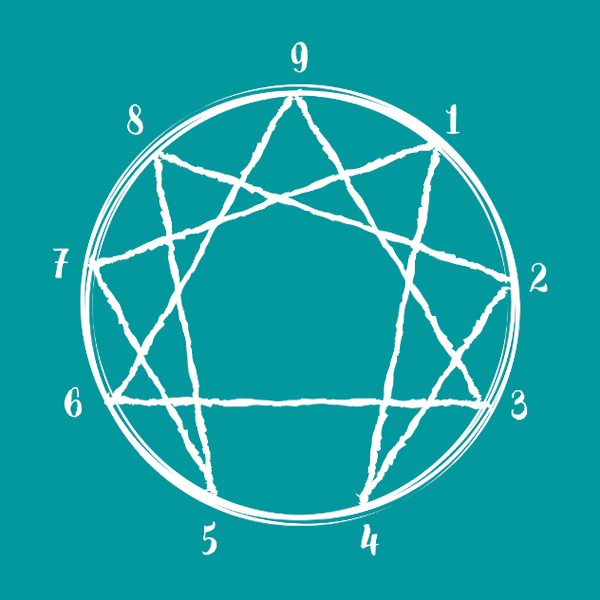 Though it looks like a complicated word, it isn't. In Greek, 'ennea' means nine and 'gram' means model or figure or drawn. It focuses on motivations, rather than behaviors. It increases emotional and social intelligence and teaches self-observation. By bringing an awareness of our patterns and providing insight into habitual ways, we can have a choice and freedom in how we respond to the world. All of us gravitate toward one of the nine numbers, our core number. Rather than walk through the details and background, which you can find here, I'd rather tell you about the Enneagram through the essential qualities of each number and the goodness in all of us.
Richard Rohr says, "The Gospels indicate that Jesus…brought forth all nine virtues and essential qualities the Enneagram." I have been fortunate to participate in an eight-week course and cohort with the Enneagram Prison Project. Here is how they would describe what each type can teach us.
ONE – Goodness, Patience, Sacredness
Type 1s can "see how the world could be and often sense the steps to take to help realize what's possible with integrity."
TWO – Love, Compassion, Solidarity
Type 2s are "thoughtful and generous. They pay attention to the important things others may need. They care with attention to our relatedness" and connection.
THREE – Ambition, Glory, Vision
Type 3s "radiate a light from the inside out. They know deep down that they're here to do and be something valuable and that we are always moving towards this with our very being."
FOUR – Creativity, Identity, Beauty
Type 4s "teach us about authenticity and about what matters. They are deep and moving souls who articulate the story of who we are while they keep it real; translating things straight from the heart."
FIVE – Illumination, Knowledge, Wisdom
Type 5s have "a kind of illumination and wisdom that comes through. They help us to understand what's here for us to know with a generosity of their minds…"
SIX – Awakeness, Loyalty, Trust
Type 6s "teach us about the quality of awakeness that allows us to know that we are truly and deeply supported. They teach us about true loyalty, commitment, and trust and takes on faith that there is a greater good that exists both out of and on behalf of the greater collective."
SEVEN – Freedom, Festiveness, Joy
Type 7s "teach us about joy and the freedom that comes from truly being – come what may. They have an inner spaciousness that is boundless and infinite. Their capacity to abide in their sensitive hearts…gives them a reservoir of gratitude for what is that leads to the most real kind of joy."
EIGHT – Strength, Clarity, Aliveness
Type 8s "show us how to experience the fullness of life powerfully in the moment… and how to live with respect, mutual cooperation, and meet life and one another with magnanimity."
NINE – Wholeness, Peaceableness, Unity
Type 9s "teach us about unity and know that everyone and everything is connected to the bigger picture. They know that responding to life in just the right proportion to what they sense ensures their place in a world where everyone gets to do what they enjoy, including themselves.
The Enneagram constantly reminds me that there is goodness in everyone. It puts into action John 13:34, a new commandment! In the book, The Enneagram: A Christian Perspective, Richard Rohr says, "The Enneagram can help us to purify our self-perception, to become honest toward ourselves, and to discern better and better when we are hearing only our own inner voices and impressions and are prisoners of our prejudices – and when we are capable of being open to what is new." Be open to what is new. Be open to a new perspective. Be open to someone else's starting place and someone else's experience. Be open to compassion towards others.
Maybe, on Thanksgiving, instead of sharing what you're grateful for, name the goodness you see in others. The essential quality God intentionally gave them. Name the wisdom you see in your neighbor you disagree with. Name the strength you see in that family member you usually struggle to spend the holidays with. Name the creativity you see in that sibling you've had a falling out with. Name the love you see in yourself.
My family's Thanksgiving will look and feel different this year, it will just be the three of us and I'll have to cook. Eeesh. Feel free to send me tips and recipes.
Knowing about yourself and others through the Enneagram is transformative. It's a spiritual growth tool, leadership tool, team-building tool, relationship building tool, and personal development tool.
As always, as Jesus said, let's not forget to love your neighbor as yourself.
(Note: I do want to name that for those who have experienced harm in a relationship, the 'name the essential quality' exercise may not be healthy. Stick with naming what you are grateful for AND still name the goodness you see in yourself.)