Laity Perspective: Christian Innovation
The Board of Laity welcomed Kimberly R. Daniel to share her insights during the Laity Perspective: Christian Innovation at the Michigan Annual Conference 2023.
Kimberly has over 15 years of experience leading communications efforts at non-profit organizations and has helped to catalyze faith-driven entrepreneurs to do good.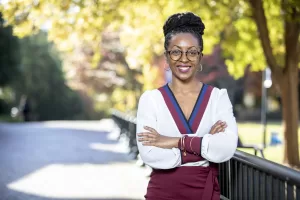 Kimberly currently serves as senior director of communications at the Forum for Theological Exploration (FTE). FTE is a leadership incubator that inspires young people to make a difference in the world through Christian communities. She is also a co-founder of DO GOOD X, an initiative that provides a community and an accelerator for underrepresented Christian entrepreneurs whose businesses focus on social impact. Kimberly is co-author of A Way Out of No Way: An Approach to Christian Innovation (FTE Books, 2022), an award-winning book selected by the Publishing Professionals Network for its design.
As the daughter of a United Methodist Church pastor and a teacher, Kimberly is energized by inspiring people to align with their purpose and to make a positive impact in communities with their God-given gifts and talents. Kimberly holds a Master of Arts in arts and business administration from Savannah College of Arts and Design and a Bachelor of Arts in communication from Coastal Carolina University.
Laity Perspective Materials
The video to the right is of Kimberly's Laity Perspective: Christian Innovation presentation given on Friday, June 2, from the 2023 Michigan Annual Conference.
Click HERE for Kimberly's slide presentation.
What is a Disciple? What does a Disciple look like? What does it mean to be a Disciple?
The Board of Laity considered these questions. Click here to check out their responses!
Last Updated on September 15, 2023