Troy: Big Beaver UMC has started a Furnishings for Our Neighbors project assisting refugees and asylees by providing household items to furnish their first homes in the United States.
JODY SHARROW
Michigan Conference Communications
This is the fourth story in a series highlighting the recipients of a 2021 Mustard Seed Migration Grant and the new ministries that were started. Congregations are encouraged to read these stories and find ways they can do similar justice advocacy work in their neighborhoods and communities. For more inspiration, read this story about Dearborn: First UMC, this story about French UMC, and this story about Warren: First UMC.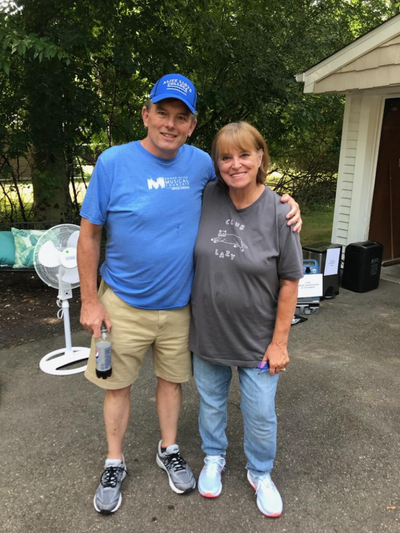 Two sisters, originally from Syria, watched expectantly from the door of their new American home as the helpers parked the big truck and dodged raindrops to reach their front porch. Surprisingly, the helpers greeted them in Arabic. The familiar words brought quick smiles to the girls' family, and the door was opened.
After 10 years of fear, uncertainty, and disruption to their lives, forced to flee from their home in Syria to a refugee camp in Jordan, the girls, their parents, and two younger brothers felt relieved and blessed to finally move to a safe home in America. The helpers were from Troy: Big Beaver United Methodist Church and were there to deliver some much-needed furniture and household items thanks to an UMCOR Mustard Seed Migration Grant.
Troy: Big Beaver UMC was one of five Michigan congregations to receive a Mustard Seed Migration Grant in 2021. These $2,000 grants were awarded to United Methodist churches to fund local projects that assist refugees and immigrants. By partnering with Samaritas' New Americans Refugee Resettlement program and French United Methodist Church of the African Diaspora, Troy: Big Beaver's Furnishings for Our Neighbors project was able to assist refugees and asylees by providing household items to furnish their first homes in the United States.
"The grant prompted a very generous response of in-kind donations from Troy: Big Beaver members and friends, greatly extending our ability to provide needed household items ranging from kitchen pots and pans to sofas, televisions, fans, and cleaning products, and even a welcome basket of fruits and staples for each household," explained Brenda Balas, Furnishings for Our Neighbors project coordinator. "We planned to serve 4 to 10 individuals, but with overwhelming volunteer and donor support, 15 total people were assisted during the grant period, and an additional 13 were served after the project's conclusion, for a total of 28 people impacted by our project."
The refugees and asylees that benefited expressed their great appreciation through words, smiles, gestures, translation apps, and text messages. One text message following a delivery shared, "I have not found words to appreciate all that you have brought me. It means a lot to me. This afternoon, I admired every object as if it came from the sky. May God be praised."
Fostering Understanding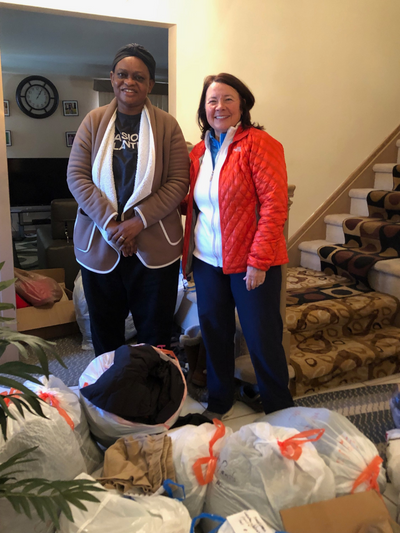 The project not only touched the lives of the refugees and asylees it helped, but it also encouraged volunteers to grow in their understanding and faith. Through emails, newsletter articles, book club discussions, and sponsored presentations by a resettlement case manager and interfaith group, Troy: Big Beaver first educated its members about refugees' and asylees' experiences and needs in their communities and then provided them with opportunities to engage. As a result, over 90 of its 300 congregants actively participated in a number of ways, all generated by the initial Mustard Seed Migration Grant-funded program.
Each volunteer found ways to help according to their talents. A family with a pickup truck offered to haul items. Several women used their handcrafting skills to create and donate a quilt, hats, shawls, and baby blankets. Cheryl and Larry Caudill donated household items when they moved a family member into senior housing. Cheryl stated, "We were ecstatic that we were able to donate furniture and household goods to help another family get a new start in America. It also helped ease the transition of moving our loved one into a senior apartment, knowing some of her belongings would be used in this meaningful way."
From this Mustard Seed Migration Grant-funded project, Troy: Big Beaver members experienced ministry and fellowship as well as educational, cultural, and spiritual blessings. "Our Furnishings for Our Neighbors project received an enthusiastic response to requests for assistance in gathering and delivering household furnishings, as well as expressions of appreciation from the congregation for the opportunity to make a difference by supporting this vital ministry," said Brenda Balas. "Members were grateful to share their blessings with others and were proud that their church was responsive to community needs. They appreciated the opportunity to learn about the journeys and experiences of refugees and asylees and about other cultures, as they developed empathy and compassion for others facing challenging circumstances."
The Furnishings for Our Neighbors project generated such momentum that even after the conclusion of the grant-funded period, requests to assist are still being offered, and spin-off projects are continuing and still being planned.
Collaboration Multiplies the Blessings
True to Jesus' parable of the mustard seed, the grant money was a tiny seed that grew a large bush that now supports many other projects. Through the Furnishings for Our Neighbors project, Troy: Big Beaver created additional collaborative opportunities with other congregations and community groups, including:
A neighboring Episcopal congregation partnered with Troy: Big Beaver in a joint effort to collect and distribute winter clothing;
Troy: Big Beaver, in conjunction with Samaritas and the International Institute of Metropolitan Detroit, hosted a weekly English as a Second Language (ESL) for Citizenship class;
Oakland Literacy Council invited Troy: Big Beaver members to become volunteer tutors;
Troy-area Interfaith Group offered a program on resettling refugees presented by Samaritas staff; and
Troy: Big Beaver's women's circles organized a collection of wrapped holiday gifts, including 43 games and 27 fleece blankets, for the benefit of Samaritas clients.
Inspired? You can support refugee resettlement by visiting the Samaritas website, which provides statewide connections for volunteering as individuals or faith communities, and by donating funds and in-kind gifts, especially through Samaritas' Amazon Wishlist.
Watching God's love work miracles as it did for those two Syrian sisters and their family is amazing. On that rainy day, during introductions through sign language and translation apps, it was discovered that the family was from the same city in Syria as another family known to the helpers. Just ten months later, those two families would meet thousands of miles from their shared hometown at a World Refugee Day event sponsored by Samaritas. The two families enjoyed sharing their stories, memories of their homeland, future hopes—and phone numbers.
Brenda Balas summed it up nicely, "With the seed money from the grant, our congregation and friends were able to care for strangers with their ministry, helping them to feel welcome as they began their life anew in a new land. They feel blessed to be a blessing to our newest neighbors. Thanks be to God." Amen.
Editor's note: Meet Jody Sharrow, a new writer for Michigan Conference Communications . . .

Jody Sharrow grew up in Bay City, MI, and earned a bachelor's degree in English (writing) from Adrian College and a master's degree in English Literature from Western Michigan University. A writer and editor, she left her communications career to raise three daughters. Currently, she is happy to be working as secretary at Manchester United Methodist Church, where she can be an instrument of God's love. She also loves to travel and is never without a book to escape into.