United Methodist conferences and congregations are ramping up their response to the many disasters that occurred around the country this spring. UMCOR is supporting their efforts at clean-up and assistance.
LINDA BLOOM
UM News
A small Missouri congregation has been feeding those trying to stop the mighty Mississippi from spilling over its banks.
A United Methodist pastor in Dayton, Ohio, is seeking justice along with disaster care for low-income tornado survivors.
Both are part of the extra effort United Methodists are making in a number of states to respond to a record-setting tornado and flood season.
Many of this spring's tornadoes typically have an immediate, localized response, said Catherine G. Earl, director of disaster response and U.S. partner relations for the United Methodist Committee on Relief.
Increasingly, however, creative solutions are being required to address incidents of more frequent flooding and work with communities to maintain affordable and safe housing, she added.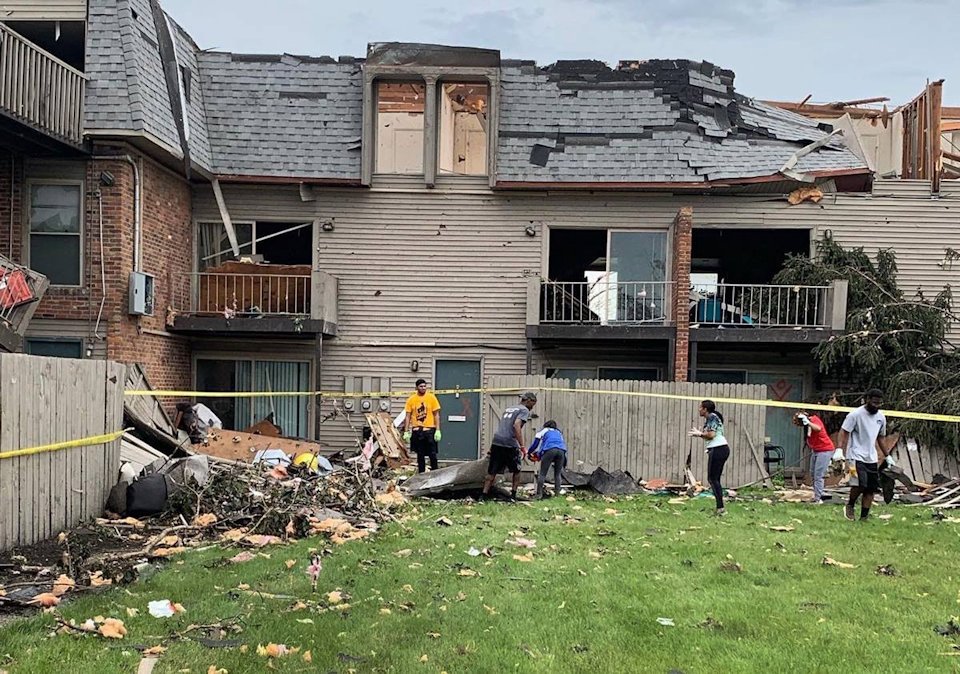 "Our new normal is these areas are going to keep flooding for the foreseeable future," Earl explained. "What that means to UMCOR and our partners … is a much more focused look at what we can do to move people out of harm's way."
In the meantime, UMCOR has provided $100,000 in solidarity grants to conferences for spring storms so far and always offers consultation, supplies and training.
For Janice Mann, disaster response coordinator in the Arkansas Conference, the relief agency's U.S. disaster response staff is a lifeline. "I have most all of them on speed dial and feel I can hit that button any time," she said.
Flooding along the Arkansas River has prompted some emergency "just in time" training of new volunteers by the conference but Mann is more confident because of UMCOR's support. "I know they've got my back — whatever I need."
Clarksville, Missouri, about 75 miles north of St. Louis, already has dealt with the new normal for flooding in recent years.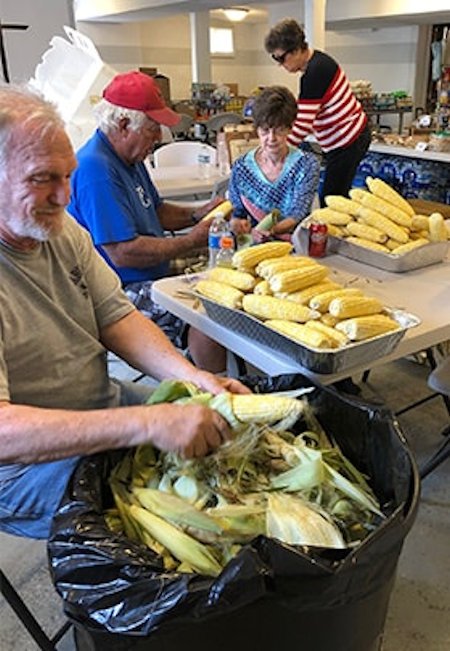 A core group at the Clarksville United Methodist Church, supported by friends from the community, has gone "above and beyond" and then some in an outreach ministry to flood-related workers and volunteers, said the Rev. Art Moore, the church's pastor.
"They can't go out there and sandbag but they can make sure these people aren't going away hungry," he added.
Missouri Governor Mike Parson, who visited the town and the church's "flood kitchen" on June 3, also saluted their commitment. "We were inspired by the Clarksville United Methodist Church," the governor's Facebook post said. "Volunteers have worked more than 1,567 hours and served more than 3,514 meals."
In western Ohio, where a series of devastating tornadoes and storms May 28 left one dead and about 200 injured, the city of Dayton was among the hardest-hit areas.
For the Rev. Peter Matthews, pastor of McKinley Avenue United Methodist Church, the city's long-term response will require "not just compassion but courage" as the tornado's impact on low-income residents is assessed.
The Rev. Dee Stickley Miner, who supervises the West Ohio Conference's disaster response efforts, visited the damaged sections of Dayton with Bishop Gregory Palmer.
"We can be captivated by the pictures of destruction," she said, "but every picture represents someone's life, lost memories, lost home and, sometimes, loss of employment. It is often the small acts, such as deep listening as they share their stories, their memories, that provide life-sustaining hope."
Tornado recovery as a transformational force
After the tornado decimated parts of Dayton, the congregation of McKinley United Methodist Church immediately set up a water station for those affected.
But in the midst of giving away up to 3,000 cases of water, the leadership team came to a quick decision. They agreed "to build our own capacity as we're trying to respond to this crisis," said the Rev. Peter Matthews.
So while they continued to provide a hot lunch, free clothing and access to Wi-Fi and electricity immediately after the tornado, the church also wanted to connect with young people. Matthews said those young people "have an incredible amount of courage" in dealing with the parts of Dayton that were "not just damaged but obliterated."
That means there is little left for people already on the margins, he noted. "If you factor in the poverty rate of this city, which really hasn't recovered since General Motors left in 2008, you literally have people who went from desperate to desolate overnight."
Matthews, also the founding director for the Center for Global Renewal and Mission at United Theological Seminary, is starting to create a plan based on relationships and addressing broader needs.
Matthews sees the plan unfolding as a series of concentric circles, inspired by Pentecost Sunday and the power of the Holy Spirit, with the first circle offering a place where people can get supplies.

The second circle, started this week, involves creating a sending station by partnering with three groups of young people, including Dayton Young Black Professionals, and providing resources to help them "build capacity within their own organizations." These volunteers will respond to recovery needs and address the larger poverty issues in the city.
On June 8, for example, Dayton Young Black Professionals is collaborating with the Baldwin Café on a program called Lit Exchange Jr., a book exchange for children and teens with snacks and games, along with an opportunity to bring in items to donate to the tornado relief effort.
"Many youth were tragically impacted by the tornado on the West Side, and we want to be a part of their healing," the young professionals group wrote on its Facebook page. "Studies show that literacy is proven to help kids cope with trauma, especially stories they identify with and see themselves in."
The third circle, starting June 13, focuses on a weekly time of self-care at the church for those providing leadership and volunteer assistance and those affected by the tornado. Matthews envisions having local food trucks set up for a sit-down dinner and optional activities like Bible study, yoga, group counseling, and legal help. "Every room in this church will be a space for healing," he said.
Feeding those who fight the Mississippi
The active congregation at the United Methodist Church in Clarksville may be small — just under 20 for Sunday worship — but the church has assumed an outsize role in responding to the flooding that has now become an almost annual event.
Janie Busch, one of the organizers, said the church began by providing a hot, home-cooked meal for hungry volunteers, for community members, for the displaced. The first year, in 2013, the church basement "loaves and fishes" kitchen proved three meals a day for 45 days straight.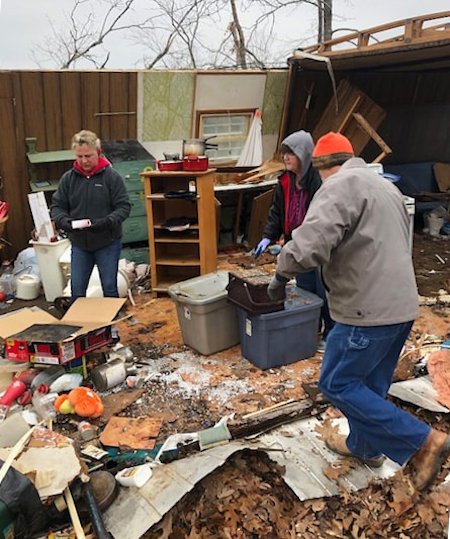 This year, as the floodwater threat began, the meals started March 15 and continued until two or three weeks before Memorial Day then resumed again on May 28. Busch and another church member, Barb Meyer, form the core staff with Linda Blakey, a friend, and an active community member.
"We have served many days when it was just the three of us, but there's usually at least five," Busch told UM News. "Besides the cooking, the serving and the cleaning, we have to keep accurate records for the town. Barb is our bookkeeper and holds us accountable.
"We don't know how to stop," she said. "We just keep going."
The guests "on one of our busier days" included 65 National Guard, 32 women offenders from a local prison, 19 AmeriCorps volunteers and 30 to 35 local residents filling sandbags or working to defend their own property. "We served all of those in probably an hour and a half," Busch recalled.
Just between May 28 and June 1 — the day the river crested to within six inches of the town's record flood in 1993 — the church kitchen served 1,179 meals for breakfast, lunch and dinner, their pastor reported.
Moore has a two-point charge and members of Clarksville's sister church — Centenary United Methodist Church in the town of Louisiana, about 11 miles away — have supported the meal service, along with residents of both towns "and the countryside in between," he said.
Donations of desserts, supplies, and funding help keep the ministry going. Recent donations have included two SUV loads of paper products and nonperishable items from the local Christian Church (Disciples of Christ) congregation. Members of the Church of Jesus Christ of Latter-day Saints drove several hours to drop off a vanload of food.
The Clarksville church has always had a positive experience with the male and female offenders from area correctional facilities who fill sandbags. The women preparing meals make sure the female offenders who volunteer for that hard, manual labor — and who they have nicknamed "our ladies of the sand" — are greeted by name and recognized as individuals.
"As I told them, 'You are here saving our town,'" Busch said. "ʽIf it wasn't for you, this town would be flooded. You have more value than you will ever know.'"
This year's marathon of meals, both Moore and Busch noted, came as the congregation was completing a $77,000 project to restore the "phenomenal" stained-glass windows of Clarksville United Methodist, located at the town's only stop sign.
Busch said she had struggled with concerns over whether that was the right investment to make. But many who have come to the church this spring, she added, have said they love the building and particularly enjoyed seeing the light streaming through its stained-glass windows.
"We're serving as the heart of the community," said Busch, a 10-year member. "It's a church that's full of love and inclusive to anyone who comes through the door."
Building capacity to respond to Arkansas floods
Janice Mann has not seen fire and rain this spring, but she has seen tornadoes and floods.
As disaster coordinator of the Arkansas Conference — along with her husband, Byron, also the conference's volunteers-in-mission coordinator — Mann has set up a 13-member coordination team to deal with this year's historic flood levels.
"The water that is coming into Arkansas in the Arkansas River is higher than it's ever been," she said. "We have broken records at just about every point along the river."
The need for disaster relief volunteers is so great that the team is conducting "just-in-time" trainings on how to do clean-outs and provide a caring presence for flood survivors. So far, there has been a good response to that call for new volunteers.
"We're doing it strictly to build capacity because this is such a huge event," Mann explained. Although participants won't earn UMCOR's early-response certification "the hope is this will whet their appetite to come back and do the full training. We're going to offer that as soon as we can."
Part of the need stems from the fact that fewer volunteers from outside the state are available. Other United Methodist conferences "who would normally send volunteers," she said, "are so affected by disaster right now that … volunteers are spread thin."
The relationships forged through UMCOR are crucial, Mann stressed.
"I feel like we're a big family between UMCOR and the partner conferences and the folks out there experiencing and responding to the disasters," Mann said. UMCOR's annual academy training helps with skills-building and "the networking is awesome," she added. "What we learn from each other is great."
The Arkansas Conference's early response teams are set to start work June 10 on a few houses at the upper end of the Arkansas River, where the water has receded. Long-term flood recovery work may not start until late fall, she noted.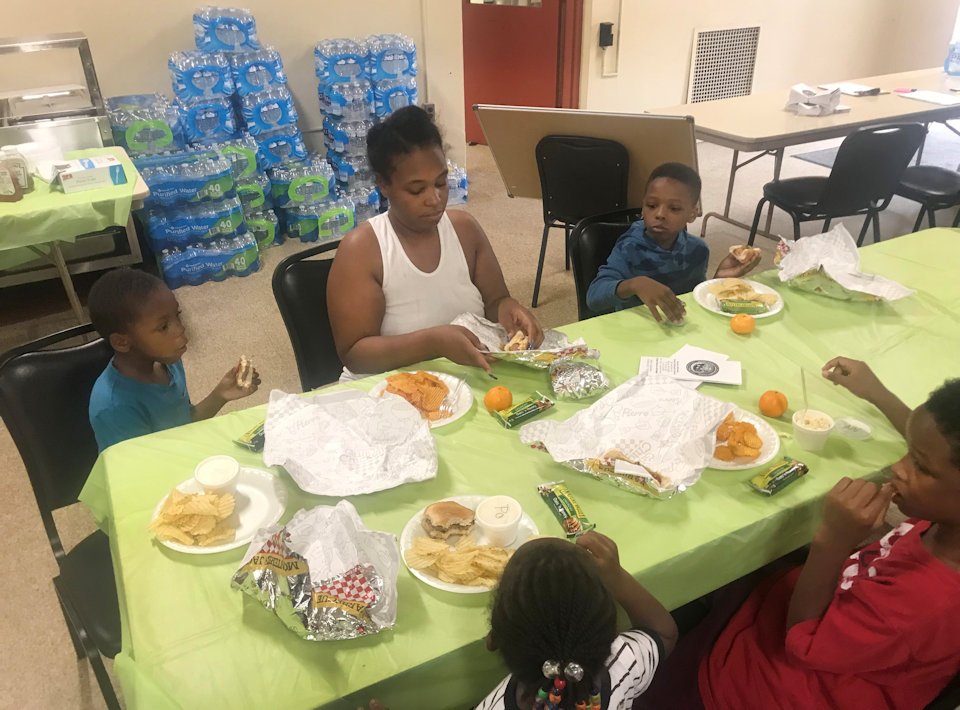 Progress is being made on the conference response to four small tornadoes this spring.
"We actually have five tornado recovery projects going right now," Mann said. The largest project, from a tornado that struck in the spring of 2018, is nearly complete.
Tornadoes and floods present different challenges in terms of disaster response.
"A tornado leaves a path," she explained. "You pretty much know right after it's over who's affected and you can send teams out pretty much immediately."
Floods involve waiting for the water to go down and making sure the area is safe to enter. The extent of the impact is not always immediately clear, Mann pointed out, because the extra water may flow into ditches, creeks, and tributaries.
The conference depends "on our partners at Red Cross because they get out there early on" and on information from emergency management to determine the scope of a flood, she said.
"That's part of what some of our additional volunteers for this event are doing, just getting out there and looking for folks who are affected."
While basic response training is similar for tornadoes and floods, extra instruction is involved for floods. "It's a little more labor intensive and requires more steps than just cleaning up debris," Mann said.