The promise of Easter is that life is stronger than death. That is a welcome spring message in the midst of a global pandemic.

KAY DEMOSS
Senior Content Editor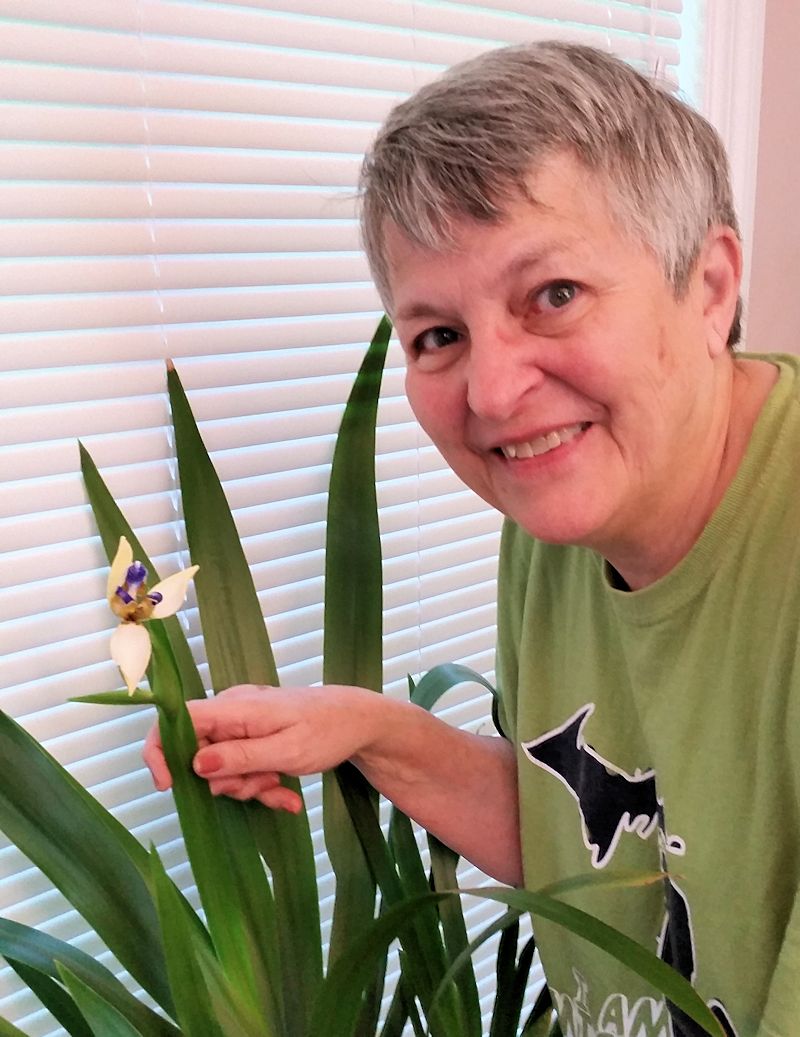 The lily is the traditional flower of Easter. Green shoots bursting forth from a seemingly lifeless bulb. Flowering white for purity with a trumpet shape that heralds victory. 
But my favorite Easter flower is the Fan Iris, also known as the Apostle Plant. Early in the spring, a stout central blade grows and produces a bud. The flower lasts only a day. In the tropical wild, the blade falls to earth and begins a new plant. And the cycle repeats.
My Fan Iris lives in the house and I have rooted and started dozens of plants over the nearly 50 years I've tended Fan Irises. My plants are great-grand-daughters of the original houseplant, just as I am the great-grand-daughter of the original tender.
I glanced up at my favorite houseplant after reading this quote on Facebook: "Your ancestors outnumber your fears. Feel their power." (Sarah Tawai, Wyandotte Nation) Indeed, the story of my Fan Iris begins with Rosa Rifenberg. I never knew her but, Fannie Shick, my maternal grand-mother lovingly cared for the family plants passed down from Rosa to her. I remember the irises blooming around her house. When Fannie died, the irises moved to our house next door and my mother, Kitty Starbuck, kept the tradition growing. She is now in memory care in Kalamazoo and the torch, or should I say the flowerpot, has passed to me. I water and tend my irises faithfully, upstairs with Fannie's old watering can and downstairs with Kitty's.
I don't pretend to have a green thumb, but I do have a gentle heart when it comes to these heirloom plants, as the fourth generation of women to encourage their growth and marvel at their blooming. 
This year the plants have special significance for me. They haven't blossomed yet. I am watching for that one-day miracle. Whether they bloom or not this spring, they are yet alive. And that's enough. Alive, just as Rosa and Fanny were at the time of the 1918 Spanish Flu epidemic. My ancestors survived that terrible pandemic. And I am taking every precaution to survive the present-day threat of COVID-19 and hope you are, too. 
And so it is that my Fan Irises give me hope and joy during this, the most unusual of Easter seasons of my lifetime.
The weather grows warmer and the grass grows greener. We are reminded of other signs and symbols of new life described in this list created by Mark Price, Pastor of Congregational Life, Christ United Methodist Church, Franklin, TN. It was shared by umc.org. 
Birds
The robin, a very common bird in the U.S., has a red breast and a legend to explain it. Seems that once a gray robin flew to Christ's crown of thorns to draw out a thorn, and when it did, a drop of Christ's blood fell on its breast, leaving a stain forevermore.
Bees
It takes lots of buzzing bees to spread the pollen and make flowers grow. The honey these creatures create is a biblical symbol of God's favor. The Torah describes God's promised land again and again as "flowing with milk and honey."
Flowers
Long considered a symbol of hope and new life, the daffodil is one of the blooms most often connected to the Resurrection. Tradition says that giving a gift of daffodils will ensure happiness for the receiver—but always give a bunch: a single bloom signals doom.
The flowering shrub known as the forsythia is what I call the Easter tree, because when its spidery branches are moving with the wind, they seem to be arms waving in praise of the season. According to tradition, forsythia means anticipation—an appropriate companion word for Resurrection.  
It is said the dogwood tree used to grow straight and tall, but after it was used as a crucifix for Christ, God made it short and twisted with a thin trunk so it could never be used as a cross again. The dogwood bloom has four parts, each with a rusty red color on the end and a small hole, a reminder of where the nails were driven into the cross. The center stamens look like the crown of thorns.
The Council at Nicaea in 325 AD gave the Church a revised creed. The last line reads: "We look for the resurrection of the dead, and the life of the world to come." As Easter people, we don't have to look further than spring for an exclamation point to that affirmation.