Hiram Frakes, a Methodist pastor, served in Pineville, Kentucky in 1925. He established Henderson Settlement, a ministry that continues to change lives today.
GLENN M. WAGNER
Michigan Conference Communications
In Frakes, Kentucky lives are regularly changed when people gather in the name of Jesus to help one another address real needs.
This has not always been the case in this southeastern corner of the state.
In February of 1925, the Rev. Hiram Frakes, a Methodist pastor then serving a congregation in Pineville, KY, was first inspired to bring the life-changing love of Jesus to the Laurel Fork Valley during a murder hearing in a Pineville Court Room. The presiding judge was a member of Frakes' Pineville parish and was exasperated by the murderous lawlessness of people who lived in the remote mountainous region 18 miles southwest of Pineville just north of the Tennessee border.
Because the residents of this Appalachian region lived in such fear of retribution from their own neighbors, when witnesses in the Pineville court hearing refused once more to place the blame for certain killings, the judge could take no more. In frustration, he told the residents to "go back and kill yourselves off."
Frakes was moved by the court case to make a trip to the area to meet the people of this region for himself. He secured the cooperation of residents and the financial support of his Bishop Theodore Henderson and started a school to teach children about the love of Jesus. Frakes was the first teacher.
Over the years the mission of Henderson Settlement in Frakes, KY has evolved to meet the needs in the area with the same commitment to helping neighbors by sharing the love of Jesus in life-changing ways.
Like a pebble dropped in a pond, the love of Jesus radiates from the point of impact in ever-widening circles. That love from Henderson Settlement is also changing lives in Michigan. 
Sue Walters is a retired school teacher from First United Methodist Church in Birmingham, MI. Walters is part of a group of active women from the congregation who in 2009 were searching for a place and a way to make a positive difference for Jesus. The Birmingham ladies lacked the skill set to do construction work that is often required by many mission work locations. However, Henderson Settlement was eager to work with them to help match their abilities with local needs. 
Walters remembers her first trip volunteering to work in the Henderson Settlement Thrift store and helping out in the settlement greenhouse. But the Michigan group also learned about the needs of local Kentucky children and youth and soon shifted their focus to make annual week-long trips to Henderson Settlement to volunteer their services working in the summer recreation program.
 Walters likens her service at Henderson Settlement to eating a tasty treat. "You have one bite and you just keep coming back for more because it is so satisfying." Walters is proud that her group of women from Michigan helps teens of Appalachia with important life skill classes. They teach the youth about budgeting, preparing for a job interview, eating out at a restaurant, putting together a resume, and making responsible life choices. 
On the last day of their mission trip, the team goes shopping with the Henderson Settlement youth. The women gift each teen $100 that goes toward purchasing needed clothes and supplies for school and paying for their share of a group meal together at a local restaurant. Walters cherishes how relationships have grown during their summers in Kentucky. Many of the youth return each year just to reconnect with their Michigan friends from Birmingham, telling them how the lessons they have learned are continuing to make an important difference in their lives. 
The women from Birmingham each pay $325 to Henderson for food and lodging for a week and gladly bring with them extra offerings from their church in support of the mission. 
Tammy Teague, director of community outreach at Henderson Settlement, is a lifetime resident of the region. She was drawn to the mission, to Christian faith, and to a life of service as a child when her parents received Christmas help from Henderson Settlement. She experienced for the first time the joy of opening Christmas gifts just for her that would not have been possible without the mission support.
A graduate from Eastern Kentucky University with a major in business, Teague supervises essential services offered by Henderson Settlement to address the critical needs of residents in five counties covering a twenty-mile radius from Frakes. Services include an emergency food pantry and food delivery program, help for residents facing crises for unpaid medical or utility bills, and helping those without transportation get access to needed services. 
Teague helps to organize a support group for local women and an after-school and summer youth network program that provides food,  spiritual, educational, and recreational support for area children and teens.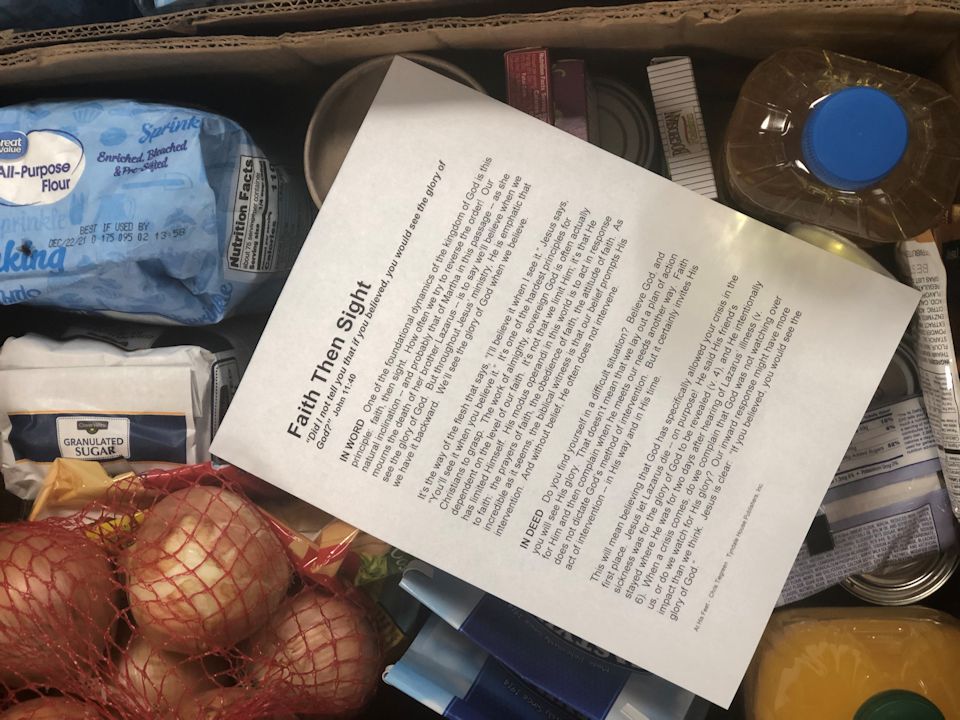 Tammy Teague is grateful for the financial support received from individuals and congregations around the country. The National United Methodist Women and the General Board of Global Ministries also provide needed assistance. These offerings help Henderson Settlement remain a beacon of hope in a region economically stressed by the closing of coal mines which for many years had been the primary source of income and employment for area residents. Persons who wish can make an online donation to Henderson Settlement at this link. Henderson Settlement is an EngageMI Ministry Partner.
Henderson Settlement Mission Outreach director, Jerry Lambdin, like Tammy Teague, also grew up near Henderson Settlement and came back to serve after getting his college education at Cumberland University.
Lambdin oversees the mission work camp program which hosts visiting work teams from around the United States. Pre-pandemic, Henderson Settlement hosted 2,000 to 2,500 visiting work campers per year. During the pandemic, those numbers fell to fewer than 500.  The mission is planning for more work campers this year to help address a growing back-log of community needs on a list now over 1,000 projects needing attention.
The Settlement can accommodate up to 200 work campers per week with a variety of dorm, cottage, and hotel-like accommodations.  Henderson Settlement provides housing, meals, supervision, and helps groups select local projects that need funding and effort to accomplish. Work campers pay $250 each for a week of food and dorm lodging and additional funds if the team desires to adopt a local project. 
Lambdin knows the work of Henderson Settlement changes lives in powerful ways, not just for local residents but for those like the Birmingham team who travel to Henderson Settlement to serve. Lambdin notes that a private Eastern school for girls has sent multiple groups to Henderson Settlement. The trip to Frakes is their most popular and their only school trip focused entirely on service to others.  Students of the school are required to write a senior essay on a subject of their choosing and Henderson Settlement is most often the topic of choice. Many of these young women have learned transforming lessons of faith and loving service with others on their trips to Kentucky.
John Newman, the executive director at Henderson Settlement since June of 2021, brings a pastor's heart and a passionate conviction that God is at work doing great things through this ministry. He marvels at how God continues to answer prayer and meet needs for people such as when increased demand on the emergency food pantry emptied the shelves and staff struggled with the reality they might have to close the pantry for lack of resources.
During the height of the coronavirus pandemic, the demand on the Henderson Settlement food pantry tripled. Urgent prayers were answered when an unexpected truck arrived filled with food supplies to meet the continuing need. Newman knows from experience that the promise of Jesus in Matthew 6:33 is true, "But seek first his kingdom and his righteousness, and all these things will be given to you as well." In a region of the country where the challenges of the economy, pandemic, and remote location might be expected to raise anxiety, Newman exudes the calm confidence rooted in his faith that God is bigger than our worries.
John Newman was serving as a pastor in the Northern Indiana Conference of the United Methodist Church when he came to Henderson Settlement for a mission work week and first experienced God's call on his life to make leading this ministry the focus of his service.  Newman was volunteering to drive food boxes for delivery to needy families. Near the end of the delivery run over an hour's drive from Henderson Settlement, he helped bring meals to a mountain home with five girls who were thankful for the food. As they were leaving Newman's local guide in the car mentioned that the girls were all alone because their mother had left them. He remembers that "God convinced me at that moment that Henderson Settlement was where I was supposed to serve." He lives by the wisdom of Mark 12:30-31. "Love the Lord your God with all your heart and with all your soul and with all your mind and with all your strength.'  The second is this: 'Love your neighbor as yourself.'  There is no commandment greater than these."
Newman is inspired by the many different reasons offered by people he has met who come to serve at Henderson Settlement. A daughter flies back to Kentucky each year from Washington State to visit her mom and the family. They then spend their vacation reunion together serving Christ in Frakes. Newman speaks of the grandfather who brings his grandsons to Henderson Settlement so they can share a time of faith and service together. Newman is particularly grateful for regular and continuing mission support that comes via people and donations from the surrounding states of Illinois, Indiana, Ohio, Michigan, Wisconsin, Virginia, Florida, and Georgia. He marvels at the extended reach of God's love at work.
As he helps Henderson Settlement look forward in 2022, Newman is optimistic about meeting important ministry goals.
He reports that $300,000 is being invested in bringing a neglected park at the Settlement back to life with new playground equipment, a basketball court, and a splash pad. Newman notes there are no other public parks or playgrounds for community gatherings within 20 miles. He believes this investment will bless families and strengthen community.
Another important annual project involves the selection of a local family with urgent needs. A modest one-story, two or three-bedroom home is then built for them in six weeks by visiting work teams. To date, Henderson Settlement has made this life-changing offering to 38 families.  The 39th family who will benefit from the home built this summer is a widow who has been living in an 8 X 10-foot trailer with a teenage niece and nephew who have both lost their parents. Participating families must own the property, demonstrate enough income to cover utilities and taxes, contribute 200 hours of labor in construction, and pledge not to sell the home for ten years.  
Another important project this year is the refurbishment of the single-story building. The health clinic occupying that space closed. Administrative offices will move into the building once refurbished. 
Newman knows that lives are being changed by the love of Jesus through Henderson Settlement outreach programs. He feels blessed to serve as Executive Director of Henderson Settlement because this ministry addresses the physical, spiritual, and emotional needs of the whole person.
Current news headlines reporting on global distress echo the frustrations of the 1925 Pineville, KY Judge who once declared to a murderous and uncooperative people, "Why don't you just go home and kill yourselves off."
97 years of hindsight offers clear testimony at Henderson Settlement in Frakes, that the love of Jesus Christ transcends our borders and transforms such human frustrations and distress into living hope.
~ For more information about serving as a mission work camper at Henderson Settlement check out this link or call Jerry Lambdin at Henderson Settlement  606.337.3613.
Last Updated on September 20, 2022