Partners with the Lilly Endowment have created a financial aid program for future elders and deacons attending United Methodist seminaries. 

SAM HODGES
United Methodist News Service
As Jacob Cogman begins year three at Candler School of Theology in Atlanta, he's looking forward to the next big step: becoming a United Methodist elder.
Unlike some in his position, he's feeling no major pain in the pocketbook.
That's because he's been part of the Excellence in Clergy Leadership Scholarship program, receiving $17,500 over two years.
"I just actually did my finances the other day, and it looks like I'll be graduating debt free," Cogman said. "I thank God for it."
Concerned about the financial and emotional toll of seminary debt, a variety of United Methodist groups collaborated with the Lilly Endowment Inc. to create the Excellence in Clergy Leadership Scholarship.
Financial aid began in 2017, with the goals of helping future elders and deacons avoid taking on extra debt and giving them personal finance counseling as they study for a master of divinity degree at one of the 13 United Methodist seminaries.
Anecdotal evidence from Cogman and others suggests the young program is making a difference. So does a new survey done by the United Methodist Board of Higher Education and Ministry, which administers the scholarship program and is a partner in it.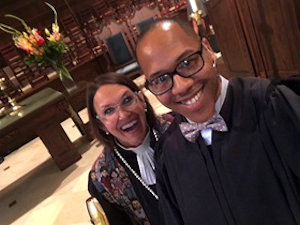 Scholarship recipients were surveyed on a range of subjects, including what the scholarship meant for their balance book.
"I was thankful to hear that 60 percent thought they were going to be able to graduate debt free," said Allyson Collinsworth, the agency's executive director for loans and scholarships.
The 2012 General Conference called for a seminary indebtedness task force, which Collinsworth led. Her team's research came to the attention of Wespath (formerly the General Board of Pensions and Health Benefits), which had been contacted by the Lilly Endowment about partnering on a project to address economic challenges facing pastoral leaders.
Some conferences, such as Texas and Alabama-West Florida, already had programs in place to help pay for seminary for United Methodist clergy-to-be. But with Lilly willing to invest $1 million, a broad United Methodist coalition formed to create and support the Excellence in Clergy Leadership Scholarship.
"We knew the scholarship wasn't the silver bullet for financial issues facing pastors, but we also knew seminary debt was one major factor in keeping people from becoming clergy," Collinsworth said.
Nearly 50 United Methodist foundations and conferences, as well the denomination's seminaries, Wespath and the Board of Higher Education and Ministry, are contributing to the program. The United Methodist Foundation of Michigan is a partner with the Excellence in Clergy Leadership Scholarship. 
In 2017, there were 199 Excellence in Clergy Leadership Scholarship recipients, with funding at $1.6 million. This year, there are 188 recipients, sharing from a pool of $1.4 million.
Contributing partners review applications and weigh in on who they wanted to support, with the Board of Higher Education and Ministry coordinating the program.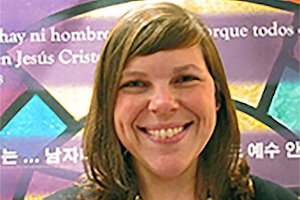 Emily Nelms Chastain works in the North Alabama Conference connectional ministries office, and she's studying in a low residency program at Claremont School of Theology, in Claremont, California, as she answers her call to be a deacon.
Chastain received a $10,000 Excellence in Clergy Leadership Scholarship in 2017, and it was renewed for 2018.
"I consider it a huge honor and privilege to be able to graduate from seminary with almost no debt," she said.
Chastain explained that her package includes $2,500 each from the Board of Higher Education and Ministry, Lilly, the North Alabama Conference and Claremont.
That so many groups are involved made her feel especially supported, she said.
Cogman, who just completed an internship at Christ Church United Methodist in Louisville, Kentucky, felt the same about his package.
"It epitomizes the connectional nature of The United Methodist Church, to see all the different hands that have come together to be a blessing to seminarians," he said.
One goal of the scholarship program is to strengthen seminarians' ties to the denomination, and the survey found that more than 73 percent felt they were more likely to stay with The United Methodist Church because of having been a recipient.
Other survey findings:
85 percent feel more likely to achieve their career goals because of the scholarship
59 percent have been able to give more money to the church because of the scholarship
57 percent have begun saving to pay off other debt
The extent of the financial challenges for clergy-to-be is illustrated in the survey, too, with 79 percent reporting that they are in debt and 66 percent saying debt is a consistent source of anxiety.
The scholarship program requires scholarship recipients to get a personal finances assessment and counseling from EY Financial Planning Services (formerly Ernst & Young).
Of the scholarship recipients in debt, 84 percent said they now have a plan in place to get in the black. And 68 percent intend to continue with EY Financial Planning services or another financial planner.
For Chastain, who carries debt from her undergraduate years as well as an unexpected air-conditioning system replacement paid for by credit card, the counseling has been welcome.
"It's hugely helpful to have someone with an outsider's eye say, 'Focus on this, try to pay this off,'" she said.
Some recipients say that the Excellence in Clergy Leadership Scholarship is not only helpful — it's essential.
"Otherwise, I don't think I would be able to attend seminary," said the Rev. Letty Damian, a licensed local pastor who is serving 50-member Chippewa (United Methodist) Church at the Lake in Chippewa Lake, Ohio, while beginning her Master of Divinity program at Methodist Theological School of Ohio, in Delaware, Ohio.
The Rev. Deepak Holkar is a licensed local pastor serving at Tonica United Methodist Church in Tonica, Illinois, where he joyfully reports four baptisms this summer.
Holkar also is a fulltime student at Garrett-Evangelical Theological School in Evanston, Illinois, preparing to become an elder.
Without his Excellence in Clergy Leadership Scholarship, he wouldn't have been able to afford that.
"This is the answer to prayer," he said.
Interested students may apply directly online with GBHEM between January 3rd and March 1st each year at gbhem.org. Students should choose to apply for the "EXCELLENCE IN CLERGY LEADERSHIP SCHOLARSHIP" on the first page of the application. Applicants must reapply each year.
Last Updated on April 14, 2023