Through a string of United Methodist connections, a young refugee finds his way from Ukraine to Michigan's Adrian College to begin a new life out of the ashes of war and destruction.
JOHN E. HARNISH
Michigan Conference Communications
Forty euros and a plastic bag. That's how his journey began, bringing him from Ukraine to Adrian College and a new life. It all started earlier, of course, when his family spent weeks hiding out in their basement in the midst of Russia's devastating attacks on Ukraine.
Nikita Samsonenko was born in Kyiv and grew up in Kharkiv, a major city near the Russian border which was severely attacked. "Imagine," he said at Adrian College, "having to hide in the basement with your family at night with no light, no electricity, no warmth, and very little to eat. Many nights we lived in fear as the sounds of the bombing got closer and closer." Ultimately, he returned to Kyiv to live with his grandfather because of his family's poverty and the devastation of the war.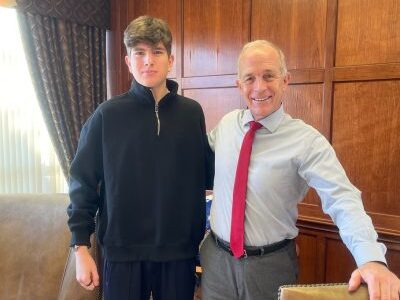 When his grandfather could see no end to the war in sight, he put 17-year-old Nikita on a train to Frankfurt, Germany, with 40 euros and his belongings in a plastic bag. Nikita fell asleep on the train, missed his stop in Frankfurt, and ended up in Munich, where he had no friends and no family, so he used his 40 euros to buy a ticket to Prague and arrived hungry and penniless. Along the way, his plastic bag was ripped, and some of his belongings were lost. In Prague, someone connected him with the women's and children's center, which had been supported by First United Methodist Church of Birmingham, MI, for many years. There he found comfort, food, and a place to begin his new life.
Meanwhile, here in Michigan, Adrian College President Jeffrey Docking was speaking out in support of the Ukrainians. In 2022, the college awarded an honorary degree in absentia to Ukrainian President Volodymyr Zelenskyy. When Rev. Elbert Dulworth, a member of the Board of Trustees, approached President Docking following the commencement ceremony, Docking said he would like to see if they could bring a refugee student to Adrian. Rev. Dulworth connected him with Donna Haymond at Birmingham: First UMC and the director of the Methodist women's center in Prague.
Back in Prague, Nikita remembers, "I met a very kind lady who told me that someone from Adrian College wanted to speak with me on Zoom. I had never heard of Adrian College and wondered where I would sleep and how I would buy an airplane ticket. When I heard that Adrian College would provide this for me, I felt like it was a dream. Even today, it still feels that way."
A year later, Nikita is succeeding as a student at Adrian. He speaks Ukrainian, Spanish, Russian, and English, and is learning French and Mandarin. He loves to play tennis and soccer and hopes to go into business.
By all accounts, his journey to Michigan and Adrian College has been a journey to new life out of the ashes of war and destruction, made possible through the United Methodist connection of the local church in Birmingham, the woman's center in Prague, and a Methodist-affiliated college in Adrian. One of the key players in this journey has been Cindy Beaubian, President Docking's assistant, who has literally taken Nikita into her family. Together, the church and the college have modeled the ability of the United Methodist connection to change lives around the world.
After welcoming Nikita to St. Paul's United Methodist Church in Rochester, Rev. Dulworth says, "Nikita has a tremendously deep Ukrainian Orthodox faith in Jesus Christ. His story is amazing, and he is deeply grateful to The United Methodist Church for this opportunity."
Churches and individuals interested in supporting Nikita are invited to contact the Adrian College Office of Development and contribute to the International Student Assist Fund.
After his first year at the college, Nikita told the Adrian community, "I'm very thankful to The United Methodist Church, the donors, Cindy Beaubian, and President Docking for this opportunity. I will do my best to make my country, my family, and all of you proud of me."
And it all began with 40 euros and a plastic bag.
Last Updated on August 29, 2023