Following record flooding in eastern Kentucky, Red Bird Mission has made a commitment to their neighbors in need by building trusted relationships with community members and helping them navigate recovery.
JAMES DEATON
Content Editor
Parts of eastern Kentucky were devastated by record flooding at the end of July. It has been just over two months since water from historic rainfalls filled creeks and rivers to overflowing throughout this mountainous region of Appalachia, destroying over 10,000 homes and taking 39 lives.
As this region moves into long-term recovery, local nonprofits like Red Bird Mission, an EngageMI ministry partner supported by the Michigan Conference, are providing assistance to families and individuals continuing to rebuild and build life anew.
Red Bird Mission has been a part of the fabric of United Methodist mission in southeastern Kentucky for over 100 years. They have committed to their neighbors in need by building trusted relationships with community members and helping them navigate the long road to recovery.
Building Trusted Relationships
Founded in 1921, Red Bird Mission comprises several community outreach ministries that address hunger and other basic needs of families through case management and delivery of services. In addition, their community store and craft marketing provide jobs and income for over 100 families. Red Bird also has a Christian school and a medical clinic that provides discounted services to persons living in this remote mountain region of Appalachia.
According to Kari Collins, executive director of Red Bird Mission, the flooding did not affect their campus directly, but they did have some students whose families were impacted by the flood. One family lost everything, so Red Bird has reached out to them as they look for long-term housing.
At least six counties to the north and northeast of Queendale, KY, where Red Bird is located, were the areas most affected by the flood.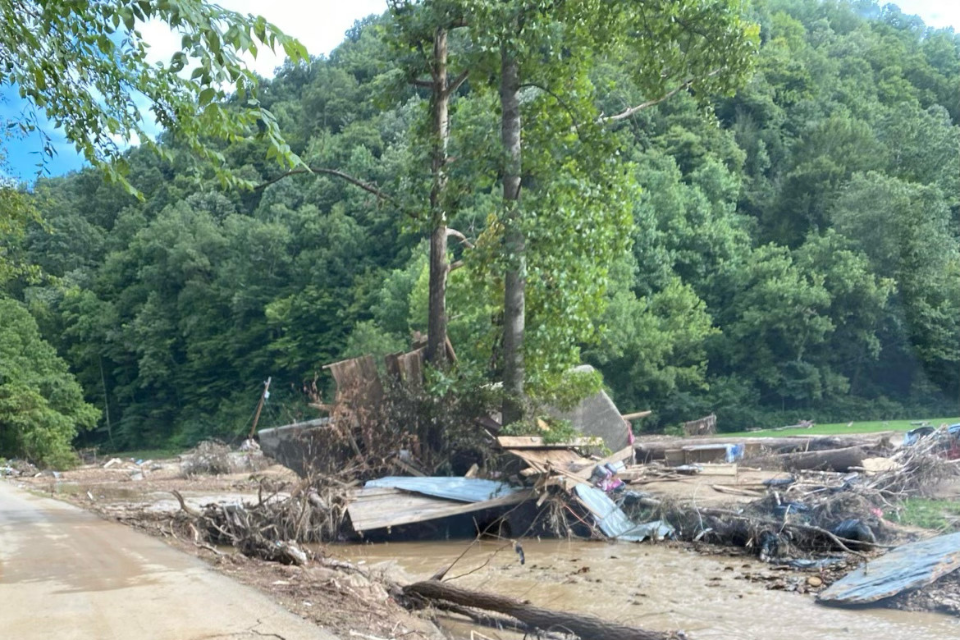 Collins said that being an integral part of the community for so long has had its advantages, especially during emergencies like the recent flooding. Once the disaster hit, Collins and the staff of Red Bird acted quickly and contacted partners in the surrounding counties they already knew and asked how they could help.
These trusted relationships with partners in surrounding sister communities have connected Red Bird with those in need, and they continue to stay in touch with them as they move through recovery.
"We keep almost daily contact with them," noted Collins, "saying, 'What do you need now, what do you need today?' And those cash donations have allowed us to literally drive to Hazard [in Perry County], go to Lowe's, pick up what they need, and take it to them."
Of the 80-plus staff members of Red Bird Mission, at least 25 have been actively helping neighbors in the surrounding counties. Since Red Bird Christian School was out for the summer when the flood hit, many teachers volunteered with food deliveries and assisted with cleanup.
"The hours that [Red Bird volunteers have] put in is just unbelievable," said Collins. And this relief effort wouldn't be possible without these flesh-and-blood resources. "The [food, water, supplies] could come in and sit in God's Storehouse and never get out [to the people]."
Red Bird has become a collection and distribution center for the recovery, and they are utilizing their storage space, called God's Storehouse, which is regularly used for their outreach ministries. Donations from near and far have flooded into Red Bird as needs grow and change. Watch this recent video update from Tracy Nolan, community outreach director, on YouTube to learn more.
Early on, it was fly strips and dehumidifiers, as the conditions were humid, hot, and muddy. Now, as the seasons change, they're collecting heaters and sleeping bags because many people are still living in tents, and hopefully, they will find shelter as winter nears. Federal relief is bringing in 95 campers from western Kentucky following this spring's devastating tornado.
Helping People Navigate Recovery
Many people in these remote, rural areas of eastern Kentucky distrust outsiders, especially state and federal government agencies. So, Red Bird Mission's outreach ministries, which include basic case management, have been a godsend to these communities. The people know and trust Red Bird's mission and lean on them for help.
Applying for federal aid and navigating recovery details following a natural disaster is sometimes complex and frustrating. The six staff members of Red Bird's outreach ministries have assisted people as they come in and need help putting the pieces back together. Staff are aware of all the resources available in this part of the state area and link them up.
Collins said, "[The outreach staff] know every detail. And they don't just give people the [phone] number. They'll work them through it until they get what they need. So, it is a lot like case management."
Part of this ministry is listening and helping people understand the federal relief process and what to expect. Collins admits that it's ideally better to educate people from the beginning than have them misunderstand things and not feel comfortable asking questions, but that's difficult in emergency situations when people are experiencing trauma.
"So, trying to get that word out there [and explain things] when people are angry and hurt and feel abandoned is really, really hard," noted Collins. "It's much easier to do that from the get-go."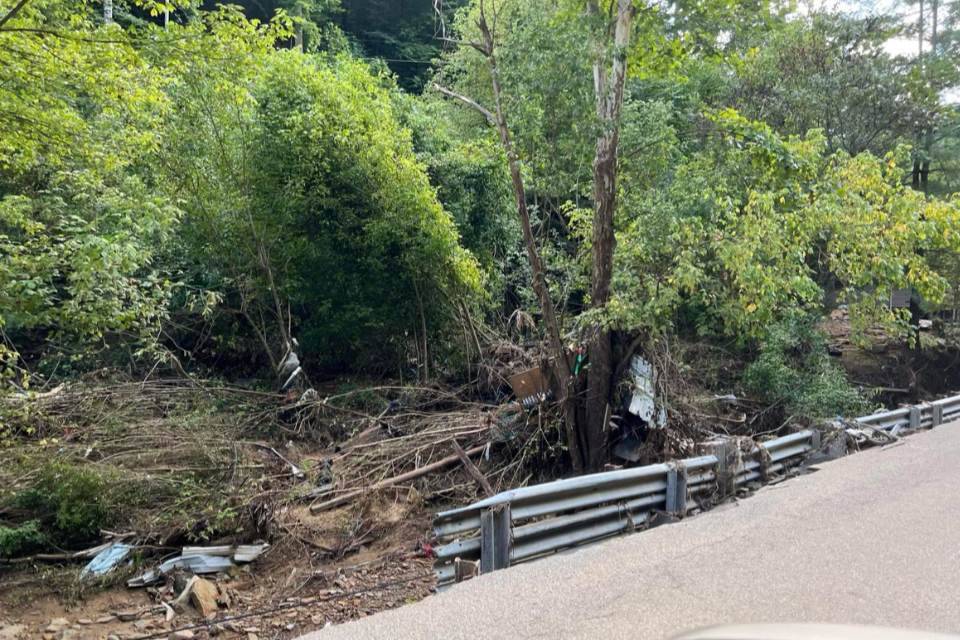 Collins, who has a background in behavioral health, is also working with folks in Frankfort, the state capital, to put mental health professionals out in the communities to help people deal with this traumatic situation. And reaching these people takes a different approach.
"Again, the communities are up [isolated] hollers. You can't sit in town and wait for people to come to you [for help]. So, now they're talking about going door-to-door and getting out there. But you need to go out with somebody who knows these people. Otherwise, they're going to think you're FEMA [and not let you in]."
In addition to God's Storehouse, where they regularly collect commodities every month and distribute them, their outreach ministries include a food pantry, a baby pantry, and resources for people who have houses that were burnt.
Red Bird Mission also has a large community store full of donated clothing and household items. Soon after the flood hit, Red Bird's outreach ministries broadcast through social media and other avenues that anyone could come and shop for free. Or, if unable to drive, they could tell staff what they need and the size of clothing, and they'd bring it to them.
As the ongoing flood relief needs evolve, Red Bird is committed to adapting their mission focus to reach their neighbors as they build back together. This area of Kentucky suffers from economic disparity and a lack of sustainable employment for its residents. So, the leadership of Red Bird is looking to the future to see how their mission needs to change.
But, despite the changing needs of the communities, the call of God on this United Methodist mission does not change. When corporations pull out of the area and the economic base shrinks smaller than it is now, Red Bird will be there. When the national news media leaves and the area moves into the slow-moving phase of long-term recovery, Red Bird will be there.
Collins concluded, "It's really places like Red Bird that has been here for over a hundred years [that make a difference]. I keep telling people when I go out, 'We're here for the long haul. So, just keep telling us what you need, and we're here.'"
How Can Michigan Churches Help?
So, how can Michigan United Methodists support Red Bird Mission's ongoing flood recovery efforts in southeastern Kentucky?
The Michigan Conference has a deep relationship with Red Bird Mission. In fact, an earlier MIconnect article noted that Red Bird Mission has been blessed over the years by in-person mission work team participation and/or contributions from 463 Michigan United Methodist congregations. Red Bird Mission has played an essential role in the faith formation of Christian disciples for more than half of the United Methodist congregations in Michigan.
Red Bird Mission, Red Bird Christian School, and Red Bird Clinic Community Health Center are approved General Advance Projects, and congregations are encouraged to give financially through the Michigan Conference to support these EngageMI ministry partners.
Checks can be mailed to the Treasurer at Michigan Conference Center North, 1161 E. Clark Rd., Ste. 212, DeWitt, MI 48820. For Red Bird Mission, add "General Advance #773726" on the memo line. For Red Bird Christian School, it's "General Advance #773728." And for Red Bird Clinic Community Health Center, it's "General Advance #773724."
Another way congregations can give is by working with Jodie Pratt, Michigan VIM Coordinator, to organize a mission trip to Red Bird Mission. Please email her at [email protected]
One final way Michigan United Methodist congregations can support the work of Red Bird Mission is through ongoing prayer. Remember these communities in remote areas of the country as they continue the long road to recovery following the devastating summer flood.