At Plainsong Farm and Ministry near Rockford, food and faith come together in ways that nourish both body and soul.
KAY DEMOSS
Senior Content Editor
The Bible is a down-to-earth book. Genesis begins with God's hands in the dirt. Revelation ends with God holding a sickle ready for harvest. And images from the farm abound on the pages in between. Ten of Joseph's brothers find him in Egypt when they travel there to buy grain. Elisha is behind a plow pulled by oxen before he partners in prophecy with Elijah. Jesus tells a parable in which a man decides to use a little manure to give a barren fig tree another year to grow.
"The Bible is such an agrarian text that if you don't grow up in that context, it almost seems unrelatable," observes Mike Edwardson. "Plainsong Farm is a tangible way to live into some of the metaphors people read about in scripture on a weekly basis."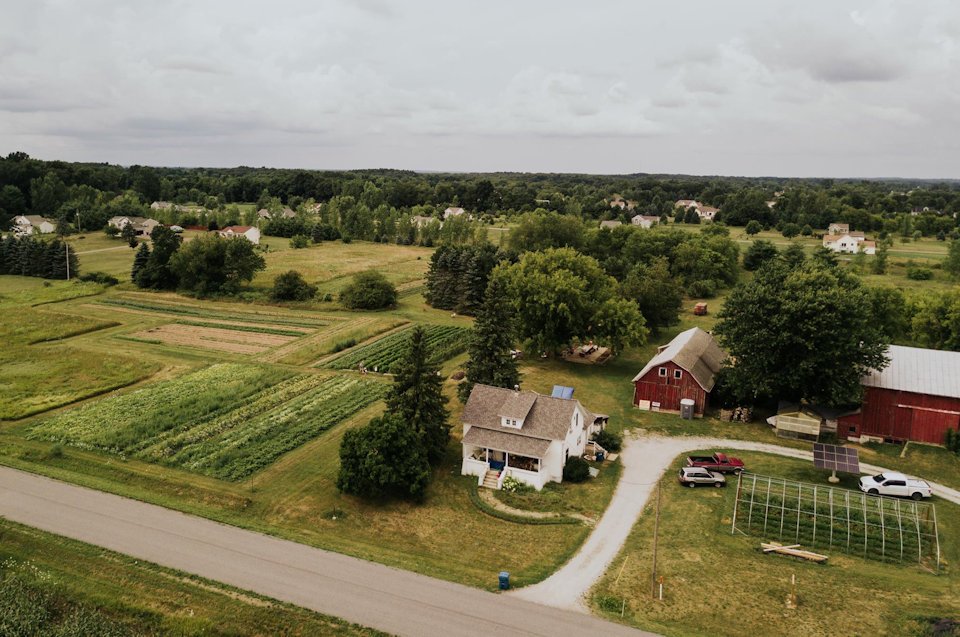 Plainsong is a Community-supported Agriculture (CSA) farm and ministry located outside of Rockford, Michigan. Nurya Love Parish, an Episcopal priest, is the executive director of Plainsong. She co-founded Plainsong in 2016 with Mike and Bethany Edwardson, who serve as farm managers. The Edwardsons are members of Courtland-Oakfield United Methodist Church, which Mike says is just a stones-throw from Plainsong.
Mike and Bethany met at Cornerstone University. They studied the contemplative tradition and Christian environmental ethics. Bethany says of her work at Plainsong, "I believe what I do is similar to the monks who are gardening while consistently in prayer." Mike explains that he and Bethany "had a faith rooted in the land and wanted to farm in a way that connected with local congregations and ministry."
The Edwardsons met Nurya through a mutual friend. "Nurya is interested in care for creation and faith formation," Mike notes. "Our values aligned so we started Plainsong to renew people's perspective on caring for the earth."
"It's been a blessing for our family moving out from the city," Bethany shares. "Just having space where the girls can pick whatever food they feel like eating."
Plainsong is about food production … "we grow food for people." Members and neighbors receive shares of the harvest each week of the growing season.
But Plainsong is also a spiritual experience … "we grow people for God." Programs like Sabbath at the Farm, Heirloom Wheat for Communion Bread, and the Christian Food Movement nurture faith formation, community engagement, and action for justice.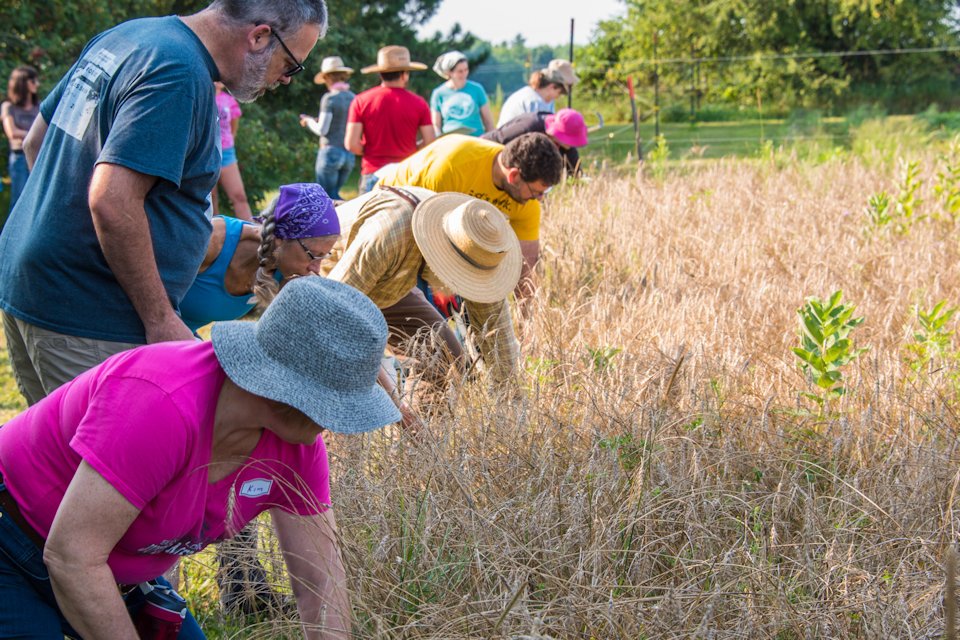 Mike's role is in food production. "I make sure that the farm works and produces fruits and vegetables and that people get all the food they need," he says. It's not a farmer's market. People from the area, including middle school children, get involved in sustainable techniques and environmental education with Mike's help. "Farm members assume the risks of farming along with the farm manager, learning more about their place on earth." Eaters are also growers.
In addition to his work as farm manager, Mike is also the director of youth and family ministries for Courtland-Oakfield UMC. Some of the youth activities take place at Plainsong. "The things we do here grab the youths' attention and speak to the values of the younger generation when it comes to sustainability and doing more than earning a profit," Mike reflects.
Bethany's title is Community Engagement Coordinator. She is excited about, "getting hands in the dirt as a whole family." In addition to working with donors and members, she oversees the Heirloom Wheat Program. Between 10-20 congregations participate at some level, from buying Plainsong-raised flour to growing and winnowing the wheat that will be baked into communion bread. It's ecumenical in scope and spirit.
"Heirloom wheat is a great way to bring people together," Mike says, "because it shares the full story." He adds, "It brings vibrancy and new life to something that seems static and habitual. People can say, 'I helped harvest and thresh this grain.' They receive the flour with prayer." For Mike, the sacrament is "not just individual and personal but a way a steward can sustain the land."
Mike's own pastor at Courtland-Oakfield, the Rev. Kim DeLong, has purchased a share in Plainsong's Community Supported Agriculture. "I was intrigued by their all organic, no-till farming, and the fact that the soil is a living organism," Kim says. Several other couples from the church helped Kim and her husband, Cam, with the planting and the winnowing of the wheat last year. Others have kneaded the flour and baked the communion bread. Their second crop is now over-wintering in the field. Wyoming Park United Methodist Church, the other congregation served by DeLong, also plans to buy a share of flour from the 2019 harvest.    
        
Healthy eating was what first drew Pastor Kim to involvement with Plainsong Farm and Ministry. "Then I began to understand it's about working with the earth instead of against it," she reflects. "The planting, harvesting, threshing, and baking together bring a whole deeper meaning to communion and connection to God's creation."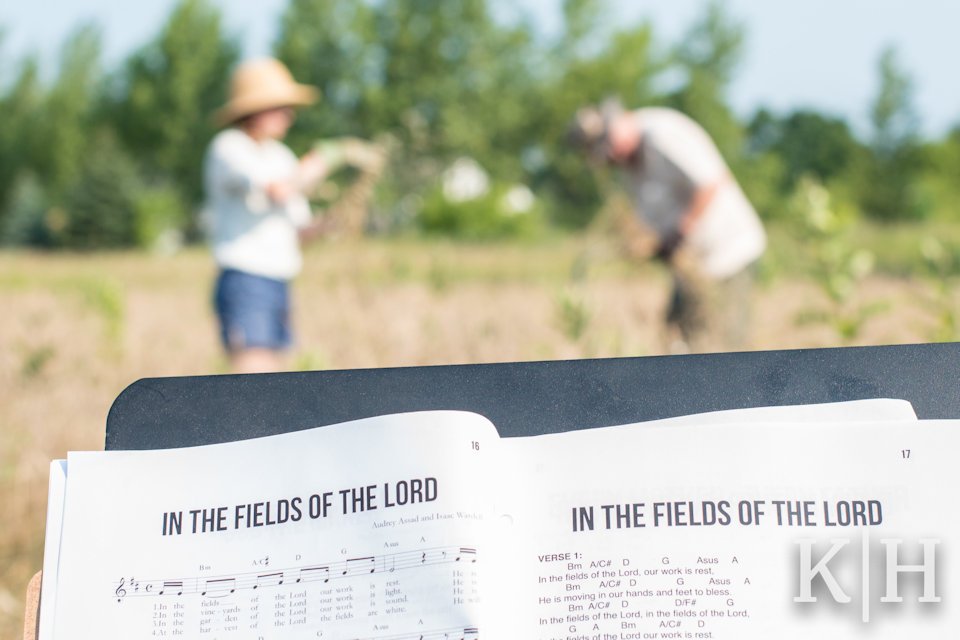 "People sometimes get caught up in the idea that this is just a farm," Bethany states. "To me, the farm is a way to have a conversation about food and faith."
In 2019 the plan is to expand the Sabbath on the Farm to a weekly rather than a monthly activity, June through August. The Sunday evening activity involves centering prayer, silence, and meditation on scripture experienced in the beauty of nature. Events are interdenominational and intergenerational. Bethany has bread baking workshops onsite and is also willing to take the flour and the training to any church in Michigan. Also, in the works is a "weeding meditation," that Bethany describes as "Lectio Divina done outside listening to the birds."
A lot of useful information and inspiration is available at the Plainsong website, including blogs by various authors. In a reflection dated May 30, 2017, Nurya Love Parish shares this: "When God called me to start a farm, I really didn't know what that meant. (I still don't always know.) I knew that the church had gotten too far away from the care for Creation as an integral part of discipleship. And I knew that I had a lot to learn about my place in Creation. I had a feeling that being part of a farm would teach me."
And now others have the opportunity to let the earth teach them, thanks to the efforts of Nurya Love Parish, Mike, and Bethany Edwardson. A journey to fresh food and refreshment of spirit can begin at Plainsongfarm.com.