Lewis Center for Church Leadership reports the number of U.S. elders under age 35 has declined for three straight years.

SAM HODGES
UM News
At age 32, the Rev. Jarrod Caltrider is living life in full as a United Methodist elder. 
He's pastor of three small churches in rural West Virginia, and resides in a parsonage with his wife, Breana, and their two-year-old, Ella. He leads three or four worship services each Sunday and occasionally wades into the Right Fork of Sandy Creek to do baptisms.
The work is gratifying, and what excites Caltrider most is the growth he's seen in young families with children attending Sandyville United Methodist Church, his largest congregation.
"We average 72 to 74 in worship, and that's increased a little, but two Sundays ago we had 93 in worship and 33 of those were elementary school age and younger," he said. "That's exhilarating." 
Young elders like Caltrider — enthusiastic, committed and perhaps better able than many older colleagues to connect with young families — are getting harder to find in The United Methodist Church.
The Lewis Center for Church Leadership, part of Wesley Theological Seminary, does an annual analysis of clergy age trends in The United Methodist Church, and its just-released 2019 report shows that the number of U.S. elders under age 35 has declined for three straight years.
As of May, there were 875, down from 1,003 in 2016, and from 3,219 in 1985, when the denomination was much larger in the U.S.
This year is not the low point. That was 2005 when the number was 850, and the Lewis Center began to track clergy age trends as part of a general alarm about the scarcity of young elders.
But the resumption of a downward trajectory to a near-historic low is concerning for the denomination's future, according to the Rev. Lovett H. Weems Jr., senior consultant for the Lewis Center.
"The clergy in some ways match the membership of the church in being disproportionately older, but it doesn't match the people God's given us (to reach), the people in the population," he said.
Elders in The United Methodist Church are seminary-educated clergy ordained to a ministry of word, sacrament, order, and service, with an understanding that they will go where sent by their bishop.
Many serve in extension ministries, but typically elders are preaching in and leading churches, including the denomination's largest. Elders are eligible to be bishops and district superintendents. 
As the denomination has shrunk in the U.S., the number of elders has declined steadily. But while young elders represented 15 percent of the total in 1985, they now represent under 7 percent.   
Meanwhile, The United Methodist Church last year saw a record number of young deacons (clergy ordained to a ministry of word, service, compassion and justice), with a decline of just one in 2019. The number of young licensed local pastors increased slightly this year, and the percentage of deacons and local pastors under 35 exceeds that of elders.
The majority of U.S. elders are age 55 or older, the Lewis Center report shows. 
The Rev. Ben Gosden is 36 now, so he's recently aged out of the young elder category. But he's seen young elders and elders generally become scarcer in the South Georgia Conference, where he serves. Licensed local pastors have become more common there, as they have been in many U.S. conferences. 
Gosden believes economics are a factor, given that licensed local pastors typically have a somewhat smaller financial package than elders and often are bi-vocational.
"We do have more and more local pastors," said Gosden, who leads historic Trinity United Methodist Church in Savannah, Georgia. "South Georgia's a small conference, and more of our churches are transitioning downward in salaries."
The United Methodist Church made a big effort to address the issue of an aging clergy corps in the U.S. when the 2012 Conference created the $7 million Young Clergy Initiative, which provides grants to a range of groups that work with young people in discerning a call to ministry. The 2016 General Conference renewed the program.
The Rev. Trip Lowery oversees the Young Clergy Initiative for the United Methodist Board of Higher Education and Ministry, and he says that while anecdotally he's aware of the program's positive impact, it's not possible to quantify how many young people it has helped move onto the clergy track.
"If I had a number, I wouldn't really trust it, because there are so many things that influence someone's decision to go into ministry," he said.
Lowery noted that the initiative has created a body of knowledge about supporting young people in discerning a call, including the importance of relationships with mentors, especially close to their own age. 
He counseled patience, saying it takes time to create a culture of call in the church and added that Higher Education and Ministry will be requesting an extension of the program from the 2020 General Conference. 
"It's not going to happen in one quadrennium or two," he said. 
Lowery noted a range of factors help explain the decline of young elders, including seminarians who want to serve, but not necessarily in a typical church setting. 
"Most are just not feeling called into that traditional robe, stole and a pulpit appointment," he said. "Students are feeling called to places that worship at different kinds of times, different locales … Maybe it's a homeless ministry or a congregation that focuses on AIDS patient care."
The prospect of carrying seminary debt into a modest-paying position as a young elder is often cited as a disincentive. Though streamlined some, the ordination process is long and can be confusing if conferences don't work hard to communicate the necessary steps. 
Then, too, The United Methodist Church faces the possibility — some say likelihood — of schism due to internal conflict over how accepting to be of homosexuality. 
The current young elders were aware of the divisions when they answered their call to United Methodist ministry and began seminary, but the situation has become even more fraught.
"Obviously we were not at the position we're in now," Caltrider said. 
Before the last three years, the denomination had seen modest growth in the number and percentage of young elders since the low in 2005. Lowery and Weeks both noted that some conferences have had clear, ongoing success with targeted efforts.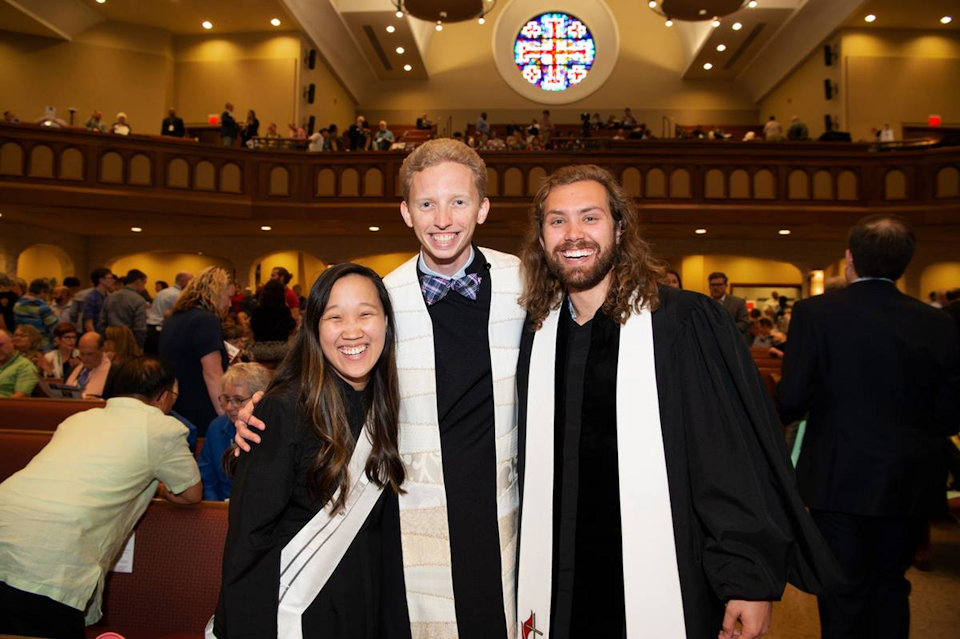 The Texas Conference has for years had a multifaceted approach, encompassing everything from youth camps with a discernment focus to church staff internships to financial help for seminary students.
This year, the Texas Conference was at the top in percentage of young elders, and it has been the leader four other times since 2012.
The Rev. Michelle Manuel, 33, transferred into the Texas Conference, encouraged by the diversity of its appointment settings and the role women have had in church and conference leadership there. 
She pointed to one particularly helpful conference initiative, the residency covenant groups, where young clergy meet to vent and occasionally push back on venting. 
"I need my peers to say, ʽHey, me too,' or to one-up me and say, ʽIt could be worse girlfriend,'" said Manuel, who is on staff at St. Luke's United Methodist Church in Houston, and on track to be ordained an elder next summer.
The Dakotas and Arkansas conferences have ranked high in the percentage of young elders in recent years, and the North Texas Conference has lately joined them.
The Rev. Ricky Harrison, 27, credited North Texas Conference Bishop Michael McKee with fostering a culture of call, including staying in touch with him and other young clergy candidates as they made their way through college and seminary.
"He's been really intentional," said Harrison, who was ordained as an elder this summer and now is associate pastor at First United Methodist Church in Decatur, Texas.
For Gosden, the solution to the problem underscored by the Lewis Center study will be best addressed by clergy themselves. 
"If people have an issue with the decline in the number of younger elders, we need to look in the mirror," he said. "We need to train leaders to cultivate leaders."
Gosden's church has been on Telfair Square in downtown Savannah since 1848, and its roots go back much farther. But he wants Trinity to be trailblazing in its approach to encouraging young people to answer the ministry call.
"That's the name of the game, long term," he said. "I want to send people into the ministry out of this church. We want to be a factory."