Three young missionaries have been assigned to ministries in Detroit and Kalamazoo. Meet Emily Burns, Jinnia Siironen, and Asti White.
Ten Global Mission Fellows are ready to begin two years of service in communities across the United States. These Global Mission Fellows on the US-2 track just completed two weeks of training in preparation for their assignments which included teaching sessions on topics such as "Breaking the Bonds of Injustice" and "Exploring the United Methodist Social Principles" as well as a short trip to Montgomery, Alabama, to visit the new Legacy Museum and National Memorial for Peace and Justice.
The training concluded with a Service of Commissioning on Aug. 30 at Global Ministries in Atlanta. They now join 57 Global Mission Fellows on the international track who were commissioned on Aug. 9 in Johannesburg, South Africa.
Bishop R. Lawson Bryan of the South Georgia Annual Conference delivered the sermon and presided over the act of commissioning in the service in Atlanta. As he placed his hands on each young adult, he prayed, "I commission you to take the gospel of our Lord Jesus Christ into all the world. Amen." The act of commissioning is a public affirmation made by the church to uphold the call of Christ to "make disciples of all nations."
US-2s will serve in social justice-oriented roles and, as general secretary Thomas Kemper proclaimed during the Service of Commissioning, "live out the gospel in the communities they serve." 
Three of the new US-2s are coming to Michigan. They are:
• Emily Burns, community organizer, Sunnyside United Methodist Church, Kalamazoo, Michigan;
• Jinnia Siironen, case manager, NOAH Project, Detroit, Michigan; and
• Asti White, coordinator of intentional community and social justice, Wesley Foundation of Kalamazoo, Michigan.
Click on each name to read their missionary bio.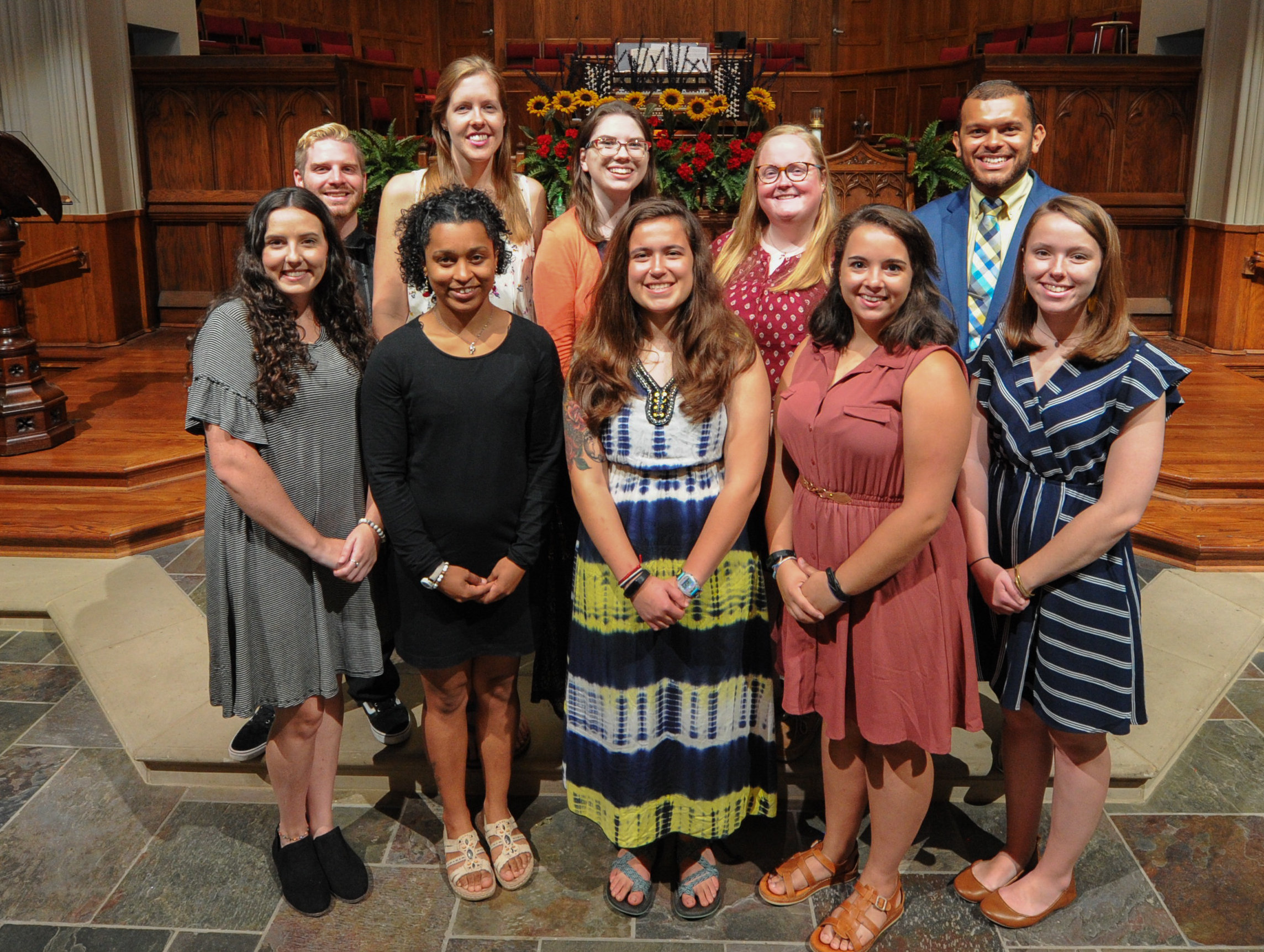 Emily says, ""My call to mission has not been dramatic; it has become a 'gut feeling' or a sense of the natural next step. It feels more like a thread that has been woven through my classes, jobs, and relationships that has led me toward and into a life of mission."
Asti reflects on his life. Looking back, he says, "step by step, the Lord continues to reveal goodness, and I am reminded of the wonderful love that I have been given to share with all." 
A call to mission service came to Jinnia in a "small and quiet voice," and she is excited to see how God will use her in the future. 
As the commissioning service concluded, the congregation rose to their feet and sang "The Spirit Sends Us Forth to Serve" (written by Delores Dufner):
The spirit sends us forth to serve; we go in Jesus' name
to bring glad tidings to the poor, God's favor to proclaim.
We go to comfort those who mourn and set the burdened free:
Where hope is dim, to share a dream and help the blind to see.
We go to be the hands of Christ, to scatter joy like seed
And all our days, to cherish life, to do the loving deed.
Then let us go to serve in peace, the Gospel to proclaim.
God's Spirit has empowered us; we go in Jesus name.
More about how Emily Burns, Jinnia Siironen, and Asti White have gone forth to serve will be shared in future editions of MIconnect. Welcome to Michigan, US-2s!
~Sara Logeman (General Board of Global Ministries) and Kay DeMoss (Michigan Conference) contributed to this report.