Afghan refugees have started to arrive in Michigan. Churches are encouraged to become sponsors, offering a warm welcome and support. Here's how to begin.

SONYA LUNA & ALICE TOWNLEY
Coordinator of Latinx Ministries & Ministry Consultant
An Advent Latin American tradition called Las Posadas reminds us of the need to provide shelter and hospitality to our neighbors.
Las Posadas is a reenactment of Mary and Joseph searching for a place to stay in Bethlehem. We see in this reenactment and song that Mary and Joseph are rejected at several places and are finally given refuge.
We in Michigan are looking to give refuge and welcome to more than 1,600 Afghans over the next several months. There is a need for affordable housing and supplies. Currently, many of the Afghans that are arriving are living in hotels until more permanent housing can be found. Churches can sponsor or support refugees in a variety of ways. More information about the five refugee resettlement agencies in Michigan can be found on the Michigan Conference website under the mission page. Here is a link to the site.  
Your church can be a sponsor. Samaritas (Lutheran Services Agency) is working in the east side of the state to welcome around 500 Afghans. They need churches to partner with them. The process to become a sponsoring church with Samaritas is not complicated but can take some time because all the volunteers on the team need to apply and have a background check.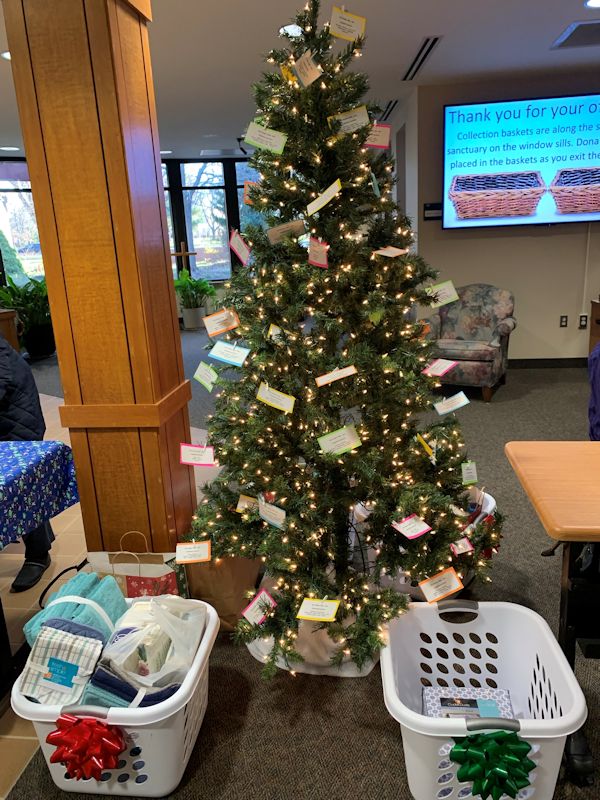 The United Methodist Committee on Relief (UMCOR) will provide $1,000 reimbursement grants to churches that sponsor a family directly through their agency or through an affiliate. The affiliate agency in Michigan is Bethany Christian Services which is primarily on the southwest and midwest sections of the state. If your church is not in one of the resettlement areas, you work directly with Church World Service (CWS) to sponsor a family.  
While some resettlement agencies are looking for sponsors, they are all looking for support and that can be done from any location. In Lansing, St. Vincent Catholic Charities (STVCC) has an urgent need for new furniture donations and household items. They have an Amazon wish list of their current needs on their website. 
This fall at University United Methodist Church in East Lansing (UUMC), for example, the mission committee sponsored a community-wide drive for items including furniture, household goods, and cleaning supplies. There was an overwhelmingly supportive turnout from the community and local media. UUMC continued to collect needed items at the worship service each Sunday.
For Advent, they set up a GIVING TREE for items on the STVCC wish list for new arrivals. The congregation is collecting donations of mittens, caps, and hats, personal care items, outdoor clothing, sheets, and towel sets through the holiday season. They are also supporting the newly arriving refugees through an endowment grant and part of the Christmas Eve offering. And this last Sunday, they had thank-you notes for the congregation to sign that will go to the refugee resettlement staff.
We encourage you to share this information with your mission chair and others in your church, so you can support these efforts. Likewise, please share with Sonya Luna, what you are doing. All churches can continue the tradition of providing refugees hospitality this Advent and Christmas Season.