Conferences and the United Methodist Committee on Relief are gearing up for relief work after tornadoes struck at least six states. Dan O'Malley, Michigan Conference, urges, "Stay put for now."
UM NEWS STAFF
United Methodists in Kentucky, Tennessee, and neighboring states are coming to terms with the devastation of a string of tornadoes Dec. 10-11, while also mobilizing quickly to provide food, emergency shelter, and other relief.
The storm system that struck on Friday evening into Saturday morning — including one tornado that caused destruction across some 240 miles — is blamed for nearly 90 deaths.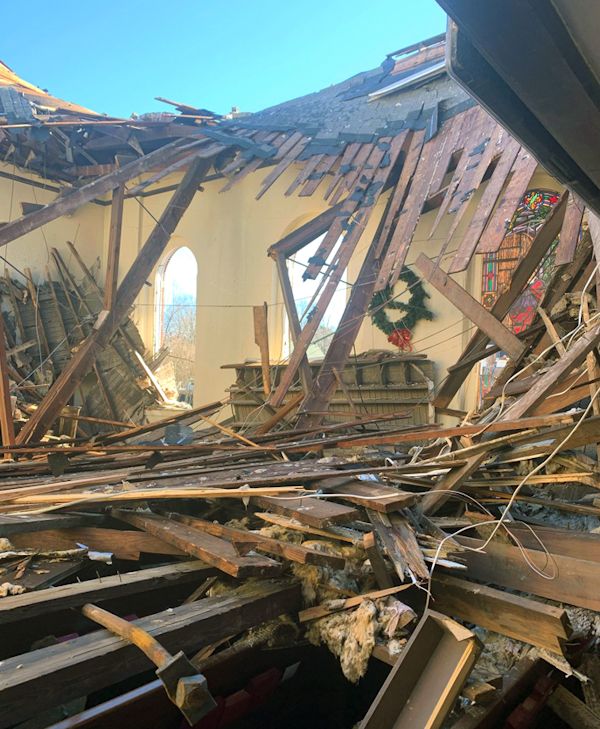 Twisters sheared roofs and shattered windows at some United Methodist churches and parsonages, as well as badly damaging congregation members' homes and local businesses.
"We will be dealing with the aftermath long after the media and social media reports have ceased," Kentucky Conference Bishop Fairley said in a statement.
Tennessee-Western Kentucky Conference Bishop William McAlilly was a district superintendent in the Mississippi Conference during Hurricane Katrina recovery, and on Dec. 12, he toured some of the hard-hit parts of Kentucky and Tennessee, with visits to three United Methodist churches and their communities.
"I'd say this is on a par with Katrina, in terms of damage done," McAlilly said by phone.
Mayfield, Kentucky, was one of his stops, and a focus of much news coverage, given the extent of the damage there — including to Mayfield First United Methodist Church
After getting word of the tornado threat, the Rev. Joey Reed and his wife, Laurinda, fled from the Mayfield church's parsonage to its historic sanctuary, taking refuge in a basement closet.
"My wife and I held hands and we prayed, and after a few seconds there was a huge shattering sound," Reed told UM News.

That was glass doors breaking, and soon they heard two thuds — the sound of much of the roof collapsing.
Though the couple escaped without injury, Reed described the building damage as catastrophic.
"There's no roof from the front of the church to the education annex and very little standing," he said.
Reed said destruction is widespread in Mayfield, with three church families having lost their homes and others having had significant damage.
One frequent visitor to the church is missing and presumed dead, Reed said.
At Cayce United Methodist, in the farming community of Cayce in southwestern Kentucky, a tornado hit both the church building and the nearby parsonage. The Rev. Jim Wolfgang, pastor, was in the church working on his sermon — a Friday night ritual.
His wife, Judith, was in the parsonage.
"I went to the hall with my dog and held onto the doorposts for dear life. Did a lot of praying," she said.
She and the dog, Ruby Jewel, emerged unhurt even as a tornado blew off most of the roof and took down most of the walls.
"A third to a half of the house is just gone," she said.
Jim Wolfgang was unhurt as well, and Cayce United Methodist's roof and window damage were relatively minor.
Not so for most structures in Cayce.
"Every home in this little community here sustained serious damage and most total damage," he said.
In Dresden, TN, the recently remodeled Dresden United Methodist Church had its roof blown off and stained-glass windows blown out. The double front glass doors were shattered and an adjacent building lost half of its roof, said Amy Hurd, communications director for the Tennessee-Western Kentucky Conference.
McAlilly said both the Mayfield and Dresden churches likely are total losses.
United Methodist churches have been helping since soon after the tornadoes passed through.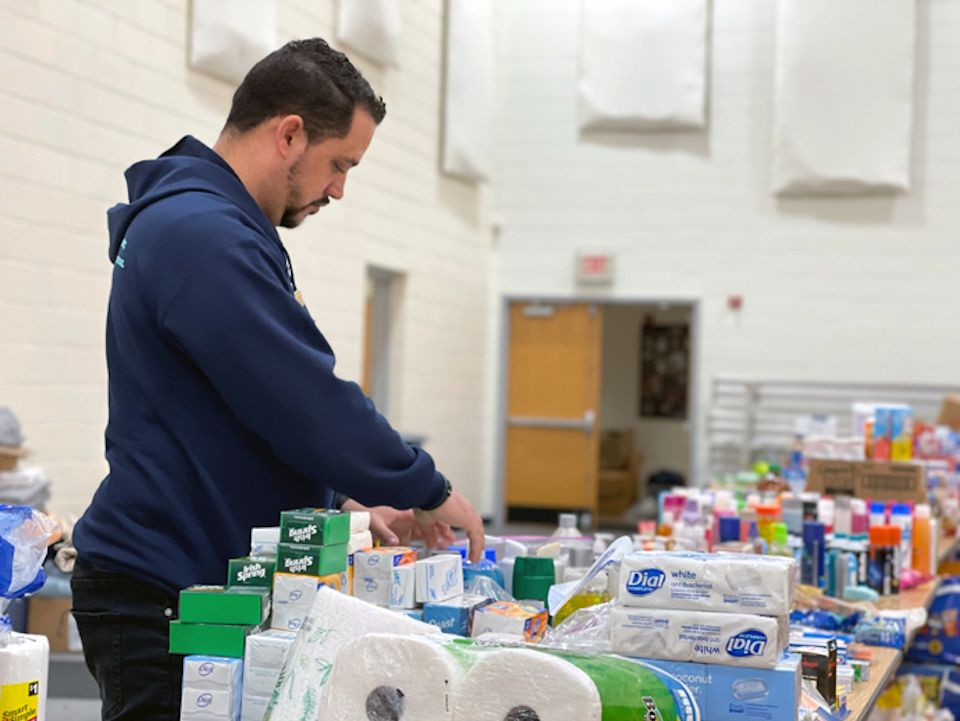 About 25 displaced people were sheltering at Madisonville First United Methodist Church in Kentucky on Dec.13, said the Rev. John Kalz, co-pastor of the church.
"We have a Red Cross shelter set up in our gym and conference rooms area," Kalz said. "We have folks who are filtering into our building, spending the night getting fed, having a place to take showers, all those normal things."
The Rev. Jason Sutfin leads Leachville First United Methodist Church in Leachville, AR, which he said had homes and businesses, including the local cotton gin, badly damaged by the storms.
The church itself only had a sign blown down and some shingles dislodged. With power out in the community on Dec. 11, Sutfin arranged for a generator and opened up the church as a meal station.
"We've been feeding people and letting people charge their phones — that kind of thing," he said.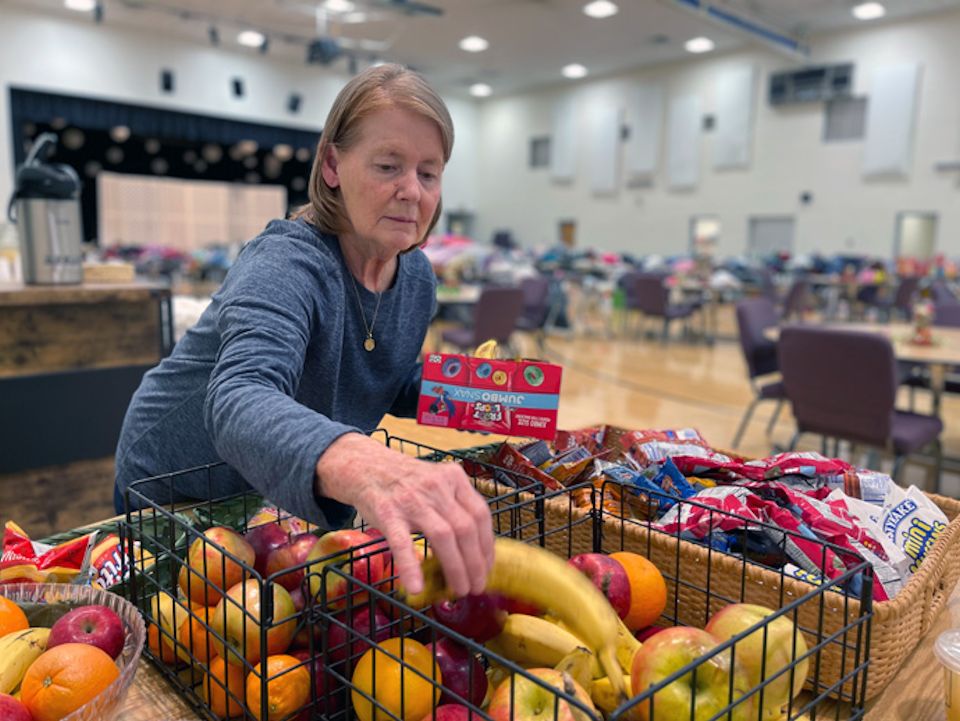 Monette United Methodist Church in Monette, AR, has been gathering supplies for relocated residents of a local nursing home destroyed by a tornado, said the Rev. Nancy Rainwater, pastor.
McAlilly noted that some early response teams from the Tennessee-Western Kentucky Conference have begun to deploy, and more will soon. Conferences are urging no individuals or churches to self-deploy, but rather to get clearance and direction from conference disaster relief leaders.
"The United Methodist connectional system is shining very brightly in this situation," said Jim Morse, disaster response coordinator for the Kentucky Conference. "The problem is everyone wants to jump in and do something. That's admirable and very appreciated. But we're still in the rescue phase."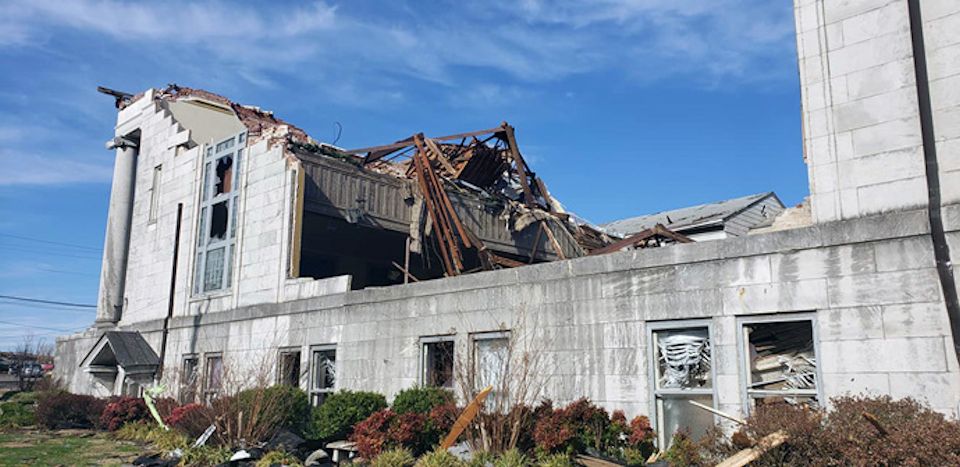 The United Methodist Committee on Relief already has made solidarity grants to the Arkansas, Kentucky, and new Tennessee-Western Kentucky conferences. These early emergency grants help meet the immediate needs of survivors and offer flexibility to the conferences in meeting those needs as they emerge.
Many are looking for ways to help people in the storms' aftermath. But for now, UMCOR, too, is urging volunteers to stay put.
"As the search and recovery efforts are still ongoing at this time, we encourage anyone interested in helping to not self-deploy but instead wait for updates on how and when to engage," said Lara Martin, UMCOR's director of U.S. disaster response.
Give to the United Methodist Committee on Relief's U.S. Disaster Response and Recovery through Advance #901670.
"Until then, we invite continued prayer and the support of survivors through donations to Advance #901670. As rescue efforts shift to response, UMCOR stands ready to journey with the affected conferences from the chaos of disaster on towards a holistic, multiyear long-term recovery."
Roland Fernandes, the top executive of UMCOR and the United Methodist Board of Global Ministries, said UMCOR stands with the people in the tornadoes' path.
"We grieve alongside those who experienced sudden and deep loss in the aftermath of this weekend's destructive storms — loss of life, loss of home, loss of community," he said. "UMCOR remains steadfast in both prayer and support for the many states that are navigating immediate relief efforts and is ready to accompany communities on the long road toward healing."
Some conferences badly hit by the tornadoes also are raising funds for relief efforts.
McAlilly counseled patience as United Methodists seek to help.
"We know this is going to be at least a two-year recovery process," he said.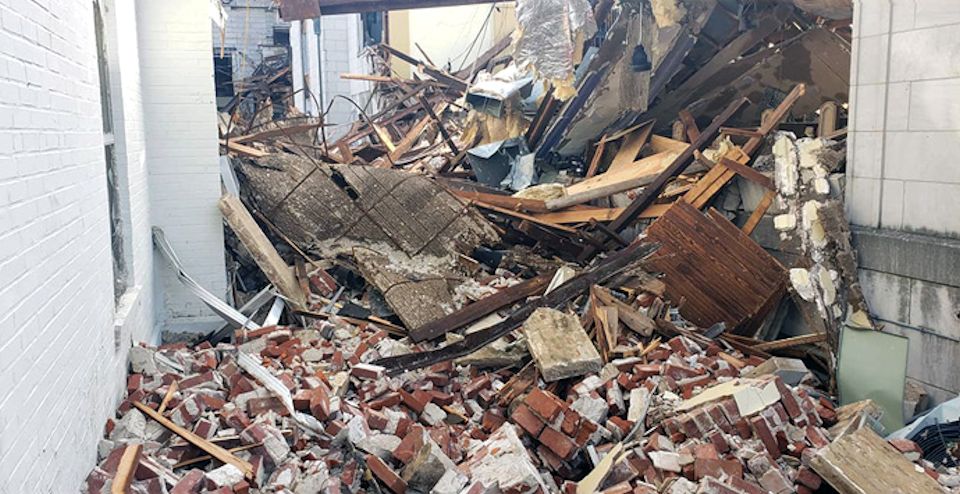 For the most part, as they could, United Methodist churches whose communities were affected by tornadoes carried on with worship on Dec. 12 — despite hardship conditions.
Trumann First United Methodist Church, in Trumann, AR, had no electricity but lit candles for a somber Advent service.
"It was dark but the light flowing through our stained-glass windows was beautiful," said the Rev. Sarah Ellzey, pastor. "It was a holy time."
The Kentucky Conference reported on worship services that went on in Bowling Green, KY, another badly hurt community.
Though the Mayfield church was out of commission, the congregation worshipped with neighboring Christ United Methodist Church, with McAlilly and other conference officials attending.
Reed, the Mayfield church's pastor, preached as planned on the Advent theme of joy, adapting it to the current situation. By phone, he summarized his message this way:
"After we lament our loss and grief, this terrible devastation, we will claim that joy and offer it to the community, one broken and hurting soul at a time."