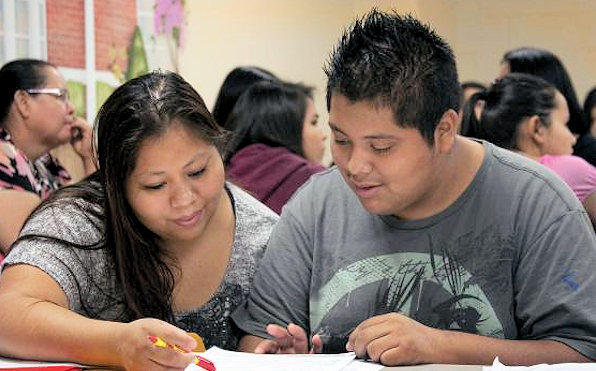 Have more questions?
Contact Rev. Alice Townley
Mission and Justice Coordinator
[email protected]
Welcome our neighbors.
United Methodists have long partnered with Protestant, Catholic, Jewish, and Muslim neighbors to welcome refugees.
Our sacred texts give us this call, and our shared histories lead us to work together in refugee resettlement. The United Methodist Church is one of 37 member communions of Church World Service. Church World Service is one of nine main U.S. resettlement agencies that work to coordinate across the country.
In Michigan, those resettlement agencies include St. Vincent Catholic Charities (STVCC), Samaritas, Bethany Christian Services, Jewish Family Services, and the U.S. Committee for Refugees and Immigrants (USCRI). In refugee resettlement, we of many faiths come together to protect those fleeing war, persecution, and death.
There is also an opportunity to sponsor a family through Church World Services. You can contact Stacey Clack at [email protected] to resettle a family directly with them. Here is a reimbursement grant through UMCOR for churches sponsoring a family with Church World Service (CWS) or a CWS affiliate such as Bethany Christian Services in Michigan.
UPDATES:
New Programs to Sponsor Refugees:
Private Sponsorship of Refugees
Processes for Cubans, Haitians, Nicaraguans, and Venezuelans
To Find Out More Information About Sponsoring Refugees through these programs Contact the Office of Global Michigan.
More information can be found on their website.
New Partnership Matches Trained Community Sponsorship Groups with Ukrainians in Need of Resettlement in the United States
Afghan Arrivals in the U.S.A.-
Following the U.S. withdrawal from Afghanistan, over 130,000 Afghans were evacuated of whom 44% are children. As the urgent evacuations played out in real-time, thousands of Afghans were granted humanitarian parole, which is a temporary immigration status typically granted for one or two years. An Afghan Adjustment Act allows new Afghan evacuees to apply to become lawful permanent residents one year after arrival. Given the temporary nature of this relief, tens of thousands of the evacuated Afghan men, women, and children resettled in the U.S. will need to navigate complex legal issues to find lasting protection in the U.S.
For More Information Go to this link at the Church World Services website.
Afghan Arrivals In Michigan:
More than 1,700 Afghans have arrived in Michigan since the United States left Afghanistan in August, according to the Office of Global Michigan. These Afghan Placement Assistance (APA) evacuees were temporarily on U.S. military bases and arrived in the state between Sept. 27, 2021, and Feb. 19, 2022.
Once in the state, the newcomers were dispersed to the Lansing area, Kent and Kalamazoo Counties in Western Michigan, Washtenaw County, and the greater Detroit area. The Office of Global Michigan estimates that the majority of these arrivals have been placed in permanent housing or have had permanent housing lined up for them by resettlement agencies. But in Metro Detroit, the state estimates that, as of April 14, about 35% of Afghan evacuees were still waiting in temporary housing like hotels.
Learn more from this report from NPR Michigan at this link.
Support for Ukrainians Michigan:
Here is an Update from Samaritas about the support for Ukrainians. If you would like to support now, you can give a financial gift through UMCOR.
Information about Michigan Refugee resettlement agencies:
Michigan: Check out the State of Michigan website to find out how to volunteer and help.
Immigration Law & Justice Michigan provides free immigration legal services.
Washtenaw County: Go to Jewish Family Services to learn about Host Families, Housing, and Donations.
Battle Creek: Visit the Samaritas website.
Detroit/Southeast Michigan: Samaritas (As explained above), USCRI helps with housing, employment, legal services, health, and mental health services, as well as social services.
Kalamazoo: Bethany Christian Services Find wish lists for refugees, and detailed ways to get involved in several cities across Southwest Michigan, Samaritas (As explained above).
Grand Rapids (including Holland and Muskegon): Bethany Christian Services, Samaritas (Both are as explained above).
Lansing: St. Vincent Catholic Charities sponsor a family, and rent to refugees. Also offers foster care for unaccompanied minors. Samaritas (As explained above)
Learn
Watch the Interfaith Service for a update from St. Vincent Catholic Charities.
Watch Church World Services' Lunch and Learn Webinar: Culture and Considerations: How to Best Welcome Afghan Newcomers: https://register.gotowebinar.com/recording/8740870471476959757
Watch the Webinar: "Welcoming New Afghan Neighbors: A How-To for Local Churches"
Video: "A Night of Stories," with refugees and resettlement agencies, held in East Lansing on September 20.
"American religious groups have a history of resettling refugees – including Afghans," MSU scholar Stephanie Nawyn, August 26, 2021, The Conversation.
"United Methodists help with Afghan resettlement," Sam Hodges, September 7, 2021, UMNews.
Give
Financial gifts are needed for food, clothing, healthcare, rent, and other basic needs.
All resettlement agencies in Michigan are raising funds for this life-saving work. Consider giving generously, sharing the need, and inviting others to help as well.
Click on the link to find ways to give throughout the state.
Your church can also give items that are needed. Each resettlement agency has a wishlist that you can purchase items from.
Samaritas: Amazon Wishlist
Jewish Family Services: Donations
Bethany Christian Services: Amazon Wishlist
St. Vincent Catholic Charities: Amazon Wishlist
US Committee for Refugees and Immigration: Make a donation
Advocacy Asks
Use these templates to send letters to government officials.
Unaccompanied Refugee Minors:
My name is [first/last name] and I live at [your address]. Please support legislation/policy changes that designate all Afghan UMs entering the country as immediately eligible for URM status, making them eligible for the full range of services provided to foster children in the state of their placement, including non-emergency medical care. Please contact me to let me know what steps your office will take to support incoming Afghanis.
Afghan Adjustment Act-- to help arriving Afghanis quickly gain documentation and legal status inside the US which will allow them to begin to rebuild their lives.
My name is [first/last name] and I live at [your address]. Please pass

legislation

that would allow Afghan parolees the opportunity to seek legal permanent

residence. These parolees are fleeing violence and persecution and deserve an

opportunity to rebuild their lives in safety — and without the fear and limitations

associated with uncertain immigration status.

Please contact me to let me know

what steps your office will take to support incoming Afghanis.
○ Above adapted from Church World Service,
Speedy Processing-- The process of changing one's legal status within the immigration system can be extremely time-consuming and expensive.
My name is [first/last name] and I live at [your address]. Please

pass legislation and/or policies that

commit USCIS to expedited and dedicated processing for Afghan parolees. Funding should be allocated to allow USCIS to provide fee waivers for family-based applications, parole applications and extensions, and work authorization applications for Afghan nationals. Please contact me to let me know what steps your office will take to support incoming Afghanis.

My name is [first/last name] and I live at [your address]. Please

pass legislation and/or policies that

streamline the processing of SIVs to be within 30 days in a third party country with parole into the United States after that. Please contact me to let me know what steps your office will take to support incoming Afghanis.
President Biden
The White House
1600 Pennsylvania Avenue, N.W. Washington, DC 20500
The Honorable Debbie Stabenow United States Senate
Senate Office Building
Washington, D.C. 20510
The Honorable Gary Peters United States Senate
Senate Office Building
Washington, D.C. 20510
Last Updated on November 17, 2023