The six camps affiliated with the Michigan Conference of The United Methodist Church enter a new season of collaboration as they share wisdom and seek common ground.
KAY DEMOSS
Michigan Conference Communications
Camping has been at the heart of Michigan Methodists' faith for a long time. When Crystal Springs Camp was decommissioned last fall, it was the oldest camp in the state. Founded in 1860, it was the second oldest religious camp in the United States.
Much had changed since the days when wagons carried families to camp meetings in that tabernacle near Dowagiac.
In 2015 the West Michigan and Detroit conferences announced two historic votes. First, the conferences would unite. Second, members approved the formation of a Michigan Area Corporation to administer camping and retreat ministries at nine locations across the state.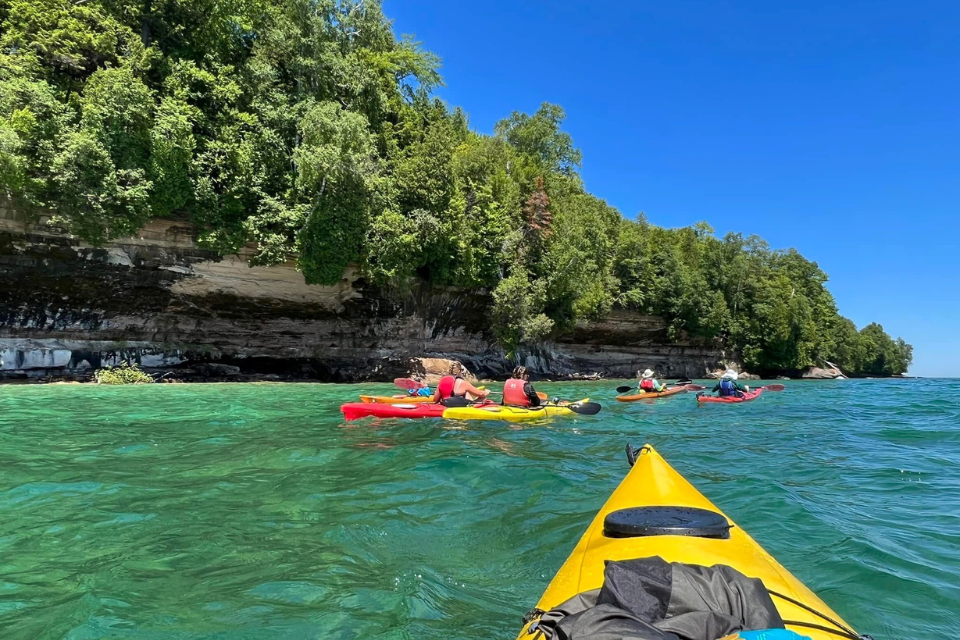 In the winter of 2019, Michigan Area United Methodist Camping (MAUMC) shared the painful decision to suspend operations at four of those sites. A year later, at a virtual annual conference held during the early days of the pandemic, MAUMC presented a strategic plan. It was based on a faith-formation model to operate at three camps: Lake Michigan, Lake Huron, and Wesley Woods. Four months after that, the Rev. David Berkey was welcomed as the new executive director for MAUMC after having served in similar capacities in the Eastern Pennsylvania, Florida, and the California-Pacific conferences.
Berkey spent his early months of service working with the board to develop a Master Plan and identifying key property and facility improvements needed at each location to enhance discipleship ministry. As 2022 finds camping in rebound after two years of COVID impact, these improvements are underway. This season's campers are expressing appreciation.
New Level of Cooperation
Since the fall of 2021, MAUMC's executive director has set about relationship-building with three of Michigan's long-standing outdoor ministries – Bay Shore Camp & Family Ministries, Lake Louise Christian Community, and Camp Michigamme. These ministries are not new on the camping scene. They have provided Christ-centered opportunities to children, youth, and families for a century. What is new is the intentional effort at collaboration.
David Berkey notes that since 2015 there has been no distinction between "conference camps" and conference "affiliate camps." He puts it this way. "We are six centers and four organizations. There are four separate camp boards in the state administering six camp sites."
So, for the past nine months, Berkey has brought the directors – Neil Haney (Lake Louise), Jeff Parsons (Bay Shore), and Kelsie Coccia (Michigamme) – together to "build a sense of commonality." They have been joined recently by Nicole Holton (Wesley Woods), Erik Bengston (Lake Michigan Camp & Retreat), and Ann Emerson (Lake Hurton Retreat Center.) These zoom sessions provided opportunities to build trust and share information. In addition, Berkey has traveled to Sebewaing to visit Bay Shore and Boyne Falls for first-hand experience of Lake Louise.
Currently, Berkey is working toward a summit in the fall that would include Bishop David Bard, conference staff, and board members from each organization. The conference no longer owns camp property nor provides financial support through Ministry Shares. "Yet," says Berkey, "We all are serving churches and need to determine how we stay in cooperation around a common mission." Berkey has already been in conversation with conference staff coordinating ministries with children, youth, and young adults.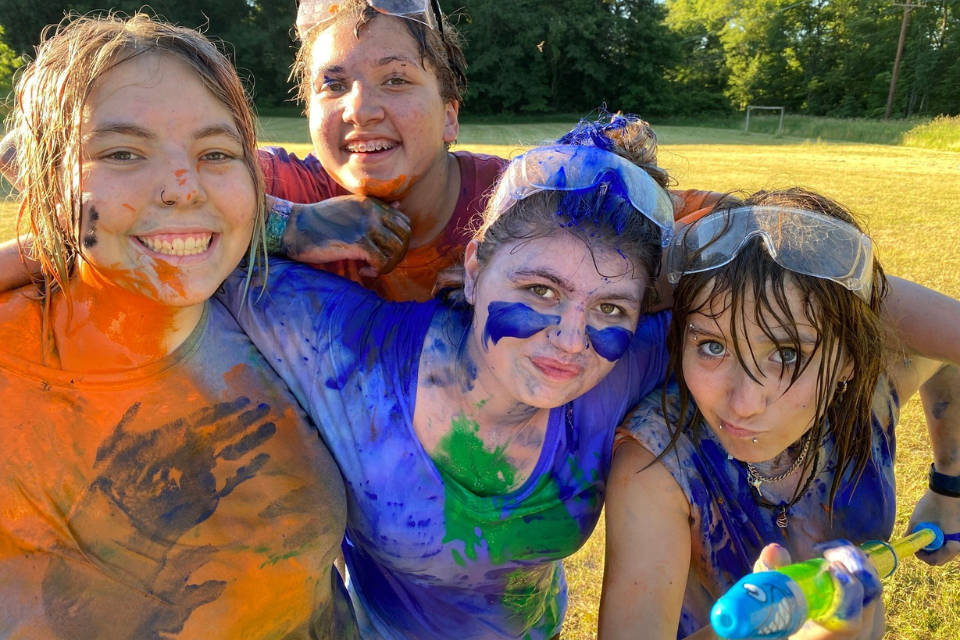 Berkey points out that the six camps are open to all churches in the state. "If churches in The Michigan Conference choose to leave," he explains, "we are not taking sides on that issue." A statement, co-signed by directors of all six sites, was issued in May. The "Michigan camps stand together on welcoming" asserts:
As camp and retreat centers historically related and currently affiliated with the Michigan Conference of the United Methodist Church, we offer places and experiences of hospitality, common ground, and safety for all. That doesn't change, and it never will. We are uniquely positioned to provide healing, inspiring and liberating experiences for all God's people in the midst of a troubled world and a church in transition. Welcome!
Berkey identifies three benefits of all camps working together. The first is common communication. "Churches and families that only know about one camp need to know what else is offered out there," he says. "There might be other ministries to take advantage of." The second is staffing. "We are all struggling to hire paid staff and schedule volunteers. We need a joint effort to grow a new generation of young people and professionals to serve for one week or a whole summer," Berkey states. Finally, he asks, "Where are the gaps? How can the six sites work together to reach out to those who lost a camp in their area?" He concludes, "There are plenty of people to go around. I think the question is how do we tell the churches that we are working more closely to serve them better?"
Telling churches this new collaboration began at the 2022 Michigan Annual Conference. The four directors were together at the same table for the first time, offering information and fielding questions about their respective ministries.  
Directors Are Hopeful
Neil Haney, director at Lake Louise since February 2021, shares, "The table at annual conference got us going with some cross-marketing." He is excited that the directors are learning about each other's ministries "so we can tell families where to go to get what they are looking for." He adds, "We are partnering by passing leads to each other. We understand that we are not competing. There are enough campers for all of us to be successful. By embracing a common mission, we can reach as many people as possible."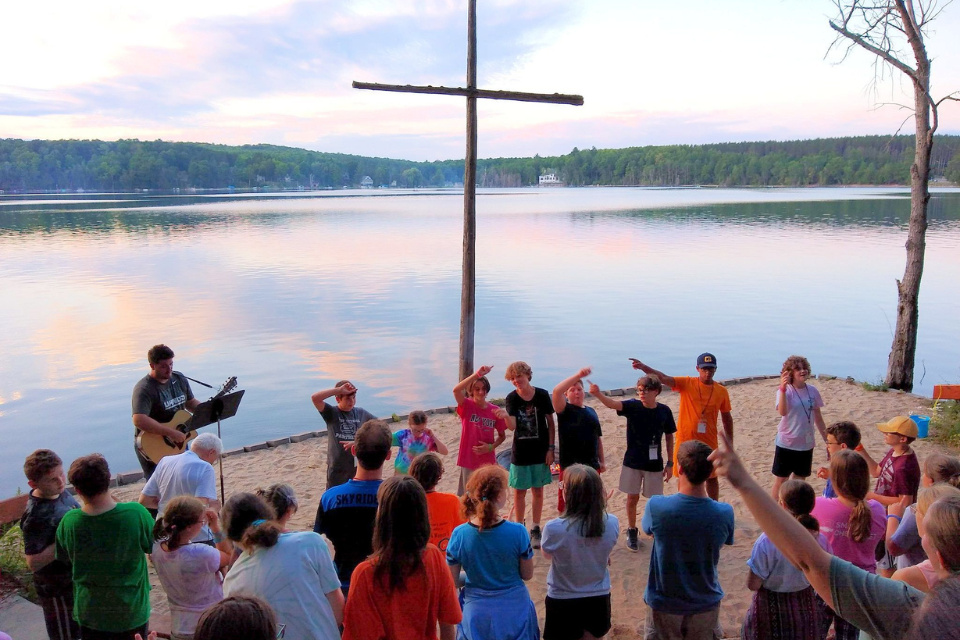 Haney sees the camps' new collaboration as part of the overall ministry transformation prompted by the pandemic. "After a year of no camping, then a year at half-capacity, we are going through a phase of rebirthing and rebuilding." As COVID has forced camps to adapt to remain healthy, sharing ideas and innovations with other directors has been a blessing.
Kelsie Coccia came on as director of Camp Michigamme in the summer of 2021. She valued the networking that took place at the 2022 Annual Conference. "It was helpful for me, as someone new, to talk about what we are doing and how we can support one another," Coccia says.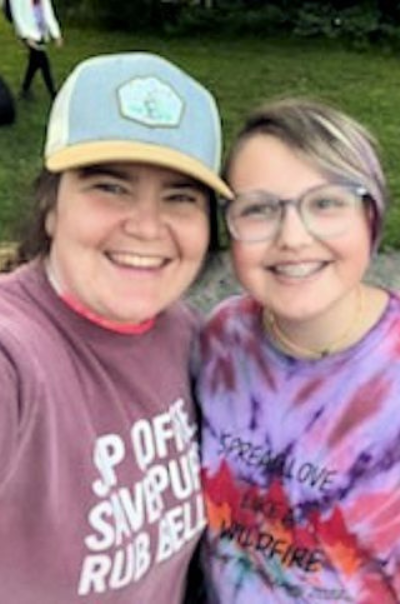 She offers an example of what she calls "the beehive mentality of sharing what we do well." Coccia says, "We have been looking at different ways to add a transition piece to our Teddy Bear Camp. I learned Lake Louise has Teddy Bears, an adult-and-me camp, and Black Bear Camp, where the adults stay in cabins next to those where kids are staying with their peers. That was great to know, and I am reaching out to Neil to learn more." She continues, "Having other directors, with familiar faces, to reach out to with everyday issues that come up with running a camp is very helpful." 
Coccia celebrates the broader scheduling possibilities open to campers and churches. "There are only so many weeks of summer," she says. "Having multiple camps and knowing all the options is great. On our campus, you have to walk uphill to get anywhere, so our property is not well set up for our quilt ladies. A downstate site set up for adult retreats might be good for them."
"David is a camping professional, and I am pleased Michigan Area United Methodist Camping has him in the leadership role. He is about healing," says Jeff Parsons, Bay Shore Camp & Family Ministries director. Parsons "looks forward to relationships with colleagues in Michigan, where we can share our strengths and weaknesses with each other. These people are family." He continues, "I want them to be stronger because of a relationship with Bay shore and us to be stronger through our relationship with them." He acknowledges that each of the four organizations is in "a very different place in the life of the ministry" but "looks forward to figuring it out together as a family."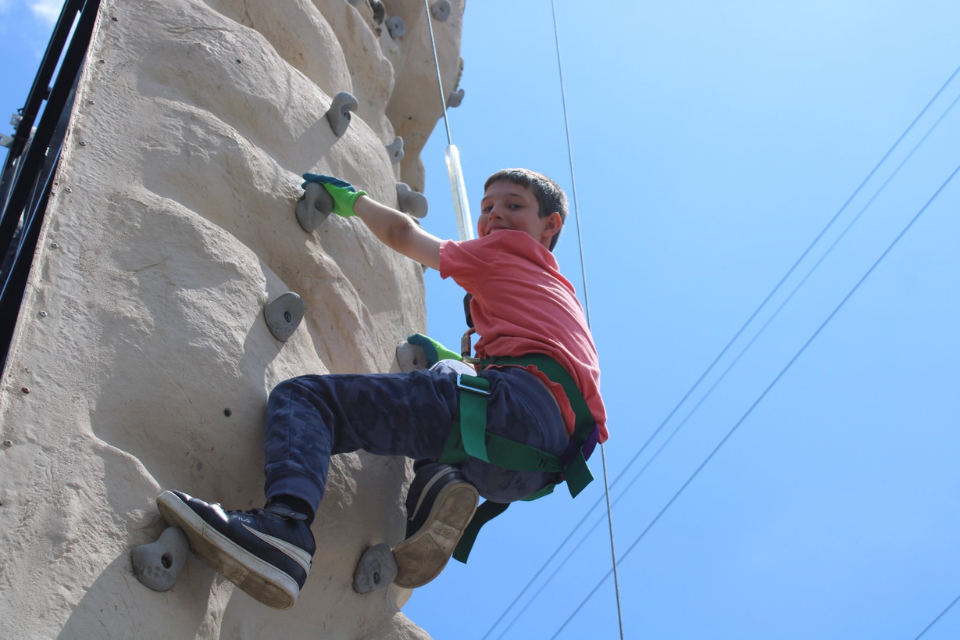 Though affiliated with the United Methodist Church, Bay Shore has operated from an ecumenical model for the past 50 years. "I can walk through camp and meet Catholic kids, Baptist kids, and Lutheran kids as well as United Methodists," Jeff observes. "We are deliberate about not focusing on denomination but centering on things we have in common, like Christ." So, he celebrates the way this approach to Michigan camping models diversity. "If I can have Bay Shore represented alongside Lake Louise, Wesley Woods, and other camps, it demonstrates that people with different beliefs and convictions can stand together for Jesus," he says. "If camps can do it, certainly the church can do it, too. We need to model healthy behavior."
Need Is Great
"As always, we are helping all people find purpose and hope," David Berkey says. COVID continues to be part of the camping landscape. So far this year, there has been a 20% increase in MAUMC enrollment thanks to the careful following of safety protocols. Parents feel confident in sending their kids to camp. Staffing, however, has been difficult. Sudden losses of a staff person testing positive, injuries, and just not finding people to do the work have pressed Berkey and the current paid staff to take on multiple responsibilities.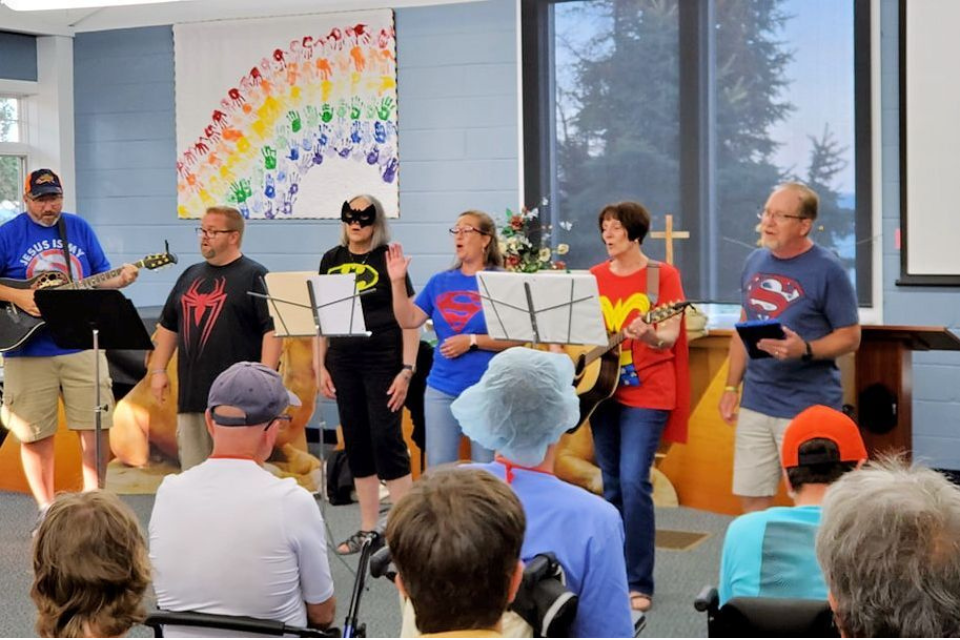 Reflecting on COVID-era operation, Berkey says, "Getting people back into the habit of going to church and coming to camp is only part of it." He describes changes in the behavior of campers once on site. "Many kids we see now have not had much recent experience being in a program in-person with other kids. We see shorter attention spans. Kids need practice both responding to leadership and interaction with one another." Berkey says mental health is an issue for some young people at camp these days. "Kids are going through periods of anger, confusion, fear, and uncertainty with the world they live in. We are helping them in that struggle."
When summer camping season closes this year, David Berkey hopes camp and conference leaders can unite to design a new partnership to make disciples. "I wish for clarity around how we fit into that role and how we can help the conference realize their vision," Berkey concludes.
Bishop David Bard recently visited a Middle School camp at Lake Louise. He says of that experience, "I was reminded of the importance of outdoor camping ministries for forming persons in Christian faith. I am delighted by the ongoing work between our official conference camping program and the other Michigan camping programs at sites historically connected with Methodism." The bishop looks ahead with anticipation. "Working together, we can develop strong programs that help people on their journey with Jesus."
Last Updated on September 20, 2022