Grants from the United Methodist Camp & Retreat Ministries will enhance programming and accommodations for those camping at two United Methodist sites in Michigan.
SUZANNE EVERETT
Michigan Area United Methodist Camping
Two Grants from United Methodist Camp & Retreat Ministries will enhance campers' experiences at Lake Huron Retreat Center and Wesley Woods Camp & Retreat.  
The goal of the association's $2.5 million grant program was to enable individual sites and ministries to take one significant step in the 2022 calendar year toward long-term impact and sustainability. We are grateful for these grants and look forward to sharing with you the results of these investments.
Lake Huron Retreat Center received a $20,000 grant to help fund its new Program and Hospitality Manager position and the launching of new programs and retreats. 
The UMCRM grant of $43,000 to Wesley Woods Camp & Retreat Center will finance the installment of five RV camping sites for volunteers to use while working. 
New staff at Lake Huron
Lake Huron Retreat Center is pleased to announce the appointment of the Rev. Cora Glass as Program and Hospitality Manager, beginning May 1, 2022. With this newly expanded position, the retreat center will broaden its programming with an emphasis on spiritual growth, rest, and renewal for clergy and laity. 
"Cora brings a passion for retreat ministry and a vision for developing new programs to our already strong ministry," said the Rev. Ann Emerson, Site Director. Both Emerson and Glass are ordained deacons in the Michigan Conference of the United Methodist Church. "The Lord has opened a door for us to move our ministry forward in exciting ways. We are thrilled to welcome her to the Lake Huron team," Emerson said.
In addition to developing new programs and growing existing events such as our R&R Retreats, Cora will work directly with group leaders who utilize the retreat center for their own events. 
"I'm looking forward to planning new retreat experiences that help guests connect with God in fun and meaningful ways," Glass said. "I am excited to welcome guests to Lake Huron Retreat Center and grow this ministry in creative ways."
Cora's gifts for spiritual growth and leadership began in her local church as a youth leader at First United Methodist Church in Birmingham, MI and blossomed during her education at High Point University (High Point, NC) and Garrett-Evangelical Theological Seminary (Evanston, IL). She enjoys leading retreats for children, college students, and church groups that grow faith through sharing stories and engaging art.
RV hook-ups at Wesley Woods
Wesley Woods Camp & Retreat will be installing five RV camping sites for volunteers to use while working at the camp thanks to the UMCRM grant.
"The RV sites were the missing piece we needed to be able to host groups like NOMADS," said Site Director Nicole Holton, referring to the volunteer labor group Nomads On a Mission Active in Divine Service (NOMADS). "Receiving this grant will really help move our ministry forward and continue to improve and maintain our facilities."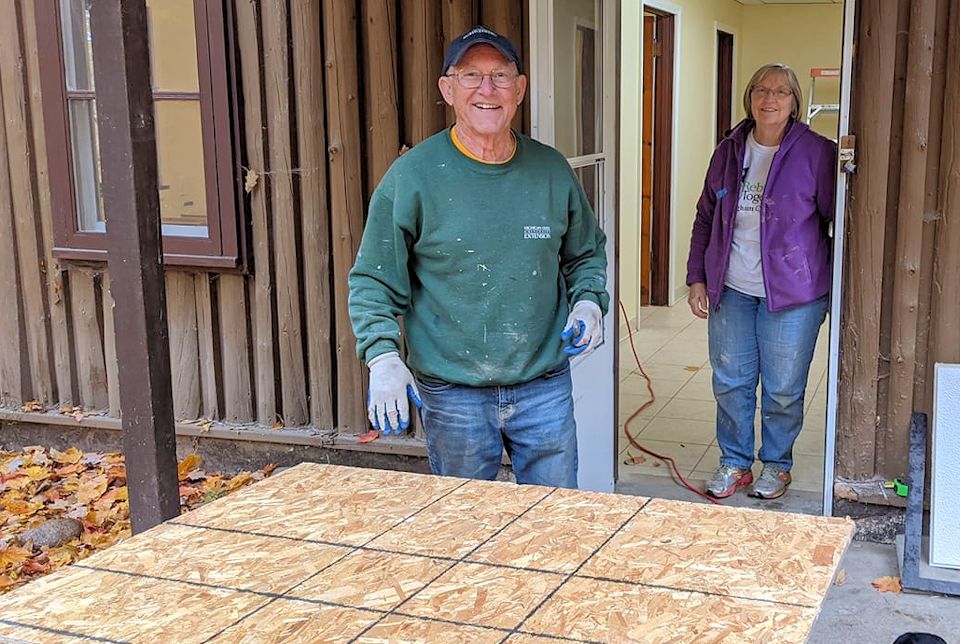 The camp and retreat center in Dowling, MI has injected $400k of capital improvements over the last two years, including refurbishing the bathhouse on top of the hill in the cabin area. It was gutted when Site Director Nicole Holton was hired and she helped get the building up and running again with a new roof, showers, stalls, toilets, sinks, and a new family/ADA restroom addition. Other recent improvements include roofs for the Chapel, Bathhouse, Daisy Trillium Lodge, Director's house, and the north side of the main lodge. Major updates to the Retreat Center are currently underway, including new carpet, new windows, new heating and cooling units, and new shower stalls.
Bathhouse: $169,000 (roof, repainted throughout, new stalls for toilets and showers, new counters, sinks, toilets, water heater)
Roofs: $34,000 (Northside Main Lodge, Director's House, Daisy/Trillium Lodge-adding ridge vent)
Retreat Center: $180,00 (new carpet, heating/cooling, showers, windows, painting)
Other improvements from 2021-2022: Pool House minor renovation; pool sandblasted and repainted; new pool cover; firewood removal; Camp Office moved to create more meeting space in the Main Lodge.
As we look forward to welcoming campers this summer, we are happy to have the focus on what camp is all about — growing in faith through a community where everyone belongs, exploring God's beautiful creation, and making friends.